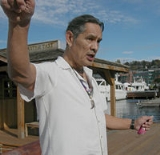 Haida
The
Haida
are an
indigenous nation of the Pacific Northwest Coast
Indigenous peoples of the Pacific Northwest Coast
The Indigenous peoples of the Pacific Northwest Coast are the pre-Columbian inhabitants of the Pacific Northwest Coast, their descendants, and many ethnic groups who identify with those historical peoples. They are now situated within the Canadian Province of British Columbia and the U.S...
of
North America
North America
North America is a continent wholly within the Northern Hemisphere and almost wholly within the Western Hemisphere. It is also considered a northern subcontinent of the Americas...
. Haida territories lie in both
Canada
Canada
Canada is a North American country consisting of ten provinces and three territories. Located in the northern part of the continent, it extends from the Atlantic Ocean in the east to the Pacific Ocean in the west, and northward into the Arctic Ocean...
and the
United States
United States
The United States of America is a federal constitutional republic comprising fifty states and a federal district...
, as do those of the
Tlingit
Tlingit
The Tlingit are an indigenous people of the Pacific Northwest Coast of America. Their name for themselves is Lingít, meaning "People of the Tides"...
and
Tsimshian
Tsimshian
The Tsimshian are an indigenous people of the Pacific Northwest Coast. Tsimshian translates to Inside the Skeena River. Their communities are in British Columbia and Alaska, around Terrace and Prince Rupert and the southernmost corner of Alaska on Annette Island. There are approximately 10,000...
. The Haida territories comprise the archipelago of Haida Gwaii (formerly referred to as the Queen Charlotte Islands) in British Columbia. In the
Haida language
Haida language
The Haida language is the language of the Haida people. It contains seven vowels and well over 30 consonants.-History:The first documented contact between the Haida and Europeans was in 1774, on Juan Pérez's exploratory voyage. At this time Haidas inhabited the Queen Charlotte Islands, Dall...
Haida Gwaii
translates to "islands of the people"). Historically, and still today, "Kaigani Haida" families live in Southern Alaska and the southern half of Prince of Wales Island in the southernmost
Alaska Panhandle
Alaska Panhandle
Southeast Alaska, sometimes referred to as the Alaska Panhandle, is the southeastern portion of the U.S. state of Alaska, which lies west of the northern half of the Canadian province of British Columbia. The majority of Southeast Alaska's area is part of the Tongass National Forest, the United...
.
The term "Haida Nation" refers both to the people as a whole and also to their government on Canadian territory, the
Council of the Haida Nation
Council of the Haida Nation
The Council of the Haida Nation is the Aboriginal Sovereign Authority and Government of the Haida Nation. The Haida Nation is engaged in a Title dispute of their territories, Haida Gwaii, with the government of Canada. The Haida Nation also includes portions of Alaska...
; the government for those in the United States is the Central Council Tlingit Haida Indian Tribes of Alaska.