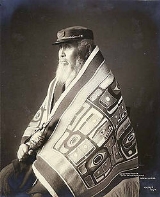 Tlingit
The Tlingit are an
indigenous people of the Pacific Northwest Coast
Indigenous peoples of the Pacific Northwest Coast
The Indigenous peoples of the Pacific Northwest Coast are the pre-Columbian inhabitants of the Pacific Northwest Coast, their descendants, and many ethnic groups who identify with those historical peoples. They are now situated within the Canadian Province of British Columbia and the U.S...
of America. Their name for themselves is Lingít, meaning "People of the Tides" . The
Russian
Russian language
Russian is a Slavic language used primarily in Russia, Belarus, Uzbekistan, Kazakhstan, Tajikistan and Kyrgyzstan. It is an unofficial but widely spoken language in Ukraine, Moldova, Latvia, Turkmenistan and Estonia and, to a lesser extent, the other countries that were once constituent republics...
name
Koloshi
(Колоши) (from an
Alutiiq
Aleut language
Aleut is a language of the Eskimo–Aleut language family. It is the heritage language of the Aleut people living in the Aleutian Islands, Pribilof Islands, and Commander Islands. As of 2007 there were about 150 speakers of Aleut .- Dialects :Aleut is alone with the Eskimo languages in the...
term for the
labret
Labret
A labret is one form of body piercing. Taken literally, it is any type of adornment that is attached to the facial lip . However, the term usually refers to a piercing that is below the bottom lip, above the chin...
) or the related
German
German language
German is a West Germanic language, related to and classified alongside English and Dutch. With an estimated 90 – 98 million native speakers, German is one of the world's major languages and is the most widely-spoken first language in the European Union....
name Koulischen may be encountered in older historical literature, such as
Shelikhov
Grigory Shelikhov
Grigory Ivanovich Shelekhov Grigory Ivanovich Shelekhov Grigory Ivanovich Shelekhov (Григорий Иванович Шелехов in Russian; (1747–July 20, 1795 (July 31, 1795 N.S.)) was a Russian seafarer and merchant born in Rylsk....
's 1796 map of Russian America.
The Tlingit are a matrilineal society that developed a complex
hunter-gatherer
Hunter-gatherer
A hunter-gatherer or forage society is one in which most or all food is obtained from wild plants and animals, in contrast to agricultural societies which rely mainly on domesticated species. Hunting and gathering was the ancestral subsistence mode of Homo, and all modern humans were...
culture in the temperate rainforest of the southeast
Alaska
Alaska
Alaska is the largest state in the United States by area. It is situated in the northwest extremity of the North American continent, with Canada to the east, the Arctic Ocean to the north, and the Pacific Ocean to the west and south, with Russia further west across the Bering Strait...
coast and the
Alexander Archipelago
Alexander Archipelago
The Alexander Archipelago is a long archipelago, or group of islands, of North America off the southeastern coast of Alaska. It contains about 1,100 islands, which are the tops of the submerged coastal mountains that rise steeply from the Pacific Ocean. Deep channels and fjords separate the...
.