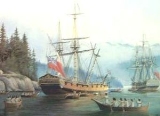 HMS Discovery (1789)
HMS Discovery was a
Royal Navy
Royal Navy
The Royal Navy is the naval warfare service branch of the British Armed Forces. Founded in the 16th century, it is the oldest service branch and is known as the Senior Service...
ship launched in 1789 and best known as the lead ship in
George Vancouver
George Vancouver
Captain George Vancouver RN was an English officer of the British Royal Navy, best known for his 1791-95 expedition, which explored and charted North America's northwestern Pacific Coast regions, including the coasts of contemporary Alaska, British Columbia, Washington and Oregon...
's exploration of the west coast of
North America
North America
North America is a continent wholly within the Northern Hemisphere and almost wholly within the Western Hemisphere. It is also considered a northern subcontinent of the Americas...
in his famous
1791-1795 expedition
Vancouver Expedition
The Vancouver Expedition was a four-and-a-half-year voyage of exploration and diplomacy, commanded by Captain George Vancouver. The expedition circumnavigated the globe, touched five continents and changed the course of history for the indigenous nations and several European empires and their...
. She was converted to a
bomb vessel
Bomb vessel
A bomb vessel, bomb ship, bomb ketch, or simply bomb was a type of wooden sailing naval ship. Its primary armament was not cannon —although bomb vessels carried a few cannon for self-defence—but rather mortars mounted forward near the bow and elevated to a high angle, and projecting their fire in a...
in 1798 and participated in the
Battle of Copenhagen
Battle of Copenhagen (1801)
The Battle of Copenhagen was an engagement which saw a British fleet under the command of Admiral Sir Hyde Parker fight and strategically defeat a Danish-Norwegian fleet anchored just off Copenhagen on 2 April 1801. Vice-Admiral Horatio Nelson led the main attack. He famously disobeyed Parker's...
. Thereafter she served as a hospital ship and later as a convict ship until 1831. She was broken up in 1834.
Discovery
was launched in 1789 and purchased for the Navy in 1790. She was named after the previous HMS
Discovery
HMS Discovery (1774)

HMS Discovery was the consort ship of James Cook's third expedition to the Pacific Ocean in 1776 - 1780. Like Cook's other ships, Discovery was a Whitby-built collier of 298 tons, originally named Diligence when she was built in 1774. Originally a brig, Cook had her changed to a full rigged ship...


, one of the ships on James Cook

James Cook

Captain James Cook, FRS, RN was a British explorer, navigator and cartographer who ultimately rose to the rank of captain in the Royal Navy...


's third voyage to the Pacific Ocean

Pacific Ocean

The Pacific Ocean is the largest of the Earth's oceanic divisions. It extends from the Arctic in the north to the Southern Ocean in the south, bounded by Asia and Australia in the west, and the Americas in the east.At 165.2 million square kilometres in area, this largest division of the World...


.