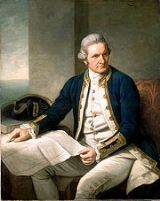 James Cook
Captain
Captain (Royal Navy)
Captain is a senior officer rank of the Royal Navy. It ranks above Commander and below Commodore and has a NATO ranking code of OF-5. The rank is equivalent to a Colonel in the British Army or Royal Marines and to a Group Captain in the Royal Air Force. The rank of Group Captain is based on the...
James Cook,
FRS
Royal Society
The Royal Society of London for Improving Natural Knowledge, known simply as the Royal Society, is a learned society for science, and is possibly the oldest such society in existence. Founded in November 1660, it was granted a Royal Charter by King Charles II as the "Royal Society of London"...
,
RN
Royal Navy
The Royal Navy is the naval warfare service branch of the British Armed Forces. Founded in the 16th century, it is the oldest service branch and is known as the Senior Service...
(7 November 1728
Old style date

Old Style and New Style dates

Old Style and New Style are used in English language historical studies either to indicate that the start of the Julian year has been adjusted to start on 1 January even though documents written at the time use a different start of year ; or to indicate that a date conforms to the Julian...


: 27 October
– 14 February 1779) was a British explorer, navigator and cartographer who ultimately rose to the rank of captain in the Royal Navy. Cook made detailed maps of
Newfoundland
prior to making three voyages to the Pacific Ocean, during which he achieved the first European contact with the eastern coastline of Australia and the
Hawaiian Islands
Hawaiian Islands
The Hawaiian Islands are an archipelago of eight major islands, several atolls, numerous smaller islets, and undersea seamounts in the North Pacific Ocean, extending some 1,500 miles from the island of Hawaii in the south to northernmost Kure Atoll...
, as well as the first recorded
circumnavigation
Circumnavigation
Circumnavigation – literally, "navigation of a circumference" – refers to travelling all the way around an island, a continent, or the entire planet Earth.- Global circumnavigation :...
of New Zealand.
Cook joined the British
merchant navy
Merchant Navy
The Merchant Navy is the maritime register of the United Kingdom, and describes the seagoing commercial interests of UK-registered ships and their crews. Merchant Navy vessels fly the Red Ensign and are regulated by the Maritime and Coastguard Agency...
as a teenager and joined the Royal Navy in 1755.