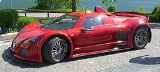 Gumpert Apollo
The
Gumpert Apollo
is a sports car produced by German automaker
Gumpert Sportwagenmanufaktur GmbH
Gumpert
Gumpert Sportwagenmanufaktur GmbH is a German, Altenburg-based company manufacturing supercars. The first model produced was the Gumpert Apollo, followed by the Apollo Sport in 2007. Gumpert also offer the Apollo Race. The founder and owner of Gumpert is Roland Gumpert, former Director of Audi Sport...
in
Altenburg
Altenburg
Altenburg is a town in the German federal state of Thuringia, 45 km south of Leipzig. It is the capital of the Altenburger Land district.-Geography:...
.
History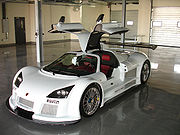 In 2000 Roland Gumpert proposed a new generation
sports car
Sports car
A sports car is a small, usually two seat, two door automobile designed for high speed driving and maneuverability....
. One of the first concerns of this car was that it would be a street-legal car, ready for the race track. Gumpert returned to Germany at the end of 2001, after more than three years in China. There he was the head of sales and marketing, responsible for the development of the dealer network of the
Audi
Audi
Audi AG is a German automobile manufacturer, from supermini to crossover SUVs in various body styles and price ranges that are marketed under the Audi brand , positioned as the premium brand within the Volkswagen Group....
-
VW
Volkswagen
Volkswagen is a German automobile manufacturer and is the original and biggest-selling marque of the Volkswagen Group, which now also owns the Audi, Bentley, Bugatti, Lamborghini, SEAT, and Škoda marques and the truck manufacturer Scania.Volkswagen means "people's car" in German, where it is...
joint enterprise. Just after he returned to Germany, Roland Mayer asked him if he would assist him in building a prototype sports car. Audi approved Gumpert's involvement in this project, on the condition that, if they did eventually develop a new sports car, it would not be a
prototype
Prototype
A prototype is an early sample or model built to test a concept or process or to act as a thing to be replicated or learned from.The word prototype derives from the Greek πρωτότυπον , "primitive form", neutral of πρωτότυπος , "original, primitive", from πρῶτος , "first" and τύπος ,...
, but a series product.
The company, located in
Altenburg
Altenburg
Altenburg is a town in the German federal state of Thuringia, 45 km south of Leipzig. It is the capital of the Altenburger Land district.-Geography:...
,
Germany
Germany
Germany , officially the Federal Republic of Germany , is a federal parliamentary republic in Europe. The country consists of 16 states while the capital and largest city is Berlin. Germany covers an area of 357,021 km2 and has a largely temperate seasonal climate...
, was founded in 2004 under the name GMG Sportwagenmanufaktur
Altenburg GmbH. The technical guidelines were defined and the first designs of the car were drawn by Marco Vanetta. Upon Vanetta's completion of this process, the first 1:4
scale model
Scale model
A scale model is a physical model, a representation or copy of an object that is larger or smaller than the actual size of the object, which seeks to maintain the relative proportions of the physical size of the original object. Very often the scale model is used as a guide to making the object in...
of Gumpert's car was produced in 2001.
Gumpert continued with the development of the Apollo, along with the
Technical University of Munich
Technical University of Munich
The Technische Universität München is a research university with campuses in Munich, Garching, and Weihenstephan...
and the Ingolstadt University of Applied Sciences. They have assisted with the
constructional work
Construction
In the fields of architecture and civil engineering, construction is a process that consists of the building or assembling of infrastructure. Far from being a single activity, large scale construction is a feat of human multitasking...
,
computer simulations
Simulation
Simulation is the imitation of some real thing available, state of affairs, or process. The act of simulating something generally entails representing certain key characteristics or behaviours of a selected physical or abstract system....
, and
wind tunnel tests
Wind tunnel
A wind tunnel is a research tool used in aerodynamic research to study the effects of air moving past solid objects.-Theory of operation:Wind tunnels were first proposed as a means of studying vehicles in free flight...
. This research and development helped forming the blueprint for the first 1:1 scale model. Finally, two prototype Apollos were constructed. Production of the Apollo started in October 2005.
Motorsport
During April 2005 the Apollo made its racing debut in the Divinol Cup. This Apollo was driven by Belgian race driver Ruben Maes; he finished third on the
Hockenheimring
Hockenheimring
The Hockenheimring Baden-Württemberg is an automobile racing track situated near the town of Hockenheim in Baden-Württemberg, Germany, located on Bertha Benz Memorial Route. Amongst other motor racing events, it biennially hosts the Formula One German Grand Prix...
race track. Three years later Gumpert announced that they would enter a
hybrid
Hybrid electric vehicle
A hybrid electric vehicle is a type of hybrid vehicle and electric vehicle which combines a conventional internal combustion engine propulsion system with an electric propulsion system. The presence of the electric powertrain is intended to achieve either better fuel economy than a conventional...
version of the Apollo in the 2008
24 Hours Nürburgring
24 Hours Nürburgring
The 24 Hours Nürburgring is a touring car and GT endurance racing event on the Nürburgring Nordschleife . With a lap length of over , it allows the participation of more than 200 cars, and over 700 drivers.-Overview:...
, driven by 2004 winner
Dirk Müller
and ex-
Formula One
Formula One
Formula One, also known as Formula 1 or F1 and referred to officially as the FIA Formula One World Championship, is the highest class of single seater auto racing sanctioned by the Fédération Internationale de l'Automobile . The "formula" designation in the name refers to a set of rules with which...
racer
Heinz-Harald Frentzen
Heinz-Harald Frentzen
Heinz-Harald Frentzen is a German racing driver most famous for his career in Formula One. At various times driving for Williams, Jordan, Sauber, Prost, and Arrows, he achieved three race wins before his retirement from F1 in 2003.-Early career:He was born in the West German city of...
. Three months passed between the first discussions and the finished hybrid Apollo. The Apollo was driven in the 24 Hours Nürburgring in May 2008. The hybrid Apollo can deliver up to 519 PS, powered with a 3.3 litre V8
twin-turbo
Twin-turbo
Twin-turbo refers to a turbocharged engine, in which two turbochargers compress the intake charge. There are two commonly used twin turbo configurations: parallel twin-turbo and sequential twin-turbo...
engine coupled with a 100 kW electric motor. The car has the ability to
recharge the battery under braking
Regenerative brake
A regenerative brake is an energy recovery mechanism which slows a vehicle or object down by converting its kinetic energy into another form, which can be either used immediately or stored until needed...
.
On July 27, 2008 an Apollo Sport was featured on the UK show
Top Gear
Top Gear (current format)
Top Gear is a British television series about motor vehicles, primarily cars. It began in 1977 as a conventional motoring magazine show. Over time, and especially since a relaunch in 2002, it has developed a quirky, humorous style...
.
Richard Hammond
Richard Hammond
Richard Mark Hammond is an English broadcaster, writer, and journalist most noted for co-hosting car programme Top Gear with Jeremy Clarkson and James May, as well as presenting Brainiac: Science Abuse on Sky 1.-Early life:...
and
The Stig
The Stig
The Stig is a character in the British motoring television show Top Gear. The character plays on the anonymity of racing drivers' full-face helmets, with the running joke that nobody knows who, or indeed what, is inside the character's racing suit. The character was the creation of presenter Jeremy...
drove the Apollo Sport. With a lap time of 1:17.1, the Apollo Sport was for a while the fastest on the 'Power Lap Board', but has been beaten by the
Bugatti Veyron Super Sport
Bugatti Veyron
The Bugatti Veyron EB 16.4 is a mid-engined grand touring car. The Super Sport version is the fastest road-legal production car in the world, with a top speed of . The original version has a top speed of...
, the
Lamborghini Aventador
Lamborghini Aventador
The Lamborghini Aventador LP700-4 is a two-door, two-seater sports car publicly unveiled by Lamborghini at the Geneva Motor Show on 28 February 2011, five months after its initial unveiling in Sant'Agata Bolognese. Internally codenamed LB834, the Aventador was designed to replace the ten-year-old...
, the
McLaren MP4-12C
McLaren MP4-12C
The McLaren MP4-12C is a sports car designed and manufactured by McLaren Automotive. It is the first production car wholly designed and built by McLaren since the McLaren F1. The car's final design was unveiled on 8 September 2009, and it is set to be launched in 2011...
and Ariel Atom V8 since then.
Design
The Apollo is a 1100 kg (2,425.1 lb) to 1200 kg (2,645.5 lb) (depending on options), street-legal race car. It is a mid-engined, rear wheel drive two-seater constructed on a tubular chromoly frame, with
fiberglass
Fiberglass
Glass fiber is a material consisting of numerous extremely fine fibers of glass.Glassmakers throughout history have experimented with glass fibers, but mass manufacture of glass fiber was only made possible with the invention of finer machine tooling...
or optional
carbon fiber
Carbon fiber
Carbon fiber, alternatively graphite fiber, carbon graphite or CF, is a material consisting of fibers about 5–10 μm in diameter and composed mostly of carbon atoms. The carbon atoms are bonded together in crystals that are more or less aligned parallel to the long axis of the fiber...
body panels. Gumpert claim the design of the Apollo is optimized so that the car could drive upside-down in a tunnel if driven at sufficiently high speeds (over 190 mph), but this has not been tested.
Engine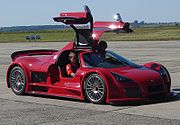 The Apollo uses a 4163 cc bi-turbo intercooled version of the Audi
V8 engine
V8 engine
A V8 engine is a V engine with eight cylinders mounted on the crankcase in two banks of four cylinders, in most cases set at a right angle to each other but sometimes at a narrower angle, with all eight pistons driving a common crankshaft....
. The 90° V8 has a closed-deck light metal crankcase with
dry sump
Dry sump
A dry sump is a lubricating motor oil management method for four-stroke and large two-stroke piston internal combustion engines that uses external pumps and a secondary external reservoir for oil, as compared to a conventional wet sump system....
lubrication. The light metal cylinder heads have five valves per cylinder, four overhead camshafts,
VarioCam
VarioCam
VarioCam is an automobile variable valve timing technology developed by Porsche. VarioCam varies the timing of the intake valves by adjusting the tension on the timing chain connecting the intake and exhaust camshafts...
Direct variable valve timing on the intakes, and hydraulic valve clearance compensation. The double-flow exhaust system has four
oxygen sensor
Oxygen sensor
An oxygen sensor, or lambda sensor, is an electronic device that measures the proportion of oxygen in the gas or liquid being analyzed. It was developed by the Robert Bosch GmbH company during the late 1960s under the supervision of Dr. Günter Bauman...
s to monitor the gas mixture, and a 3-way
catalytic converter
Catalytic converter
A catalytic converter is a device used to convert toxic exhaust emissions from an internal combustion engine into non-toxic substances. Inside a catalytic converter, a catalyst stimulates a chemical reaction in which noxious byproducts of combustion are converted to less toxic substances by dint...
. Modern controls include an on-board diagnostic system, eight-coil electronic ignition, sequential multipoint
fuel injection
Fuel injection
Fuel injection is a system for admitting fuel into an internal combustion engine. It has become the primary fuel delivery system used in automotive petrol engines, having almost completely replaced carburetors in the late 1980s....
, and an electronic (
drive by wire
Drive by wire
Drive-by-wire, DbW, by-wire, or x-by-wire technology in the automotive industry replaces the traditional mechanical control systems with electronic control systems using electromechanical actuators and human-machine interfaces such as pedal and steering feel emulators...
) accelerator system.
There are 3 engine types available:
Base version - approximately 650 PS
Sport version - approximately 700 PS
Race version - approximately 800 PS
Speed overview (650HP):
Top speed is 360.4 km/h (223.9 mph)
0-100 km/h (62.1 mph) reached in 3.0 seconds
0-200 km/h (124.3 mph) in 8.9 seconds.
Dimensions
Length: 4460 mm (175.6 in)
Width: 1998 mm (78.7 in)
Height: 1114 mm (43.9 in)
Wheel Base: 2700 mm (106.3 in)
Weight
Curb Weight: under 1200 kg (2,645.5 lb)
Total Allowed Weight: 1500 kg (3,306.9 lb)
External links