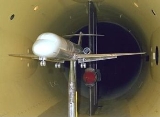 Wind tunnel
A
wind tunnel
is a research tool used in
aerodynamic
Aerodynamics
Aerodynamics is a branch of dynamics concerned with studying the motion of air, particularly when it interacts with a moving object. Aerodynamics is a subfield of fluid dynamics and gas dynamics, with much theory shared between them. Aerodynamics is often used synonymously with gas dynamics, with...
research to study the effects of air moving past solid objects.
Wind tunnels were first proposed as a means of studying vehicles (primarily airplanes) in free flight. The wind tunnel was envisioned as a means of reversing the usual paradigm: instead of the air's standing still and the aircraft moving at speed through it, the same effect would be obtained if the aircraft stood still and the air moved at speed past it.