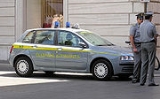 Guardia di Finanza
The
Guardia di Finanza
(ˈɡwardja di fiˈnantsa; meaning "
Financial Guard
Financial Guard
A Financial Guard is the name of some civilian or military police forces responsible for enforcing financial laws such as taxation or customs.*Financial Guard *Financial Guard *Financial Guard...
") is a
Italian
Italy
Italy , officially the Italian Republic languages]] under the European Charter for Regional or Minority Languages. In each of these, Italy's official name is as follows:;;;;;;;;), is a unitary parliamentary republic in South-Central Europe. To the north it borders France, Switzerland, Austria and...
law enforcement agency
Law enforcement agency
In North American English, a law enforcement agency is a government agency responsible for the enforcement of the laws.Outside North America, such organizations are called police services. In North America, some of these services are called police while others have other names In North American...
under the authority of the Minister of Economy and Finance. Like the
Carabinieri
Carabinieri
The Carabinieri is the national gendarmerie of Italy, policing both military and civilian populations, and is a branch of the armed forces.-Early history:...
, it is part of the Italian Armed Forces. The Guard is essentially responsible for dealing with financial crime and smuggling; it has also evolved into Italy's primary agency for suppressing the drugs trade. The Guardia di Finanza maintains over 600 boats and ships and more than 100 aircraft to fulfill its mission of patrolling Italy's
territorial waters
Territorial waters
Territorial waters, or a territorial sea, as defined by the 1982 United Nations Convention on the Law of the Sea, is a belt of coastal waters extending at most from the baseline of a coastal state...
.
Roles
The mission and institutional tasks of
Guardia di Finanza
are stated in the law 189 of April 23, 1959 and 68/2001 and are subdivided into priority ones (preventing, investigating and reporting financial evasions and violations, overseeing the compliance with the provisions of politico-economic interest and surveillance at sea for financial police purposes) and contribution ones (maintaining public order and safety and politico-military defense of the borders).
The Guardia di Finanza has around 68,000 policemen (agents,
NCO
Non-commissioned officer
A non-commissioned officer , called a sub-officer in some countries, is a military officer who has not been given a commission...
s, and
officers
Officer (armed forces)
An officer is a member of an armed force or uniformed service who holds a position of authority. Commissioned officers derive authority directly from a sovereign power and, as such, hold a commission charging them with the duties and responsibilities of a specific office or position...
). Her policemen are in service in the
Europol
Europol
Europol is the European Union's criminal intelligence agency. It became fully operational on 1 July 1999....
and
OLAF
OLAF
The European Anti-fraud Office is charged by the European Union with protecting the financial interests of the European Union: Its tasks are to fight fraud affecting the EU budget, as well as corruption and any other irregular activity, including misconduct, within the European Institutions, in an...
(European Agency of Fight against the Fraud).
Its Latin motto since 1933 is
Nec recisa recedit
.
Its activities are financial, economic, judiciary and public safety:
tax evasion
Tax evasion
Tax evasion is the general term for efforts by individuals, corporations, trusts and other entities to evade taxes by illegal means. Tax evasion usually entails taxpayers deliberately misrepresenting or concealing the true state of their affairs to the tax authorities to reduce their tax liability,...
, financial crimes,
smuggling
Smuggling
Smuggling is the clandestine transportation of goods or persons, such as out of a building, into a prison, or across an international border, in violation of applicable laws or other regulations.There are various motivations to smuggle...
,
money laundering
Money laundering
Money laundering is the process of disguising illegal sources of money so that it looks like it came from legal sources. The methods by which money may be laundered are varied and can range in sophistication. Many regulatory and governmental authorities quote estimates each year for the amount...
, international illegal drug trafficking,
illegal immigration
Illegal immigration
Illegal immigration is the migration into a nation in violation of the immigration laws of that jurisdiction. Illegal immigration raises many political, economical and social issues and has become a source of major controversy in developed countries and the more successful developing countries.In...
,
customs
Customs
Customs is an authority or agency in a country responsible for collecting and safeguarding customs duties and for controlling the flow of goods including animals, transports, personal effects and hazardous items in and out of a country...
and borders checks, copyright violations, anti-
Mafia
Mafia
The Mafia is a criminal syndicate that emerged in the mid-nineteenth century in Sicily, Italy. It is a loose association of criminal groups that share a common organizational structure and code of conduct, and whose common enterprise is protection racketeering...
operations,
credit card fraud
Credit card fraud
Credit card fraud is a wide-ranging term for theft and fraud committed using a credit card or any similar payment mechanism as a fraudulent source of funds in a transaction. The purpose may be to obtain goods without paying, or to obtain unauthorized funds from an account. Credit card fraud is also...
,
cybercrime
CyberCrime
CyberCrime was an innovative, weekly America television program on TechTV that focused on the dangers facing computer users. Filmed in San Francisco, California, the show was hosted by Alex Wellen and Jennifer London...
, counterfeiting,
terrorist financing
Terrorist Financing
Terrorist financing came into limelight after the events of terrorism on 9/11. The US passed the USA PATRIOT Act to, among other reasons, attempt thwarting the financing of terrorism and anti-money laundering making sure these were given some sort of adequate focus by US financial institutions...
, maintaining public order, and safety, political and military defense of the Italian borders.
Members are known to demand VAT receipts for items from members of the public who have recently bought an item, dined at a restaurant, or otherwise incurred VAT; failure to produce one can lead to a substantial fine on the customer as well as the seller, according to the current law about VAT receipts' possession and distribution.
Light Troops Legion (1774)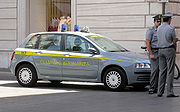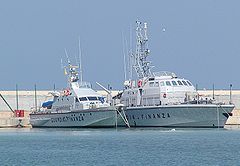 The origins of the Guardia di Finanza date back to October 5, 1774, when the "Light Troops Legion" (
Legione truppe leggere
) was set up under the King of Sardinia, Victor Amadeus III. This was the first example in Italy of a special corps established and organized for financial surveillance duties along the borders, as well as for military defense.
Customs Guards Corps (1862)
Once the unification of Italy was completed in 1862, the "Customs Guards Corps" (
Corpo delle Guardie doganali
) was set up. Its main task was Customs surveillance and co-participation in the Country's defense during war time.
Corpo della Regia Guardia di Finanza (1881)
By Law no. 141 dated April 8, 1881, the Customs Guards Corps became the "Royal Financial Guard Corps" (
Corpo della Regia Guardia di Finanza
) whose task was to "impede, suppress and report
smuggling
Smuggling
Smuggling is the clandestine transportation of goods or persons, such as out of a building, into a prison, or across an international border, in violation of applicable laws or other regulations.There are various motivations to smuggle...
activities and any other violation and transgression of financial laws and regulations", and to safeguard the interests of the tax administration, as well as to co-participate in enforcing law and order and public security.
Twentieth Century
By Royal Decree dated July 14, 1907, the Corps was issued 5-point star uniforms to mark its military status, even though the Army's military discipline regulation was extended to the Guardia di Finanza by Law dated July 12, 1908. The Corps served in the two World Wars and in the War of National Liberation, deserving 18 awards to its War Flag, which had been granted in 1914 to decree the total integration among the Italian Armed Forces.
Subsequently, the Corps took part in numerous rescue operations during serious natural disasters; for this commitment the Corps was decorated with 13 additional civil valor awards.
The re-organization of the police forces in 1919 also affected the Royal
Guardia di Finanza
. The responsibilities were divided between the Inspector General, who was an Army Officer with the rank of
Lieutenant General
Lieutenant General
Lieutenant General is a military rank used in many countries. The rank traces its origins to the Middle Ages where the title of Lieutenant General was held by the second in command on the battlefield, who was normally subordinate to a Captain General....
responsible for military preparation, and the Commanding
General
General
A general officer is an officer of high military rank, usually in the army, and in some nations, the air force. The term is widely used by many nations of the world, and when a country uses a different term, there is an equivalent title given....
, who was a Guardia di Finanza Officer subordinate to the former, but authorized to maintain direct relations with the Minister for ordinary institutional duties and for personnel management. In 1923, the "Investigative Tax Police" was set up as a specialized branch of the Royal Guardia di Finanza. Within a few years, its naval fleet, motor-vehicles and telecommunication structure underwent a complete change; the Statistical Service equipped with a data processing centre, the Air Service and the Canine Service (for anti-drugs checks) were set up. During the same years, the Corps' general organization was defined pursuant to Law no. 189 dated April 23, 1959, which laid down its institutional tasks, subsequently amended by specific sector provisions assigning certain responsibilities.
Recent history
Besides the review of its organizational structure, laid out by the issuance of Presidential Decree Law no. 34 dated January 29, 1999, the updating of the Corps' institutional tasks was completed. Law Decree no. 68, dated March 19, 2001, whilst confirming the Corps' configuration as a military structure, enhanced its role as a police force having general competence on all economic, financial and judicial matters for the safeguard of the public budget and that of the regions, of the local authorities and of the
European Union
European Union
The European Union is an economic and political union of 27 independent member states which are located primarily in Europe. The EU traces its origins from the European Coal and Steel Community and the European Economic Community , formed by six countries in 1958...
.
The Guardia di Finanza Historical Museum is custodian of the traditions of the Corps. It preserves artifacts of relevance to the Guardia di Finanza and promotes historical research, to aid researchers, scholars and military history enthusiasts.
Anti-drug operations
From the statistic data of the anti-drug service central Direction, of the Department of the Interior,the 60% of the drug seized in Italy by all the strengths of law enforcement is found by the Guardia di Finanza.
In 2005, the Financial Guard was responsible for 77% of the heroin seizures, 69% of cocaine seizures and 54% of hashish and marijuana seizures.
The Chiasso financial smuggling case
On June 3, 2009 near Chiasso, Switzerland (near the Swiss/Italian border), officers of the Corps detained two Japanese nationals in their 50s who had attempted to enter Switzerland and had in their possession a suitcase with a false bottom containing U.S. Treasury Bonds worth $134.5 billion.
While assessment as to the authenticity of the bonds is on-going, if the bonds prove to be genuine, the Corps will have intervened in the largest single act of
smuggling
Smuggling
Smuggling is the clandestine transportation of goods or persons, such as out of a building, into a prison, or across an international border, in violation of applicable laws or other regulations.There are various motivations to smuggle...
(with respect to financial value) in recorded history.
Unit awards
The unit awards, as depicted on the unit coat-of-arms, are:
3 blue and gold ribbons for 3 gold medals of valour
4 white and gold ribbons for 4 silver medals of valour
1 blue ribbon with VI for six bronze medals for valour
1 blue and white ribbon with II for two crosses of valour
1 green-white-red ribbon with IX for nine medals for civil valour
1 blue and red ribbon, with a cross, for 5 knight's crosses
Special departments
Gruppo di Investigazione Criminalità Organizzata

Gruppo di Investigazione Criminalità Organizzata

Gruppo d'investigazione sulla criminalità organizzata, also knew with the acronym GICO, is a specialized department of the Italian Guardia di Finanza, a Special Police force that combats international drugs trafficking, smuggling, money laundering, terrorist financing, financial crimes and illegal...


(GICO): Organized Crime Investigation Group.
Gruppo Operativo Antidroga (GOA): Counter-narcotics Group
Gruppo Anticrimine Tecnologico (GAT): Counter-cybercrime Group
Comando Operativo Aeronavale (ROAN): Air-Naval Operational Command
Antiterrorismo Pronto Impiego

AntiTerrorismo Pronto Impiego

The Counter-terrorism Rapid Response force, formed in 1983, is a special police unit of the Guardia di Finanza dealing with anti-terrorism in Italy. The unit took part in counterterrorism operations and VIP protection details in Italy. This unit has done operations in Albania, Kosovo and Hungary....


(ATPI): Antiterrorism and Rapid Response Service
Servizio Cinofili: Police Dog Division (K9).
Cars
Alfa Romeo 155

Alfa Romeo 155

The Alfa Romeo 155 is a compact executive car produced under the Italian Alfa Romeo marque between 1992 and 1998.-Design:Built to replace the 75 and based on the parent Fiat Group's Type Three platform, the 155 was somewhat larger in dimension than the 75 but evolved its styling from that of its...



Alfa Romeo 156

Alfa Romeo 156

The Alfa Romeo 156 is a compact executive car introduced by Italian automaker Alfa Romeo at the 1997 Frankfurt Motor Show as the replacement for the Alfa Romeo 155...



Alfa Romeo 159

Alfa Romeo 159

The Alfa Romeo 159 is a compact executive car produced by the Italian manufacturer Alfa Romeo between 2005 and 2011. The 159 was introduced in production form at the 2005 Geneva Motor Show as a replacement for the successful Alfa Romeo 156. The 159 uses the GM/Fiat Premium platform, shared with...



Fiat Bravo
Fiat Stilo

Fiat Stilo

The Fiat Stilo is a small family car available as a 3-door and a 5-door hatchback, as well as an estate , produced by the Italian automaker Fiat Automobiles. The Stilo 3-door and 5-door were launched in 2001 to replace the Fiat Bravo/Brava, with the Stilo MultiWagon following in 2002...


1.9 JTD
Land Rover Freelander

Land Rover Freelander

The Land Rover Freelander is a compact crossover SUV made by Land Rover.The current generation is sold as the LR2 in North America and as the Freelander 2 in Europe...



Helicopters
Agusta A109

Agusta A109

The AgustaWestland AW109 is a light-weight, twin-engine, eight-seat multi-purpose helicopter built by the Anglo-Italian manufacturer AgustaWestland...



Agusta-Bell AB 412

Bell 412

The Bell 412 is a utility helicopter manufactured by Bell Helicopter. It is a development of the Bell 212 model, the major difference being the composite four-blade main rotor.-Design and development:...



Nardi Hughes NH-500

MD Helicopters MD 500

The MD Helicopters MD 500 series is an American family of light utility civilian and military helicopters. The MD 500 was developed from the Hughes 500, a civilian version of the US Army's OH-6A Cayuse/Loach...



Weapons
Pistols: Beretta 92

Beretta 92

The Beretta 92 is a series of semi-automatic pistols designed and manufactured by Beretta of Italy. The model 92 was designed in 1972 and production of many variants in different calibers continues today...


, and Beretta 84 BB
Submachine gun: Beretta PM 12 S2
Assault rifle: Beretta SC70/90

Beretta AR70/90

The Beretta AR70/90 is a gas operated self loading assault rifle chambered for the 5.56mm cartridge, and is the standard issue service rifle of the Italian Armed Forces. The weapon also features grenade sights, and is designed to be fitted with a rifle grenade...



Combat shotgun: SPAS-12
External links