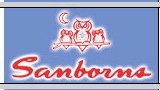 Grupo Sanborns
Grupo Sanborns
is a large
restaurant
Restaurant
A restaurant is an establishment which prepares and serves food and drink to customers in return for money. Meals are generally served and eaten on premises, but many restaurants also offer take-out and food delivery services...
,
retail
Retail
Retail consists of the sale of physical goods or merchandise from a fixed location, such as a department store, boutique or kiosk, or by mail, in small or individual lots for direct consumption by the purchaser. Retailing may include subordinated services, such as delivery. Purchasers may be...
,
pharmacy
Pharmacy
Pharmacy is the health profession that links the health sciences with the chemical sciences and it is charged with ensuring the safe and effective use of pharmaceutical drugs...
and
department store
Department store
A department store is a retail establishment which satisfies a wide range of the consumer's personal and residential durable goods product needs; and at the same time offering the consumer a choice of multiple merchandise lines, at variable price points, in all product categories...
chain located in
Mexico
Mexico
The United Mexican States , commonly known as Mexico , is a federal constitutional republic in North America. It is bordered on the north by the United States; on the south and west by the Pacific Ocean; on the southeast by Guatemala, Belize, and the Caribbean Sea; and on the east by the Gulf of...
and in
El Salvador
El Salvador
El Salvador or simply Salvador is the smallest and the most densely populated country in Central America. The country's capital city and largest city is San Salvador; Santa Ana and San Miguel are also important cultural and commercial centers in the country and in all of Central America...
.
History
The retail company was founded in
Mexico City
Mexico City
Mexico City is the Federal District , capital of Mexico and seat of the federal powers of the Mexican Union. It is a federal entity within Mexico which is not part of any one of the 31 Mexican states but belongs to the federation as a whole...
on June 19, 1903 by
California
California
California is a state located on the West Coast of the United States. It is by far the most populous U.S. state, and the third-largest by land area...
immigrants Walter and Frank Sanborn, who also opened Mexico's first
soda fountain
Soda fountain
A soda fountain is a device that dispenses carbonated drinks. They can be found in restaurants, concession stands and other locations such as convenience stores...
. The original location and its lunch counter, across from the main Mexico City post office (
Palacio de Correos
) is still in operation.
During the
Mexican Revolution
Mexican Revolution
The Mexican Revolution was a major armed struggle that started in 1910, with an uprising led by Francisco I. Madero against longtime autocrat Porfirio Díaz. The Revolution was characterized by several socialist, liberal, anarchist, populist, and agrarianist movements. Over time the Revolution...
, troops of
Emiliano Zapata
Emiliano Zapata
Emiliano Zapata Salazar was a leading figure in the Mexican Revolution, which broke out in 1910, and which was initially directed against the president Porfirio Díaz. He formed and commanded an important revolutionary force, the Liberation Army of the South, during the Mexican Revolution...
used a Sanborns branch located where the
Libreria Madero
is today, as a rendezvous point and gathering place. Extant photos show
Zapatista
soldiers enjoying their first restaurant meal at Sanborns' lunch counter.
http://www.sanborns.com.mx/sanborns/sanborns_hist.asp
Thus the Sanborns slogan
Meet me at Sanborns
.
In 1919, Walter Sanborn, tired of Mexico's political turmoil, returned to the US and left the management of the company to his brother Frank.
Matter in fact, the trade mark of the franchise, the tree owls, represent Mr. Frank Sanborns and his sons, Francis and Jonathan. Sometime, the official name of the company was "Sanborn´s Hermanos" (Sanborn´s Brothers), when Mr. Frank passed away.
Also in 1919, Sanborns acquired its most famous branch location, the 16th century House of Tiles, the
Casa de los Azulejos
Casa de los Azulejos, Mexico City
The Casa de los Azulejos or "House of Tiles" is an 18th century palace in Mexico City, built by the Count del Valle de Orizaba family. What makes this palace, in the City of Palaces, distinctive is that its facade on three sides is completely covered in the expensive blue and white tile of Puebla...
, a major Mexico City tourist attraction and national monument. This is probably the world's only pharmacy decorated with a
mural
Mural
A mural is any piece of artwork painted or applied directly on a wall, ceiling or other large permanent surface. A particularly distinguishing characteristic of mural painting is that the architectural elements of the given space are harmoniously incorporated into the picture.-History:Murals of...
by
José Clemente Orozco
José Clemente Orozco
José Clemente Orozco was a Mexican social realist painter, who specialized in bold murals that established the Mexican Mural Renaissance together with murals by Diego Rivera, David Alfaro Siqueiros, and others...
.
In 1946, Frank Sanborn sold his interest in Sanborns to fellow
pharmacist
Pharmacist
Pharmacists are allied health professionals who practice in pharmacy, the field of health sciences focusing on safe and effective medication use...
Charles Walgreen Jr.
Charles Rudolph Walgreen, Jr.
Charles Rudolph Walgreen Jr. was born in Chicago, Illinois to Charles Rudolph Walgreen, the founder of the Walgreen drug store, and Myrtle Norton Walgreen. Charles took over the company after the death of his father in 1939. He was the president of Walgreens from 1939 until 1963 and the Chairman...
of
Chicago
Chicago
Chicago is the largest city in the US state of Illinois. With nearly 2.7 million residents, it is the most populous city in the Midwestern United States and the third most populous in the US, after New York City and Los Angeles...
.
Like
Walgreens
Walgreens
Walgreen Co. , doing business as Walgreens , is the largest drugstore chain in the United States of America. As of August 31st, the company operates 8,210 locations across all 50 states, the District of Columbia and Puerto Rico. Founded in Chicago, Illinois in 1901, and has since expanded...
, Sanborns does not use an apostrophe in its name. In Sanborns' case, it is due to the
Spanish language
Spanish language
Spanish , also known as Castilian , is a Romance language in the Ibero-Romance group that evolved from several languages and dialects in central-northern Iberia around the 9th century and gradually spread with the expansion of the Kingdom of Castile into central and southern Iberia during the...
not using apostrophes to indicate possession.
Walgreens
Walgreens
Walgreen Co. , doing business as Walgreens , is the largest drugstore chain in the United States of America. As of August 31st, the company operates 8,210 locations across all 50 states, the District of Columbia and Puerto Rico. Founded in Chicago, Illinois in 1901, and has since expanded...
sold its interest in 1985. Currently, Sanborns is a unit of conglomerate
Grupo Carso
Grupo Carso
Grupo Carso is a global conglomerate company owned by the Mexican tycoon Carlos Slim. It was formed in 1990 after the merger of Corporación Industrial Carso and Grupo Inbursa...
which itself is controlled by Carlos Slim, the richest person in the world . Sanborns controls
Sears Mexico
Sears Mexico
Sears Roebuck de México is a department store chain located in Mexico, operating more than 55 stores all over Mexico. Sears México is operated by Grupo Carso...
(nearly 50 stores). It also owns about 125 Sanborns stores (a combination of restaurants, drugstores and book and gift shops); 34 Sanborns Cafés; nearly 65 Discolandia, Mixup, No Problem and
Tower Records
Tower Records
Tower Records was a retail music chain that was based in Sacramento, California. It currently exists as an international franchise and an online music store....
music stores. Sanborns also operates its eponymous Web site selling electronics, computers, music, books, toys, drugs and more.