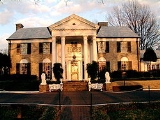 Graceland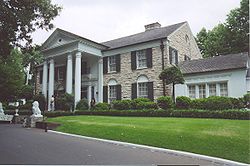 Graceland
is a large white-columned mansion and 13.8 acres (5.6 ha) estate that was home to
Elvis Presley
Elvis Presley
Elvis Aaron Presley was one of the most popular American singers of the 20th century. A cultural icon, he is widely known by the single name Elvis. He is often referred to as the "King of Rock and Roll" or simply "the King"....
in
Memphis
Memphis, Tennessee
Memphis is a city in the southwestern corner of the U.S. state of Tennessee, and the county seat of Shelby County. The city is located on the 4th Chickasaw Bluff, south of the confluence of the Wolf and Mississippi rivers....
,
Tennessee
Tennessee
Tennessee is a U.S. state located in the Southeastern United States. It has a population of 6,346,105, making it the nation's 17th-largest state by population, and covers , making it the 36th-largest by total land area...
. It is located at 3764 Elvis Presley Boulevard in the vast
Whitehaven
Whitehaven, Memphis
Whitehaven is a predominantly African-American community in Memphis, Tennessee, first organized in the late 19th century. Its current population is about 50,000.-Geography:...
community about 9 miles (14.5 km) from Downtown and less than four miles (6 km) north of the
Mississippi
Mississippi
Mississippi is a U.S. state located in the Southern United States. Jackson is the state capital and largest city. The name of the state derives from the Mississippi River, which flows along its western boundary, whose name comes from the Ojibwe word misi-ziibi...
border. It currently serves as a museum. It was opened to the public on June 7, 1982. The site was listed in the
National Register of Historic Places
National Register of Historic Places
The National Register of Historic Places is the United States government's official list of districts, sites, buildings, structures, and objects deemed worthy of preservation...
on November 7, 1991 and declared a
National Historic Landmark
National Historic Landmark
A National Historic Landmark is a building, site, structure, object, or district, that is officially recognized by the United States government for its historical significance...
on March 27, 2006. Graceland has become one of the most-visited private homes in America with over 600,000 visitors a year, behind the
White House
White House
The White House is the official residence and principal workplace of the president of the United States. Located at 1600 Pennsylvania Avenue NW in Washington, D.C., the house was designed by Irish-born James Hoban, and built between 1792 and 1800 of white-painted Aquia sandstone in the Neoclassical...
and
Biltmore Estate
Biltmore Estate
Biltmore House is a Châteauesque-styled mansion near Asheville, North Carolina, built by George Washington Vanderbilt II between 1889 and 1895. It is the largest privately-owned home in the United States, at and featuring 250 rooms...
(900,000 visitors per year).
Elvis Presley died at the estate on August 16, 1977. Presley, his parents Gladys and Vernon Presley, and his grandmother, are buried there in what is called the Meditation Garden. A memorial gravestone for Presley's twin brother, Jesse Garon, is also at the site.
History
Graceland Farms was originally owned by S.C. Toof, founder of
S.C. Toof & Co.
Toof Building
The Toof Building is a commercial brick structure with exterior terra cotta elements, built in the architectural style of the Chicago School. It is located on Madison Ave in downtown Memphis, Tennessee, adjacent to AutoZone Park, a minor league baseball stadium.Architect G. M...
, a commercial printing firm in Memphis, who was previously the pressroom foreman of the Memphis newspaper, the
Memphis Daily Appeal
. The grounds were named after Toof's daughter, Grace, who inherited the farm. Soon after, the portion of the land designated as Graceland today was given to her nephews and niece. It was Grace Toof's niece, Ruth Moore, who, in 1939 together with her husband Dr. Thomas Moore, built the present American "colonial" style mansion.
Architecture and modifications
The mansion is constructed of tan limestone and consists of twenty-three rooms, including eight bedrooms and bathrooms. The entrance way contains four Temple of the Winds columns and two large lions perched on both sides of the portico.
After purchasing the property Presley carried out extensive modifications to suit his needs and tastes, including: a fieldstone wall surrounding the grounds, a wrought-iron music-themed gate, a swimming pool, a racquetball court, and the famous "Jungle Room" which features an indoor waterfall, among other modifications. In February and October 1976, the Jungle Room was converted into a recording studio, where Presley recorded the bulk of his final two albums,
From Elvis Presley Boulevard, Memphis, Tennessee
From Elvis Presley Boulevard, Memphis, Tennessee
From Elvis Presley Boulevard, Memphis, Tennessee is an album by Elvis Presley, released in 1976 on RCA Records. It is often mistaken that this is a concert recording as the album states the songs were "recorded live". While this is true, the songs were recorded live in the recording studio at a...
and
Moody Blue
Moody Blue
Moody Blue is the final studio album by Elvis Presley. The album was a mixture of live and studio work, and included tracks from Presley's final studio recording sessions in 1976, including Moody Blue, a previously published hit song, and Way Down, which became a hit song after Presley's death less...
; these were his final known recordings in a studio setting.
One of Presley's better known modifications was the addition of the Meditation Garden, where he, his parents Gladys and Vernon, and grandmother are buried. A small stone memorializes Elvis' twin brother Jesse Garon who died at birth. The Meditation Garden was opened to the public in 1978. Graceland was officially opened to the public on June 7, 1982.
According to critics such as
Albert Goldman
Albert Goldman
Albert Harry Goldman was an American professor and author.Born in Dormont, Pennsylvania, Albert Goldman wrote about the culture and personalities of the American music industry both in books and as a contributor to magazines...
, "'nothing in the house is worth a dime." In chapter 1 of his book,
Elvis
(1981), the author describes Graceland as looking like a brothel: "it appears to have been lifted from some turn-of-the-century bordello down in the French Quarter of New Orleans." And he dismisses the interior as "gaudy," "garish" and "phony," adding that "King Elvis's obsession with royal red reaches an intensity that makes you gag." When "people who to a real degree shared Elvis Presley's class background, and whose lives were formed by his music," visited the inside of Graceland,
Greil Marcus
Greil Marcus
Greil Marcus is an American author, music journalist and cultural critic. He is notable for producing scholarly and literary essays that place rock music in a much broader framework of culture and politics than is customary in pop music journalism.-Life and career:Marcus was born in San Francisco...
says in similar terms, they "have returned with one word to describe what they saw: 'Tacky.' Tacky, garish, tasteless — words others translated as white trash." In
Graceland: Going Home With Elvis
, Karal Ann Marling deals with the decorative arts that makes Elvis' mansion seem a creation as well as a site. Graceland's "act of faith in serial novelty," Marling argues, synthesized the "intense concern for personal style" that made B. B. King notice a teenage Elvis in a pawnshop years before he was famous and the fashion sense informing the "theme clothes" of the '70s — "carapace[s] of sheer, radiant glory." However, during their four year relationship, Presley's girlfriend Linda Thompson decorated much of Graceland in her own style. Even Presley himself was said to "balk at the extent of her red fur and leopard skin look."
Graceland grew from 10266 square feet (953.7 m²) when originally bought by Presley to 17552 square feet (1,630.6 m²) today. Managers of the complex announced a major renovation project that will include a new visitors center, a 500-room convention hotel and high-tech museum displays. The current visitors center, souvenir shops, the 128-room Heartbreak Hotel, and museums will be torn down and replaced with the new facilities. The project will take approximately 3 years to complete.
Presley at Graceland
After Presley began his career he bought a $40,000 home for himself and his family at 1034 Audubon Drive in Memphis. As his fame grew, especially after his appearances on television, the amount of fans that would congregate outside the home multiplied. Presley's neighbours, most of whom were happy to have a celebrity living nearby, soon came to find the constant gathering of fans and journalists a nuisance. After several complaints, Presley decided it was necessary for him to move to a property more suitable.
In early 1957, Presley gave his parents a $100,000 budget, and asked them to find a "farmhouse" type property to purchase. At the time, Graceland was located several miles beyond Memphis's main urban area. In later years Memphis would expand with housing, resulting in Graceland being surrounded by other properties. After Gladys died in 1958, and Vernon married Dee Stanley in 1960, the couple lived there for a time. Wife-to-be
Priscilla Beaulieu
Priscilla Presley
Priscilla Presley is an American actress and businesswoman. She is the ex-wife of singer Elvis Presley, and the mother of singer-songwriter Lisa Marie Presley....
also lived at Graceland for five years before she and Elvis married. After their marriage in Las Vegas on May 1, 1967, Priscilla lived in Graceland five more years until she separated from Elvis in late 1972.
According to Mark Crispin Miller, Graceland became for Elvis "the home of the organization that was himself, was tended by a large vague clan of Presleys and deputy Presleys, each squandering the vast gratuities which Elvis used to keep his whole world smiling." The author adds that Presley's father Vernon "had a swimming pool in his bedroom", that there "was a jukebox next to the swimming pool, containing Elvis' favorite records" and that the singer himself "would spend hours in his bedroom, watching his property on a closed-circuit television." Graceland was Lisa Marie Presley's first home after her birth on February 1, 1968 and her childhood home, although her main state of residence was California where she lived with her mother after she divorced Elvis when Lisa was in elementary school. Every year at Christmas time Lisa Marie Presley and all her family go to Graceland to celebrate Christmas together. Lisa Marie Presley often goes back to Graceland for visits.
When she turned 25, Lisa Marie inherited the estate. In 2005 she sold 85 percent of it.
According to Brad Olsen, "Some of the rooms at Graceland testify to the brilliance and quirkiness of Elvis Presley. The TV room in the basement is where he often watched three television sets at once, and was within close reach of a wet bar."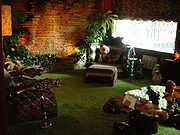 When he would tour, staying in hotels, "the rooms would be remodelled in advance of his arrival, so as to make the same configurations of space as he had at home – the Graceland mansion. His furniture would arrive, and he could unwind after his performances in surroundings which were completely familiar and comforting," the room in question, 'The Jungle Room' being "an example of particularly lurid kitsch."
The Meditation Garden, designed and built by architect Bernard Grenadier, has been noted as a preferred place of Elvis in the property, where he often went to reflect on any problems or situations that arose during his life.
According to the singer's cousin Billy Smith, Elvis spent the night at Graceland with Smith and his wife Jo many times: "we were all three there talking for hours about everything in the world! Sometimes he would have a bad dream and come looking for me to talk to, and he would actually fall asleep in our bed with us."
There was some discord between Elvis and his stepmother Dee at Graceland, however, and
Elaine Dundy
Elaine Dundy
Elaine Dundy was an American novelist, biographer, journalist, actress and playwright.-Early life:Born Elaine Rita Brimberg in New York City, of Latvian maternal descent, her Polish father was an office furniture manufacturer and a violent bully...
said "that Vernon had settled down with Dee where Gladys had once reigned, while Dee herself - when Elvis was away - had taken over the role of mistress of Graceland so thoroughly as to rearrange the furniture and replace the very curtains that Gladys had approved of." This was too much for the singer who still loved his deceased mother. One afternoon, "a van arrived ... and all Dee's household's goods, clothes, 'improvements,' and her own menagerie of pets, were loaded on ... while Vernon, Dee and her three children went by car to a nearby house on Hermitage until they finally settled into a house on Dolan Drive which ran alongside Elvis' estate."
The book
Elvis by the Presleys
reveals several details concerning the singer's life at Graceland including his obsessions and passions when staying at home.
On August 16, 1977, Elvis died in his bathroom at Graceland allegedly of a heart attack. However, there are conflicting reports as to the cause of his death. According to the well known Presley biographer
Peter Guralnick
Peter Guralnick
Peter Guralnick is an American music critic, writer on music, and historian of US American popular music, who is also active as an author and screenwriter. He has been married for over 45 years to Alexandra...
, the singer "had thrown up after being stricken, apparently while seated on the toilet." The author adds that "drug use was heavily implicated in this unanticipated death of a middle-aged man with no known history of heart disease...no one ruled out the possibility of anaphylactic shock brought on by the
codeine
Codeine
Codeine or 3-methylmorphine is an opiate used for its analgesic, antitussive, and antidiarrheal properties...
pills he had gotten from his dentist."
Graceland Kitchen
Elvis made lists outlining items to be kept in Graceland at all times. Items included:
fresh, lean, unfrozen ground meat
one case regular Pepsi

Pepsi

Pepsi is a carbonated soft drink that is produced and manufactured by PepsiCo...



one case orange drinks
rolls (hot rolls - Brown 'n' Serve)
at least 6 cans of biscuits
hamburger buns
pickles
potatoes and onions
assorted fresh fruits
cans of sauerkraut
wieners
at least three bottles each of milk and Half and Half.
thin, lean bacon
mustard
peanut butter
fresh, hand-squeezed cold orange juice
banana pudding (to be made fresh nightly)
ingredients for meat loaf and sauce
brownies (to be made fresh nightly)
ice cream - vanilla and chocolate
shredded coconut
fudge cookies
3 packs each of Spearmint, Doublemint, and Juicy Fruit gum
cigars (El Producto Diamond Tips & El Producto Altas)
cigarettes
Dristan
Dristan
Dristan 12-Hour Nasal Spray and Dristan Cold Multi-Symptom Tablets are medications made by Pfizer. Dristan 12-Hour Nasal Spray is a nasal decongestant, the active ingredient of which is Oxymetazoline hydrochloride 0.05%...
Super Anahist
Contac
Sucrets (antibiotic red box)
Feenamint gum
matches (four to five books)
Visits to Graceland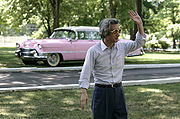 In 1957, Presley invited Richard Williams and
Buzz Cason
Buzz Cason
Buzz Cason is an American rock singer, songwriter, producer and author....
to visit the Whitehaven neighborhood of Memphis where Graceland is located "to get a close look at this mansion Elvis had told us about. ... We proceeded to clown around on the front porch, striking our best rock 'n' roll poses and snapping pictures with the little camera. We peeked in the not-yet-curtained windows and got a kick out of the pastel colored walls in the front rooms with shades of bright reds and purples that Elvis most certainly had picked out."
"In the late 50s, Elvis was fond of claiming that the US government had mooted a visit to Graceland by
Nikita Khrushchev
Nikita Khrushchev
Nikita Sergeyevich Khrushchev led the Soviet Union during part of the Cold War. He served as First Secretary of the Communist Party of the Soviet Union from 1953 to 1964, and as Chairman of the Council of Ministers, or Premier, from 1958 to 1964...
, 'to see how in America a fellow can start out with nothing and, you know, make good'.
On June 30, 2006, when US President
George W. Bush
George W. Bush
George Walker Bush is an American politician who served as the 43rd President of the United States, from 2001 to 2009. Before that, he was the 46th Governor of Texas, having served from 1995 to 2000....
hosted Japanese Prime Minister
Junichiro Koizumi
Junichiro Koizumi
is a Japanese politician who served as Prime Minister of Japan from 2001 to 2006. He retired from politics when his term in parliament ended.Widely seen as a maverick leader of the Liberal Democratic Party , he became known as an economic reformer, focusing on Japan's government debt and the...
for a tour of the mansion, it became the only residence on American soil other than an Embassy, the White House, or any of the other Presidential retreats to have hosted a joint-visit by a sitting US president and a head of a foreign government. (Koizumi, who served as Prime Minister of Japan from 2001 to 2006, is an avid Elvis Presley fan and even shares Presley's January 8 birthday.)
On August 6, 2010, Prince Albert II, the Principality of Monaco's Head of State, and his fiancée Charlene Wittstock, on a vacation tour of the United States, also toured Graceland. Albert explained: "If you're on a summer holiday, you've got to come at this time of year. I've always wanted to come to Graceland. Charlene and my friends wanted to be here today for this visit, Elvis touched our lives as well and the lives of so many people. We wanted to pay our respects and see what this place was all about."
Tourist destination
After Elvis Presley's death in 1977, Vernon Presley served as executor of his estate. Upon his death in 1979, he chose Priscilla to serve as the estate executor for Elvis' only child, Lisa Marie who was only 11. Graceland itself cost $500,000 a year in upkeep, and expenses had dwindled Elvis' and Priscilla's daughter Lisa Marie's inheritance to only $1 million. Taxes were due on the property, those and other expenses due came to over $500,000. Faced with having to sell Graceland, Priscilla examined other famous houses/museums, and hired a CEO, Jack Soden, to turn Graceland into a moneymaker. Graceland was opened to the public on June 7, 1982. Priscilla's gamble paid off, after only a month of opening Graceland's doors the estate made back all the money it had invested. Priscilla Presley became the chairwoman and president of
Elvis Presley Enterprises
Elvis Presley Enterprises
Elvis Presley Enterprises, Inc. is a corporate entity created by "The Elvis Presley Trust" to conduct business and manage its assets, including Graceland...
, or EPE, stating at that time she would do so until Lisa Marie reached 21 years of age. The enterprise's fortunes soared and eventually the trust grew to be worth over $100 million.
While Graceland was open to tours from 1982, the last person to live in the house was Elvis' aunt Delta, on Elvis' invitation after her husband died. She died in 1993.
An annual procession through the estate and past Elvis' grave is held on the anniversary of his death. The largest gathering assembled on the 25th anniversary in 2002. One estimate was of 40,000 people in attendance, despite the heavy rain.
The 20th Anniversary in 1997 had the biggest crowd in Memphis for an Elvis Week. At this time several hundred media groups from around the world were present and the event gained its greatest media publicity as an estimated 50,000 fans visited the city.
For many of the hundreds of thousands of people who visit Graceland each year, the visit takes on a quasi-religious perspective. They may plan for years to journey to the home of the 'King' of rock and roll. On site, headphones narrate the salient events of Elvis's life and introduce the relics that adorn the rooms and corridors. The rhetorical mode is hagiographic, celebrating the life of an extraordinary man, emphasizing his generosity, his kindness and good fellowship, how he was at once a poor boy who made good, an extraordinary musical talent, a sinner and substance abuser, and a religious man devoted to the Gospel and its music. At the meditation garden, containing Elvis's grave, some visitors pray, kneel, or quietly sing one of Elvis's favorite hymns. The brick wall that encloses the mansion's grounds is covered with graffiti that express an admiration for the singer as well as petitions for help and thanks for favors granted.
The Graceland grounds include a museum containing many Elvis artifacts, like some of his famous Vegas jumpsuits, awards, gold records, the
Lisa Marie
jetliner, and Elvis' extensive auto collection. Recently
Sirius Satellite Radio
Sirius Satellite Radio
Sirius Satellite Radio is a satellite radio service operating in North America, owned by Sirius XM Radio.Headquartered in New York City, with smaller studios in Los Angeles and Memphis, Sirius was officially launched on July 1, 2002 and currently provides 69 streams of music and 65 streams of...
installed an all-Elvis Presley channel on the grounds. The service's subscribers all over North America can hear Presley's music from Graceland around the clock. Two new attractions have been added, Private Presley and the `68 Special exhibits; these can be found across the street on the plaza. The fieldstone wall that Presley installed is still there, and has several years' worth of graffiti from visitors, who simply refer to it as "the wall".
Tours
Tourism
Tourism is travel for recreational, leisure or business purposes. The World Tourism Organization defines tourists as people "traveling to and staying in places outside their usual environment for not more than one consecutive year for leisure, business and other purposes".Tourism has become a...
of the
museum
Museum
A museum is an institution that cares for a collection of artifacts and other objects of scientific, artistic, cultural, or historical importance and makes them available for public viewing through exhibits that may be permanent or temporary. Most large museums are located in major cities...
s at Graceland are available, though no flash
photography
Photography
Photography is the art, science and practice of creating durable images by recording light or other electromagnetic radiation, either electronically by means of an image sensor or chemically by means of a light-sensitive material such as photographic film...
or
video camera
Video camera
A video camera is a camera used for electronic motion picture acquisition, initially developed by the television industry but now common in other applications as well. The earliest video cameras were those of John Logie Baird, based on the electromechanical Nipkow disk and used by the BBC in...
s are allowed inside. There is an audio tour of the Graceland mansion. The upper floor is not open to visitors out of respect for the Presley family and partially to avoid any improper focus on the bathroom which was the site of his death. The upper floor, which also contains Elvis' bedroom, has been untouched since the day Elvis died. Visitors park across the street, boarding shuttle buses to begin the tour of Graceland. Attendants issue headphones, and tourists are individually snapped by a souvenir photographer in front of a painted wall with Graceland's famous music gates. Tour buses drive across Elvis Presley Blvd. through the smallish Music gates. Down the long winding drive the bus stops in front of stone lions that stand watch at the wide red brick front steps. It was behind these lions that over 3500 of Elvis' mourning fans passed by to see his body in its casket. The house is much bigger than expected, photos being of the main part only. A tour guide stands at the closed doors to give a brief history of Graceland starting with the woman (Grace) it was named for and concluding with the fact that Elvis bought Graceland when he was only 22 years old. Finally the door opens to allow entry through the front door where, almost directly overhead, perhaps forever unseen by the public, is where Elvis died, on his bathroom floor.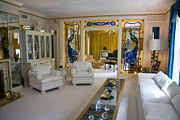 "The first shock an Elvis fan experiences upon visiting Graceland is that the mansion is only barely set back from the road" and that through its gates one can see a shopping center.
Upon entering Graceland, the white staircase, filled with reflective mirrors, is directly in front. To the right is the Living Room with the adjoining Music Room, the first room to be presented on the tour. There are guard rails up prohibiting entry to the Living Room and only part of the Music Room can be seen, hidden behind a doorway framed by vivid large peacocks set in stained glass. In this doorway, in front of the stained glass, Elvis' casket was placed for the funeral held in his home. Visible in the Music Room is a black baby grand piano and an old 1950s style TV. The Living Room contains a 15 feet (4.6 m) white sofa against the wall overlooking Graceland's front yard. To the left is a white fireplace. The painting that was Elvis' last Christmas present from his father, Vernon, hangs in this room. Also displayed are photographs of Elvis' parents Vernon and Gladys, Elvis and Lisa Marie. These rooms are then followed with a walk past the grand staircase to Elvis' parents' room.
In Elvis' parents' bedroom, white is the predominant color. A velvet-looking dark purple bedspread drapes onto the floor at the foot of the queen size bed. The walls, dresser, bed and carpet are bright white, protected from visitors by a guard rail. To the right is the closet, sealed with clear glass showing four or five of the dresses Gladys wore. To the left is a pink full bathroom, almost obscured from sight because of a velvet rope barrier.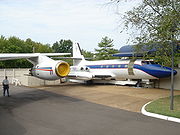 Next, the tour takes you into the dining room and the
kitchen
Kitchen
A kitchen is a room or part of a room used for cooking and food preparation.In the West, a modern residential kitchen is typically equipped with a stove, a sink with hot and cold running water, a refrigerator and kitchen cabinets arranged according to a modular design. Many households have a...
(which was not open to the public until 1995, as Elvis' aunt Delta used it until her death in 1993) and continues through the
basement
Basement
__FORCETOC__A basement is one or more floors of a building that are either completely or partially below the ground floor. Basements are typically used as a utility space for a building where such items as the furnace, water heater, breaker panel or fuse box, car park, and air-conditioning system...
, where Elvis' media room with its three televisions can be seen. There is also a bar and
billiards
Billiards
Cue sports , also known as billiard sports, are a wide variety of games of skill generally played with a cue stick which is used to strike billiard balls, moving them around a cloth-covered billiards table bounded by rubber .Historically, the umbrella term was billiards...
room. The tour continues upstairs again, through the famous Jungle Room. After the Jungle room, it exits to the backyard, past Lisa Marie's childhood swing set, to a small white building that served as his father's office. Through the office there is a small room containing a scale model of the home where he was born in Tupelo, Mississippi. Elvis' shooting range is housed in what used to be an old smokehouse. Down the sloping lawn, past horses grazing behind neat white fences, visitors enter the "Trophy Room". Originally this space was a sidewalk behind the house that Elvis had enclosed to store his many items of appreciation. Just inside is Elvis' famous gold
lamé
Lamé (fabric)
Lamé is a type of fabric woven or knit with thin ribbons of metallic yarns, as opposed to guimpé, where the ribbons are wrapped around a fibre yarn. It is usually gold or silver in color; sometimes copper lamé is seen. Lamé comes in different varieties, depending on the composition of the other...
suit from his early years.
In the Trophy Room many walls display records, movie posters, old time memorabilia of lipstick and shoes, even a 1950s Elvis doll. Among items there are the three Grammys Elvis won, Priscilla's wedding dress, Elvis' wedding tuxedo, Lisa Marie's toy chest and baby clothes and the famous hall of Elvis' gold records and awards. The Trophy Room then winds down the halls through a display of his
68 Comeback
, featuring his leather suit, his personal copies of his movie scripts, costumes he wore in many of his movies and a few of his trademark jumpsuits. Also in this room are all the awards and distinctions Elvis received and a display of the many canceled checks Elvis wrote to various charities.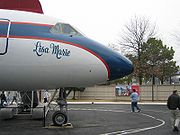 Once again outside, the tour moves past his still fully functioning stable of horses. Elvis'
Racquetball
Racquetball
For other sports often called "paddleball", see Paddleball .Racquetball is a racquet sport played with a hollow rubber ball in an indoor or outdoor court...
Court is next, now housing a display of Elvis' sequined "jumpsuits". The entrance is reminiscent of entering an old country club, expertly built and expensively furnished in dark leather on the numerous bar chairs and sofas. A fully functional bar is on the right. To the left is a sunken sitting area with the ever present stereo system found throughout Graceland. There is also the dark brown upright piano upon which Elvis played for what were to be his last songs,
Willie Nelson
Willie Nelson
Willie Hugh Nelson is an American country music singer-songwriter, as well as an author, poet, actor, and activist. The critical success of the album Shotgun Willie , combined with the critical and commercial success of Red Headed Stranger and Stardust , made Nelson one of the most recognized...
's
Blue Eyes Crying in the Rain
and The Righteous Brothers' "Unchained Melody". Reports conflict about which one was the last song. The sitting area has a floor to ceiling shatter proof window designed to watch the many racquetball games that took place here when Elvis was alive. In the early hours of the morning Elvis died he, his girlfriend Ginger Alden, his first cousin Billy Smith and Billy's wife Jo played a game of racquetball ending the game with the song on the piano before Elvis walked into the main house to wash his hair and go to bed. Today the court has been converted into displays of the majority of Elvis' stage costumes. More costumes are on display across the street in the "Sincerely Elvis" area. Many old vinyl records are hanging in the two story court, including numerous posthumous awards. Big screen TVs are scattered throughout Graceland. In the racquetball court Elvis' movies and recordings of his Las Vegas concerts play continually. Elvis had the swimming pool built after moving to Graceland.
Just past the pool area is the Meditation Garden where Elvis, his mother Gladys, his father Vernon and grandmother Minnie Mae Hood Presley lie buried. A separate building across the street houses a car collection, which includes
Elvis' Pink Cadillac
Elvis' Pink Cadillac
Elvis' Pink Cadillac is probably one of the most iconic, style setting, sung about in popular culture and then copied real cars in North America, and the wider world where Elvis Presley's music was popular....
and not far away his two planes
Lisa Marie
(a
Convair 880
Convair 880
The Convair 880 was a narrow-body jet airliner produced by the Convair division of General Dynamics. It was designed to compete with the Boeing 707 and Douglas DC-8 by being smaller and faster, a niche that failed to create demand...
) and
Hound Dog II
(a
Lockheed JetStar
Lockheed JetStar
The Lockheed JetStar is a business jet produced from the early 1960s through the 1970s. The JetStar was the first dedicated business jet to enter service. It was also one of the largest aircraft in the class for many years, seating ten plus two crew...
) are on display.
National historic landmark
Graceland was listed in the
National Register of Historic Places
National Register of Historic Places
The National Register of Historic Places is the United States government's official list of districts, sites, buildings, structures, and objects deemed worthy of preservation...
on November 7, 1991 and designated a
National Historic Landmark
National Historic Landmark
A National Historic Landmark is a building, site, structure, object, or district, that is officially recognized by the United States government for its historical significance...
on March 27, 2006 Graceland was the first site related to rock and roll to be entered in the National Register of Historic Places. The nomination was prepared and submitted by college student Jennifer Tucker of Memphis.
Recent developments
In early August 2005,
Lisa Marie Presley
Lisa Marie Presley
Lisa Marie Presley is an American singer and songwriter, also known as the "Princess of Rock and Roll". She is the only child of Elvis Presley, and daughter of Priscilla Presley.-Early life:...
sold 85% of the business side of her father's estate. She kept the Graceland property itself, as well as the bulk of the possessions found therein, and she turned over the management of Graceland to
CKX, Inc.
CKX, Inc.
CKX, Inc. is a company founded on February 7, 2005 that owns and develops entertainment content and intellectual property.-Background:The "C" and "K" stand for "Content is King", representing the focus of the company's business strategy to acquire established content, and then to improve, enhance...
, an entertainment company (on whose board of directors Priscilla Presley sits) that also owns
19 Entertainment
19 Entertainment
19 Entertainment, based in Los Angeles, United States, is a creator and producer of entertainment properties based around the areas of Music and Television / Film, including American Idol in the United States, Pop Idol in the United Kingdom as well as versions of the Idol series in more than...
, creator of the
American Idol
American Idol
American Idol, titled American Idol: The Search for a Superstar for the first season, is a reality television singing competition created by Simon Fuller and produced by FremantleMedia North America and 19 Entertainment...
TV show.
In February 2006, CKX Chairman Bob Sillerman announced plans to turn Graceland into an international tourist destination on a par with the Disney or Universal theme parks, sprucing up the area mansion and doubling or possibly tripling the 600,000 annual visitors to around 2 million a year. Sillerman's goal is to enhance the "total fan experience" at Graceland to compel visitors to spend more time and money. The company is working with the Bob Weis, the recently named new CEO of Disney Imagineering based in Orlando, Florida, to improve the tourist area around Graceland, which is located in an economically depressed area of Memphis, while keeping intact the historic home. Graceland officials envision a 3 miles (4.8 km) strip of Elvis Presley Boulevard transformed into a beautiful entertainment district from East Brooks RD all the way down to East Shelby Drive. EPE has bought up over 120 acre (0.4856232 km²) of land both commercial and residential around the mansion both north and south, everything from apartment complexes, car dealership, a souvenir shop and even some houses in the area to make way for the expansion.
Sillerman, who has been speaking with investors and developers, plans to spend between $250 million to $500 million on redeveloping the area surrounding Graceland. Among his plans are a new luxury hotel of more than 500 rooms and a convention center, an amphitheater for live concerts, restaurants and retail, plus a new 80000 square feet (7,432.2 m²) visitor's center and museum adjacent to the Graceland mansion. 2009 was set as the target date to begin work on the project but first it has to be approved by the Memphis City Council.
While visitor numbers grew to around 700,000, by 2005, and partly due to the negative impact on US tourism of 9/11, visitor numbers at Graceland had reportedly declined to around 600,000.
In pop culture
The title of Paul Simon

Paul Simon

Paul Frederic Simon is an American singer-songwriter and guitarist.Simon is best known for his success, beginning in 1965, as part of the duo Simon & Garfunkel, with musical partner Art Garfunkel. Simon wrote most of the pair's songs, including three that reached number one on the US singles...


's album Graceland

Graceland (album)

Graceland was Paul Simon's highest charting album in the U.S. in over a decade, reaching #3 in the national Billboard charts, receiving a certification of 5× Platinum by the RIAA and eventually selling over 14 million copies, making it Simon's most commercially successful album...


and the title track was inspired by Elvis' home. The title song

Graceland (song)

"Graceland" is the title song of the album Graceland, released in 1986 by Paul Simon. The song features vocals by The Everly Brothers.The lyrics deal with the singer's thoughts during a road trip to Graceland after the failure of his marriage to actress and author Carrie Fisher.-Reception:It was...


, which presents Graceland as a holy place, also won the Grammy Award for Record of the Year

Grammy Award for Record of the Year

The Record of the Year is one of the four most prestigious Grammy Awards presented annually. It has been awarded since 1959.-History:The honorees through its history have been:*1959-1965: Artist only.*1966-1998: Artist and producer....


a year later. The song "Walking in Memphis

Walking in Memphis

-Cher version:"Walking in Memphis" is the first European single by American singer-actress Cher from her twenty-second studio album, It's a Man's World. It was released in the end of 1995 by WEA. The song was performed in some shows in Europe, and in her tours since the Do You Believe? Tour.-Song...


" by Marc Cohn

Marc Cohn

Marc Craig Cohn is an American folk rock singer-songwriter and musician.- Personal life :Cohn was born in Cleveland, Ohio. He graduated from Beachwood High School in Beachwood, a Cleveland suburb. He then attended Oberlin College....


and later Cher

Cher

Cher is an American recording artist, television personality, actress, director, record producer and philanthropist. Referred to as the Goddess of Pop, she has won an Academy Award, a Grammy Award, an Emmy Award, three Golden Globes and a Cannes Film Festival Award among others for her work in...


features Graceland prominently.
The film 3000 Miles to Graceland

3000 Miles to Graceland

3000 Miles to Graceland is a 2001 American crime film, starring Kurt Russell, Kevin Costner, Courteney Cox, David Arquette, Bokeem Woodbine, Christian Slater, and Kevin Pollak. It is a story of theft and betrayal, revolving around a plot to rob the Riviera Casino during a convention of Elvis...


is about a group of criminals who plan to rob a casino during an international Elvis week, and to make it easier, they are all disguised as Elvis impersonators.
There is a movie Finding Graceland

Finding Graceland

Finding Graceland is a 1998 film starring Harvey Keitel, Johnathon Schaech, Bridget Fonda, and Gretchen Mol featuring a character alluding to be an alive-and-well Elvis years after staging his death....


staring Harvey Keitel

Harvey Keitel

Harvey Keitel is an American actor. Some of his most notable starring roles were in Martin Scorsese's Mean Streets and Taxi Driver, Ridley Scott's The Duellists and Thelma and Louise, Ettore Scola's That Night in Varennes, Quentin Tarantino's Reservoir Dogs and Pulp Fiction, Jane Campion's The...


with Johnathon Schaech

Johnathon Schaech

Johnathon Schaech is an American actor, writer, and director.-Early life:Schaech was born in Edgewood, Maryland to Joseph, a Baltimore City law enforcement officer, and Joanne Schaech, a human resources executive. He is of German and Italian descent, and was raised Roman Catholic...


, as Kietel being a impersonator which claims to be the actual real Elvis after Schaech picks him up as a hitch-hiker trying to get a ride to Memphis.
External links