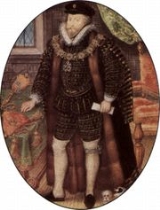 Gown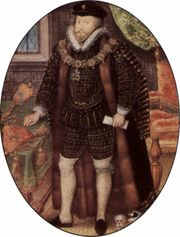 A
gown
is a (usually) loose outer garment from knee- to full-length worn by men and women in
Europe
Europe
Europe is, by convention, one of the world's seven continents. Comprising the westernmost peninsula of Eurasia, Europe is generally 'divided' from Asia to its east by the watershed divides of the Ural and Caucasus Mountains, the Ural River, the Caspian and Black Seas, and the waterways connecting...
from the early
Middle Ages
Middle Ages
The Middle Ages is a periodization of European history from the 5th century to the 15th century. The Middle Ages follows the fall of the Western Roman Empire in 476 and precedes the Early Modern Era. It is the middle period of a three-period division of Western history: Classic, Medieval and Modern...
to the 17th century (and continuing today in certain professions); later,
gown
was applied to any woman's garment consisting of a
bodice
Bodice
A bodice, historically, is an article of clothing for women, covering the body from the neck to the waist. In modern usage it typically refers to a specific type of upper garment common in Europe during the 16th to the 18th century, or to the upper portion of a modern dress to distinguish it from...
and attached
skirt
Skirt
A skirt is a tube- or cone-shaped garment that hangs from the waist and covers all or part of the legs.In the western world, skirts are usually considered women's clothing. However, there are exceptions...
.
A long, loosely-fitted gown called a
Banyan
Banyan (clothing)
A banyan is a garment worn by men in the 18th century influenced by Persian and Asian clothing....
was worn by men in the 18th century as an informal coat.
The gowns worn today by
academics
Academic dress
Academic dress or academical dress is a traditional form of clothing for academic settings, primarily tertiary education, worn mainly by those that have been admitted to a university degree or hold a status that entitles them to assume them...
,
judge
Judge
A judge is a person who presides over court proceedings, either alone or as part of a panel of judges. The powers, functions, method of appointment, discipline, and training of judges vary widely across different jurisdictions. The judge is supposed to conduct the trial impartially and in an open...
s, and some
clergy
Clerical clothing
Clerical clothing is non-liturgical clothing worn exclusively by clergy. It is distinct from vestments in that it is not reserved specifically for services. Practices vary: clerical clothing is sometimes worn under vestments, and sometimes as the everyday clothing or street wear of a priest,...
derive directly from the everyday garments worn by their medieval predecessors, formalized into a
uniform
Uniform
A uniform is a set of standard clothing worn by members of an organization while participating in that organization's activity. Modern uniforms are worn by armed forces and paramilitary organizations such as police, emergency services, security guards, in some workplaces and schools and by inmates...
in the course of the 16th and 17th centuries.
Women's dress
In women's
fashion
Fashion
Fashion, a general term for a currently popular style or practice, especially in clothing, foot wear, or accessories. Fashion references to anything that is the current trend in look and dress up of a person...
,
gown
was used in English for any one-piece garment, but more often through the 18th century for an overgarment worn with a
petticoat
Petticoat
A petticoat or underskirt is an article of clothing for women; specifically an undergarment to be worn under a skirt or a dress. The petticoat is a separate garment hanging from the waist ....
(called in French a
robe
Robe
A robe is a loose-fitting outer garment. A robe is distinguished from a cape or cloak by the fact that it usually has sleeves. The English word robe derives from Middle English robe , borrowed from Old French robe , itself taken from the Frankish word *rouba , and is related to the word rob...
); compare the
short gowns or bedgowns
Bedgown
A bedgown is an article of women's clothing for the upper body, usually thigh-length and wrapping or tying in front....
of the later 18th century.
Before the Victorian period, the word "dress" usually referred to a general overall mode of attire for either men or women (such as in the phrases "Evening Dress", "Morning Dress", "Travelling Dress", "Full Dress" etc.), rather than to any specific garment—and the most-used English word for a woman's skirted garment was "gown" (as in
Jane Austen
Jane Austen
Jane Austen was an English novelist whose works of romantic fiction, set among the landed gentry, earned her a place as one of the most widely read writers in English literature, her realism and biting social commentary cementing her historical importance among scholars and critics.Austen lived...
's novels).
By the early 20th century, both
gown
and
frock
Frock
Frock has been used since Middle English as the name for an article of clothing for men and women .- History of the frock :...
were essentially synonymous with
dress
, although
gown
was more often used for a formal or heavy garment and
frock
for a light-weight or informal one.
Only in the last few decades has
gown
lost its general meaning of a woman's garment in the
US
United States
The United States of America is a federal constitutional republic comprising fifty states and a federal district...
in favor of
dress
. Today the usage is chiefly
British
United Kingdom
The United Kingdom of Great Britain and Northern IrelandIn the United Kingdom and Dependencies, other languages have been officially recognised as legitimate autochthonous languages under the European Charter for Regional or Minority Languages...
except historical senses or in formal cases such as
evening gown
Evening gown
An evening gown is a long flowing women's dress usually worn to a formal affair. It ranges from tea and ballerina to full-length. Evening gowns are often made of a luxury fabric such as chiffon, velvet, satin, or silk...
and wedding gown.
See also
Grand boubou

Boubou (clothing)

The Grand Boubou/Bubu is one of the names for a flowing wide sleeved robe worn by men in much of West Africa, and to a lesser extent in North Africa, related to the Dashiki suit...


gown of West Africa

West Africa

West Africa or Western Africa is the westernmost region of the African continent. Geopolitically, the UN definition of Western Africa includes the following 16 countries and an area of approximately 5 million square km:-Flags of West Africa:...



Skirt

Skirt

A skirt is a tube- or cone-shaped garment that hangs from the waist and covers all or part of the legs.In the western world, skirts are usually considered women's clothing. However, there are exceptions...



Dress

Dress

A dress is a garment consisting of a skirt with an attached bodice or with a matching bodice giving the effect of a one-piece garment.Dress may also refer to:*Clothing in general*Costume, fancy dress...



Frock

Frock

Frock has been used since Middle English as the name for an article of clothing for men and women .- History of the frock :...



Robe

Robe

A robe is a loose-fitting outer garment. A robe is distinguished from a cape or cloak by the fact that it usually has sleeves. The English word robe derives from Middle English robe , borrowed from Old French robe , itself taken from the Frankish word *rouba , and is related to the word rob...



Banyan (clothing)

Banyan (clothing)

A banyan is a garment worn by men in the 18th century influenced by Persian and Asian clothing....



Clothing terminology

Clothing terminology

Clothing terminology comprises the names of individual garments and classes of garments, as well as the specialized vocabularies ofthe trades that have designed, manufactured, marketed and sold clothing over hundreds of years....



1550–1600 in fashion
1600–1650 in fashion
Types of gowns
Academic dress

Academic dress

Academic dress or academical dress is a traditional form of clothing for academic settings, primarily tertiary education, worn mainly by those that have been admitted to a university degree or hold a status that entitles them to assume them...


(cap and gown)
Ball gown

Ball gown

A ball gown is worn for ballroom dancing and only the most formal social occasions according to rules of etiquette. It is traditionally a full-skirted gown reaching at least to the ankles, made of luxurious fabric, delicately and exotically trimmed. Most versions are cut off the shoulder with...



Bedgown

Bedgown

A bedgown is an article of women's clothing for the upper body, usually thigh-length and wrapping or tying in front....



Coronation gown
Evening gown

Evening gown

An evening gown is a long flowing women's dress usually worn to a formal affair. It ranges from tea and ballerina to full-length. Evening gowns are often made of a luxury fabric such as chiffon, velvet, satin, or silk...



Hospital gown

Hospital gown

A hospital gown, also known as a patient gown, exam gown, johnny shirt or johnny gown, is a short-sleeved, thigh-length garment worn by patients in hospitals and other medical facilities.-Utility:...



Nightgown

Nightgown

A nightgown is a loosely hanging item of nightwear. Nowadays the term is almost exclusively applied to women's nightwear. A nightgown is typically made from cotton, silk, satin, or nylon...



Surgical gown
Tea gown

Tea gown

A tea gown or tea-gown is a woman's at-home dress for informal entertaining of the late 19th to mid-20th centuries characterized by unstructured lines and light fabrics. Early tea gowns were a European development influenced by Asian clothing, part of the japonism of Aesthetic dress...



Wedding gown