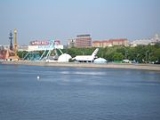 Gorky Park (Moscow)
Gorky Central Park of Culture and Leisure
(Russian: "Центральный парк культуры и отдыха (ЦПКиО) имени Горького") is an amusement park in
Moscow
Moscow
Moscow is the capital, the most populous city, and the most populous federal subject of Russia. The city is a major political, economic, cultural, scientific, religious, financial, educational, and transportation centre of Russia and the continent...
, named after
Maxim Gorky
Maxim Gorky
Alexei Maximovich Peshkov , primarily known as Maxim Gorky , was a Russian and Soviet author, a founder of the Socialist Realism literary method and a political activist.-Early years:...
.
History
Gorky Park was opened in 1928 and is located at Krymsky Val and situated just across the
Moskva River
Moskva River
The Moskva River is a river that flows through the Moscow and Smolensk Oblasts in Russia, and is a tributary of the Oka River.-Etymology:...
from
Park Kultury
Park Kultury-Radialnaya
Park Kultury is a Moscow Metro station in the Khamovniki District, Central Administrative Okrug, Moscow. It is on the Sokolnicheskaya Line, between Frunzenskaya and Kropotkinskaya stations...
Metro Station
Moscow Metro
The Moscow Metro is a rapid transit system serving Moscow and the neighbouring town of Krasnogorsk. Opened in 1935 with one line and 13 stations, it was the first underground railway system in the Soviet Union. As of 2011, the Moscow Metro has 182 stations and its route length is . The system is...
. The Park was planned by
Konstantin Melnikov
Konstantin Melnikov
Konstantin Stepanovich Melnikov was a Russian architect and painter. His architectural work, compressed into a single decade , placed Melnikov on the front end of 1920s avant-garde architecture...
, a world-famous soviet avant-garde and constructivist architect. Gorky Park was created by the amalgamation of the extensive gardens of the old Golitsyn Hospital and the Neskuchny Palace and covers an area of 300 acres (121.4 ha) along the river.
Facilities
Gorky Park has children's play areas, fun fairs, various
amusement ride
Amusement ride
Amusement rides are large mechanical devices that move people to create enjoyment. They are frequently found at amusement parks, traveling carnivals, and funfairs.-Notable types:*Afterburner*Ali Baba*Balloon Race*Booster...
s, an enormous Ferris wheel (2010-note: the wheel has been removed from Gorky Park) and one of the mockups (test units) from the Buran space shuttle program, which allows children to take part in "the Cosmic Experience". During the winter the footpaths flood over and freeze, which allows ice-skating around the park.
Alpine Slide,
Virtual Capsule,
Bumper Boats,
Batman,
Rabid Mill,
Big Ben,
Break Dance,
Buran,
Waltz,
The Playground,
Eurostar,
Karting,
Carpet Plane,
Condor,
Dream Ship,
Laser Shooting Q-ZAR,
Music Express,
Niagara,
Orbit,
Brave Captain,
Cave Horror,
Trip to Africa,
Winning Games,
Rally,
Silver Mine,
Serpentine,
Fairy Tale Train,
Speedway,
Super Bowl,
Tire,
Fantastic Voyage,
Fly Machine,
Chain Carousel and the Black Hole.
Currently the park is undergoing a major reconstruction. All amusement rides have been removed. Plan is to make it a friendly hip recreational zone.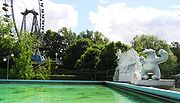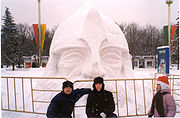 In popular culture
The park was written of in the novel Gorky Park

Gorky Park (novel)

Gorky Park is a 1981 crime novel written by Martin Cruz Smith set in the Soviet Union. It follows Arkady Renko, a chief investigator for the Militsiya, who is assigned to a case involving three corpses found in Gorky Park, an amusement park in Moscow, who have had their faces and fingertips cut off...


by Martin Cruz Smith

Martin Cruz Smith

Martin Cruz Smith is an American mystery novelist.-Early life and education:Born Martin William Smith in Reading, Pennsylvania, he was educated at the University of Pennsylvania, located in Philadelphia, Pennsylvania, and received a Bachelor of Arts degree in creative writing in 1964...


. It was later made into a film with the same name

Gorky Park (film)

Gorky Park is a 1983 film based on the novel Gorky Park by Martin Cruz Smith. It was directed by Michael Apted from a screenplay by Dennis Potter ....


.
The German Hard Rock

Hard rock

Hard rock is a loosely defined genre of rock music which has its earliest roots in mid-1960s garage rock, blues rock and psychedelic rock...


band Scorpions

Scorpions (band)

Scorpions are a heavy metal/hard rock band from Hannover, Germany, formed in 1965 by guitarist Rudolf Schenker, who is the band's only constant member. They are known for their 1980s rock anthem "Rock You Like a Hurricane" and many singles, such as "No One Like You", "Send Me an Angel", "Still...


achieved great success with their popular single, "Wind of Change", which references Gorky Park in light of the sociopolitical changes taking place in a post-Cold War

Cold War

The Cold War was the continuing state from roughly 1946 to 1991 of political conflict, military tension, proxy wars, and economic competition between the Communist World—primarily the Soviet Union and its satellite states and allies—and the powers of the Western world, primarily the United States...


era in Eastern Europe in the early 1990s.
A Russian rock and roll band Gorky Park

Gorky Park (band)

Gorky Park or Парк Горького was a Soviet Glam Metal band, that gained mainstream popularity in USA during Perestroika. Gorky Park is famous for its kitsch use of western stereotypes of Russians, such as pseudo-traditional clothing, balalaika-like guitar design and Hammer and sickle as their logo...


is named after the park.
Gorky Park is mentioned in the song "Vodka" by Morena

Morena (singer)

Morena is a singer from Sannat, Gozo, Malta. "Morena" means "brunette", which fits her complexion.Morena became to be known as the "Mediterranean Volcano"....


, which represented Malta

Malta

Malta , officially known as the Republic of Malta , is a Southern European country consisting of an archipelago situated in the centre of the Mediterranean, south of Sicily, east of Tunisia and north of Libya, with Gibraltar to the west and Alexandria to the east.Malta covers just over in...


in the Eurovision Song Contest 2008

Eurovision Song Contest 2008

The Eurovision Song Contest 2008 was the 53rd edition of the Contest. It was hosted in Belgrade, Serbia after Marija Šerifović won the 2007 Contest in Helsinki, Finland. This year was the first contest to have two semi-finals which were held on 20 and 22 May, and the final held on 24 May 2008...


.
In the First-Person Multiplayer Shooter video game, Team Fortress 2

Team Fortress 2

Team Fortress 2 is a free-to-play team-based first-person shooter multiplayer video game developed by Valve Corporation. A sequel to the original mod Team Fortress based on the Quake engine, it was first released as part of the video game compilation The Orange Box on October 10, 2007 for Windows...


, Gorky Park is referenced in the title of one of the game achievements pertaining to the 'Heavy' class.
In the British show IT Crowd Gorky Park is mentioned as a typical soviet-like place where everyone has to smoke now because of the strict anti-smoking policies: I remember when smoking was fun, all the cool kids were doing it, now when I want a cigarette I have to go to Gorky Park!
External links