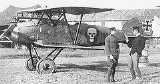 Godwin Brumowski
Godwin Brumowski
was the most successful fighter ace of the Austro-Hungarian Air Force during World War I. He was officially credited with 35 air victories, (including 12 shared with other pilots) with 8 others unconfirmed because they fell behind Allied lines. Just before the war ended, Brumowski rose to command of all his country's fighter aviation fighting Italy on the Isonzo front.
Life before entry into air service
On 26 July 1889, Godwin Brumowski was born into a military family in Wadowice, Galicia, in what is now Poland. He attended the Technical Military Academy in
Vienna
Vienna
Vienna is the capital and largest city of the Republic of Austria and one of the nine states of Austria. Vienna is Austria's primary city, with a population of about 1.723 million , and is by far the largest city in Austria, as well as its cultural, economic, and political centre...
and graduated as a
leutnant
Second Lieutenant
Second lieutenant is a junior commissioned officer military rank in many armed forces.- United Kingdom and Commonwealth :The rank second lieutenant was introduced throughout the British Army in 1871 to replace the rank of ensign , although it had long been used in the Royal Artillery, Royal...
commissioned into the 29th Field Artillery Regiment on 18 August 1910. He was serving in the 6th Artillery Division and had just turned 25 years of age when war was declared against Serbia on 28 July 1914. He served on the Eastern front against Russia, winning both a Bronze and Silver Military Medal for Bravery before transferring to air service in
der kaiserliche und königliche Luftfahrtruppen
(the Imperial and Royal Aviation Troops).
Aerial Service
He was posted to Fliegerkompagnie 1 (Flik 1) at Czernowitz, commanded by
Hauptmann
Hauptmann
Hauptmann is a German word usually translated as captain when it is used as an officer's rank in the German, Austrian and Swiss armies. While "haupt" in contemporary German means "main", it also has the dated meaning of "head", i.e...
Otto Jindra
Otto Jindra
Hauptmann Otto Jindra was an Austro-Hungarian flying ace during World War I, credited with nine aerial victories while flying as an aerial observer. He doubled in excellence as a leader and administrator...
, in July 1915; Brumowski was thus initially assigned as an aerial observer on the Russian Front. His flight log describes him as 1.77 meters (5 feet 10 inches) tall, with blue eyes and light blond hair.
On 12 April 1916 Jindra and Brumowski crewed one of the seven Austro-Hungarian planes that participated in bombing a military review attended by Czar Nicholas II. In the process, they shot down two of the seven Russian Morane-Saulnier Parasol two-seaters that attempted to drive them off.
On 3 July 1916 Brumowski became a pilot with Flik 1, despite the defective vision in his right eye that he corrected with a monocle. In November, he transferred to Flik 12 on the Italian Front. He helped down an Italian Caproni bomber on 3 December. On 2 January he became an ace when he was victorious over an Italian Farman two-seater while piloting a
Hansa-Brandenburg C.I
Hansa-Brandenburg C.I
-See also:-References:# Munson, Kenneth - Bombers, Patrol and Reconnaissance Aircraft 1914 - 1919 ISBN 0 7537 0918 X# # # -External links:* ....
. It is notable that Brumowski became an ace while still flying two-seater craft basically unsuited for air to air combat.
The next month, when Flik 41J was established on the Italian Front as Austro-Hungary's first dedicated fighter squadron, Brumowski was chosen to command it. He spent nine days in March flying four sorties with the Germans of
Jagdstaffel 24
Jagdstaffel 24
Royal Saxon Jagdstaffel 24 was a World War I "hunting group" of the Luftstreitkräfte, which was the forerunner to the Luftwaffe...
to learn German fighter tactics, before assuming his command. While here he met the Red Baron,
Manfred von Richthofen
Manfred von Richthofen
Manfred Albrecht Freiherr von Richthofen , also widely known as the Red Baron, was a German fighter pilot with the Imperial German Army Air Service during World War I...
; Brumowski would later copy the baron's aircraft paint scheme for his own plane.
Brumowski continued amassing victories through May, ending the month with a total of eight. By now, he was flying a single seat fighter, the
Hansa-Brandenburg D.I
Hansa-Brandenburg D.I
|-See also:-Bibliography:*Angelucci, Enzo . World Encyclopedia of Military Aircraft. London: Jane's, 1981. ISBN 0 7106 0148 4.*Gray, Peter and Thetford, Owen. German Aircraft of the First World War. London: Putnam, 1962....
. Although better suited for air to air combat than the C.1, it still suffered three major disadvantages: the pilot's vision was partially obstructed; the single machine gun was not synchronized to fire through the propeller arc, and it was a tricky craft to fly because it was easy to spin at any altitude. Aiming and firing a gun mounted above and ahead of the pilot was more difficult than simply aiming the airplane at the enemy and firing a synchronized gun.
As was customary with Austro-Hungarian units, Flik 41j had an assortment of aircraft types available. In June 1917 Brumowski flew an
Aviatik D.I
Aviatik D.I
-References / external links:* Munson, Kenneth - Fighters, Attack and Training Aircraft 1914-19 ISBN 0-7537-0916-3* *-See also:...
with no combat success. The Austro-Hungarian Fliks were also hampered by a doctrine that tied them to escort of reconnaissance aircraft instead of freeing them to rove and hunt in the German fashion.
In July 1917 Flik 41J lost eleven of the D.I fighters in accidents; the Hansa-Brandenburg's nickname became "the flying coffin".
In August 1917 Brumowski scored a remarkable streak of victories, being credited with 12 confirmed and 6 unconfirmed kills between the 10 and 28 August. Two of these victories, on the 19th and 20th, were the result of a partial transition to a newer fighter plane, a German
Albatros D.III
Albatros D.III
The Albatros D.III was a biplane fighter aircraft used by the Imperial German Army Air Service and the Austro-Hungarian Air Service during World War I. The D.III was flown by many top German aces, including Manfred von Richthofen, Ernst Udet, Erich Löwenhardt, Kurt Wolff, and Karl Emil Schäfer...
with twin synchronized guns. On the 20th he scored once with the Albatros and twice with the
Hansa-Brandenburg D.I
Hansa-Brandenburg D.I
|-See also:-Bibliography:*Angelucci, Enzo . World Encyclopedia of Military Aircraft. London: Jane's, 1981. ISBN 0 7106 0148 4.*Gray, Peter and Thetford, Owen. German Aircraft of the First World War. London: Putnam, 1962....
. By the end of August the transition was complete; he would use the Albatros to score the rest of his victories.
On 9 October 1917 he shot down and burned an observation balloon for his 22nd victory; it was the first of five balloons he would down. His Albatros that day was painted all red, in emulation of von Richthofen, with the addition of mustard colored skulls on either side of the fuselage. This paint scheme would become characteristic of his aircraft until war's end.
On 1 February 1918 Brumowski became involved in a fight with eight enemy fighters. Some of the 26 bullets striking his Albatros ignited the fuel tank built into the upper wing. He managed to land at his home field without serious injury, becoming a rare survivor of an in-craft fire. The fire ate the fabric off the upper wing and the inboard portions of the lower one, leaving only the scorched bare spars and struts of the wing roots.
Three days later, while flying another Albatros he fought eight English fighters and took multiple machine gun hits. With his wings breaking up he still managed to land, though the Albatros flipped over and was totally destroyed.
Brumowski fought on until 23 June 1918, when he was ordered on extended leave. His last successful fight was on 19 June; he scored his 35th victory and suffered 37 hits in his plane. He had flown 439 combat sorties, but his combat career was ended.
Also on 23 June he was invited by Generaloberst (Colonel-General) Ferdinand to make the customary mandatory application for Austria-Hungary's highest decoration, the Knight's Cross of the
Military Order of Maria Theresa
Military Order of Maria Theresa
The Military Order of Maria Theresa was an Order of the Austro-Hungarian Empire founded on June 18, 1757, the day of the Battle of Kolin, by the Empress...
. Brumowski's reply:
Austria-Hungary's leading fighter ace never received his nation's highest award.
On 11 October even though he was still only a Hauptmann (Captain), he was named to command all Austro-Hungarian fighter squadrons on the Isonzo Front. World War I ended a month later.
Post war career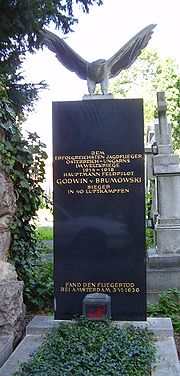 The end of the war left Brumowski at loose ends. After a spell in Vienna, he farmed his widowed mother-in-law's land in Transylvania for ten years. As a city dweller lacking the
Hungarian language
Hungarian language
Hungarian is a Uralic language, part of the Ugric group. With some 14 million speakers, it is one of the most widely spoken non-Indo-European languages in Europe....
skills to communicate with his farm workers, he bore serious handicaps. He had little success.
Brumowski took the dissolution of the Austro-Hungarian Empire very hard. He indulged in hazardous pursuits, seeking the thrill of danger by racing automobiles about on the poor local roads, riding horses into exhaustion, hunting in the mountains. He threw parties, danced, swam, ice skated to distract himself. He finally left his wife and daughter and began a flying school in Vienna in 1930, and remarried.
During the early 1930s Brumowski piloted aircraft on behalf of the conservative
Heimwehr
Heimwehr
The Heimwehr or sometimes Heimatschutz were a Nationalist, initially paramilitary group operating within Austria during the 1920s and 1930s; they were similar in methods, organisation, and ideology to Germany's Freikorps...
militia. During the brief
Austrian Civil War
Austrian Civil War
The Austrian Civil War , also known as the February Uprising , is a term sometimes used for a few days of skirmishes between socialist and conservative-fascist forces between 12 February and 16 February 1934, in Austria...
in 1934 he flew several reconnaissance missions as well as a single combat sortie.
On 3 June 1936, he died in a plane crash while instructing an Austrian student at Schipol Airfield, in Holland. His life was summarized thus by his daughter: "He was a very unique and interesting person either very much loved, or hated, and even considered crazy by many."
Awards and decorations
Order of the Iron Crown, 3rd Class, with War Decoration
Knight's Cross of the Order of Leopold with War Decorations and Swords
Gold Bravery Medal for Officers
List of aerial victories
Confirmed victories are numbered. Victories marked "u/c" were unconfirmed.
No.
Date/time
Aircraft
Foe
Result
Location
Notes
1
12 April 1916
Albatros B.I

Albatros B.I

|-See also:...


serial number 22.23
Morane-Saulnier Parasol of the Imperial Russian Air Service
Destroyed in crash; pilot seriously wounded
Iszkowcy, north of Chotin

Chotín

Chotín is a village and municipality in the Komárno District in the Nitra Region of south-western Slovakia.-Geography:The village lies at an altitude of 109 metres and covers an area of 20.425 km².It has a population of about 1,410 people....



Brumowski's pilot: Otto Jindra

Otto Jindra

Hauptmann Otto Jindra was an Austro-Hungarian flying ace during World War I, credited with nine aerial victories while flying as an aerial observer. He doubled in excellence as a leader and administrator...



2
12 April 1916
Albatros B.I s/n 22.23
Morane-Saulnier Parasol of the Imperial Russian Air Service
Destroyed in crash; pilot injured
West of Chotin
Brumowski's pilot: Otto Jindra
3
2 May 1916 at 0945 hours
Albatros B.I s/n 22.30
Morane-Saulnier Parasol of the IRAS
Crew seriously injured in crash landing
Lysskowcy
Victory shared with Kurt Gruber

Kurt Gruber

Kurt Gruber was a Nazi politician and from 1926 to 1931 the first chairman of the Hitler Youth .-Career:...



4
3 December 1916 in the afternoon
Hansa-Brandenburg Star-Strutter

Hansa-Brandenburg D.I

|-See also:-Bibliography:*Angelucci, Enzo . World Encyclopedia of Military Aircraft. London: Jane's, 1981. ISBN 0 7106 0148 4.*Gray, Peter and Thetford, Owen. German Aircraft of the First World War. London: Putnam, 1962....


s/n 65.53
Italian Caproni Ca.1 s/n 1233
Driven down behind Austro-Hungarian lines; 4 aircrew captured
East of Mavhinje
Victory shared with Gottfried Freiherr von Banfield and another pilot
5
2 January 1917 in the afternoon
Hansa-Brandenburg C.I

Hansa-Brandenburg C.I

-See also:-References:# Munson, Kenneth - Bombers, Patrol and Reconnaissance Aircraft 1914 - 1919 ISBN 0 7537 0918 X# # # -External links:* ....


s/n 68.24
Italian Farman

Farman

Farman Aviation Works was an aeronautic enterprise founded and run by the brothers; Richard, Henri, and Maurice Farman. They designed and constructed aircraft and engines from 1908 until 1936; during the French nationalization and rationalization of its aerospace industry, Farman's assets were...



Forced to land
Vicinity of Lago di Doberdò

Lago di Doberdò

Lake Doberdò is the name of a sinkhole in the Province of Gorizia, Friuli-Venezia Giulia, Italy. It is located on the westernmost edge of the Karst plateau, close to the border with Slovenia...



Brumowski's observer: J. G. Telekes
6
10 May 1917
Hansa-Brandenburg Star-Strutter s/n 28.10
Voisin

Voisin

- Companies :*Avions Voisin, the French automobile company*Voisin , the French aircraft manufacturer- People :*Catherine Monvoisin, known as "La Voisin" , French sorceress during the reign of Louis XIV...



Forced to land in enemy territory
Monfalcone

Monfalcone

Monfalcone is a town and comune of the province of Gorizia , located on the coast of the Gulf of Trieste. Monfalcone means "Mount of Falcon" in Italian....



u/c
12 May 1917
Hansa-Brandenburg Star-Strutter s/n 28.10
Italian Farman
Forced down in enemy territory
7
12 May 1917
Hansa-Brandenburg Star-Strutter s/n 28.10
Italian Nieuport

Nieuport

Nieuport, later Nieuport-Delage, was a French aeroplane company that primarily built racing aircraft before World War I and fighter aircraft during World War I and between the wars.-Beginnings:...


scout

Scout (aircraft)

The term scout, as a description of a class of military aircraft, came into use shortly before the First World War, and referred to a light reconnaissance aircraft, initially unarmed. "Scout" types were generally adaptations of pre-war racing aircraft – although at least one was specifically...



Crashed
"Enemy territory"
u/c
13 May 1917
Hansa-Brandenburg Star-Strutter s/n 28.11
Twin engine Voisin two-seater
8
20 May 1917 @ 1030 hours
Hansa-Brandenburg Star-Strutter s/n 28.10
French Spad

Société Pour L'Aviation et ses Dérivés

SPAD was a French aircraft manufacturer between 1911 and 1921. Its SPAD S.XIII biplane was the most popular French fighter airplane in World War I.-Deperdussin:...


two-seater
Forced to land; pilot wounded in action

Wounded in action

Wounded in action describes soldiers who have been wounded while fighting in a combat zone during war time, but have not been killed. Typically it implies that they are temporarily or permanently incapable of bearing arms or continuing to fight....



Monte Santo
Victory shared with Karl Kaszala

Karl Kaszala

Offizierstellvertreter Karl Kaszala was a World War I flying ace credited with eight aerial victories.-Reference:...



9
17 July 1917
Hansa-Brandenburg Star-Strutter s/n 28.57
Twin-engine Voisin
Crashed into the river in flames; observer WIA
Isonzo River
Victory shared with two other pilots
10
10 August 1917
Hansa-Brandenburg Star-Strutter s/n 28.69
Italian Nieuport scout
Landed with stopped engine
Chiapovano

Cepovan

Čepovan is a settlement in the Nova Gorica Municipality in western Slovenia. Apart from the main village of Čepovan, it extends to include a number of smaller dispersed settlements in the valley known as Čepovanski Dol....



11
11 August 1917
Hansa-Brandenburg Star-Strutter s/n 28.57
Italian Caudron

Caudron

The Caudron Airplane Company was a French aircraft company founded in 1909 by brothers Gaston Caudron and René Caudron . It was one of the earliest aircraft manufacturers in France and produced planes for the military in both World War I and World War II...


two-seater
Set afire
Plava
Victory shared with another pilot
12
11 August 1917 @ 2000 hours
Hansa-Brandenburg Star-Strutter s/n 28.69
Caudron two-seater
Set afire
West of Plava
13
14 August 1917
Hansa-Brandenburg Star-Strutter s/n 28.69
Italian single-seater sea plane
Set afire
Vicinity of Grado
u/c
14 August 1917
Hansa-Brandenburg Star-Strutter s/n 28.69
Italian single-seater seaplane
Forced to land
Vicinity of Grado
u/c
18 August 1917
Hansa-Brandenburg Star-Strutter s/n 28.69
Italian two-seater Caudron
Forced to land
Monte Santo
14
18 August 1917
Hansa-Brandenburg Star-Strutter s/n 28.69
Caudron
Forced to land
Monte Santo
u/c
19 August 1917
Hansa-Brandenburg Star-Strutter s/n 28.69
Italian single-seater seaplane
Forced to land
u/c
19 August 1917
Hansa-Brandenburg Star-Strutter s/n 28.69
Italian single-seater seaplane
Forced to land
15
19 August 1917
Albatros D.III

Albatros D.III

The Albatros D.III was a biplane fighter aircraft used by the Imperial German Army Air Service and the Austro-Hungarian Air Service during World War I. The D.III was flown by many top German aces, including Manfred von Richthofen, Ernst Udet, Erich Löwenhardt, Kurt Wolff, and Karl Emil Schäfer...


s/n 153.06
Two-seater Caudron
Crashed in flames
Between Karinë

Karinë

Karinë is a municipality in the Peqin District, Elbasan County, central Albania. The municipality consists of the villages Karinë, Kazije, Rrozej, Progem, Sinametaj, Drangaj and Garunje....


and Ivangrad
16
20 August 1917
Albatros D.III s/n 153.06
Italian two-seater Caudron
San Giovanni

San Giovanni

San Giovanni, the Italian form of "Saint John", a name that may refer to dozens of saints.At least 58 comuni in Italy are named San Giovanni, and at least 49 more are named San Giovanni... , and hundreds of frazioni and smaller villages...


-Monfalcone
Victory shared with two other pilots
17
20 August 1917
Hansa-Brandenburg Star-Strutter s/n 28.69
Two-seater Caudron
Vicinity of Vrtojba

Vrtojba

Vrtojba is a settlement in the Šempeter-Vrtojba municipality in the Slovene Littoral region of Slovenia. A border crossing into Italy is located here...



18
21 August 1917
Hansa-Brandenburg Star-Strutter s/n 28.69
Enemy airplane
Monte Santo
Victory shared with Frank Linke-Crawford

Frank Linke-Crawford

Oberleutnant Frank Linke-Crawford , was the fourth-ranking ace of the Austro-Hungarian empire during World War I, with 27 victories.-Early life:...



19
22 August 1917
Hansa-Brandenburg Star-Strutter s/n 28.69
Savoia-Pomilio
Forced to land
Gorizia

Gorizia

Gorizia is a town and comune in northeastern Italy, in the autonomous region of Friuli Venezia Giulia. It is located at the foot of the Julian Alps, bordering Slovenia. It is the capital of the Province of Gorizia, and it is a local center of tourism, industry, and commerce. Since 1947, a twin...



Victory shared with Frank Linke-Crawford
20
23 August 1917 @ 1040 hours
Hansa-Brandenburg Star-Strutter s/n 28.69
Italian Savoia-Pomilio two-seater
Forced to land; captured
Báté

Bate

-People:*Ahmade Bate , Kurdish poet and cleric*Anthony Bate , English actor*C. T. Bate , Canadian politician*Charles Spence Bate , British zoologist and dentist*Dorothea Bate , British paleontologist...



Victory shared with Frank Linke-Crawford and another pilot. Italian pilot and observer captured
u/c
25 August 1917
Hansa-Brandenburg Star-Strutter s/n 28.69
Sopwith two-seater
Enemy observer wounded or dead
Enemy territory
Also claimed by Frank Linke-Crawford
21
26 August 1917
Hansa-Brandenburg Star-Strutter s/n 28.69
Italian Spad single-seater
Monte San Gabriele
Victory shared with Frank Linke-Crawford
u/c
28 August 1917
Hansa-Brandenburg Star-Strutter s/n 28.69
Savoia-Pomilio two-seater
Forced to land
Enemy territory
22
9 October 1917 @ 1700 hours
Albatros D.III

Albatros D.III

The Albatros D.III was a biplane fighter aircraft used by the Imperial German Army Air Service and the Austro-Hungarian Air Service during World War I. The D.III was flown by many top German aces, including Manfred von Richthofen, Ernst Udet, Erich Löwenhardt, Kurt Wolff, and Karl Emil Schäfer...


s/n 153.45
Italian Observation balloon

Observation balloon

Observation balloons are balloons that are employed as aerial platforms for intelligence gathering and artillery spotting. Their use began during the French Revolutionary Wars, reaching their zenith during World War I, and they continue in limited use today....



Set afire; observer parachuted
Isola Morosini, in the Shobba Estuary

Estuary

An estuary is a partly enclosed coastal body of water with one or more rivers or streams flowing into it, and with a free connection to the open sea....



Victory shared with Frank Linke-Crawford, Kurt Gruber
23
5 November 1917
Albatros D.III s/n 153.45
Macchi L.3 two-seater flying boat

Flying boat

A flying boat is a fixed-winged seaplane with a hull, allowing it to land on water. It differs from a float plane as it uses a purpose-designed fuselage which can float, granting the aircraft buoyancy. Flying boats may be stabilized by under-wing floats or by wing-like projections from the fuselage...



Forced down and destroyed; crew KIA
West of Latisana

Latisana

Latisana is a town and comune in the province of Udine, in the Friuli-Venezia Giulia region of north-eastern Italy, on the Tagliamento river.-History:The city was probably a Roman post station on the Via Annia which connected Concordia to Aquileia....



Victory shared with Frank Linke-Crawford, Rudolf Szepessy-Sokoll
24
5 November 1917
Albatros D.III s/n 153.45
Macchi L3 two-seater flying boat
Crashed into a canal
Baseleghe, west of Latisana
Victory shared with Frank Linke-Crawford, Rudolf Szepessy-Sokoll
25
17 November 1917
Albatros D.III s/n 153.45
Observation balloon
Piave River

Piave River

Piave is a river in north Italy. It begins in the Alps and flows southeast for into the Adriatic Sea near the city of Venice....


Estuary
26
23 November 1917
Albatros D.III s/n 153.45
Nieuport scout
Forced to land
Mouth of the Piave River, near Cortelazzo
Victory shared with Frank Linke-Crawford
27
23 November 1917
Albatros D.III s/n 153.45
Nieuport scout
Forced to land
Mouth of the Piave River, near Cortelazzo
Victory shared with Frank Linke-Crawford
28
28 November 1917
Albatros D.III s/n 153.52
Savoia-Pomilio two-seater
Casa Serpo
Victory shared with Karl Kaszala
29
13 December 1917
Albatros D.III s/n 153.52
Observation balloon
Set afire
In the vicinity of Meolo

Meolo

-Sources:*...



Victory shared with Karl Kaszala, Frank Linke-Crawford
30
25 March 1918
Albatros D.III s/n 153.45
SIA 7

SIA 7

-References:* *"United States Military Aircraft Since 1909" by F. Gordon Swanborough & Peter M. Bowers 1964, 596 pp....


b two-seater
Set afire
South of Oderzo

Oderzo

Oderzo is a town and comune in the province of Treviso, Veneto, northern Italy.It lies in the heart of the Venetian plain, about 66 km to the northeast of Venice...



Pilot and observer KIA
31
17 April 1918
Albatros D.III s/n 153.45
Sopwith Camel

Sopwith Camel

The Sopwith Camel was a British First World War single-seat biplane fighter introduced on the Western Front in 1917. Manufactured by Sopwith Aviation Company, it had a short-coupled fuselage, heavy, powerful rotary engine, and concentrated fire from twin synchronized machine guns. Though difficult...



Arcade, Italy

Arcade, Italy

Arcade is a comune with 3,440 inhabitants in the province of Treviso, northern Italy....



Victory shared with Miroslav Navratil

Miroslav Navratil

Miroslav Navratil was a Croatian soldier, pilot, and general who served in the armies of Austria-Hungary, the Kingdom of Yugoslavia, and the Independent State of Croatia....



32
16 June 1918
Albatros D.III s/n 153.209
Observation balloon
Set afire
Spresiano

Spresiano

Spresiano is a comune in the Province of Treviso in the Italian region Veneto, located about 40 km north of Venice and about 13 km north of Treviso...



33
19 June 1918 @ 1545 hours
Albatros D.III s/n 153.209
Observation balloon
Set afire
In the vicinity of Passarella
34
19 June 1918
Albatros D.III s/n 153.209
Italian two-seater
Set afire
Comtee, south of Candelu
Pilot and observer KIA; victory shared with another pilot
35
19 June 1918
Albatros D.III s/n 153.209
Ansaldo SVA

Ansaldo SVA

-References:* World Aircraft Information Files. Brightstar Publishing: London. File 889 Sheet 62.* * Munson, Kenneth "Aircraft of World War I". Ian Allan 1967. ISBN 0-7110-0356-4-Related content:...


.5
Montello
Citations