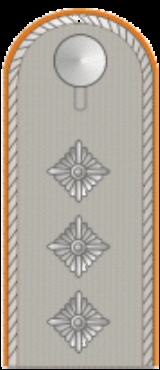 Hauptmann
Hauptmann
is a
German
German language
German is a West Germanic language, related to and classified alongside English and Dutch. With an estimated 90 – 98 million native speakers, German is one of the world's major languages and is the most widely-spoken first language in the European Union....
word usually translated as captain when it is used as an officer's rank in the
German
German Army
The German Army is the land component of the armed forces of the Federal Republic of Germany. Following the disbanding of the Wehrmacht after World War II, it was re-established in 1955 as the Bundesheer, part of the newly formed West German Bundeswehr along with the Navy and the Air Force...
, Austrian and Swiss armies. While "
haupt
" in contemporary German means "main", it also has the dated meaning of "head", i.e.
Hauptmann
literally translates to "head man", which is also the etymological root of "captain" (from Latin
caput
head).
It equates to Captain in the
British
British Army
The British Army is the land warfare branch of Her Majesty's Armed Forces in the United Kingdom. It came into being with the unification of the Kingdom of England and Scotland into the Kingdom of Great Britain in 1707. The new British Army incorporated Regiments that had already existed in England...
and
US Armies
United States Army
The United States Army is the main branch of the United States Armed Forces responsible for land-based military operations. It is the largest and oldest established branch of the U.S. military, and is one of seven U.S. uniformed services...
, and is rated
OF-2
Ranks and insignia of NATO armies officers
Rank comparison chart of all armies of NATO member states.- Officers :- Warrant officers :Warrant officers rank below officers and above enlisted servicemen....
in
NATO
.
More generally, it can be used to denote the head of any hierarchically structured group of people, often as a compound word. For example, a
Feuerwehrhauptmann
is the captain of a fire brigade, while the word
Räuberhauptmann
refers to the leader of a gang of robbers.
Official Austrian titles incorporating the word include
Landeshauptmann
Landeshauptmann
Landeshauptmann is a former German gubernatorial title equivalent to that of a governor of a province or a state....
,
Bezirkshauptmann
,
Burghauptmann
and
Berghauptmann
.
In
Saxony
Saxony
The Free State of Saxony is a landlocked state of Germany, contingent with Brandenburg, Saxony Anhalt, Thuringia, Bavaria, the Czech Republic and Poland. It is the tenth-largest German state in area, with of Germany's sixteen states....
during the
Weimar Republic
Weimar Republic
The Weimar Republic is the name given by historians to the parliamentary republic established in 1919 in Germany to replace the imperial form of government...
, the titles of
Kreishauptmann
and
Amtshauptmann
were held by senior civil servants.
External links
Junior Rank
Oberleutnant

Oberleutnant

Oberleutnant is a junior officer rank in the militaries of Germany, Switzerland and Austria. In the German Army, it dates from the early 19th century. Translated as "Senior Lieutenant", the rank is typically bestowed upon commissioned officers after five to six years of active duty...



German officer rank

Bundeswehr

The Bundeswehr consists of the unified armed forces of Germany and their civil administration and procurement authorities...



Hauptmann
Senior Rank
Major

Major (Germany)

Major is a rank of the German military which dates back to the Middle Ages.It equates to Major in the British and US Armies, and is rated OF-3 in NATO.During World War II, the SS equivalent was Sturmbannführer....


(field grade officers)
Stabshauptmann

Stabshauptmann

Stabshauptmann meaning "Staff Captain", is the highest military rank in the Bundeswehr for specialist officers . Instead of being promoted to the rank of major, specialist officers are promoted to the rank of Stabshauptmann and given the salary of a Major...


(warrant officers)