 Gloria Vanderbilt
Gloria Laura Vanderbilt
(born February 20, 1924) is an
American
United States
The United States of America is a federal constitutional republic comprising fifty states and a federal district...
artist
Artist
An artist is a person engaged in one or more of any of a broad spectrum of activities related to creating art, practicing the arts and/or demonstrating an art. The common usage in both everyday speech and academic discourse is a practitioner in the visual arts only...
,
author
Author
An author is broadly defined as "the person who originates or gives existence to anything" and that authorship determines responsibility for what is created. Narrowly defined, an author is the originator of any written work.-Legal significance:...
, actress,
heiress
Beneficiary
A beneficiary in the broadest sense is a natural person or other legal entity who receives money or other benefits from a benefactor. For example: The beneficiary of a life insurance policy, is the person who receives the payment of the amount of insurance after the death of the insured...
, and
socialite
Socialite
A socialite is a person who participates in social activities and spends a significant amount of time entertaining and being entertained at fashionable upper-class events....
most noted as an early developer of designer blue
jeans
Jeans
Jeans are trousers made from denim. Some of the earliest American blue jeans were made by Jacob Davis, Calvin Rogers, and Levi Strauss in 1873. Starting in the 1950s, jeans, originally designed for cowboys, became popular among teenagers. Historic brands include Levi's, Lee, and Wrangler...
. She is a member of the prominent
Vanderbilt family of New York
Vanderbilt family
The Vanderbilt family is an American family of Dutch origin prominent during the Gilded Age. It started off with the shipping and railroad empires of Cornelius Vanderbilt, and expanded into various other areas of industry and philanthropy...
and mother of
CNN
CNN
Cable News Network is a U.S. cable news channel founded in 1980 by Ted Turner. Upon its launch, CNN was the first channel to provide 24-hour television news coverage, and the first all-news television channel in the United States...
's
Anderson Cooper
Anderson Cooper
Anderson Hays Cooper is an American journalist, author, and television personality. He is the primary anchor of the CNN news show Anderson Cooper 360°. The program is normally broadcast live from a New York City studio; however, Cooper often broadcasts live on location for breaking news stories...
.
Early life
Vanderbilt was born in
New York City
New York City
New York is the most populous city in the United States and the center of the New York Metropolitan Area, one of the most populous metropolitan areas in the world. New York exerts a significant impact upon global commerce, finance, media, art, fashion, research, technology, education, and...
, the only child of railroad heir
Reginald Claypoole Vanderbilt
Reginald Claypoole Vanderbilt
Reginald Claypoole Vanderbilt was a millionaire equestrian and the father of Gloria Vanderbilt. He was the founder and president of many equestrian organizations.-Biography:...
(1880–1925) and his second wife,
Gloria Morgan
Gloria Laura Mercedes Morgan-Vanderbilt
Gloria Morgan Vanderbilt was a Swiss-born American socialite best known as the mother of fashion designer and artist Gloria Vanderbilt and maternal grandmother of television journalist Anderson Cooper. She was a central figure in Vanderbilt vs...
(1904–1965). She was christened in the Episcopal church as Gloria Laura Vanderbilt (and after her father's death, christened in the Catholic Church, to which her mother belonged). From her father's first marriage to Cathleen Neilson, she had a half-sister, Cathleen Vanderbilt (1904–1944).
She became heiress to a half share in a five-million-dollar trust fund upon her father's death from
cirrhosis
Cirrhosis
Cirrhosis is a consequence of chronic liver disease characterized by replacement of liver tissue by fibrosis, scar tissue and regenerative nodules , leading to loss of liver function...
when she was 18 months old. The rights to control this trust fund while Vanderbilt was a minor belonged to her mother, who traveled to and from Paris for years, taking her daughter with her. They were accompanied by a beloved nanny, who young Gloria had named "Dodo", who would play a tumultuous part in the child's life, and her mother's identical twin sister,
Thelma
Thelma Furness, Viscountess Furness
Thelma, Viscountess Furness , born Thelma Morgan, was the woman who preceded Wallis Simpson in the affections of Edward VIII of the United Kingdom...
, who was the
mistress
Mistress (lover)
A mistress is a long-term female lover and companion who is not married to her partner; the term is used especially when her partner is married. The relationship generally is stable and at least semi-permanent; however, the couple does not live together openly. Also the relationship is usually,...
of
The Prince of Wales
Edward VIII of the United Kingdom
Edward VIII was King of the United Kingdom and the Dominions of the British Commonwealth, and Emperor of India, from 20 January to 11 December 1936.Before his accession to the throne, Edward was Prince of Wales and Duke of Cornwall and Rothesay...
during this time. As a result of frequent spending, her mother's use of finances was scrutinized by the child Vanderbilt's paternal aunt
Gertrude Vanderbilt Whitney
Gertrude Vanderbilt Whitney
Gertrude Vanderbilt Whitney was an American sculptor, art patron and collector, and founder in 1931 of the Whitney Museum of American Art in New York City...
. Whitney, a sculptor and philanthropist, wanted custody of the young heiress and soon a famous custody trial became the lead story of 1934. The trial was so scandalous that at times, the judge would make everyone leave the room so as to listen to what young Vanderbilt had to say without anyone influencing her. Some people heard weeping and wailing inside the court room. Testimony was heard depicting the mother as an unfit parent; Vanderbilt's mother lost the battle and Vanderbilt became the ward of her aunt Gertrude.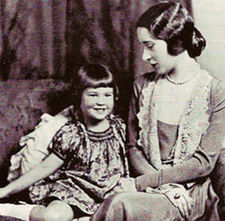 Litigation continued, however. Vanderbilt's mother was forced to live on a drastically reduced portion of her daughter's trust, which was worth more than $4 million dollars at the end of 1937. Visitation was also closely watched to ensure that Vanderbilt's mother did not exert any undue influence upon her daughter with her supposedly "raucous" lifestyle. Vanderbilt was raised amidst luxury at her aunt Gertrude's mansion in Old Westbury, Long Island, surrounded by cousins her age who lived in houses circling the vast estate, and in New York City.
The story of the trial was told in a 1982 miniseries for NBC
Little Gloria... Happy at Last
Little Gloria... Happy at Last
Little Gloria... Happy at Last is a 1982 television miniseries directed by Waris Hussein.It stars Martin Balsam, Bette Davis, Michael Gross, Lucy Gutteridge, John Hillerman, Barnard Hughes, Glynis Johns, Angela Lansbury, Christopher Plummer and Maureen Stapleton...
, which was nominated for six Emmys and a Golden Globe.
Vanderbilt attended the Greenvale School in
Long Island
Long Island
Long Island is an island located in the southeast part of the U.S. state of New York, just east of Manhattan. Stretching northeast into the Atlantic Ocean, Long Island contains four counties, two of which are boroughs of New York City , and two of which are mainly suburban...
,
Miss Porter's School
Miss Porter's School
Miss Porter's School, sometimes simply referred to as Porter's or Farmington, is a private college preparatory school for girls located in Farmington, Connecticut.- History :...
in
Farmington, Connecticut
Farmington, Connecticut
Farmington is a town located in Hartford County in the Farmington Valley area of central Connecticut in the United States. The population was 25,340 at the 2010 census. It is home to the world headquarters of several large corporations including Carrier Corporation, Otis Elevator Company, and Carvel...
and then the
Wheeler School
Wheeler School
The Wheeler School is a coeducational independent day school located on the East Side of Providence, Rhode Island, United States. The school serves students from the nursery level through twelfth-grade.- Mary C. Wheeler :...
in
Providence, Rhode Island
Providence, Rhode Island
Providence is the capital and most populous city of Rhode Island and was one of the first cities established in the United States. Located in Providence County, it is the third largest city in the New England region...
, as well as the Art Students League in New York City, developing the artistic talent for which she would become increasingly known in her career. When Vanderbilt came of age and took control of her trust fund, she cut her mother off entirely, though she supported her in later years. Her mother lived for many years with her sister, Thelma, Lady Furness, in Beverly Hills and died there in 1965.
Professional career
Vanderbilt studied acting at the Neighborhood Playhouse with teacher Sanford Meisner and studied art at the
Art Students League of New York
Art Students League of New York
The Art Students League of New York is an art school located on West 57th Street in New York City. The League has historically been known for its broad appeal to both amateurs and professional artists, and has maintained for over 130 years a tradition of offering reasonably priced classes on a...
. She became known for her artwork, giving one-woman shows of oil paintings, watercolors, and pastels. This artwork was adapted and licensed, starting about 1968, by
Hallmark Cards
Hallmark Cards
Hallmark Cards is a privately owned American company based in Kansas City, Missouri. Founded in 1910 by Joyce C. Hall, Hallmark is the largest manufacturer of greeting cards in the United States. In 1985, the company was awarded the National Medal of Arts....
(a manufacturer of paper products) and by Bloomcraft (a textile manufacturer), and Vanderbilt began designing specifically for linens, china, glassware and flatware.
During the 1970s, she ventured into the fashion business, first with Glentex, licensing her name for a line of scarves. In 1976, Indian designer Mohan Murjani's Murjani Corporation, proposed launching a line of designer jeans carrying Vanderbilt's name embossed in script on the back pocket, as well as her swan logo. Her jeans were more tightly fitted than the other jeans of that time. The logo eventually appeared on dresses and perfumes as well. Along with her jeans, Vanderbilt also launched a line of blouses, sheets, shoes, leather goods, liqueurs, and accessories.
Jones Apparel Group
Jones Apparel Group
The Jones Group, Inc. , a Fortune 500 company, is an American designer, marketer and wholesaler of branded clothing, shoes and accessories. Its headquarters are in New York City. The company also markets directly to consumers through their chain of specialty retail and value-based stores...
acquired the rights to Gloria Vanderbilt jeans in 2002. Vanderbilt was one of the first designers to make public appearances, which was a difficult thing for her because of her shyness.
In 1978, Gloria Vanderbilt sold the rights to her name to the
Murjani Group
. She then launched her own company, "GV Ltd.," on 7th Avenue in New York.
In the period from 1982 to 2002
L'Oreal
L'Oréal
The L'Oréal Group is the world's largest cosmetics and beauty company. With its registered office in Paris and head office in the Paris suburb of Clichy, Hauts-de-Seine, France, it has developed activities in the field of cosmetics...
launched eight fragrances under the brand name
Gloria Vanderbilt
.
In the 1980s, Vanderbilt accused her former partners in GV Ltd. and her lawyer of fraud. After a lengthy trial (during which time the lawyer died) Vanderbilt won and was awarded nearly $1.7 million, but the money was never recovered, though she was also awarded $300,000 by the New York Bar Association from its Victims of Fraud fund. Vanderbilt owed millions in back taxes—the lawyer had never paid the IRS—and she was forced to sell her Southampton and New York City homes.
In 2001, Vanderbilt opened her first art exhibition, "Dream Boxes," at the Southern Vermont Arts Center in Manchester. A critical success, she launched another exhibition of 35 paintings at the Arts Center in 2007. Two years later, she returned to the Arts Center as a panelist at its Annual Fall Show Exhibition, signing copies of her latest novel, "Obsession: An Erotic Tale."
Vanderbilt is the author of four memoirs and three novels, and is a regular contributor to
The New York Times
,
Vanity Fair
, and
Elle
. Most recently, Vanderbilt has been the subject of a new book chronicling her life, entitled
The World of Gloria Vanderbilt,
written by Wendy Goodman,
New York (magazine)
New York (magazine)
New York is a weekly magazine principally concerned with the life, culture, politics, and style of New York City. Founded by Milton Glaser and Clay Felker in 1968 as a competitor to The New Yorker, it was brasher and less polite than that magazine, and established itself as a cradle of New...
's design editor. The book was published in November 2010 by Abrams and features many previously unreleased photographs. Vanderbilt also has a
website featuring her artwork
.
Today, Vanderbilt is not involved in the fashion or home furnishings business, and is in no way affiliated with the clothing and accessories company that uses her name.
Personal life
At 17 years old, Vanderbilt went to Hollywood where she married agent Pasquale ("Pat") DiCicco in 1941; they divorced in 1945.
Her second marriage, to conductor
Leopold Stokowski
Leopold Stokowski
Leopold Anthony Stokowski was a British-born, naturalised American orchestral conductor, well known for his free-hand performing style that spurned the traditional baton and for obtaining a characteristically sumptuous sound from many of the great orchestras he conducted.In America, Stokowski...
in April 1945, produced two sons, Leopold Stanislaus "Stan" Stokowski, born August 22, 1950 and Christopher Stokowski, born January 31, 1952; they divorced in October 1955.
On August 28, 1956, she married director
Sidney Lumet
Sidney Lumet
Sidney Lumet was an American director, producer and screenwriter with over 50 films to his credit. He was nominated for the Academy Award as Best Director for 12 Angry Men , Dog Day Afternoon , Network and The Verdict...
; they divorced in August 1963.
She married her fourth husband, author
Wyatt Emory Cooper
Wyatt Emory Cooper
Wyatt Emory Cooper was an American author and screenwriter.-Early life and career:Cooper was born in Quitman, Mississippi, son of a poor family with deep Southern roots, and later moved to New Orleans, Louisiana, as a young child. Cooper moved to New York in his twenties to pursue acting...
on December 24, 1963. They had two sons: Carter Vanderbilt Cooper (born January 27, 1965 – July 22, 1988) and
CNN
CNN
Cable News Network is a U.S. cable news channel founded in 1980 by Ted Turner. Upon its launch, CNN was the first channel to provide 24-hour television news coverage, and the first all-news television channel in the United States...
news anchor
Anderson Cooper
Anderson Cooper
Anderson Hays Cooper is an American journalist, author, and television personality. He is the primary anchor of the CNN news show Anderson Cooper 360°. The program is normally broadcast live from a New York City studio; however, Cooper often broadcasts live on location for breaking news stories...
(born June 3, 1967). Wyatt Cooper died in 1978 during open heart surgery in New York City. Carter Cooper committed
suicide
Suicide
Suicide is the act of intentionally causing one's own death. Suicide is often committed out of despair or attributed to some underlying mental disorder, such as depression, bipolar disorder, schizophrenia, alcoholism, or drug abuse...
at the age of 23 by jumping from the family's 14th floor apartment as his mother tried in vain to stop him. Vanderbilt believed that it was caused by a psychotic episode induced by an
allergy
Allergy
An Allergy is a hypersensitivity disorder of the immune system. Allergic reactions occur when a person's immune system reacts to normally harmless substances in the environment. A substance that causes a reaction is called an allergen. These reactions are acquired, predictable, and rapid...
to the anti-
asthma
Asthma
Asthma is the common chronic inflammatory disease of the airways characterized by variable and recurring symptoms, reversible airflow obstruction, and bronchospasm. Symptoms include wheezing, coughing, chest tightness, and shortness of breath...
medical prescription
Medical prescription
A prescription is a health-care program implemented by a physician or other medical practitioner in the form of instructions that govern the plan of care for an individual patient. Prescriptions may include orders to be performed by a patient, caretaker, nurse, pharmacist or other therapist....
drug
Proventil
Salbutamol
Salbutamol or albuterol is a short-acting β2-adrenergic receptor agonist used for the relief of bronchospasm in conditions such as asthma and chronic obstructive pulmonary disease. It is marketed as Ventolin among other brand names....
.
She has three grandchildren by her eldest son, Stan: Aurora, born in March 1983 and Abra, born in February 1985, both to author Ivy Strick, and Myles, born in 1998 to artist Emily Goldstein.
She maintained a romantic relationship with
photographer
and filmmaker
Gordon Parks
Gordon Parks
Gordon Roger Alexander Buchanan Parks was a groundbreaking American photographer, musician, poet, novelist, journalist, activist and film director...
for many years until his death in 2006.
Gloria is very close friends with comedienne
Kathy Griffin
Kathy Griffin
Kathleen Mary "Kathy" Griffin is an American actress, stand-up comedienne, television personality, New York Times best-selling author and an LGBT rights advocate. Griffin first gained recognition for appearances on two episodes of Seinfeld, and then for her supporting role on the NBC sitcom...
, and while appearing as a guest on her son Anderson Cooper's talk show,
Anderson
Anderson (TV series)
Anderson is an American first-run syndicated talk show that is hosted by CNN anchorman Anderson Cooper, who also serves as co-producer in his first foray into daytime talk television. The show debuted on September 12, 2011, and is distributed by Warner Bros...
on September 19, 2011, referred to Kathy as her "fantasy daughter." Kathy refers to Gloria as "Glo", as did her third husband, Lumet.
Works
Memoirs
:
Once Upon a Time: A True Story
Black Knight, White Knight
A Mother's Story
It Seemed Important at the Time: A Romance Memoir
Novels:
The Memory Book of Starr Faithfull
Never Say Good-Bye
Obsession: An Erotic Tale
Sources
Trio: Oona Chaplin, Carol Matthau, Gloria Vanderbilt: Portrait of an Intimate Friendship by Aram Saroyan
Little Gloria... Happy at Last

Little Gloria... Happy at Last

Little Gloria... Happy at Last is a 1982 television miniseries directed by Waris Hussein.It stars Martin Balsam, Bette Davis, Michael Gross, Lucy Gutteridge, John Hillerman, Barnard Hughes, Glynis Johns, Angela Lansbury, Christopher Plummer and Maureen Stapleton...


by Barbara Goldsmith
That Vanderbilt Woman by Philip Van Rensselaer
Gloria Morgan Vanderbilt with Palma Wayne
Without Prejudice by E.P. Dutton (1936)
External links
Gloria Vanderbilt's Many Loves, CBS News

CBS News

CBS News is the news division of American television and radio network CBS. The current chairman is Jeff Fager who is also the executive producer of 60 Minutes, while the current president of CBS News is David Rhodes. CBS News' flagship program is the CBS Evening News, hosted by the network's main...


July 31, 2005