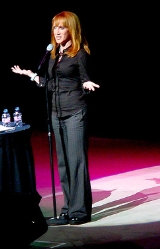 Kathy Griffin
Kathleen Mary "Kathy" Griffin
(born November 4, 1960) is an American actress, stand-up comedienne, television personality,
New York Times
best-selling author and an
LGBT
LGBT
LGBT is an initialism that collectively refers to "lesbian, gay, bisexual, and transgender" people. In use since the 1990s, the term "LGBT" is an adaptation of the initialism "LGB", which itself started replacing the phrase "gay community" beginning in the mid-to-late 1980s, which many within the...
rights advocate. Griffin first gained recognition for appearances on two episodes of
Seinfeld
Seinfeld
Seinfeld is an American television sitcom that originally aired on NBC from July 5, 1989, to May 14, 1998, lasting nine seasons, and is now in syndication. It was created by Larry David and Jerry Seinfeld, the latter starring as a fictionalized version of himself...
, and then for her supporting role on the
NBC
NBC
The National Broadcasting Company is an American commercial broadcasting television network and former radio network headquartered in the GE Building in New York City's Rockefeller Center with additional major offices near Los Angeles and in Chicago...
sitcom
Suddenly Susan
Suddenly Susan
Suddenly Susan is an American sitcom that was broadcast on NBC from 1996 to 2000. The show takes place at The Gate, a fictitious magazine which is based in San Francisco. Among the magazine's employees is Susan Keane , who always has been cared for by someone else...
. She was the star of the Bravo reality show
Kathy Griffin: My Life on the D-List
Kathy Griffin: My Life on the D-List
Kathy Griffin: My Life on the D-List is a reality show starring Kathy Griffin. The series aired on Bravo. It debuted in August 2005, and was cancelled in November 2010....
, for which she won two Emmy Awards as executive producer.
Can you believe this shit? Hell has frozen over. Now, a lot of people come up here and thank Jesus for this award. I want you to know that no one had less to do with this award than Jesus. He didn't help me a bit. If it was up to him, Cesar Millan|Cesar Millan would be up here with that damn dog. So all I can say is, suck it, Jesus! This award is my god now!

59th Primetime Emmy Awards (Creative Arts)|59th Creative Arts Emmy Awards acceptance speech, 8 September 2007