 University of Bremen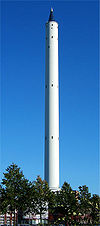 The
University of Bremen
(German
Universität Bremen
) is a university of approximately 23,500 people from 126 countries that are studying, teaching, researching, and working in Bremen, Germany. It was publicly founded in 1971.
The university has most notably reputation in
industrial engineering
Industrial engineering
Industrial engineering is a branch of engineering dealing with the optimization of complex processes or systems. It is concerned with the development, improvement, implementation and evaluation of integrated systems of people, money, knowledge, information, equipment, energy, materials, analysis...
,
digital media
Digital media
Digital media is a form of electronic media where data is stored in digital form. It can refer to the technical aspect of storage and transmission Digital media is a form of electronic media where data is stored in digital (as opposed to analog) form. It can refer to the technical aspect of...
,
physics
Physics
Physics is a natural science that involves the study of matter and its motion through spacetime, along with related concepts such as energy and force. More broadly, it is the general analysis of nature, conducted in order to understand how the universe behaves.Physics is one of the oldest academic...
,
mathematics
Mathematics
Mathematics is the study of quantity, space, structure, and change. Mathematicians seek out patterns and formulate new conjectures. Mathematicians resolve the truth or falsity of conjectures by mathematical proofs, which are arguments sufficient to convince other mathematicians of their validity...
,
microbiology
Microbiology
Microbiology is the study of microorganisms, which are defined as any microscopic organism that comprises either a single cell , cell clusters or no cell at all . This includes eukaryotes, such as fungi and protists, and prokaryotes...
, geosciences (particularly marine geosciences)
European law
European Union law
European Union law is a body of treaties and legislation, such as Regulations and Directives, which have direct effect or indirect effect on the laws of European Union member states. The three sources of European Union law are primary law, secondary law and supplementary law...
and political science .
Its commitment was rewarded with the title "Stadt der Wissenschaft 2005" (City of Science of 2005), which science, politics, business and culture won jointly for Bremen and Bremerhaven, by the Foundation for German Science (Stifterverband für die Deutsche Wissenschaft).
Some of the paths that were taken back then, also referred to as the "Bremen model", have since become characteristics of modern universities, such as interdisciplinary, explorative learning, social relevance to practice-oriented project studies which enjoy a high reputation in the academic world as well as in business and industry. Other reform approaches of the former 'new university' have proven to be errors such as waiving a mid-level faculty, tripartite representation or too "student-friendly" examination regulations and were given up in Bremen a few years down the track.
Faculties
These are the 12 faculties in which the university is divided into:
Faculty 01: Physics/Electrical Engineering
Faculty 02: Biology/Chemistry
Faculty 03: Mathematics/Computer Science
Faculty 04: Production Engineering - Mechanical Engineering & Process Engineering -
Faculty 05: Geosciences
Faculty 06: Law
Faculty 07: Business Studies and Economics
Faculty 08: Social Sciences
Faculty 09: Cultural Studies
Faculty 10: Languages and Literary Studies
Faculty 11: Human and Health Sciences
Faculty 12: Pedagogy and Educational Sciences
History
Though Bremen became a university city only recently, higher education in Bremen has a long tradition. The Bremen Latin School was upgraded to "Gymnasium Academicum" in 1584. 1610 it was transformed into "Gymnasium Illustre". Under Napoleonic rule in 1811 the institution of a "French-Bremen University" was considered. In 1971 the University of Bremen opened its doors.
The development of the University of Bremen can be divided up into steps of 10 to 12 years – foundation, restructuring, consolidation and profile building: at the beginning of the 1970s, the University was set up as a "science complex" before the city gates, a city oriented towards trade and seafaring that had no experience with restless academic minds, particularly not with leftist professors. University, business and the public in the region did not move closer together until the 1980s, through the foundation of the
natural science
Natural science
The natural sciences are branches of science that seek to elucidate the rules that govern the natural world by using empirical and scientific methods...
and
engineering
Engineering
Engineering is the discipline, art, skill and profession of acquiring and applying scientific, mathematical, economic, social, and practical knowledge, in order to design and build structures, machines, devices, systems, materials and processes that safely realize improvements to the lives of...
departments, co-operation with the newly founded
Alfred Wegener Institute for Polar and Marine Research
Alfred Wegener Institute for Polar and Marine Research
The Alfred Wegener Institute of Polar and Marine Research is a scientific organization located in Bremerhaven, Germany. The institute was founded in 1980 and is named after revolutionary meteorologist climatologist, and geologist Alfred Wegener...
in
Bremerhaven
Bremerhaven
Bremerhaven is a city at the seaport of the free city-state of Bremen, a state of the Federal Republic of Germany. It forms an enclave in the state of Lower Saxony and is located at the mouth of the River Weser on its eastern bank, opposite the town of Nordenham...
(1980), as well as the development of the co-located technology park (from 1988). Other important factors were the initial success in setting up collaborative research centres and in the acquisition of considerable amounts of external funds. The mathematics professor Jürgen Timm, elected university rector in 1982, was largely responsible for this turnaround.
As a consequence, the University of Bremen improved in research rankings, gained national recognition, and established a number of endowment professorships.
Research excellence and the interdisciplinary profile is reflected by numerous research centers and programs funded by the
German Research Foundation
Deutsche Forschungsgemeinschaft
The Deutsche Forschungsgemeinschaft is an important German research funding organization and the largest such organization in Europe.-Function:...
(DFG). These include currently eight collaborative research centers and the Research Center of Ocean Margins, one of only six national research centers of the DFG.
From 1996 until 2001 the University of Bremen (along with six other universities in Germany) has been participating in a pilot scheme for structural reform of university administration, funded by the
Volkswagen
Volkswagen
Volkswagen is a German automobile manufacturer and is the original and biggest-selling marque of the Volkswagen Group, which now also owns the Audi, Bentley, Bugatti, Lamborghini, SEAT, and Škoda marques and the truck manufacturer Scania.Volkswagen means "people's car" in German, where it is...
Foundation. This project has improved the co-operation and communication between the university's administrations, teaching and research units. By the realization of the "Laptop University" project the University of Bremen has become a leading university in the field of digital media teaching in Germany.
With the turn of the millennium, after an organisational development process of three years in which the university set itself goals for the development of its profile, this trend was continued: in respect of research this includes the promotion of junior scientists in structured graduate program, staff development programs for the great number of early-stage researchers entering the university as junior professors due to the exchange of generations in professorships. In teaching and studies, comprehensive evaluations provide proof of the momentum that the University of Bremen has been holding for a good 35 years now: a new admissions policy with specific admission requirements, the rapid conversion of courses of study to Bachelor's and Master's degrees.
See also
Center of Applied Space Technology and Microgravity

Center of Applied Space Technology and Microgravity

The Center of Applied Space Technology and Microgravity is a German scientific institution of University of Bremen involved in research in space technology with applications, among other things, in fundamental physics and gravitation....



Fallturm Bremen

Fallturm Bremen

Fallturm Bremen is a drop tower at the Center of Applied Space Technology and Microgravity at the University of Bremen in Bremen. It has a 123-metre-high drop tube , in which for 4.74 seconds , or for over 9 seconds weightlessness can be produced...



List of colleges and universities
Bremen (city)
Bremen (state)

Bremen (state)

The Free Hanseatic City of Bremen is the smallest of Germany's 16 states. A more informal name, but used in some official contexts, is Land Bremen .-Geography:...



External links