 George Cayley
Sir George Cayley, 6th Baronet
(27 December 1773 – 15 December 1857) was a prolific
English
English people
The English are a nation and ethnic group native to England, who speak English. The English identity is of early mediaeval origin, when they were known in Old English as the Anglecynn. England is now a country of the United Kingdom, and the majority of English people in England are British Citizens...
engineer
Engineer
An engineer is a professional practitioner of engineering, concerned with applying scientific knowledge, mathematics and ingenuity to develop solutions for technical problems. Engineers design materials, structures, machines and systems while considering the limitations imposed by practicality,...
and one of the most important people in the history of
aeronautics
Aeronautics
Aeronautics is the science involved with the study, design, and manufacturing of airflight-capable machines, or the techniques of operating aircraft and rocketry within the atmosphere...
. Many consider him the first true scientific aerial investigator and the first person to understand the underlying principles and forces of flight. Sometimes called the "Father of
Aviation
Aviation
Aviation is the design, development, production, operation, and use of aircraft, especially heavier-than-air aircraft. Aviation is derived from avis, the Latin word for bird.-History:...
", in 1799 he set forth the concept of the modern aeroplane as a fixed-wing flying machine with separate systems for lift, propulsion, and control. Often known as "the father of
Aerodynamics
Aerodynamics
Aerodynamics is a branch of dynamics concerned with studying the motion of air, particularly when it interacts with a moving object. Aerodynamics is a subfield of fluid dynamics and gas dynamics, with much theory shared between them. Aerodynamics is often used synonymously with gas dynamics, with...
", he was a pioneer of aeronautical engineering. Designer of the first successful glider to carry a human being aloft, he discovered and identified the four aerodynamic forces of flight—
weight
Weight
In science and engineering, the weight of an object is the force on the object due to gravity. Its magnitude , often denoted by an italic letter W, is the product of the mass m of the object and the magnitude of the local gravitational acceleration g; thus:...
,
lift
Lift (force)
A fluid flowing past the surface of a body exerts a surface force on it. Lift is the component of this force that is perpendicular to the oncoming flow direction. It contrasts with the drag force, which is the component of the surface force parallel to the flow direction...
,
drag
Drag (physics)
In fluid dynamics, drag refers to forces which act on a solid object in the direction of the relative fluid flow velocity...
, and
thrust
Thrust
Thrust is a reaction force described quantitatively by Newton's second and third laws. When a system expels or accelerates mass in one direction the accelerated mass will cause a force of equal magnitude but opposite direction on that system....
—which are in effect on any flying vehicle. Modern aeroplane design is based on those discoveries including
cambered wings
Camber (aerodynamics)
Camber, in aeronautics and aeronautical engineering, is the asymmetry between the top and the bottom surfaces of an aerofoil. An aerofoil that is not cambered is called a symmetric aerofoil...
. He is credited with the first major breakthrough in heavier-than-air flight and he worked over half a century before the development of
powered flight
First flying machine
There are conflicting views as to what was the first flying machine.Much of the debate surrounding records of early flying machines depends on the exact definition of what constitutes a "flying machine", "flight", and even "first"....
, being acknowledged by the
Wright brothers
Wright brothers
The Wright brothers, Orville and Wilbur , were two Americans credited with inventing and building the world's first successful airplane and making the first controlled, powered and sustained heavier-than-air human flight, on December 17, 1903...
. He designed the first actual model of an aeroplane and also diagrammed the elements of vertical flight.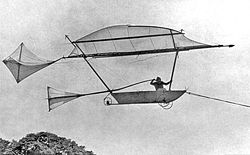 Cayley served for the
Whig
British Whig Party
The Whigs were a party in the Parliament of England, Parliament of Great Britain, and Parliament of the United Kingdom, who contested power with the rival Tories from the 1680s to the 1850s. The Whigs' origin lay in constitutional monarchism and opposition to absolute rule...
party as
Member of Parliament
Member of Parliament
A Member of Parliament is a representative of the voters to a :parliament. In many countries with bicameral parliaments, the term applies specifically to members of the lower house, as upper houses often have a different title, such as senate, and thus also have different titles for its members,...
for
Scarborough
Scarborough (UK Parliament constituency)
Scarborough was the name of a constituency in Yorkshire, electing Members of Parliament to the House of Commons, at two periods. From 1295 until 1918 it was a parliamentary borough consisting only of the town of Scarborough, electing two MPs until 1885 and one from 1885 until 1918...
from 1832 to 1835, and in 1838 helped found the UK's first Polytechnic Institute; the Royal Polytechnic Institution (now
University of Westminster
University of Westminster
The University of Westminster is a public research university located in London, United Kingdom. Its origins go back to the foundation of the Royal Polytechnic Institution in 1838, and it was awarded university status in 1992.The university's headquarters and original campus are based on Regent...
), serving as its chairman for many years. He was a founding member of the
British Association for the Advancement of Science
British Association for the Advancement of Science
frame|right|"The BA" logoThe British Association for the Advancement of Science or the British Science Association, formerly known as the BA, is a learned society with the object of promoting science, directing general attention to scientific matters, and facilitating interaction between...
and was a distant cousin of the
mathematician
Mathematics
Mathematics is the study of quantity, space, structure, and change. Mathematicians seek out patterns and formulate new conjectures. Mathematicians resolve the truth or falsity of conjectures by mathematical proofs, which are arguments sufficient to convince other mathematicians of their validity...
Arthur Cayley
Arthur Cayley
Arthur Cayley F.R.S. was a British mathematician. He helped found the modern British school of pure mathematics....
.
General engineering projects
Cayley, from
Brompton-by-Sawdon
Brompton, Scarborough
Brompton is a civil parish in the Scarborough district of North Yorkshire containing the villages of Brompton-by-Sawdon and Sawdon.The village of Brompton-by-Sawdon is about west of Scarborough itself, close to the North York Moors and on the A170 road.According to the 2001 UK census, Brompton...
, near Scarborough in
Yorkshire
Yorkshire
Yorkshire is a historic county of northern England and the largest in the United Kingdom. Because of its great size in comparison to other English counties, functions have been increasingly undertaken over time by its subdivisions, which have also been subject to periodic reform...
, inherited Brompton Hall and its estates on the death of his father, the 5th baronet. Captured by the optimism of the times, he engaged in a wide variety of
engineering
Engineering
Engineering is the discipline, art, skill and profession of acquiring and applying scientific, mathematical, economic, social, and practical knowledge, in order to design and build structures, machines, devices, systems, materials and processes that safely realize improvements to the lives of...
projects. Among the many things that he developed are self-righting
lifeboat
Lifeboat (rescue)
A rescue lifeboat is a boat rescue craft which is used to attend a vessel in distress, or its survivors, to rescue crewmen and passengers. It can be hand pulled, sail powered or powered by an engine...
s,
tension-spoke wheel
Wire wheels
The rims of wire wheels are connected to their hubs by wire spokes. Although these wires are generally stiffer than a typical wire rope, they function mechanically the same as tensioned flexible wires, keeping the rim true while supporting applied loads.Wire wheels are used on most bicycles and...
s, the "Universal Railway" (his term for
caterpillar tractors
Caterpillar track
Continuous tracks or caterpillar tracks are a system of vehicle propulsion in which modular metal plates linked into a continuous band are driven by two or more wheels...
), automatic signals for railway crossings,
seat belt
Seat belt
A seat belt or seatbelt, sometimes called a safety belt, is a safety harness designed to secure the occupant of a vehicle against harmful movement that may result from a collision or a sudden stop...
s, small scale
helicopter
Helicopter
A helicopter is a type of rotorcraft in which lift and thrust are supplied by one or more engine-driven rotors. This allows the helicopter to take off and land vertically, to hover, and to fly forwards, backwards, and laterally...
s, and a kind of prototypical
internal combustion engine
Internal combustion engine
The internal combustion engine is an engine in which the combustion of a fuel occurs with an oxidizer in a combustion chamber. In an internal combustion engine, the expansion of the high-temperature and high -pressure gases produced by combustion apply direct force to some component of the engine...
fuelled by
gunpowder
Gunpowder
Gunpowder, also known since in the late 19th century as black powder, was the first chemical explosive and the only one known until the mid 1800s. It is a mixture of sulfur, charcoal, and potassium nitrate - with the sulfur and charcoal acting as fuels, while the saltpeter works as an oxidizer...
. He also contributed in the fields of prosthetics,
air engines
Hot air engine
A hot air engine is any heat engine which uses the expansion and contraction of air under the influence of a temperature change to convert thermal energy into mechanical work...
,
electricity
Electricity
Electricity is a general term encompassing a variety of phenomena resulting from the presence and flow of electric charge. These include many easily recognizable phenomena, such as lightning, static electricity, and the flow of electrical current in an electrical wire...
,
theatre
Theatre
Theatre is a collaborative form of fine art that uses live performers to present the experience of a real or imagined event before a live audience in a specific place. The performers may communicate this experience to the audience through combinations of gesture, speech, song, music or dance...
architecture
Architecture
Architecture is both the process and product of planning, designing and construction. Architectural works, in the material form of buildings, are often perceived as cultural and political symbols and as works of art...
,
ballistics
Ballistics
Ballistics is the science of mechanics that deals with the flight, behavior, and effects of projectiles, especially bullets, gravity bombs, rockets, or the like; the science or art of designing and accelerating projectiles so as to achieve a desired performance.A ballistic body is a body which is...
,
optics
Optics
Optics is the branch of physics which involves the behavior and properties of light, including its interactions with matter and the construction of instruments that use or detect it. Optics usually describes the behavior of visible, ultraviolet, and infrared light...
and
land reclamation
Land reclamation
Land reclamation, usually known as reclamation, is the process to create new land from sea or riverbeds. The land reclaimed is known as reclamation ground or landfill.- Habitation :...
, and held the belief that these advancements should be freely available.
Flying machines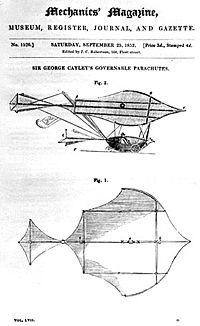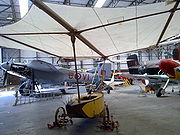 He is mainly remembered for his pioneering studies and experiments with
flying machine
Flying Machine
"Flying Machine" is a two-track, US-only, promotional CD single release by British rock band The Stairs. Both tracks on the single also appear on the album Mexican R'n'B....
s, including the working, piloted
glider
Glider aircraft
Glider aircraft are heavier-than-air craft that are supported in flight by the dynamic reaction of the air against their lifting surfaces, and whose free flight does not depend on an engine. Mostly these types of aircraft are intended for routine operation without engines, though engine failure can...
that he designed and built. He wrote a landmark three-part treatise titled "On Aerial Navigation" (1809–1810), which was published in
Nicholson
William Nicholson (chemist)
William Nicholson was a renowned English chemist and writer on "natural philosophy" and chemistry, as well as a translator, journalist, publisher, scientist, and inventor.-Early life:...
's
Journal of Natural Philosophy, Chemistry and the Arts
. The recent (2007) discovery of cartoons in Cayley's school notebooks (held in the archive of the
Royal Aeronautical Society
Royal Aeronautical Society
The Royal Aeronautical Society, also known as the RAeS, is a multidisciplinary professional institution dedicated to the global aerospace community.-Function:...
Library in London, England) reveal that even at school Cayley was developing his ideas on the theories of flight. It has been claimed that these images indicate that Cayley modeled the principles of a lift-generating inclined plane as early as 1792. To measure the drag on objects at different speeds and angles of attack, he later built a "whirling-arm apparatus"—a development of earlier work in ballistics and air resistance. He also experimented with rotating wing sections of various forms in the stairwells at Brompton Hall. These scientific experiments led him to develop an efficient
cambered
Camber (aerodynamics)
Camber, in aeronautics and aeronautical engineering, is the asymmetry between the top and the bottom surfaces of an aerofoil. An aerofoil that is not cambered is called a symmetric aerofoil...
airfoil
Airfoil
An airfoil or aerofoil is the shape of a wing or blade or sail as seen in cross-section....
and to identify the four vector forces that influence an aircraft:
thrust
,
lift
,
drag
, and
gravity
. He discovered the importance of the dihedral angle for lateral stability in flight, and deliberately set the centre of gravity of many of his models well below the wings for this reason; these mechanics influenced the development of hang gliders. As a result of his investigations into many other theoretical aspects of flight, many now acknowledge him as the first aeronautical engineer. His emphasis on lightness led him to shift the forces in the landing gear wheel from compression to tension by using string as wires, in effect re-inventing the wheel. This
wire wheel principle
Wire wheels
The rims of wire wheels are connected to their hubs by wire spokes. Although these wires are generally stiffer than a typical wire rope, they function mechanically the same as tensioned flexible wires, keeping the rim true while supporting applied loads.Wire wheels are used on most bicycles and...
was (and is) later used by others for bicycles, cars and many other vehicles.
By 1804 his model gliders appeared similar to modern aircraft: a pair of large
monoplane
Monoplane
A monoplane is a fixed-wing aircraft with one main set of wing surfaces, in contrast to a biplane or triplane. Since the late 1930s it has been the most common form for a fixed wing aircraft.-Types of monoplane:...
wings towards the front, with a smaller tailplane at the back comprising horizontal stabilisers and a
vertical fin
Vertical stabilizer
The vertical stabilizers, vertical stabilisers, or fins, of aircraft, missiles or bombs are typically found on the aft end of the fuselage or body, and are intended to reduce aerodynamic side slip. It is analogical to a skeg on boats and ships.On aircraft, vertical stabilizers generally point upwards...
. Around 1843, he was the first to suggest the idea for a convertiplane, an idea which was published in a paper written that same year. During some point prior to 1849 he designed and built a biplane powered with "flappers" in which an unknown ten-year-old boy flew. Later, with the continued assistance of his grandson George John Cayley and his resident engineer Thomas Vick, he developed a larger scale glider (also probably fitted with "flappers") which flew across Brompton Dale in 1853. The first adult aviator has been claimed to be either Cayley's coachman, footman or butler: one source (
Gibbs-Smith
Charles Harvard Gibbs-Smith
Charles Harvard Gibbs-Smith was a British polymath historian of aeronautics and aviation. His obituary in the Times described him as "the recognised authority on the early development of flying in Europe and America" Richard P...
) has suggested that it was John Appleby, a Cayley employee—however there is no definitive evidence to fully identify the pilot. An obscure entry in volume IX of the 8th Encyclopædia Britannica of 1855 is the most contemporaneous account with any authority regarding the event. A 2007 biography of Cayley (Richard Dee's
The Man Who Discovered Flight: George Cayley and the First Airplane
) claims the first pilot was Cayley's grandson George John Cayley (1826–1878). Dee's book also reports the re-discovery of a series of doodles from Cayley's school exercise book which suggest that Cayley's first designs concerning a lift-generating inclined plane may have been made as early as 1793.
A replica of the 1853 machine was flown at the original site in Brompton Dale by
Derek Piggott
Derek Piggott
Alan Derek Piggott MBE is one of Britain's best known glider pilots and instructors. His flying career has been long and varied. He first flew in an Avro 504 as a passenger at the age of four...
in 1973 for TV and in the mid-1980s for the
IMAX
IMAX
IMAX is a motion picture film format and a set of proprietary cinema projection standards created by the Canadian company IMAX Corporation. IMAX has the capacity to record and display images of far greater size and resolution than conventional film systems...
film
On the Wing
On the Wing (1986 film)
On the Wing is a 1986 IMAX film featuring a half-sized robotic Quetzalcoatlus that demonstrates principles of animal flight.The film is narrated by F. Murray Abraham....
. The glider is currently on display at the
Yorkshire Air Museum
Yorkshire Air Museum
The Yorkshire Air Museum & Allied Air Forces Memorial, , is an air museum in England. The museum was founded, and first opened to the public, in the early 1980s....
. Another replica, piloted by Allan McWhirter, flew in
Salina, Kansas
Salina, Kansas
Salina is a city in and the county seat of Saline County, Kansas, United States. As of the 2010 census, the city population was 47,707. Located in one of the world's largest wheat-producing areas, Salina is a regional trade center for north-central Kansas...
just before
Steve Fossett
Steve Fossett
James Stephen Fossett was an American commodities trader, businessman, and adventurer. Fossett is the first person to fly solo nonstop around the world in a balloon...
landed the
Virgin Atlantic GlobalFlyer
Virgin Atlantic GlobalFlyer
The Scaled Composites Model 311 Virgin Atlantic GlobalFlyer is an aircraft designed by Burt Rutan in which Steve Fossett flew a solo nonstop airplane flight around the world in a time of 67 hours 1 minute from February 28, 2005 until March 3, 2005...
there again in March 2003, and later piloted by
Richard Branson
Richard Branson
Sir Richard Charles Nicholas Branson is an English business magnate, best known for his Virgin Group of more than 400 companies....
at Brompton in summer 2003.
Memorial
Cayley is commemorated in Scarborough at the University of Hull, Scarborough Campus, where a hall of residence and a teaching building are named after him. He is one of many scientists and engineers commemorated by having a hall of residence and a bar at
Loughborough University
Loughborough University
Loughborough University is a research based campus university located in the market town of Loughborough, Leicestershire, in the East Midlands of England...
named after him. There are display boards and a video film at the Royal Air Force Museum London in Hendon, honouring Cayley's achievements.
See also
List of early flying machines
First flying machine

First flying machine

There are conflicting views as to what was the first flying machine.Much of the debate surrounding records of early flying machines depends on the exact definition of what constitutes a "flying machine", "flight", and even "first"....



List of years in aviation
Arthur Cayley

Arthur Cayley

Arthur Cayley F.R.S. was a British mathematician. He helped found the modern British school of pure mathematics....



Kite types

Kite types

Kites are tethered flying objects which fly by using aerodynamic lift, requiring wind, , for generation of airflow over the lifting surfaces.-Kite types:...



External links