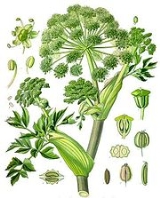 Garden Angelica
Angelica archangelica
, commonly known as
Garden Angelica
,
Holy Ghost
,
Wild Celery
, and
Norwegian angelica
, is a
biennial plant
Biennial plant
A biennial plant is a flowering plant that takes two years to complete its biological lifecycle. In the first year the plant grows leaves, stems, and roots , then it enters a period of dormancy over the colder months. Usually the stem remains very short and the leaves are low to the ground, forming...
from the Apiaceae family
Apiaceae
Apiaceae
The Apiaceae , commonly known as carrot or parsley family, is a group of mostly aromatic plants with hollow stems. The family is large, with more than 3,700 species spread across 434 genera, it is the sixteenth largest family of flowering plants...
family, formerly known as Umbelleferae. Synonyms include
Archangelica officinalis
Hoffm., and
Archangelica officinalis
var.
himalaica
C.B.Clarke).
During its first year it only grows leaves, but during its second year its fluted stem can reach a height of two meters (or six feet). Its leaves are composed of numerous small leaflets, divided into three principal groups, each of which is again subdivided into three lesser groups. The edges of the leaflets are finely toothed or serrated. The flowers, which blossom in July, are small and numerous, yellowish or greenish in colour, are grouped into large, globular umbels, which bear pale yellow, oblong fruits. Angelica only grows in damp soil, preferably near rivers or deposits of water. Not to be confused with the edible
Pastinaca sativa, or Wild Parsnip
.
Angelica archangelica
grows wild in
Finland
Finland
Finland , officially the Republic of Finland, is a Nordic country situated in the Fennoscandian region of Northern Europe. It is bordered by Sweden in the west, Norway in the north and Russia in the east, while Estonia lies to its south across the Gulf of Finland.Around 5.4 million people reside...
,
Sweden
Sweden
Sweden , officially the Kingdom of Sweden , is a Nordic country on the Scandinavian Peninsula in Northern Europe. Sweden borders with Norway and Finland and is connected to Denmark by a bridge-tunnel across the Öresund....
,
Norway
Norway
Norway , officially the Kingdom of Norway, is a Nordic unitary constitutional monarchy whose territory comprises the western portion of the Scandinavian Peninsula, Jan Mayen, and the Arctic archipelago of Svalbard and Bouvet Island. Norway has a total area of and a population of about 4.9 million...
,
Denmark
Denmark
Denmark is a Scandinavian country in Northern Europe. The countries of Denmark and Greenland, as well as the Faroe Islands, constitute the Kingdom of Denmark . It is the southernmost of the Nordic countries, southwest of Sweden and south of Norway, and bordered to the south by Germany. Denmark...
,
Greenland
Greenland
Greenland is an autonomous country within the Kingdom of Denmark, located between the Arctic and Atlantic Oceans, east of the Canadian Arctic Archipelago. Though physiographically a part of the continent of North America, Greenland has been politically and culturally associated with Europe for...
, the
Faroe Islands
Faroe Islands
The Faroe Islands are an island group situated between the Norwegian Sea and the North Atlantic Ocean, approximately halfway between Scotland and Iceland. The Faroe Islands are a self-governing territory within the Kingdom of Denmark, along with Denmark proper and Greenland...
and
Iceland
Iceland
Iceland , described as the Republic of Iceland, is a Nordic and European island country in the North Atlantic Ocean, on the Mid-Atlantic Ridge. Iceland also refers to the main island of the country, which contains almost all the population and almost all the land area. The country has a population...
, mostly in the northern parts of the countries. It is cultivated in
France
France
The French Republic , The French Republic , The French Republic , (commonly known as France , is a unitary semi-presidential republic in Western Europe with several overseas territories and islands located on other continents and in the Indian, Pacific, and Atlantic oceans. Metropolitan France...
, mainly in the
Marais Poitevin
Marais Poitevin
The Marais Poitevin is a large area of marshland in Western France, a remnant of the former Gulf of Poitou...
, a marsh region close to
Niort
Niort
Niort is a commune in the Deux-Sèvres department in western France.The Latin name of the city was Novioritum.The population of Niort is 60,486 and more than 137,000 people live in the urban area....
in the départment
Deux-Sèvres
Deux-Sèvres
Deux-Sèvres is a French département. Deux-Sèvres literally means "two Sèvres": the Sèvre Nantaise and the Sèvre Niortaise are two rivers which have their sources in the department.-History:...
. It also grows in certain regions in Germany like the Harz mountains, and in certain regions of Romania, like the
Rodna mountains
Rodna Mountains
Rodna Mountains are a subdivision of the Eastern Carpathians in Northern Romania. The name comes from the nearby Rodna Veche village.The Rodna Mountains have one of the longest continuous ridges in Romania, with over 50 km from west to east...
.
Usage/history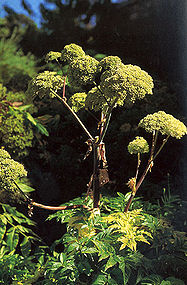 From the 10th century on, angelica was cultivated as a
vegetable
Vegetable
The noun vegetable usually means an edible plant or part of a plant other than a sweet fruit or seed. This typically means the leaf, stem, or root of a plant....
and medicinal plant, and achieved great popularity in
Scandinavia
Scandinavia
Scandinavia is a cultural, historical and ethno-linguistic region in northern Europe that includes the three kingdoms of Denmark, Norway and Sweden, characterized by their common ethno-cultural heritage and language. Modern Norway and Sweden proper are situated on the Scandinavian Peninsula,...
in the 12th century and is still used today, especially in
Sami culture
Sami people
The Sami people, also spelled Sámi, or Saami, are the arctic indigenous people inhabiting Sápmi, which today encompasses parts of far northern Sweden, Norway, Finland, the Kola Peninsula of Russia, and the border area between south and middle Sweden and Norway. The Sámi are Europe's northernmost...
. A flute-like instrument with a clarinet-like sound can be made of its hollow stem, probably as a toy for children.
Linnaeus
Carolus Linnaeus
Carl Linnaeus , also known after his ennoblement as , was a Swedish botanist, physician, and zoologist, who laid the foundations for the modern scheme of binomial nomenclature. He is known as the father of modern taxonomy, and is also considered one of the fathers of modern ecology...
reported that Sami peoples used it in
reindeer
Reindeer
The reindeer , also known as the caribou in North America, is a deer from the Arctic and Subarctic, including both resident and migratory populations. While overall widespread and numerous, some of its subspecies are rare and one has already gone extinct.Reindeer vary considerably in color and size...
milk, as it is often used as a flavoring agent.
In 1602, angelica was introduced in
Niort
Niort
Niort is a commune in the Deux-Sèvres department in western France.The Latin name of the city was Novioritum.The population of Niort is 60,486 and more than 137,000 people live in the urban area....
, which had just been ravaged by the plague, and it has been popular there ever since. It is used to flavour
liqueur
Liqueur
A liqueur is an alcoholic beverage that has been flavored with fruit, herbs, nuts, spices, flowers, or cream and bottled with added sugar. Liqueurs are typically quite sweet; they are usually not aged for long but may have resting periods during their production to allow flavors to marry.The...
s or
aquavit
Aquavit
Aquavit may refer to:* Aqua vitae, Latin for "water of life", a concentrated alcoholic distillate* Akvavit, a Scandinavian distilled beverage* Okovita, a historic Polish-Ukrainian term for an alcoholic drink related to vodka...
s (e.g.
Chartreuse
Chartreuse (liqueur)
Chartreuse is a French liqueur made by the Carthusian Monks since the 1740s. It is composed of distilled alcohol aged with 130 herbal extracts. The liqueur is named after the Monks' Grande Chartreuse monastery, located in the Chartreuse Mountains in the general region of Grenoble in France...
,
Bénédictine
Benedictine
Benedictine refers to the spirituality and consecrated life in accordance with the Rule of St Benedict, written by Benedict of Nursia in the sixth century for the cenobitic communities he founded in central Italy. The most notable of these is Monte Cassino, the first monastery founded by Benedict...
,
Vermouth
Vermouth
Vermouth is a fortified wine flavored with various dry ingredients. The modern versions of the beverage were first produced around the late 18th and early 19th centuries in Italy and France...
and
Dubonnet
Dubonnet
Dubonnet is a sweet, wine-based aperitif. It is a blend of fortified wine, herbs, and spices , with fermentation being stopped by the addition of alcohol....
),
omelette
Omelette
In cuisine, an omelette or omelet is a dish made from beaten eggs quickly cooked with butter or oil in a frying pan, sometimes folded around a filling such as cheese, vegetables, meat , or some combination of the above...
s and
trout
Trout
Trout is the name for a number of species of freshwater and saltwater fish belonging to the Salmoninae subfamily of the family Salmonidae. Salmon belong to the same family as trout. Most salmon species spend almost all their lives in salt water...
, and as jam. The long bright green stems are also candied and used as decoration.
Angelica is unique amongst the Umbelliferae for its pervading aromatic odour, a pleasant perfume entirely different from
Fennel
Fennel
Fennel is a plant species in the genus Foeniculum . It is a member of the family Apiaceae . It is a hardy, perennial, umbelliferous herb, with yellow flowers and feathery leaves...
,
Parsley
Parsley
Parsley is a species of Petroselinum in the family Apiaceae, native to the central Mediterranean region , naturalized elsewhere in Europe, and widely cultivated as an herb, a spice and a vegetable.- Description :Garden parsley is a bright green hairless biennial herbaceous plant in temperate...
,
Anise
Anise
Anise , Pimpinella anisum, also called aniseed, is a flowering plant in the family Apiaceae native to the eastern Mediterranean region and Southwest Asia. Its flavor resembles that of liquorice, fennel, and tarragon.- Biology :...
,
Caraway
Caraway
Caraway also known as meridian fennel, or Persian cumin is a biennial plant in the family Apiaceae, native to western Asia, Europe and Northern Africa....
or
Chervil
Chervil
Chervil is a delicate annual herb related to parsley. Sometimes called garden chervil, it is used to season mild-flavoured dishes and is a constituent of the French herb mixture fines herbes.-Biology:...
. One old writer compares it to Musk, others liken it to Juniper. Even the roots are fragrant, and form one of the principal aromatics of European growth - the other parts of the plant have the same flavour, but their active principles are considered more perishable.
Angelica contains a variety of chemicals which have been shown to have medicinal properties, and the plant is used as a digestive aid.
The
essential oil
Essential oil
An essential oil is a concentrated hydrophobic liquid containing volatile aroma compounds from plants. Essential oils are also known as volatile oils, ethereal oils or aetherolea, or simply as the "oil of" the plant from which they were extracted, such as oil of clove...
of the roots of
Angelica archangelica
contains β-terebangelene, C
10
H
16
, and other
terpene
Terpene
Terpenes are a large and diverse class of organic compounds, produced by a variety of plants, particularly conifers, though also by some insects such as termites or swallowtail butterflies, which emit terpenes from their osmeterium. They are often strong smelling and thus may have had a protective...
s; the oil of the seeds also contains β-terebangelene, together with methylethylacetic acid and hydroxymyristic acid. The fruits are tiny mericarps, frequently mistaken for seeds, and are used in the production of
absinthe
Absinthe
Absinthe is historically described as a distilled, highly alcoholic beverage. It is an anise-flavoured spirit derived from herbs, including the flowers and leaves of the herb Artemisia absinthium, commonly referred to as "grande wormwood", together with green anise and sweet fennel...
and other alcoholic drinks.
Seeds of a Persian spice plant known as Golpar (
Heracleum persicum
) are often erroneously labeled as "angelica seeds." True angelica seeds are rarely available from spice dealers.
Etymology
Archangelica comes from the Greek word "arkhangelos" (=arch-angel), due to the myth that it was the archangel
Michael
Michael
Michael is a given name that comes from the , derived from the Hebrew question מי כמו אלוהים? meaning "Who is like God?" In English, it is sometimes shortened to Mike, Mikey, or, especially in Ireland, Mick...
who told of its use as
medicine
Medicine
Medicine is the science and art of healing. It encompasses a variety of health care practices evolved to maintain and restore health by the prevention and treatment of illness....
.
In
Finnish
Finnish language
Finnish is the language spoken by the majority of the population in Finland Primarily for use by restaurant menus and by ethnic Finns outside Finland. It is one of the two official languages of Finland and an official minority language in Sweden. In Sweden, both standard Finnish and Meänkieli, a...
it is called
väinönputki
, in Kalaallisut
kuanneq
, in
Sami
Sami languages
Sami or Saami is a general name for a group of Uralic languages spoken by the Sami people in parts of northern Finland, Norway, Sweden and extreme northwestern Russia, in Northern Europe. Sami is frequently and erroneously believed to be a single language. Several names are used for the Sami...
fádnu
,
boska
and
rássi
, in
English
English language
English is a West Germanic language that arose in the Anglo-Saxon kingdoms of England and spread into what was to become south-east Scotland under the influence of the Anglian medieval kingdom of Northumbria...
garden angelica
, in
German
German language
German is a West Germanic language, related to and classified alongside English and Dutch. With an estimated 90 – 98 million native speakers, German is one of the world's major languages and is the most widely-spoken first language in the European Union....
arznei-engelwurz
, in
Dutch
Dutch language
Dutch is a West Germanic language and the native language of the majority of the population of the Netherlands, Belgium, and Suriname, the three member states of the Dutch Language Union. Most speakers live in the European Union, where it is a first language for about 23 million and a second...
grote engelwortel
, in
Persian
Persian language
Persian is an Iranian language within the Indo-Iranian branch of the Indo-European languages. It is primarily spoken in Iran, Afghanistan, Tajikistan and countries which historically came under Persian influence...
Sonbol-e Khatāyi سنبل خطایی
, in
Swedish
Swedish language
Swedish is a North Germanic language, spoken by approximately 10 million people, predominantly in Sweden and parts of Finland, especially along its coast and on the Åland islands. It is largely mutually intelligible with Norwegian and Danish...
kvanne
, in
Norwegian
Norwegian language
Norwegian is a North Germanic language spoken primarily in Norway, where it is the official language. Together with Swedish and Danish, Norwegian forms a continuum of more or less mutually intelligible local and regional variants .These Scandinavian languages together with the Faroese language...
kvann
, in
Danish
Danish language
Danish is a North Germanic language spoken by around six million people, principally in the country of Denmark. It is also spoken by 50,000 Germans of Danish ethnicity in the northern parts of Schleswig-Holstein, Germany, where it holds the status of minority language...
kvan
, in
Icelandic
Icelandic language
Icelandic is a North Germanic language, the main language of Iceland. Its closest relative is Faroese.Icelandic is an Indo-European language belonging to the North Germanic or Nordic branch of the Germanic languages. Historically, it was the westernmost of the Indo-European languages prior to the...
hvönn
, and in
Faroese
Faroese language
Faroese , is an Insular Nordic language spoken by 48,000 people in the Faroe Islands and about 25,000 Faroese people in Denmark and elsewhere...
it has the name
hvonn
.
Internal references
External links