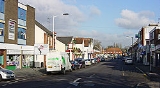 Frimley
Frimley
is a small
English
England
England is a country that is part of the United Kingdom. It shares land borders with Scotland to the north and Wales to the west; the Irish Sea is to the north west, the Celtic Sea to the south west, with the North Sea to the east and the English Channel to the south separating it from continental...
town situated 2 miles (3 km) south of
Camberley
Camberley
Camberley is a town in Surrey, England, situated 31 miles southwest of central London, in the corridor between the M3 and M4 motorways. The town lies close to the borders of both Hampshire and Berkshire; the boundaries intersect on the western edge of the town where all three counties...
, in the extreme west of
Surrey
Surrey
Surrey is a county in the South East of England and is one of the Home Counties. The county borders Greater London, Kent, East Sussex, West Sussex, Hampshire and Berkshire. The historic county town is Guildford. Surrey County Council sits at Kingston upon Thames, although this has been part of...
, adjacent to the border with
Hampshire
Hampshire
Hampshire is a county on the southern coast of England in the United Kingdom. The county town of Hampshire is Winchester, a historic cathedral city that was once the capital of England. Hampshire is notable for housing the original birthplaces of the Royal Navy, British Army, and Royal Air Force...
. It is about 31 miles (50 km) west south-west of Central
London
London
London is the capital city of :England and the :United Kingdom, the largest metropolitan area in the United Kingdom, and the largest urban zone in the European Union by most measures. Located on the River Thames, London has been a major settlement for two millennia, its history going back to its...
. It is part of the Borough of Surrey Heath. The town is connected to the M3 motorway by the Blackwater Valley Road and the Frimley bypass.
History
The name
Frimley
is derived from the
Saxon
Anglo-Saxons
Anglo-Saxon is a term used by historians to designate the Germanic tribes who invaded and settled the south and east of Great Britain beginning in the early 5th century AD, and the period from their creation of the English nation to the Norman conquest. The Anglo-Saxon Era denotes the period of...
name
Fremma's Lea
, which means "Fremma's clearing". The land was owned by
Chertsey Abbey
Chertsey Abbey
Chertsey Abbey, dedicated to St Peter, was a Benedictine monastery located at Chertsey in the English county of Surrey.It was founded by Saint Erkenwald, later Bishop of London, in 666 AD and he became the first abbot. In the 9th century it was sacked by the Danes and refounded from Abingdon Abbey...
from 673 to 1537 and was a farming village. More recently it was a coach stop on the main London to Portsmouth road for about four hundred years.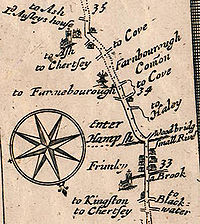 Frimley was not listed in
Domesday Book
Domesday Book
Domesday Book , now held at The National Archives, Kew, Richmond upon Thames in South West London, is the record of the great survey of much of England and parts of Wales completed in 1086...
of 1086, but is shown on the map as
Fremely
, its spelling in 933AD.
Frimley lunatic asylum was opened in 1799; it catered for both male and female patients, and received four patients from
Great Fosters
Great Fosters
Great Fosters is a 16th century mansion which originally lay within Windsor Great Park and is still adjacent to the town of Egham, Surrey, England. It is a Grade I listed building, close to Heathrow and the M25 London orbital motorway.-History:...
. Magistrates visited in 1807 and ordered the proprietors to stop chaining the patients.
An 1811 inventory from Frimley
Workhouse
Workhouse
In England and Wales a workhouse, colloquially known as a spike, was a place where those unable to support themselves were offered accommodation and employment...
can be seen on the
Surrey County Council website
.
The present St. Peter's Church was built in 1837 replacing earlier buildings. The building has a balcony running around three sides of the interior. Dame Ethel Smyth once preached from the pulpit.
In 1904, the
Brompton Hospital
Royal Brompton Hospital
Royal Brompton Hospital is the largest specialist heart and lung centre in the United Kingdom .The hospital is part of Royal Brompton & Harefield NHS Foundation Trust is a national and international specialist heart and lung centre based in Chelsea, London and Harefield, Middlesex...
Sanatorium
Sanatorium
A sanatorium is a medical facility for long-term illness, most typically associated with treatment of tuberculosis before antibiotics...
was established in Frimley to treat
tuberculosis
Tuberculosis
Tuberculosis, MTB, or TB is a common, and in many cases lethal, infectious disease caused by various strains of mycobacteria, usually Mycobacterium tuberculosis. Tuberculosis usually attacks the lungs but can also affect other parts of the body...
patients; it closed in 1985. Dr Marcus Sinclair Paterson (1870–1932) was the first medical superintendent, and he developed a system of treatment called 'graduated labour' which generated a lot of interest from other health professionals. The treatment used controlled levels of physical activity.
In 1931 the staff at Frimley Cottage Hospital were unable to save the life of Lieutenant Hubert Chevis, who had been admitted, along with his wife Frances, after eating poisoned partridge meat. He died of
strychnine
Strychnine
Strychnine is a highly toxic , colorless crystalline alkaloid used as a pesticide, particularly for killing small vertebrates such as birds and rodents. Strychnine causes muscular convulsions and eventually death through asphyxia or sheer exhaustion...
poisoning. The case remains an unsolved murder mystery.
In 1959 the Cadet Training Centre at Frimley Park was formed following the 1957 publication of the Amery Report.
Facilities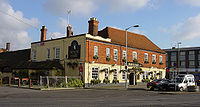 The main shopping street includes a branch of
Waitrose
Waitrose
Waitrose Limited is an upmarket chain of supermarkets in the United Kingdom and is the food division of the British retailer and worker co-operative the John Lewis Partnership. Its head office is in Bracknell, Berkshire, England...
and some smaller shops, several restaurants, banks, charity shops, a post office, a number of estate agents, solicitors, opticians, betting shops, an insurance broker and two
public house
Public house
A public house, informally known as a pub, is a drinking establishment fundamental to the culture of Britain, Ireland, Australia and New Zealand. There are approximately 53,500 public houses in the United Kingdom. This number has been declining every year, so that nearly half of the smaller...
s, the Railway Arms and the
White Hart
White Hart
The White Hart was the personal emblem and livery of Richard II, who derived it from the arms of his mother, Joan "The Fair Maid of Kent", heiress of Edmund of Woodstock...
.
Frimley Park Hospital
Frimley Park Hospital
Frimley Park Hospital is a large, 720-bed NHS hospital in Frimley, Surrey, part of the Frimley Park Hospital NHS Foundation Trust.It opened in 1974 to provide a full range of district general hospital services for North East Hampshire and West Surrey, a catchment population of about 365,000...
is situated in the town. One of the major employers in the town is
BAE Systems
BAE Systems
BAE Systems plc is a British multinational defence, security and aerospace company headquartered in London, United Kingdom, that has global interests, particularly in North America through its subsidiary BAE Systems Inc. BAE is among the world's largest military contractors; in 2009 it was the...
Integrated System Technologies
BAE Systems Integrated System Technologies
BAE Systems Integrated System Technologies was formed on May 3, 2005, by bringing together BAE Systems' interests in C4ISR and the UK operations of AMS following the Eurosystems Transaction....
, which occupies a building in Lyon Way.
Siemens
Siemens
Siemens may refer toSiemens, a German family name carried by generations of telecommunications industrialists, including:* Werner von Siemens , inventor, founder of Siemens AG...
opened its main UK headquarters in Frimley in 2007.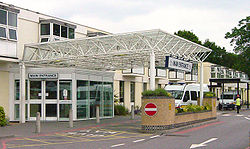 Frimley Business Park
is situated just to the west of the town on the A331 Blackwater Valley Relief Road. Frimley Business Park houses offices of the
Environment Agency
Environment Agency
The Environment Agency is a British non-departmental public body of the Department for Environment, Food and Rural Affairs and an Assembly Government Sponsored Body of the Welsh Assembly Government that serves England and Wales.-Purpose:...
, Genesys Telecommunications, AMD and
Novartis Pharmaceuticals
Novartis
Novartis International AG is a multinational pharmaceutical company based in Basel, Switzerland, ranking number three in sales among the world-wide industry...
.
Transport
Frimley railway station
Frimley railway station
Frimley railway station is a railway station in the town of Frimley in Surrey, England. The station, and all trains serving it, are operated by South West Trains...
provides access to
Guildford
Guildford
Guildford is the county town of Surrey. England, as well as the seat for the borough of Guildford and the administrative headquarters of the South East England region...
,
Ascot
Ascot, Berkshire
Ascot is a village within the civil parish of Sunninghill and Ascot, in the Royal Borough of Windsor and Maidenhead, Berkshire, England. It is most notable as the location of Ascot Racecourse, home of the prestigious Royal Ascot meeting...
and
London Waterloo
Waterloo station
Waterloo station, also known as London Waterloo, is a central London railway terminus and London Underground complex. The station is owned and operated by Network Rail and is close to the South Bank of the River Thames, and in Travelcard Zone 1....
.
Frimley Lodge Park Railway
Frimley Lodge Park Railway
The Frimley Lodge Miniature Railway is operated by the Frimley and Ascot Locomotive Club and is located within Frimley Lodge Park, Surrey. It is approximately 1km long in total, looping around an area of trees next to the Basingstoke Canal. The journey takes about 5 minutes and is an attraction to...
(a tourist attraction) is also nearby.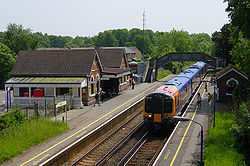 The town is situated close to the junction of the A325 Farnborough Road and A331 Blackwater Valley Relief Road, which provides a link to the M3 Motorway junction 4.
Education
There are a number of schools in Frimley including: The Grove Primary School, Lakeside Primary School, Ravenscote Junior School,
Tomlinscote School
Tomlinscote School
Tomlinscote School and Sixth Form College is a state secondary school and sixth form college located in Frimley, Surrey, England for 11-18 year olds. The school holds Specialist Language College status.-History:...
and St Augustines RC Primary School.
Sport
Frimley Town Football Club was formed over 100 years ago. It runs four teams, and the first team competes in the Senior Division of the Aldershot & District Football League. The club is based at Chobham Road recreation ground.
Frimley Green
Frimley Green
Frimley Green is a large village in Surrey, South East England, UK, close to the border with Hampshire. It is close to the towns of Camberley and Frimley, with the nearest major town being Guildford, approximately 10 miles away....
, a neighbouring village, has hosted the
British Darts Organisation
British Darts Organisation
The British Darts Organisation, or the BDO for short, is a darts organisation founded on 7 January 1973 by Olly Croft, OBE. The BDO is a founder member of the World Darts Federation which was formed in 1976....
's (BDO)
World Professional Darts Championship
World Professional Darts Championship
The World Professional Darts Championship is one of the most important tournaments in the darts calendar. Originally held as an annual event between 1978 and 1993, players then broke off into two separate organisations after a controversial split in the game...
since 1986 each January in the Lakeside complex.
Births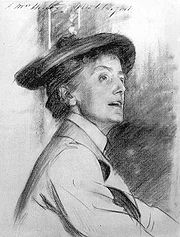 James Cobbett

James Cobbett

James Cobbett was an English professional cricketer who played first-class cricket from 1826 to 1841....


, famous cricketer

Cricketer

A cricketer is a person who plays the sport of cricket. Official and long-established cricket publications prefer the traditional word "cricketer" over the rarely used term "cricket player"....


and considered by many as the finest all-rounder

All-rounder

An all-rounder is a cricketer who regularly performs well at both batting and bowling. Although all bowlers must bat and quite a few batsmen do bowl occasionally, most players are skilled in only one of the two disciplines and are considered specialists...


of his day, was born in Frimley on January 12, 1804.
Frimley Park Hospital was the birth place in 1979 of Jonny Wilkinson

Jonny Wilkinson

Jonathan Peter "Jonny" Wilkinson OBE is an English rugby union player and member of the England national team. Wilkinson rose to acclaim from 2001 to 2003, before and during the 2003 Rugby World Cup and was acknowledged as one of the world's best rugby players...


, a fly-half

Rugby union positions

In the game rugby union, there are fifteen players on each team, comprising eight forwards and seven backs . Depending upon the competition, there may be up to eight replacement players. Early games consisted primarily of forwards that attacked plus a handful of "tends" that played back in defence...


for England Rugby Union

Rugby union

Rugby union, often simply referred to as rugby, is a full contact team sport which originated in England in the early 19th century. One of the two codes of rugby football, it is based on running with the ball in hand...


and one of the most famous players in international professional rugby and Lady Louise Windsor

Lady Louise Windsor

The Lady Louise Windsor is the elder child of Prince Edward, Earl of Wessex, and Sophie, Countess of Wessex. She is the youngest granddaughter and second-youngest grandchild of Elizabeth II and the Duke of Edinburgh...


in 2003.
Jonny Wilkinson's England team-mate Toby Flood

Toby Flood

Tobias Gerald Albert Lieven "Toby" Flood is an English rugby union player. He currently plays at fly half or inside centre for Leicester Tigers, having signed from Newcastle Falcons, and England.-Background:...


was born in Frimley in 1985.
Chris Benham

Chris Benham

Christopher 'Chris' Charles Benham is an English cricketer. Benham is a right-handed batsman who bowls right-arm off break. He was born at Frimley, Surrey. He attended Yateley School across the county border at Yateley in Hampshire...


(cricketer) was born in Frimley on 24 March 1983. He has played county cricket for Hampshire.
Jyoti Guptara

Jyoti Guptara

Jyoti Guptara is a young novelist of British and Indian heritage, best known as co-author of the Insanity Saga .-Biography:...


and Suresh Guptara, young novelists of British and Indian heritage, were born in Frimley.
John McFall

John McFall (athlete)

John McFall is a Cardiff-based British Paralympic sprinter. In 2000, when he was 19 years old, his right leg was amputated above the knee following a serious motorcycle accident. He took up running again after being fitted with a prosthesis, and participated in his first race in 2004...


, British Paralympic sprinter, was born on 25 April 1981 in Frimley.
Other sportsmen born in Frimley include cricketers James Lawrell

James Lawrell

James Lawrell was an English amateur cricketer who made 21 known appearances in major cricket matches from 1800 to 1810.-External sources:*...


(born 1780) and Richard Ingleby Jefferson

Richard Ingleby Jefferson

Richard Ingleby Jefferson was a professional cricketer who played for Surrey County Cricket Club....


(born 1941); and footballers Vic Niblett

Vic Niblett

Victor "Vic" Niblett was an English professional football player. His clubs included Reading, West Ham United and Gillingham, where he made over 150 Football League appearances.-References:...


(born 1924) and Martin Kuhl

Martin Kuhl

Martin Kuhl is an English former professional footballer who played as a midfielder. He made 474 appearances in the Football League for Birmingham City, Sheffield United, Watford, Portsmouth, Derby County, Notts County and Bristol City...


(born 1965).
Jacqueline Cass MBE, founder and head coach of the Thames Valley Kings Junior Wheelchair Basketball team was born in Frimley on 22 July 1985
Residents
Dame Ethel Smyth, English composer and
suffragette
Suffragette
"Suffragette" is a term coined by the Daily Mail newspaper as a derogatory label for members of the late 19th and early 20th century movement for women's suffrage in the United Kingdom, in particular members of the Women's Social and Political Union...
grew up in nearby Frimley Green and later purchased One Oak Cottage in Frimley. Her family moved to
Frimley Green
Frimley Green
Frimley Green is a large village in Surrey, South East England, UK, close to the border with Hampshire. It is close to the towns of Camberley and Frimley, with the nearest major town being Guildford, approximately 10 miles away....
in 1867 when her father was given command of the
Royal Artillery
Royal Artillery
The Royal Regiment of Artillery, commonly referred to as the Royal Artillery , is the artillery arm of the British Army. Despite its name, it comprises a number of regiments.-History:...
at
Aldershot
Aldershot
Aldershot is a town in the English county of Hampshire, located on heathland about southwest of London. The town is administered by Rushmoor Borough Council...
.
Daphne du Maurier
Daphne du Maurier
Dame Daphne du Maurier, Lady Browning DBE was a British author and playwright.Many of her works have been adapted into films, including the novels Rebecca and Jamaica Inn and the short stories "The Birds" and "Don't Look Now". The first three were directed by Alfred Hitchcock.Her elder sister was...
wrote most of her fourth novel,
Jamaica Inn
Jamaica Inn (novel)
Jamaica Inn is a novel by the English writer Daphne du Maurier, first published in 1936. It was later made into a film, also called Jamaica Inn, by Alfred Hitchcock...
, in 1935 in Frimley where her soldier husband
Frederick Browning
Frederick Browning
Lieutenant-General Sir Frederick Arthur Montague Browning GCVO, KBE, CB, DSO was a British Army officer who has been called the "father of the British airborne forces". He is best known as the commander of the I Airborne Corps and deputy commander of First Allied Airborne Army during Operation...
was based.
Deaths
Notable people buried in the churchyard of St. Peter's Church, Frimley include:
Literary mentions
In one of the
"Just William

Just William

Just William is the first book of children's short stories about the young school boy William Brown, written by Richmal Crompton, and published in 1922. The book was the first in the series of William Brown books which was the basis for numerous television series, films and radio adaptations...


"
books by
Richmal Crompton
Richmal Crompton
Richmal Crompton Lamburn was a British writer, most famous for her Just William humorous short stories and books.-Life:...
, William visits an aunt in Frimley for a few days.
Charles Kingsley
Charles Kingsley
Charles Kingsley was an English priest of the Church of England, university professor, historian and novelist, particularly associated with the West Country and northeast Hampshire.-Life and character:...
refers to
"a series of Letters on the Frimley murder"
in his
Alton Locke

Alton Locke

Alton Locke is an 1850 novel, by Charles Kingsley, written in sympathy with the Chartist movement, in which Carlyle is introduced as one of the personages.-Overview:...


, Tailor And Poet
There is a brief mention of Frimley in
Stephen King
Stephen King
Stephen Edwin King is an American author of contemporary horror, suspense, science fiction and fantasy fiction. His books have sold more than 350 million copies and have been adapted into a number of feature films, television movies and comic books...
's
Nightmares & Dreamscapes
Nightmares & Dreamscapes
Nightmares & Dreamscapes is a short story collection by Stephen King published in 1993.-Stories:-Adaptations:"The Night Flier" and "Dolan's Cadillac" were both adapted to films of the same respective names. "Chattery Teeth"' was adapted into a segment of the film Quicksilver Highway...
in the short story
Crouch End
Crouch End (short story)
Crouch End is a horror story by Stephen King, originally published in New Tales of the Cthulhu Mythos , and republished in a slightly different version in King's Nightmares and Dreamscapes collection . It contains distinct references to the horror fiction of H. P. Lovecraft...
. It reads: 'He did indeed move into
council housing
Council house
A council house, otherwise known as a local authority house, is a form of public or social housing. The term is used primarily in the United Kingdom and the Republic of Ireland. Council houses were built and operated by local councils to supply uncrowded, well-built homes on secure tenancies at...
, a two-above-the-shops in Frimley'.
In
The Reminiscences of Sir Henry Hawkins (Baron Brampton)

Henry Hawkins, 1st Baron Brampton

Henry Hawkins, 1st Baron Brampton PC, QC , known as Sir Henry Hawkins between 1876 and 1899, was an English judge. He served as a Judge of the High Court of Justice between 1876 and 1898.-Background and education:...



, chapter 18 tells of the trial of a bricklayer who, in a
prize fight
Boxing
Boxing, also called pugilism, is a combat sport in which two people fight each other using their fists. Boxing is supervised by a referee over a series of between one to three minute intervals called rounds...
on Frimley Common, unfortunately killed his opponent. He appeared in court dressed as a young clergyman and was found innocent of the manslaughter charge because of doubts over his identity.
External links