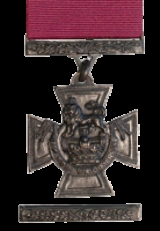 Victoria Cross
The
Victoria Cross
is the highest
military decoration
Military decoration
A military decoration is a decoration given to military personnel or units for heroism in battle or distinguished service. They are designed to be worn on military uniform....
awarded for valour "in the face of the enemy" to members of the armed forces of various
Commonwealth
Commonwealth of Nations
The Commonwealth of Nations, normally referred to as the Commonwealth and formerly known as the British Commonwealth, is an intergovernmental organisation of fifty-four independent member states...
countries, and previous
British Empire
British Empire
The British Empire comprised the dominions, colonies, protectorates, mandates and other territories ruled or administered by the United Kingdom. It originated with the overseas colonies and trading posts established by England in the late 16th and early 17th centuries. At its height, it was the...
territories.
It takes precedence over all other orders, decorations and medals. It may be awarded to a person of any
rank
Military rank
Military rank is a system of hierarchical relationships in armed forces or civil institutions organized along military lines. Usually, uniforms denote the bearer's rank by particular insignia affixed to the uniforms...
in any service and to civilians under military command. In the United Kingdom, it is usually presented to the recipient or to their next of kin by the
British monarch
Monarchy of the United Kingdom
The monarchy of the United Kingdom is the constitutional monarchy of the United Kingdom and its overseas territories. The present monarch, Queen Elizabeth II, has reigned since 6 February 1952. She and her immediate family undertake various official, ceremonial and representational duties...
at an investiture held at
Buckingham Palace
Buckingham Palace
Buckingham Palace, in London, is the principal residence and office of the British monarch. Located in the City of Westminster, the palace is a setting for state occasions and royal hospitality...
.