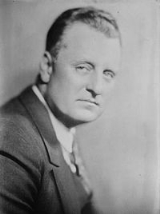 Frank Crumit
Frank Crumit
was an American singer,
composer
Composer
A composer is a person who creates music, either by musical notation or oral tradition, for interpretation and performance, or through direct manipulation of sonic material through electronic media...
. radio entertainer and
vaudeville
Vaudeville
Vaudeville was a theatrical genre of variety entertainment in the United States and Canada from the early 1880s until the early 1930s. Each performance was made up of a series of separate, unrelated acts grouped together on a common bill...
star. He shared his radio programs with his wife,
Julia Sanderson
Julia Sanderson
Julia Sanderson was an actress and singer. Her father, Albert Sackett, was also a Broadway star. She was born August 20, 1888, in Springfield, Massachusetts. She appeared in the Forepaugh Circus as a child and in her early teen years with her father. She then moved to Broadway, where she appeared...
, and the two were sometimes called "the ideal couple of the air."
Biography
| |}>
Crumit was born in
Jackson, Ohio
Jackson, Ohio
Jackson is a city in and the county seat of Jackson County, Ohio, United States. The population was 6,184 at the 2000 census.-Geography:Jackson is located at ....
, the son of Frank and Mary Poore Crumit. He made his first stage appearance at the age of 5 in a
minstrel show
Minstrel show
The minstrel show, or minstrelsy, was an American entertainment consisting of comic skits, variety acts, dancing, and music, performed by white people in blackface or, especially after the Civil War, black people in blackface....
.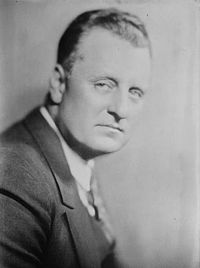 Attending local schools, Crumit graduated from high school in 1907. After briefly attending an Indiana military academy, he entered
Ohio University
Ohio University
Ohio University is a public university located in the Midwestern United States in Athens, Ohio, situated on an campus...
and later
Ohio State University
Ohio State University
The Ohio State University, commonly referred to as Ohio State, is a public research university located in Columbus, Ohio. It was originally founded in 1870 as a land-grant university and is currently the third largest university campus in the United States...
. His primary purpose for entering Ohio University was to follow in the footsteps of his grandfather, Dr. C. K. Crumit, who had been a medical doctor. He instead graduated from Ohio University with a degree in
electrical engineering
Electrical engineering
Electrical engineering is a field of engineering that generally deals with the study and application of electricity, electronics and electromagnetism. The field first became an identifiable occupation in the late nineteenth century after commercialization of the electric telegraph and electrical...
. This career did not last long, as his passion seemed to be music and the old ballads of the 19th century; his love of music and theater dated back to his early years in the Methodist Church choir and led him to pursue a musical career. He studied voice in Cincinnati and then tried out unsuccessfully for opera in New York City.
By 1913, in his early 20s, he was performing on the vaudeville stage, first with a trio and then a year later on his own, playing
ukulele
Ukulele
The ukulele, ; from ; it is a subset of the guitar family of instruments, generally with four nylon or gut strings or four courses of strings....
; he was referred to as "the one-man
glee club
Glee club
A glee club is a musical group or choir group, historically of male voices but also of female or mixed voices, which traditionally specializes in the singing of short songs—glees—by trios or quartets. In the late 19th Century it was very popular in most schools and was made a tradition...
" in New York City's night spots. He appeared in the Broadway musical
Betty Be Good
in 1918. He was a success there and went on to
Greenwich Village Follies of 1920
, which featured his song, "Sweet Lady," written with David B. Zoob.
Crumit began making records for
American Columbia
Columbia Records
Columbia Records is an American record label, owned by Japan's Sony Music Entertainment, operating under the Columbia Music Group with Aware Records. It was founded in 1888, evolving from an earlier enterprise, the American Graphophone Company — successor to the Volta Graphophone Company...
in 1919, using the acoustic or "horn" method of recording (he also occasionally added vocals and
banjo
Banjo
In the 1830s Sweeney became the first white man to play the banjo on stage. His version of the instrument replaced the gourd with a drum-like sound box and included four full-length strings alongside a short fifth-string. There is no proof, however, that Sweeney invented either innovation. This new...
to recordings by the Paul Biese Trio on the same label). By the end of 1923, Crumit was singing at Victor Talking Machine.
He met
Julia Sanderson
Julia Sanderson
Julia Sanderson was an actress and singer. Her father, Albert Sackett, was also a Broadway star. She was born August 20, 1888, in Springfield, Massachusetts. She appeared in the Forepaugh Circus as a child and in her early teen years with her father. She then moved to Broadway, where she appeared...
, then a musical comedy star, in 1922. Sanderson, 38, was sued for divorce in September of that year by her then-husband, U.S. Navy Lieut. Bradford Barnette, with Crumit, 33, named as
co-respondent
Co-respondent
In English law, a co-respondent is, in general, a respondent to a petition, or other legal proceeding, along with another or others, or a person called upon to answer in some other way.- Divorce :...
. Crumit was married to a Connecticut woman at the time. Crumit and Sanderson were married in 1928, and they retired briefly to a country home near Springfield, Mass., but two years later they began working as a radio team, singing duets and engaging in comedy dialogues. They performed as the "Singing Sweethearts."
In 1930, they continued with a popular quiz show,
The Battle of the Sexes
, which ran 13 years, Crumit and Sanderson drove from Massachusetts to New York City, a four-hour trip, twice a week to do their radio show. Their final broadcast was aired the day before Crumit's death of a heart attack in New York City on September 7, 1943.
Hit songs
His biggest hits were made during the 1920s and early 1930s; they included popular
phonograph records
Gramophone record
A gramophone record, commonly known as a phonograph record , vinyl record , or colloquially, a record, is an analog sound storage medium consisting of a flat disc with an inscribed, modulated spiral groove...
of "Frankie and Johnnie", "
Abdul Abulbul Amir
Abdul Abulbul Amir
"Abdul Abulbul Amir" is a poem written in 1877 by Percy French and later set to music. It tells the story of two valiant heroes — a Russian, Ivan Skavinsky Skavar, and one of the Shah's mamelukes, Abdul Abulbul Amir — who because of their pride end up in a fight and kill each other...
", "A Gay Caballero" (he even recorded a sequel, "The Return of A Gay Caballero"), "The Prune Song", "There's No-one With Endurance Like The Man Who Sells Insurance", "Down In De Canebrake", "I Wish That I'd Been Born in Borneo", "What Kind of a Noise Annoys an Oyster?", and "I Learned About Women From Her". Crumit is credited with composing at least 50 songs in his career, including the Ohio State University
fight song
Fight song
A fight song is primarily an American and Canadian sports term, referring to a song associated with a team. In both professional and amateur sports, fight songs are a popular way for fans to cheer for their team...
, "
Buckeye Battle Cry
Buckeye Battle Cry
Buckeye Battle Cry, composed by vaudeville performer and songwriter Frank Crumit, is one of two fight songs of the Ohio State Buckeyes. Every football game in Ohio Stadium begins with Ramp entrance by The Ohio State University Marching Band, performed to Buckeye Battle Cry. The tradition of Script...
" in 1919 for a song contest. He composed and published "Hills of Ohio" in 1941. His song "Donald the Dub" was used as the theme music to the
BBC radio
BBC Radio
BBC Radio is a service of the British Broadcasting Corporation which has operated in the United Kingdom under the terms of a Royal Charter since 1927. For a history of BBC radio prior to 1927 see British Broadcasting Company...
adaptation of
P. G. Wodehouse
P. G. Wodehouse
Sir Pelham Grenville Wodehouse, KBE was an English humorist, whose body of work includes novels, short stories, plays, poems, song lyrics, and numerous pieces of journalism. He enjoyed enormous popular success during a career that lasted more than seventy years and his many writings continue to be...
's
The Oldest Member
.
His back-to-back recording (that is, one song on each side) of '"The Gay Caballero"' and '"Abdul Abulbul Amir"' (Decca W-4200) sold more than 4 million records.
Further reading
External links
Collection of Crumit's songs, from the Internet Archive

Internet Archive

The Internet Archive is a non-profit digital library with the stated mission of "universal access to all knowledge". It offers permanent storage and access to collections of digitized materials, including websites, music, moving images, and nearly 3 million public domain books. The Internet Archive...


(all in open source

Open source

The term open source describes practices in production and development that promote access to the end product's source materials. Some consider open source a philosophy, others consider it a pragmatic methodology...


).