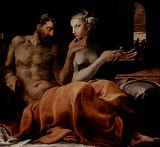 Francesco Primaticcio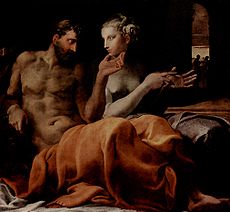 Francesco Primaticcio
(April 30, 1504 – 1570) was an
Italian
Italy
Italy , officially the Italian Republic languages]] under the European Charter for Regional or Minority Languages. In each of these, Italy's official name is as follows:;;;;;;;;), is a unitary parliamentary republic in South-Central Europe. To the north it borders France, Switzerland, Austria and...
Mannerist
Mannerism
Mannerism is a period of European art that emerged from the later years of the Italian High Renaissance around 1520. It lasted until about 1580 in Italy, when a more Baroque style began to replace it, but Northern Mannerism continued into the early 17th century throughout much of Europe...
painter
Painting
Painting is the practice of applying paint, pigment, color or other medium to a surface . The application of the medium is commonly applied to the base with a brush but other objects can be used. In art, the term painting describes both the act and the result of the action. However, painting is...
,
architect
Architect
An architect is a person trained in the planning, design and oversight of the construction of buildings. To practice architecture means to offer or render services in connection with the design and construction of a building, or group of buildings and the space within the site surrounding the...
and
sculptor
Sculpture
Sculpture is three-dimensional artwork created by shaping or combining hard materials—typically stone such as marble—or metal, glass, or wood. Softer materials can also be used, such as clay, textiles, plastics, polymers and softer metals...
who spent most of his career in
France
France
The French Republic , The French Republic , The French Republic , (commonly known as France , is a unitary semi-presidential republic in Western Europe with several overseas territories and islands located on other continents and in the Indian, Pacific, and Atlantic oceans. Metropolitan France...
.
Biography
Born in
Bologna
Bologna
Bologna is the capital city of Emilia-Romagna, in the Po Valley of Northern Italy. The city lies between the Po River and the Apennine Mountains, more specifically, between the Reno River and the Savena River. Bologna is a lively and cosmopolitan Italian college city, with spectacular history,...
, he trained under
Giulio Romano
Giulio Romano
Giulio Romano was an Italian painter and architect. A pupil of Raphael, his stylistic deviations from high Renaissance classicism help define the 16th-century style known as Mannerism...
in
Mantua
Mantua
Mantua is a city and comune in Lombardy, Italy and capital of the province of the same name. Mantua's historic power and influence under the Gonzaga family, made it one of the main artistic, cultural and notably musical hubs of Northern Italy and the country as a whole...
and became a pupil of Innocenzo da Imola, executing decorations at the Palazzo Te before securing a position in the court of
Francis I of France
Francis I of France
Francis I was King of France from 1515 until his death. During his reign, huge cultural changes took place in France and he has been called France's original Renaissance monarch...
in 1532.
Together with
Rosso Fiorentino
Rosso Fiorentino
Giovanni Battista di Jacopo , known as Rosso Fiorentino , or Il Rosso, was an Italian Mannerist painter, in oil and fresco, belonging to the Florentine school.-Biography:...
he was one of the leading artists to work at the Chateau Fontainebleau (where he is grouped with the so-called "First
School of Fontainebleau
School of Fontainebleau
The Ecole de Fontainebleau refers to two periods of artistic production in France during the late Renaissance centered around the royal Château de Fontainebleau, that were crucial in forming the French version of Northern Mannerism....
") spending much of his life there. Following Rosso's death in 1540, Primaticcio took control of the artistic direction at Fontainebleau, furnishing the painters and stuccators of his team, such as Nicolò dell'Abate, with designs. He made
cartoon
Cartoon
A cartoon is a form of two-dimensional illustrated visual art. While the specific definition has changed over time, modern usage refers to a typically non-realistic or semi-realistic drawing or painting intended for satire, caricature, or humor, or to the artistic style of such works...
s for
tapestry
Tapestry
Tapestry is a form of textile art, traditionally woven on a vertical loom, however it can also be woven on a floor loom as well. It is composed of two sets of interlaced threads, those running parallel to the length and those parallel to the width ; the warp threads are set up under tension on a...
-weavers and, like all 16th-century court artists, was called upon to design elaborate ephemeral decorations for
masque
Masque
The masque was a form of festive courtly entertainment which flourished in 16th and early 17th century Europe, though it was developed earlier in Italy, in forms including the intermedio...
s and fêtes, which survive only in preparatory drawings and, sometimes, engravings. Francis I trusted his eye and sent him back to Italy on buying trips in 1540 and again in 1545.
In Rome, part of Primaticcio's commission was to take casts of the best
Roman sculpture
Roman sculpture
The study of ancient Roman sculpture is complicated by its relation to Greek sculpture. Many examples of even the most famous Greek sculptures, such as the Apollo Belvedere and Barberini Faun, are known only from Roman Imperial or Hellenistic "copies." At one time, this imitation was taken by art...
s in the papal collections, some of which were cast in bronze to decorate the
parterre
Parterre
A parterre is a formal garden construction on a level surface consisting of planting beds, edged in stone or tightly clipped hedging, and gravel paths arranged to form a pleasing, usually symmetrical pattern. Parterres need not have any flowers at all...
s at Fontainebleau.
Primaticcio retained his position as court painter to Francis' heirs,
Henry II
Henry II of France
Henry II was King of France from 31 March 1547 until his death in 1559.-Early years:Henry was born in the royal Château de Saint-Germain-en-Laye, near Paris, the son of Francis I and Claude, Duchess of Brittany .His father was captured at the Battle of Pavia in 1525 by his sworn enemy,...
and
Francis II
Francis II of France
Francis II was aged 15 when he succeeded to the throne of France after the accidental death of his father, King Henry II, in 1559. He reigned for 18 months before he died in December 1560...
. His masterpiece, the
Salle d'Hercule
at Fontainebleau, occupied him and his team from the 1530s to 1559.
Primaticcio's crowded Mannerist compositions and his long-legged canon of beauty influenced French art for the rest of the century.
Primaticcio turned to architecture towards the end of his life, his greatest work being the Valois Chapel at the Abbey of Saint-Denis, although this was not completed until after his death and was destroyed in 1719.
External links