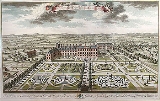 Parterre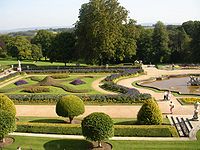 A
parterre
is a formal garden construction on a level surface consisting of planting beds, edged in stone or tightly clipped
hedging
Hedge (gardening)
A hedge or hedgerow is a line of closely spaced shrubs and tree species, planted and trained in such a way as to form a barrier or to mark the boundary of an area. Hedges used to separate a road from adjoining fields or one field from another, and of sufficient age to incorporate larger trees, are...
, and gravel paths arranged to form a pleasing, usually symmetrical pattern. Parterres need not have any flowers at all. French parterres originated in 15th-century
Gardens of the French Renaissance
Gardens of the French Renaissance
The Gardens of the French Renaissance is a garden style largely inspired by the Italian Renaissance garden, particularly the gardens of Florence and Rome. King Charles VIII and his nobles brought the style back to France after their campaign in Italy in 1495...
, such as the Chateau of Versailles, and were elaborated out of 16th-century Baroque
Garden à la française
Garden à la française
The French formal garden, also called jardin à la française, is a style of garden based on symmetry and the principle of imposing order over nature. It reached its apogee in the 17th century with the creation of the Gardens of Versailles, designed for Louis XIV by the landscape architect André Le...
knot garden
Knot garden
A knot garden is a garden of very formal design in a square frame, consisting of a variety of aromatic plants and culinary herbs including germander, marjoram, thyme, southernwood, lemon balm, hyssop, costmary, acanthus, mallow, chamomile, rosemary, Calendulas, Violas and Santolina...
s, and reached a climax at the and its many European imitators, such as Kensington Palace (
illustration, right
).
Examples
At Kensington Palace, then a suburb of London, the planting of the parterres was by Henry Wise, whose nursery was nearby at
Brompton
Brompton, Kensington
Brompton is a district in the Royal Borough of Kensington and Chelsea. It is roughly defined by a triangle formed by the Brompton Cemetery, Old Brompton Road/Brompton Road and Walton Street/Fulham Road.-Development:...
. In the engraving of 1707-1708, (
illustration, right
), the up-to-date
Baroque
Baroque
The Baroque is a period and the style that used exaggerated motion and clear, easily interpreted detail to produce drama, tension, exuberance, and grandeur in sculpture, painting, literature, dance, and music...
designs of each section are clipped scrolling designs, symmetrical around a center, in low hedging punctuated by trees formally clipped into cones; however, their traditional 17th century layout, a broad central gravel walk dividing paired plats, each subdivided in four, appears to have survived from the Palace's former (pre-1689) existence as Nottingham House. Subsidiary wings have subsidiary parterres, with no attempt at overall integration.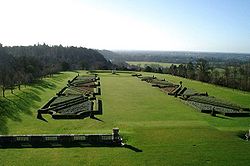 At Prince Eugene's
Belvedere Palace
Belvedere (palace)
The Belvedere is a historical building complex in Vienna, Austria, consisting of two Baroque palaces the Upper and Lower Belvedere, the Orangery, and the Palace Stables. The buildings are set in a Baroque park landscape in the 3rd district of the city, south-east of its centre. It houses the...
, Vienna, a sunken parterre before the facade that faced the city was flanked in a traditional fashion with raised walks from which the pattern could best be appreciated. To either side walls with busts on herm pedestals backed by young trees screen the parterre from the flanking garden spaces. Formal baroque patterns have given way to symmetrical paired free scrolling
rococo
Rococo
Rococo , also referred to as "Late Baroque", is an 18th-century style which developed as Baroque artists gave up their symmetry and became increasingly ornate, florid, and playful...
arabesques, against the gravel ground. Little attempt seems to have been made to fit the framework to the shape of the parterre. Beyond (in the shadowed near foreground) paired basins have central jets of water.
In the UK, modern parterres exist at
Trereife Park
in Penzance (Cornwall),
Birr Castle
Birr Castle
Birr Castle is a large castle in the town of Birr in County Offaly, Ireland. It is the home of the seventh Earl of Rosse, and as such the residential areas of the castle are not open to the public, though the grounds and gardens of the demesne are publicly accessible.-Ireland's Historic Science...
in Ireland, at
Drumlanrig Castle
Drumlanrig Castle
Drumlanrig Castle sits on the Queensberry Estate in Scotland's Dumfries and Galloway.The Castle is the Dumfriesshire family home to the Duke and Duchess of Buccleuch and Queensberry...
in
Dumfriesshire
Dumfriesshire
Dumfriesshire or the County of Dumfries is a registration county of Scotland. The lieutenancy area of Dumfries has similar boundaries.Until 1975 it was a county. Its county town was Dumfries...
and at
Bodysgallen Hall
Bodysgallen Hall
Bodysgallen Hall is a manor house in Conwy county borough, north Wales, near the village of Llanrhos. Since 2008 the house has been owned by The National Trust. It is a grade I listed building, and is currently used as a hotel. This listed historical building derives primarily from the 17th...
near
Llandudno
Llandudno
Llandudno is a seaside resort and town in Conwy County Borough, Wales. In the 2001 UK census it had a population of 20,090 including that of Penrhyn Bay and Penrhynside, which are within the Llandudno Community...
. One of the largest in Britain is at
Cliveden
Cliveden
Cliveden is an Italianate mansion and estate at Taplow, Buckinghamshire, England. Set on banks above the River Thames, its grounds slope down to the river. The site has been home to an Earl, two Dukes, a Prince of Wales and the Viscounts Astor....
in Buckinghamshire; it consists of symmetrical wedge-shaped beds filled with catmint, santolina and senecio, edged with box hedges and with sentinel pyramids of yew at the corners and altogether covers an area of four acres.
Some early knot gardens have been covered over by lawn or other landscaping, but the original traces are still visible as undulations in the present day landscape. An example of this phenomenon is the early 17th century garden of
Muchalls Castle
Muchalls Castle
Muchalls Castle stands overlooking the North Sea in the countryside of Kincardine and Mearns, Aberdeenshire, Scotland. The lower course is a well preserved double groined 13th century towerhouse structure, built by the Frasers of Muchalls. Upon this structure, the 17th century castle was begun by...
in
Scotland
Scotland
Scotland is a country that is part of the United Kingdom. Occupying the northern third of the island of Great Britain, it shares a border with England to the south and is bounded by the North Sea to the east, the Atlantic Ocean to the north and west, and the North Channel and Irish Sea to the...
.
Development of the parterre
The parterre was developed in France by
Claude Mollet
Claude Mollet
Claude Mollet , premier jardinier du Roy— first gardener to three French kings, Henri IV, Louis XIII and the young Louis XIV—was a member of the Mollet dynasty of French garden designers in the seventeenth century...
, the founder of a dynasty of nurserymen-designers that lasted deep into the 18th century. His inspiration in developing the 16th-century patterned
compartimens
—simple interlaces formed of herbs, either open and infilled with sand or closed and filled with flowers— was the painter Etienne du Pérac, who returned from Italy to the château of
Anet
Anet
Anet is a commune in the Eure-et-Loir department in northern France. It is situated between the rivers Eure and Vègre, northeast of Dreux by rail....
, where he and Mollet were working. About 1595 Mollet introduced compartment-patterned parterres to royal gardens at
Saint-Germain-en-Laye
Saint-Germain-en-Laye
Saint-Germain-en-Laye is a commune in the Yvelines department in the Île-de-France in north-central France. It is located in the western suburbs of Paris from the centre.Inhabitants are called Saint-Germanois...
and
Fontainebleau
Fontainebleau
Fontainebleau is a commune in the metropolitan area of Paris, France. It is located south-southeast of the centre of Paris. Fontainebleau is a sub-prefecture of the Seine-et-Marne department, and it is the seat of the arrondissement of Fontainebleau...
; the fully developed scrolling embroidery-like
parterres en broderie
appear for the first time in
Alexandre Francini
Tommaso Francini
Tommaso Francini, Thomas Francine in France, and his younger brother Alessandro Francini were Florentine hydraulics engineers and garden designers who worked for Francesco I de' Medici, Grand Duke of Tuscany, above all at the Villa Medicea di Pratolino, where Francesco de Vieri described the...
's engraved views of the revised planting plans at Fontainebleau and Saint-Germain-en-Laye in 1614
http://www.doaks.org/Evelyn/evel009.pdf
.
Clipped
box
Buxus
Buxus is a genus of about 70 species in the family Buxaceae. Common names include box or boxwood ....
met with resistance from garden patrons for its "naughtie smell" as the herbalist
Gervase Markham
Gervase Markham
Gervase Markham was an English poet and writer, best known for his work The English Huswife, Containing the Inward and Outward Virtues Which Ought to Be in a Complete Woman first published in London in 1615.-Life:Markham was the third son of Sir Robert Markham of Cotham, Nottinghamshire, and was...
described it. By 1638,
Jacques Boyceau
Jacques Boyceau
Jacques Boyceau, sieur de la Barauderie was a French garden designer, the superintendent of royal gardens under Louis XIII, whose posthumously-produced Traité du iardinage selon les raisons de la nature et de l'art. Ensemble divers desseins de parterres, pelouzes, bosquets et autres ornements was...
described the range of designs in box a gardener should be able to provide
"Parterres are the low embellishments of gardens, which have great grace, especially when seen from an elevated position: they are made of borders of several shrubs and sub-shrubs of various colours, fashioned in different manners, as compartments, foliage, embroideries (passements), moresques, arabesque

Arabesque

The arabesque is a form of artistic decoration consisting of "surface decorations based on rhythmic linear patterns of scrolling and interlacing foliage, tendrils" or plain lines, often combined with other elements...


s, grotesque

Grotesque

The word grotesque comes from the same Latin root as "Grotto", meaning a small cave or hollow. The original meaning was restricted to an extravagant style of Ancient Roman decorative art rediscovered and then copied in Rome at the end of the 15th century...


s, guilloche

Guilloché

Guilloché is a decorative engraving technique in which a very precise intricate repetitive pattern or design is mechanically engraved into an underlying material with fine detail...


s, rosettes, sunbursts (gloires), escutcheons, coats-of-arms, monograms and emblems (devises)" —Traité du iardinage selon les raisons de la nature et de l'art, pp 81–82 (quoted by Laird)
By the 1630s, elaborate
parterres de broderie
appeared at
Wilton House
Wilton House
Wilton House is an English country house situated at Wilton near Salisbury in Wiltshire. It has been the country seat of the Earls of Pembroke for over 400 years....
, so magnificent that they were engraved— the only trace of them that remains.
Parterres de pelouse
or
parterres de gazon
refer to cutwork parterres of low-growing herbs like camomile as much as to the close-sythed grass.
An
alley of compartiment
is that which separates the squares of a parterre.
Revival of the parterre
Parterre gardening was swept away, beginning in England, by the naturalistic English landscape garden, beginning in the 1720s. Its revival coincided with
Neo-Renaissance
Neo-Renaissance
Renaissance Revival is an all-encompassing designation that covers many 19th century architectural revival styles which were neither Grecian nor Gothic but which instead drew inspiration from a wide range of classicizing Italian modes...
architecture, in the nineteenth-century fashion for carpet bedding which was realized by mass planting of non-hardy flowering annuals, set out anew at the start of each season and providing the blocks of color that made up the design. Flat surfaces were required, and a raised terrace from which to view the design, and so the parterre was reborn in a transfigured style.