 Francesco Cavalli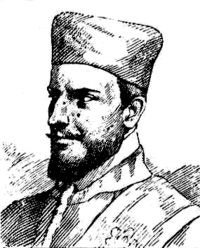 Francesco Cavalli
was an
Italian
Italy
Italy , officially the Italian Republic languages]] under the European Charter for Regional or Minority Languages. In each of these, Italy's official name is as follows:;;;;;;;;), is a unitary parliamentary republic in South-Central Europe. To the north it borders France, Switzerland, Austria and...
composer of the early
Baroque
Baroque music
Baroque music describes a style of Western Classical music approximately extending from 1600 to 1760. This era follows the Renaissance and was followed in turn by the Classical era...
period. His real name was
Pietro Francesco Caletti-Bruni
, but he is better known by that of Cavalli, the name of his patron Federico Cavalli, a Venetian nobleman.
Life
Cavalli was born at
Crema
Crema, Italy
Crema is a town and comune in the province of Cremona, in the region of Lombardy in northern Italy. It is built along the river Serio at 43 km from Cremona. It is also the seat of a Catholic Bishop, who gave to Crema the title of city...
,
Lombardy
Lombardy
Lombardy is one of the 20 regions of Italy. The capital is Milan. One-sixth of Italy's population lives in Lombardy and about one fifth of Italy's GDP is produced in this region, making it the most populous and richest region in the country and one of the richest in the whole of Europe...
. He became a singer at St Mark's in
Venice
Venice
Venice is a city in northern Italy which is renowned for the beauty of its setting, its architecture and its artworks. It is the capital of the Veneto region...
in 1616, second organist in 1639, first organist in 1665, and in 1668
maestro di cappella
. He is chiefly remembered for his operas. He began to write for the stage in 1639 (
Le nozze di Teti e di Peleo
Le nozze di Teti e di Peleo
Le nozze di Teti e di Peleo is an opera by Francesco Cavalli - specifically, an opera scenica or festa teatrale. The work, set to a libretto by Orazio Persiani, was Cavalli's first opera, and was first performed at the Venetian opera house Teatro San Cassiano on 24 January 1639...
) soon after the
first public opera house
Teatro San Cassiano
The Teatro San Cassiano or Teatro di San Cassiano in Venice was the first public opera house when it opened in 1637. The theatre takes its name from the neighbourhood where it was located, the parish of San Cassiano near the Rialto. It was a stone building owned by the Venetian Tron family...
opened in Venice. He established so great a reputation that he was summoned to Paris from 1660 (he revived his opera
Xerxes
Xerse
Xerse is an opera by Francesco Cavalli - specifically, a dramma per musica about Xerxes I. The libretto was written by Nicolò Minato, and was later set by both Giovanni Battista Bononcini and George Frideric Handel. Minato's plot outline is loosely based on Book 7 of Herodotus's Histories...
) until 1662, producing his
Ercole amante
Ercole amante
Ercole amante is an opera in a prologue and five acts by Francesco Cavalli. The Italian libretto was by Francesco Buti, based on Sophocles' The Trachiniae and on the ninth book of Ovid's Metamorphoses....
. He died in Venice at the age of 73.
Music and influence
Cavalli was the most influential composer in the rising genre of public opera in mid-17th century
Venice
Venice
Venice is a city in northern Italy which is renowned for the beauty of its setting, its architecture and its artworks. It is the capital of the Veneto region...
. Unlike
Monteverdi's
Claudio Monteverdi
Claudio Giovanni Antonio Monteverdi – 29 November 1643) was an Italian composer, gambist, and singer.Monteverdi's work, often regarded as revolutionary, marked the transition from the Renaissance style of music to that of the Baroque period. He developed two individual styles of composition – the...
early operas, scored for the extravagant court orchestra of
Mantua
Mantua
Mantua is a city and comune in Lombardy, Italy and capital of the province of the same name. Mantua's historic power and influence under the Gonzaga family, made it one of the main artistic, cultural and notably musical hubs of Northern Italy and the country as a whole...
, Cavalli's operas make use of a small orchestra of strings and
basso continuo
to meet the limitations of public
opera house
Opera house
An opera house is a theatre building used for opera performances that consists of a stage, an orchestra pit, audience seating, and backstage facilities for costumes and set building...
s.
Cavalli introduced melodious arias into his music and popular types into his
libretti
. His operas have a remarkably strong sense of dramatic effect as well as a great musical facility, and a grotesque humour which was characteristic of Italian grand opera down to the death of
Alessandro Scarlatti
Alessandro Scarlatti
Alessandro Scarlatti was an Italian Baroque composer especially famous for his operas and chamber cantatas. He is considered the founder of the Neapolitan school of opera. He was the father of two other composers, Domenico Scarlatti and Pietro Filippo Scarlatti.-Life:Scarlatti was born in...
. Cavalli's operas provide the only example of a continuous musical development of a single composer in a single genre from the early to the late 17th century in Venice — only a few operas by others (e.g. Monteverdi and
Antonio Cesti
Antonio Cesti
Antonio Cesti , known today primarily as an Italian composer of the Baroque era, he was also a singer , and organist. He was "the most celebrated Italian musician of his generation".- Biography :...
) survive. The development is particularly interesting to scholars because opera was still quite a new medium when Cavalli began working, and had matured into a popular public spectacle by the end of his career.
Cavalli wrote forty-one operas, twenty-seven of which are still extant, being preserved in the
Biblioteca Nazionale Marciana
Biblioteca Marciana
The Biblioteca Nazionale Marciana is a library and Renaissance building in Venice, northern Italy; it is one of the earliest surviving public manuscript depositories in the country, holding one of the greatest classical texts collections in the world. The library is named after St. Mark, the...
(Library of St Mark) in Venice. Copies of some of the operas also exist in other locations. In addition, two last operas ("Coriolano" and "Masenzio"), which are clearly attributed to him, are lost, as well as twelve other operas have been attributed to him, though the music is lost and attribution impossible to prove.
In addition to operas, Cavalli wrote settings of the
Magnificat
Magnificat
The Magnificat — also known as the Song of Mary or the Canticle of Mary — is a canticle frequently sung liturgically in Christian church services. It is one of the eight most ancient Christian hymns and perhaps the earliest Marian hymn...
in the grand
Venetian polychoral style
Venetian polychoral style
The Venetian polychoral style was a type of music of the late Renaissance and early Baroque eras which involved spatially separate choirs singing in alternation...
, settings of the Marian antiphons, other sacred music in a more conservative manner (notably a Requiem Mass in eight parts [SSAATTBB], probably intended for his own funeral), and some instrumental music.
Title
|Libretto
|Première date
|Place, theatre
Le nozze di Teti e di Peleo

Le nozze di Teti e di Peleo

Le nozze di Teti e di Peleo is an opera by Francesco Cavalli - specifically, an opera scenica or festa teatrale. The work, set to a libretto by Orazio Persiani, was Cavalli's first opera, and was first performed at the Venetian opera house Teatro San Cassiano on 24 January 1639...



Orazio Persiani
24 January 1639
Venice

Venice

Venice is a city in northern Italy which is renowned for the beauty of its setting, its architecture and its artworks. It is the capital of the Veneto region...


, Teatro San Cassiano

Teatro San Cassiano

The Teatro San Cassiano or Teatro di San Cassiano in Venice was the first public opera house when it opened in 1637. The theatre takes its name from the neighbourhood where it was located, the parish of San Cassiano near the Rialto. It was a stone building owned by the Venetian Tron family...



Gli amori d'Apollo e di Dafne

Gli amori d'Apollo e di Dafne

Gli amori d'Apollo e di Dafne is an opera by the Italian composer Francesco Cavalli. It was Cavalli's second operatic work and was premiered at the Teatro San Cassiano, Venice during the Carnival season of 1640...



Giovanni Francesco Busenello

Giovanni Francesco Busenello

Giovanni Francesco Busenello was an Italian lawyer, librettist and poet of the 17th century.Born to a high-class family of Venice, it is thought that he studied at the University of Padua, where according to himself he was taught by Paolo Sarpi and Cesare Cremonino...



1640
Venice, Teatro San Cassiano
La Didone

Didone (opera)

Didone is an opera by Francesco Cavalli, set to a libretto by Giovanni Francesco Busenello . The opera was first performed at Venice's Teatro San Cassiano during 1641....



Giovanni Francesco Busenello
1641
Venice, Teatro San Cassiano
L'amore innamorato
Giovanni Battista Fusconi
1 January 1642
Venice, Teatro San Moisè

Teatro San Moisè

The Teatro San Moisè was an opera house in Venice, active from 1640 to 1818. It was in a prominent location near the Palazzo Giustinian and the church of San Moisè at the entrance to the Grand Canal....



lost
Narciso et Ecco immortalati
Orazio Persiani
30 January 1642
Venice, Teatro Santi Giovanni e Paolo

Teatro Santi Giovanni e Paolo

The Teatro Santi Giovanni e Paolo was a theatre and opera house in Venice located on the Calle della Testa, and takes its name from the nearby Basilica of Santi Giovanni e Paolo, Venice. Built by the Grimani family in 1638, in its heyday it was considered the most beautiful and comfortable theatre...



lost
La virtù dei strali d'Amore

La virtù dei strali d'Amore

La virtù dei strali d'Amore is an opera in three acts by the Italian composer Francesco Cavalli to a libretto by Giovanni Faustini...



Giovanni Faustini

Giovanni Faustini

Giovanni Faustini was an Italian librettist and opera impresario of the 17th century. He is best remembered for his collaborations with the composer Francesco Cavalli.Faustini was born in Venice...



1642
Venice, Teatro San Cassiano
L'Egisto

Egisto (opera)

Egisto is an opera in a prologue and three acts by Francesco Cavalli. It was designated as a favola dramatica musicale. The Italian libretto was by Giovanni Faustini, his second text for Cavalli.-Performance history:...



Giovanni Faustini
autumn 1643
Venice, Teatro San Cassiano
La Deidamia
Scipione Herrico
5 January 1644
Venice, Teatro Novissimo
lost
L'Ormindo

Ormindo

Ormindo is an opera in three acts and a Prologue by Francesco Cavalli to an original Italian libretto by Giovanni Faustini. The manuscript score and libretto, which describes the work as a favola dramatica musicale, are held at the Biblioteca Marciana in Venice...



Giovanni Faustini
1644
Venice, Teatro San Cassiano
Il Romolo e 'l Remo
Giulio Strozzi
1645
Venice, Teatro Santi Giovanni e Paolo
lost
La Doriclea

Doriclea

Doriclea is an opera in three acts and a prologue by the Italian composer Francesco Cavalli with a libretto by Giovanni Faustini. It was first performed at the Teatro San Cassiano, Venice in 1645.-References:Source...



Giovanni Faustini
1645
Venice, Teatro San Cassiano
Il Titone
Giovanni Faustini
1645
Venice, Teatro San Cassiano
lost
La prosperità infelice di Giulio Cesare dittatore
Giovanni Francesco Busenello
1646
Venice, Teatro Santi Giovanni e Paolo
lost
La Torilda
Pietro Paolo Bissari
1648
Venice, Teatro Santi Giovanni e Paolo or Teatro San Cassiano
lost
Il Giasone

Giasone

Giasone is an opera in three acts and a prologue with music by Francesco Cavalli and a libretto by Giacinto Andrea Cicognini. It was premiered at the Teatro San Cassiano, Venice on 5 January 1649, during carnival. Giasone was "the single most popular opera of the 17th century"...



Giacinto Andrea Cicognini

Giacinto Andrea Cicognini

Giacinto Andrea Cicognini was an Italian playwright and librettist, the son of poet and playwright Jacopo Cicognini.Cicognini was born in Florence. In 1627, he graduated from the University of Pisa, and he lived in Florence from 1640 to 1645 where he have legal advice to the poet and playwright...



5 January 1649
Venice, Teatro San Cassiano
L'Euripo
Giovanni Faustini
1649
Venice, Teatro San Moise
lost
L'Orimonte

Orimonte

Orimonte is an opera in three acts and a prologue by the Italian composer Francesco Cavalli with a libretto by Niccolò Minato. It was first performed at the Teatro San Cassiano, Venice on February 23, 1650.-References:Source...



Nicolò Minato

Nicolò Minato

Count Nicolò Minato was an Italian poet, librettist and impresario. His career can be divided into two parts: the years he spent at Venice, from 1650 to 1669, and the years at Vienna, from 1669 until his death....



23 February 1650
Venice, Teatro San Cassiano
La Bradamante
Pietro Paolo Bissari
1650
Venice, Teatro Santi Giovanni e Paolo
lost
L'Armidoro
Bortolo Castoreo
20 January 1651
Venice, Teatro Sant'Apollinare
lost
L'Oristeo

Oristeo

Oristeo is an opera in a prologue and three acts by Francesco Cavalli. It was designated as a dramma per musica. The Italian libretto was by Giovanni Faustini....



Giovanni Faustini
9 February 1651
Venice, Teatro Sant'Apollinare
La Rosinda

Rosinda

Rosinda is an opera in three acts and a prologue by the Italian composer Francesco Cavalli with a libretto by Giovanni Faustini. It was first performed at the Teatro San Apollinare, Venice in 1651 and revived in Naples and/or Florence in 1653 under the title Le magie amorose.The opera was performed...



Giovanni Faustini
1651
Venice, Teatro Sant'Apollinare
also known as Le magie amorose
La Calisto

La Calisto

La Calisto is an opera by Francesco Cavalli with a libretto by Giovanni Faustini. The libretto was published in 1651 by Giuliani and Batti. The opera received its first performance on 28 November 1651 at the Teatro San Apollinare, Venice...



Giovanni Faustini
28 November 1651
Venice, Teatro Sant'Apollinare
L'Eritrea

Eritrea (opera)

Eritrea is an opera in three acts by the Italian composer Francesco Cavalli. The libretto is by Giovanni Faustini. It was premiered at the Teatro Sant'Apollinare, Venice on 17 January 1652 and revived in modern times at the Wexford Festival in 1975 under the conductor Jane...



Giovanni Faustini
17 January 1652
Venice, Teatro Sant'Apollinare
La Veremonda, l'amazzone di Aragona

Veremonda

Veremonda, l'amazzone di Aragona is an opera in three acts and a prologue by the Italian composer Francesco Cavalli. The libretto is by Giulio Cicognini with revisions by Giulio Strozzi...



Giacinto Andrea Cicognini and Giulio Strozzi
21 December 1652
Naples

Naples

Naples is a city in Southern Italy, situated on the country's west coast by the Gulf of Naples. Lying between two notable volcanic regions, Mount Vesuvius and the Phlegraean Fields, it is the capital of the region of Campania and of the province of Naples...


, Nuovo Teatro del Palazzo Reale
also known as Il Delio
L'Orione

Orione (opera)

L'Orione is an opera in three acts and a prologue by the Italian composer Francesco Cavalli with a libretto by Francesco Melosio. It was first performed at the Royal Theatre, Milan in June 1653 to celebrate the election of Ferdinand IV as King of the Romans. The libretto had originally been...



Francesco Melosio
June 1653
Milan

Milan

Milan is the second-largest city in Italy and the capital city of the region of Lombardy and of the province of Milan. The city proper has a population of about 1.3 million, while its urban area, roughly coinciding with its administrative province and the bordering Province of Monza and Brianza ,...


, Teatro Real
Il Xerse

Xerse

Xerse is an opera by Francesco Cavalli - specifically, a dramma per musica about Xerxes I. The libretto was written by Nicolò Minato, and was later set by both Giovanni Battista Bononcini and George Frideric Handel. Minato's plot outline is loosely based on Book 7 of Herodotus's Histories...



Nicolò Minato
12 January 1654
Venice, Teatro Santi Giovanni e Paolo
Il Ciro

Ciro

;For the Italian "comune", see Cirò, Calabria.Ciro is an opera in three acts and a prologue by the Italian composer Francesco Cavalli in collaboration with Andrea Mattioli. It was first performed at the Teatro San Giovanni e San Paolo, Venice on January 30, 1654. The libretto is by Giulio Cesare...



Giulio Cesare Sorrentino
30 January 1654
Venice, Teatro Santi Giovanni e Paolo
in collaboration with Andrea Mattioli
L'Erismena

Erismena

Erismena is an opera in a prologue and three acts by Francesco Cavalli. It was designated as a dramma per musica. The Italian libretto was by Aurelio Aureli, the only work by this writer for Cavalli....



Aurelio Aureli
30 December 1655
Venice, Teatro Sant'Apollinare
Statira principessa di Persia

Statira principessa di Persia

Statira principessa di Persia is an opera - more specifically, a dramma per musica - in a prologue and three acts by Francesco Cavalli, set to a libretto by Giovanni Francesco Busenello. The opera was first performed in Venice at the Teatro SS...



Giovanni Francesco Busenello
18 January 1656
Venice, Teatro Santi Giovanni e Paolo
L'Artemisia

Artemisia (opera)

Artemisia is an opera in three acts and a prologue by the Italian composer Francesco Cavalli. The libretto is by Nicolò Minato. It was first performed at the Teatro San Giovanni e San Paolo, Venice on January 10, 1657 and revived in Naples in 1658, Palermo in 1659, Milan in 1663 and Genoa in...



Nicolò Minato
10 January 1657
Venice, Teatro Santi Giovanni e Paolo
L'Hipermestra

Hipermestra

Hipermestra is an opera in a prologue and 3 acts by Francesco Cavalli - more specifically, it is a festa teatrale. The opera was set to a libretto by G. A. Moniglia, and was first performed at Florence on 12 June 1658. The plot is based upon the ancient tale of Hypermnestra, a story that later...



Giovanni Andrea Moniglia
12 June 1658
Florence

Florence

Florence is the capital city of the Italian region of Tuscany and of the province of Florence. It is the most populous city in Tuscany, with approximately 370,000 inhabitants, expanding to over 1.5 million in the metropolitan area....


, Teatro degli Immobili
L'Antioco
Nicolò Minato
12 January 1659
Venice, Teatro San Cassiano
lost
Il rapimento d'Helena

Elena (opera)

Elena is a dramma per musica in a prologue and three acts by Francesco Cavalli, set to a libretto originally by Giovanni Faustini that was completed by Nicolò Minato. The opera was first performed in Venice at the Teatro San Cassiano; the dedication is dated to 26 December 1659....



Giovanni Faustini and Nicolò Minato
26 December 1659
Venice, Teatro San Cassiano
also known as Elena
La pazzia in trono, ossia il Caligola delirante
Domenico Gisberti
1660
Venice, Teatro Sant'Apollinare
lost
Ercole amante

Ercole amante

Ercole amante is an opera in a prologue and five acts by Francesco Cavalli. The Italian libretto was by Francesco Buti, based on Sophocles' The Trachiniae and on the ninth book of Ovid's Metamorphoses....



Francesco Buti
7 February 1662
Paris

Paris

Paris is the capital and largest city in France, situated on the river Seine, in northern France, at the heart of the Île-de-France region...


, at the Salles des Machines in the Tuileries palace

Tuileries Palace

The Tuileries Palace was a royal palace in Paris which stood on the right bank of the River Seine until 1871, when it was destroyed in the upheaval during the suppression of the Paris Commune...



Ballet music by Jean-Baptiste Lully

Jean-Baptiste Lully

Jean-Baptiste de Lully was an Italian-born French composer who spent most of his life working in the court of Louis XIV of France. He is considered the chief master of the French Baroque style. Lully disavowed any Italian influence in French music of the period. He became a French subject in...



Scipione affricano

Scipione affricano

Scipione affricano is an opera in a prologue and three acts by Francesco Cavalli. It was designated as a dramma per musica. The Italian libretto was by Nicolò Minato.-Performance history:...



Nicolò Minato
9 February 1664
Venice, Teatro Santi Giovanni e Paolo
Muzio Scevola

Mutio Scevola

Mutio Scevola or Muzio Scevola is an opera in three acts and a prologue by the Italian composer Francesco Cavalli, with a libretto by Giovanni Faustini. It was based on the story of the Roman hero, Gaius Mucius Scaevola...



Giovanni Faustini and Nicolò Minato
26 January 1665
Venice, Teatro San Samuele

Teatro San Samuele

Teatro San Samuele was an opera house and theatre located at the Rio del Duca, between Campo San Samuele and Campo Santo Stefano, in Venice. One of several important theatres built in that city by the Grimani family, the theatre opened in 1656 and operated continuously until a fire destroyed the...



Pompeo Magno

Pompeo Magno

Pompeo Magno is an opera in three acts by Francesco Cavalli. It was designated as a dramma per musica. The Italian libretto was by Nicolò Minato.-Performance history:...



Nicolò Minato
20 February 1666
Venice, Teatro San Salvatore
Eliogabalo

Eliogabalo

Eliogabalo is an opera by the Italian composer Francesco Cavalli based on the life of the Roman emperor Heliogabalus. The author of the original libretto is unknown but it was probably reworked by Aurelio Aureli...



Aurelio Aureli
composed 1667, premiered 1668
Venice, Teatro San Salvatore
Coriolano
Cristoforo Ivanovich
27 May 1669
Piacenza

Piacenza

Piacenza is a city and comune in the Emilia-Romagna region of northern Italy. It is the capital of the province of Piacenza...


, Teatro Ducale
lost
Masenzio
Giacomo Francesco Bussani
composed 1673
unperformed and lost
External links