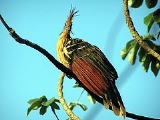 Folivore
In
zoology
Zoology
Zoology |zoölogy]]), is the branch of biology that relates to the animal kingdom, including the structure, embryology, evolution, classification, habits, and distribution of all animals, both living and extinct...
, a
folivore
is a
herbivore
Herbivore
Herbivores are organisms that are anatomically and physiologically adapted to eat plant-based foods. Herbivory is a form of consumption in which an organism principally eats autotrophs such as plants, algae and photosynthesizing bacteria. More generally, organisms that feed on autotrophs in...
that specializes in eating
leaves
Leaves
-History:Vocalist Arnar Gudjonsson was formerly the guitarist with Mower, and he was joined by Hallur Hallsson , Arnar Ólafsson , Bjarni Grímsson , and Andri Ásgrímsson . Late in 2001 they played with Emiliana Torrini and drew early praise from the New York Times...
. Mature leaves contain a high proportion of hard-to-digest
cellulose
Cellulose
Cellulose is an organic compound with the formula , a polysaccharide consisting of a linear chain of several hundred to over ten thousand β linked D-glucose units....
, less energy than other types of foods, and often toxic compounds. For this reason folivorous animals tend to have long digestive tracts and slow metabolisms. Many enlist the help of symbiotic bacteria to release the nutrients in their diet. Additionally, as has been observed in folivorous primates, animals may exhibit a strong preference for immature leaves, which tend to be higher in energy and protein and lower in fibre and poisons than more mature leaves.
Evolution
Herbivory has evolved several times among different groups of animals. The first vertebrates were piscivores, then insectivores, carnivores and finally herbivores. Since a complex set of adaptations was necessary for feeding on highly fibrous plant materials (structural modifications to the teeth, jaws, and digestive tract) and only a small proportion of extant tetrapods are obligate herbivores, it could be that early tetrapods made the transition to fully fledged herbivory by way of omnivory.
Folivory and flight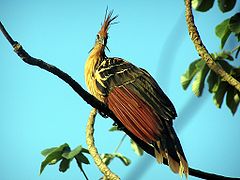 It has been observed that folivory is extremely rare among flying animals. Morton (1978) attributed this to the fact that leaves are heavy, slow to digest, and contain little energy relative to other foods. The
Hoatzin
Hoatzin
The Hoatzin , also known as the Hoactzin, Stinkbird, or Canje Pheasant, is a species of tropical bird found in swamps, riverine forest and mangrove of the Amazon and the Orinoco delta in South America...
is an example of a flighted, folivorous bird.
Some
bat
Bat
Bats are mammals of the order Chiroptera "hand" and pteron "wing") whose forelimbs form webbed wings, making them the only mammals naturally capable of true and sustained flight. By contrast, other mammals said to fly, such as flying squirrels, gliding possums, and colugos, glide rather than fly,...
s are partially folivorous; their method of deriving nourishment from leaves, according to Lowry (1989), is to chew up the leaves, swallowing the
sap
Sap
Sap may refer to:* Plant sap, the fluid transported in xylem cells or phloem sieve tube elements of a plant* Sap , a village in the Dunajská Streda District of Slovakia...
and spitting out the remainder.
Arboreal folivores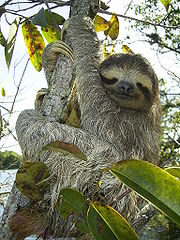 Arboreal folivores, such as
sloth
Sloth
Sloths are the six species of medium-sized mammals belonging to the families Megalonychidae and Bradypodidae , part of the order Pilosa and therefore related to armadillos and anteaters, which sport a similar set of specialized claws.They are arboreal residents of the jungles of Central and South...
s,
koala
Koala
The koala is an arboreal herbivorous marsupial native to Australia, and the only extant representative of the family Phascolarctidae....
s, and some species of
monkey
Monkey
A monkey is a primate, either an Old World monkey or a New World monkey. There are about 260 known living species of monkey. Many are arboreal, although there are species that live primarily on the ground, such as baboons. Monkeys are generally considered to be intelligent. Unlike apes, monkeys...
s and
lemur
Lemur
Lemurs are a clade of strepsirrhine primates endemic to the island of Madagascar. They are named after the lemures of Roman mythology due to the ghostly vocalizations, reflective eyes, and the nocturnal habits of some species...
s, tend to be large and climb cautiously. Similarities in body shape and head- and tooth-structure between early hominoids and various families of arboreal folivores have been advanced as evidence that early homonoids were also folivorous.
Primates
Standard ecological theory predicts relatively large
group sizes
Group size measures
Many animals, including humans, tend to live in groups, herds, flocks, bands, packs, shoals, or colonies of conspecific individuals. The size of these groups, as expressed by the number of participant individuals, is an important aspect of their social environment...
for folivorous
primate
Primate
A primate is a mammal of the order Primates , which contains prosimians and simians. Primates arose from ancestors that lived in the trees of tropical forests; many primate characteristics represent adaptations to life in this challenging three-dimensional environment...
s, as large groups offer better collective defense against predators and they face little competition for food among each other. It has been observed that these animals nevertheless frequently live in small groups. Explanations offered for this apparent paradox include social factors such as increased incidence of
infanticide
Infanticide (zoology)
In animals, infanticide involves the killing of young offspring by a mature animal of its own species, and is studied in zoology, specifically in the field of ethology. Ovicide is the analogous destruction of eggs. Although human infanticide has been widely studied, the practice has been observed...
in large groups.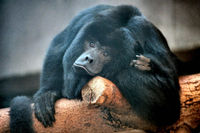 Folivorous primates are relatively rare in the
New World
New World
The New World is one of the names used for the Western Hemisphere, specifically America and sometimes Oceania . The term originated in the late 15th century, when America had been recently discovered by European explorers, expanding the geographical horizon of the people of the European middle...
, the primary exception being
howler monkey
Howler monkey
Howler monkeys are among the largest of the New World monkeys. Fifteen species are currently recognised. Previously classified in the family Cebidae, they are now placed in the family Atelidae. These monkeys are native to South and Central American forests...
s. One explanation that has been offered is that fruiting and leafing occur simultaneously among New World plants. However a 2001 study found no evidence for simultaneous fruiting and leafing at most sites, apparently disproving this hypothesis.
Examples
Examples of folivorous animals include:

Mammals: okapi

Okapi

The okapi , Okapia johnstoni, is a giraffid artiodactyl mammal native to the Ituri Rainforest, located in the northeast of the Democratic Republic of the Congo, in Central Africa...


s, sloth

Sloth

Sloths are the six species of medium-sized mammals belonging to the families Megalonychidae and Bradypodidae , part of the order Pilosa and therefore related to armadillos and anteaters, which sport a similar set of specialized claws.They are arboreal residents of the jungles of Central and South...


s, possum

Possum

A possum is any of about 70 small to medium-sized arboreal marsupial species native to Australia, New Guinea, and Sulawesi .Possums are quadrupedal diprotodont marsupials with long tails...


s, koala

Koala

The koala is an arboreal herbivorous marsupial native to Australia, and the only extant representative of the family Phascolarctidae....


s and various species of monkey

Monkey

A monkey is a primate, either an Old World monkey or a New World monkey. There are about 260 known living species of monkey. Many are arboreal, although there are species that live primarily on the ground, such as baboons. Monkeys are generally considered to be intelligent. Unlike apes, monkeys...



Birds: The Hoatzin

Hoatzin

The Hoatzin , also known as the Hoactzin, Stinkbird, or Canje Pheasant, is a species of tropical bird found in swamps, riverine forest and mangrove of the Amazon and the Orinoco delta in South America...


of the Amazon region and the Kakapo

Kakapo

The Kakapo , Strigops habroptila , also called owl parrot, is a species of large, flightless nocturnal parrot endemic to New Zealand...


of New Zealand
Reptiles: Iguana

Iguana

Iguana is a herbivorous genus of lizard native to tropical areas of Central America and the Caribbean. The genus was first described in 1768 by Austrian naturalist Josephus Nicolaus Laurenti in his book Specimen Medicum, Exhibens Synopsin Reptilium Emendatam cum Experimentis circa Venena...


s http://www.anapsid.org/iguana/rand.html
Insects: various kinds of caterpillar

Caterpillar

Caterpillars are the larval form of members of the order Lepidoptera . They are mostly herbivorous in food habit, although some species are insectivorous. Caterpillars are voracious feeders and many of them are considered to be pests in agriculture...


s, sawflies, beetle

Beetle

Coleoptera is an order of insects commonly called beetles. The word "coleoptera" is from the Greek , koleos, "sheath"; and , pteron, "wing", thus "sheathed wing". Coleoptera contains more species than any other order, constituting almost 25% of all known life-forms...


s, leaf miner

Leaf miner

Leaf miner is a term used to describe the larvae of many different species of insect which live in and eat the leaf tissue of plants. The vast majority of leaf-mining insects are moths , sawflies and flies , though some beetles and wasps also exhibit this behavior.Like Woodboring beetles, leaf...


s and Orthoptera

Orthoptera

Orthoptera is an order of insects with paurometabolous or incomplete metamorphosis, including the grasshoppers, crickets and locusts.Many insects in this order produce sound by rubbing their wings against each other or their legs, the wings or legs containing rows of corrugated bumps...



Others: several land gastropod species (snails and slugs)