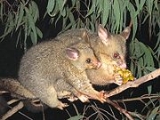 Possum
A
possum
is any of about 70 small to medium-sized arboreal
marsupial
Marsupial
Marsupials are an infraclass of mammals, characterized by giving birth to relatively undeveloped young. Close to 70% of the 334 extant species occur in Australia, New Guinea, and nearby islands, with the remaining 100 found in the Americas, primarily in South America, but with thirteen in Central...
species
Species
In biology, a species is one of the basic units of biological classification and a taxonomic rank. A species is often defined as a group of organisms capable of interbreeding and producing fertile offspring. While in many cases this definition is adequate, more precise or differing measures are...
native to
Australia
Australia
Australia , officially the Commonwealth of Australia, is a country in the Southern Hemisphere comprising the mainland of the Australian continent, the island of Tasmania, and numerous smaller islands in the Indian and Pacific Oceans. It is the world's sixth-largest country by total area...
,
New Guinea
New Guinea
New Guinea is the world's second largest island, after Greenland, covering a land area of 786,000 km2. Located in the southwest Pacific Ocean, it lies geographically to the east of the Malay Archipelago, with which it is sometimes included as part of a greater Indo-Australian Archipelago...
, and
Sulawesi
Sulawesi
Sulawesi is one of the four larger Sunda Islands of Indonesia and is situated between Borneo and the Maluku Islands. In Indonesia, only Sumatra, Borneo, and Papua are larger in territory, and only Java and Sumatra have larger Indonesian populations.- Etymology :The Portuguese were the first to...
(and introduced to
New Zealand
New Zealand
New Zealand is an island country in the south-western Pacific Ocean comprising two main landmasses and numerous smaller islands. The country is situated some east of Australia across the Tasman Sea, and roughly south of the Pacific island nations of New Caledonia, Fiji, and Tonga...
and
China
China
Chinese civilization may refer to:* China for more general discussion of the country.* Chinese culture* Greater China, the transnational community of ethnic Chinese.* History of China* Sinosphere, the area historically affected by Chinese culture...
).
Possums are
quadruped
Quadruped
Quadrupedalism is a form of land animal locomotion using four limbs or legs. An animal or machine that usually moves in a quadrupedal manner is known as a quadruped, meaning "four feet"...
al diprotodont marsupials with long tails. The smallest possum, indeed the smallest diprotodont marsupial, is the Little Pygmy Possum with an adult head-body length of 70mm and a weight of 10g. The largest is the
Bear Cuscus
Bear cuscus
The bear cuscuses are the members of the genus Ailurops. They are marsupials of the family Phalangeridae.The bear cuscuses are arboreal marsupials that live in the upper canopy of tropical rainforests. Almost nothing is known of their status and ecology. Although some scientists assign all...
that may exceed 7 kg.