 Fishing line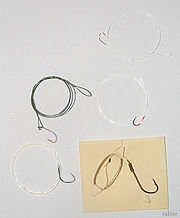 A
fishing line
is a cord used or made for
angling
Angling
Angling is a method of fishing by means of an "angle" . The hook is usually attached to a fishing line and the line is often attached to a fishing rod. Fishing rods are usually fitted with a fishing reel that functions as a mechanism for storing, retrieving and paying out the line. The hook itself...
. Important parameters of a fishing line are its length, material, and weight (thicker lines are more visible to fish). Factors that may determine what line an angler chooses for a given fishing environment include breaking strength, knot strength, UV resistance, castability, limpness, stretch, abrasion resistance, and visibility.
Terminology
Fish are caught with a fishing line by encouraging a fish to bite on a
fish hook
Fish hook
A fish hook is a device for catching fish either by impaling them in the mouth or, more rarely, by snagging the body of the fish. Fish hooks have been employed for centuries by fishermen to catch fresh and saltwater fish. In 2005, the fish hook was chosen by Forbes as one of the top twenty tools...
. A fish hook will pierce the mouthparts of a fish and are normally barbed to make escape less likely. Another method is to use a gorge, which is buried in the bait such that it would be swallowed end first. The tightening of the line would fix it cross-wise in the quarry's stomach or gullet and so the capture would be assured.
Fishing with a hook and line is called
angling
Angling
Angling is a method of fishing by means of an "angle" . The hook is usually attached to a fishing line and the line is often attached to a fishing rod. Fishing rods are usually fitted with a fishing reel that functions as a mechanism for storing, retrieving and paying out the line. The hook itself...
. In addition to the use of the hook and line used to catch a fish, a heavy fish may be landed by using a landing net or a hooked pole called a
gaff
Gaff (fishing)
In fishing, a gaff is a pole with a sharp hook on the end that is used to stab a large fish and then lift the fish into the boat or onto shore. Ideally, the hook is placed under the backbone. Gaffs are used when the weight of the fish exceeds the breaking point of the fishing line or the fishing pole...
.
Trolling
Troll (angling)
Trolling is a method of fishing where one or more fishing lines, baited with lures or bait fish, are drawn through the water. This may be behind a moving boat, or by slowly winding the line in when fishing from a static position, or even sweeping the line from side-to-side, e.g. when fishing from...
is a technique in which a
fishing lure
Fishing lure
A fishing lure is an object attached to the end of a fishing line which is designed to resemble and move like the prey of a fish. The purpose of the lure is to use movement, vibration, and colour to catch the fish's attention so it bites the hook...
on a line is drawn through the water. Trolling from a moving boat is a technique of
big-game fishing
Big-game fishing
Big-game fishing, often referred to as offshore sportfishing, offshore gamefishing, or blue-water fishing is a form of recreational fishing, targeting large fish renowned for their sporting qualities, such as tuna and marlin.-History:...
and is used when fishing from boats to catch large open-water species such as
tuna
Tuna
Tuna is a salt water fish from the family Scombridae, mostly in the genus Thunnus. Tuna are fast swimmers, and some species are capable of speeds of . Unlike most fish, which have white flesh, the muscle tissue of tuna ranges from pink to dark red. The red coloration derives from myoglobin, an...
and
marlin
Marlin
Marlin, family Istiophoridae, are fish with an elongated body, a spear-like snout or bill, and a long rigid dorsal fin, which extends forward to form a crest. Its common name is thought to derive from its resemblance to a sailor's marlinspike...
. Trolling is also a freshwater angling technique most often used to catch
trout
Trout
Trout is the name for a number of species of freshwater and saltwater fish belonging to the Salmoninae subfamily of the family Salmonidae. Salmon belong to the same family as trout. Most salmon species spend almost all their lives in salt water...
. Trolling is also an effective way to catch
northern pike
Northern Pike
The northern pike , is a species of carnivorous fish of the genus Esox...
in the great lakes. It's also good for muskellunge in deeper lake using large baits also known as crankbaits or other big baits using strong line. This technique allows anglers to cover a large body of water in a short time.
Long-line fishing
Long-line fishing
Longline fishing is a commercial fishing technique. It uses a long line, called the main line, with baited hooks attached at intervals by means of branch lines called "snoods". A snood is a short length of line, attached to the main line using a clip or swivel, with the hook at the other end....
is a commercial fishing technique that uses hundreds or even thousands of baited hooks hanging from a single line.
Snagging is a technique where the object is to hook the fish in the body. Generally, a large treble hook with a heavy sinker is cast into a river containing a large amount of fish, such as a Salmon, and is quickly jerked and reeled in. Due to the often illegal nature of this method some practitioners have added methods to disguise the practice, such as adding bait or reducing the jerking motion.
Modern lines
Modern fishing lines intended for spinning, spin cast, or bait casting reels are almost entirely made from artificial substances, including
nylon
Nylon
Nylon is a generic designation for a family of synthetic polymers known generically as polyamides, first produced on February 28, 1935, by Wallace Carothers at DuPont's research facility at the DuPont Experimental Station...
,
polyvinylidene fluoride
Polyvinylidene fluoride
Polyvinylidene fluoride, or PVDF is a highly non-reactive and pure thermoplastic fluoropolymer.PVDF is a specialty plastic material in the fluoropolymer family; it is used generally in applications requiring the highest purity, strength, and resistance to solvents, acids, bases and heat and low...
(PVDF, and called fluorocarbon),
polyethylene
Polyethylene
Polyethylene or polythene is the most widely used plastic, with an annual production of approximately 80 million metric tons...
, Dacron and Dyneema (UHMWPE). The most common type is
monofilament
Monofilament line
Monofilament fishing line is fishing line made from a single fiber of plastic. Most fishing lines are now monofilament because monofilament fibers are cheap to produce and are produced in a range of diameters which have different tensile strengths...
, made of a single strand. Fishermen often use monofilament because of its buoyant characteristics and its ability to stretch under load. Its ability to stretch has a huge advantage over the early developments as it prevents the rod from being ripped out of the user's hands when given a sudden pull. Recently, other alternatives to standard nylon monofilament lines have been introduced made of copolymers or fluorocarbon, or a combination of the two materials. Fluorocarbon fishing line is made of the
fluoropolymer
Fluoropolymer
A fluoropolymer is a fluorocarbon based polymer with multiple strong carbon–fluorine bonds. It is characterized by a high resistance to solvents, acids, and bases.-History:Fluoropolymers were accidentally discovered in 1938 by Dr. Roy J...
PVDF and it is valued for its
refractive index
Refractive index
In optics the refractive index or index of refraction of a substance or medium is a measure of the speed of light in that medium. It is expressed as a ratio of the speed of light in vacuum relative to that in the considered medium....
, which is similar to that of water, making it less visible to fish. Fluorocarbon is also a more dense material, and therefore, is not nearly as buoyant as monofilament. Anglers often utilize fluorocarbon when they need their baits to stay closer to the bottom without the use of heavy sinkers. There are also
braided fishing line
Braided fishing line
Braided line was one of the of earliest types of fishing line, and in its modern incarnations it is still very popular in some situations because of its high knot strength, lack of stretch, and great overall power in relation to its diameter...
s,
cofilament
and
thermally fused
lines, also known as 'superlines' for their small diameter, lack of stretch, and great strength relative to standard nylon monofilament lines. Both braided and thermally fused '
superlines
Multifilament fishing line
Multifilament line, also referred to as The Super Lines, is a type of fishing line. It is a braided line which is made up of a type of polyethylene, an extremely thin line for its strength. By weight, polyethylene strands are five to ten times sturdier than steel...
' are now readily available.
Specialty lines
Fly lines
consist of a tough braided or monofilament core, wrapped in a thick waterproof plastic sheath, often of
polyvinyl chloride
Polyvinyl chloride
Polyvinyl chloride, commonly abbreviated PVC, is a thermoplastic polymer. It is a vinyl polymer constructed of repeating vinyl groups having one hydrogen replaced by chloride. Polyvinyl chloride is the third most widely produced plastic, after polyethylene and polypropylene. PVC is widely used in...
(PVC). In the case of floating fly lines, the PVC sheath is usually embedded with many 'microballoons' or air bubbles, and may also be impregnated with silicone or other lubricants to give buoyancy and reduce wear. In order to fill up the reel spool and ensure an adequate reserve in case of a run by a powerful fish, fly lines are usually attached to a secondary line at the butt section, called backing. Fly line backing is usually composed of braided dacron or gelspun monofilaments. All fly lines are equipped with a leader of monofilament or fluorocarbon fishing line, usually (but not always) tapered in diameter, and referred to by the 'X-size' (0X, 2X, 4X, etc.) of its final tip section, or tippet.
Tenkara lines
Tenkara fishing
Tenkara fly fishing is a traditional type of fly fishing practiced in Japan. Primarily used for mountain stream trout fishing, tenkara is one of the most popular methods of angling among fresh-water mountain anglers in Japan....
are special lines used for the fixed-line fishing method of tenkara. Traditionally these are furled lines the same length as the tenkara rod. Although original to Japan, these lines are similar to the British tradition of
furled leader
Furled Leader
Furled Leaders are a type of knotless tapered fly fishing leader. They are known for their high performance, low memory, and soft fly presentations. These attributes are due to the way these leaders are constructed which is similar to creating rope. The big difference is that furled leaders are...
. They consist of several strands being twisted together in decreasing numbers toward the tip of the line, thus creating a taper that allows the line to cast the fly. It serves the same purpose as the fly-line, to propel a fly forward. They may be tied of various materials, but most commonly are made of monofilament.
Wire lines
are frequently used as leaders to prevent the fishing line from being severed by toothy fish. Usually braided from several metal strands, wire lines may be made of stainless steel, titanium, or a combination of metal alloys.
See also