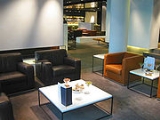 First class (aviation)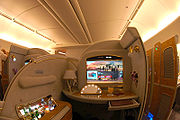 First class
is a luxury
travel class
Travel class
A travel class is a quality of accommodation on public transport. The accommodation could be a seat or a cabin for example. Higher travel classes are more comfortable and more expensive.-Airline booking codes:...
on some airliners that exceeds
business class
Business class
Business class is a travel class available on many commercial airlines and rail lines, known by brand names which vary by airline or rail company. In the airline industry, it was originally intended as an intermediate level of service between economy class and first class, but many airlines now...
,
premium economy
Premium economy
Premium economy is a travel class offered on some airlines, positioned in price, comfort, and amenities between economy class and business class. As of 2011, the term is not standardized among airlines, and varies significantly when comparing its use on domestic versus international flights or...
, and
economy class
Economy class
__FORCETOC__Economy class, also called coach class , steerage, or standard class, is the lowest class of seating in air travel, rail travel, and sometimes ferry or maritime travel....
. On a passenger jetliner,
first class
refers to a limited number (rarely more than 16) of seats or cabins located in the front of the aircraft which are notable for their comfort, service, and privacy. Propeller airliners occasionally have first class in the rear.
Service
First-class seats vary from large reclining seats with more legroom and width than other classes to suites with a fully reclining seat, workstation and TV surrounded by privacy dividers. International first-class seats usually have between 147–239 cm (58–94 inches) of seat pitch and between 48–89 cm (19–35 inches) of width while domestic flights may have between 86–173 cm (34–68 inches) of pitch and between 46–56 cm (18–22 inches) in width. Some airlines have first-class seats which allow passengers to let 1 guest sit for a short while face-to-face with the occupant of the cabin.
First-class passengers usually have at least one lavatory reserved for their exclusive use, with more than one on larger planes. Business- and economy-class passengers are not normally permitted in the first-class cabin. Normally AVOD (audiovisual on demand) entertainment is offered, although sometimes normal films, television programs and interactive games are provided on medium-large seat-back or armrest-mounted flat panel monitors. Especially for long-haul and high-yielding routes on top airlines, a first-class seat may have facilities akin to a five-star hotel such as a mini-bar.
Recently, some airlines have gone far enough to model their first-class section as suites. Singapore Airlines for instance now markets its highest class on its A380s as "suites" with the tagline "A class above first." The 2 m (78 inches) bed is separate from the seat and folds out from the back wall, with several other components of the suite lowering to accommodate the mattress. Windows are built into the doors and blinds offer privacy. Suites located in the center can form a double bed after the privacy blinds between them are retracted into the ceiling. Other A380 operators like Emirates also have a suite-like first class with similar amenities but the bed and chair are integrated where a button is pushed to turn the seat into a bed in seconds and vice versa.
Additional benefits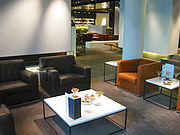 On the ground, first-class passengers are offered complimentary limousine service and usually have special check-in and security zones at the airport while some airlines operate private terminals. While it is typical that these passengers have lounge access, some airlines have separate lounges for first and business where the former may have more luxurious amenities. These passengers are often able to board the aircraft before other passengers, sometimes through their own jetbridge.
Alcoholic and non-alcoholic drinks are complimentary and gourmet meals are usually served with a choice of
wine
Wine
Wine is an alcoholic beverage, made of fermented fruit juice, usually from grapes. The natural chemical balance of grapes lets them ferment without the addition of sugars, acids, enzymes, or other nutrients. Grape wine is produced by fermenting crushed grapes using various types of yeast. Yeast...
,
dessert
Dessert
In cultures around the world, dessert is a course that typically comes at the end of a meal, usually consisting of sweet food. The word comes from the French language as dessert and this from Old French desservir, "to clear the table" and "to serve." Common Western desserts include cakes, biscuits,...
, and aperitifs. Often these meals have been designed by leading chefs and are served on white linen table cloths and with real cutlery (often with the exception of knives for security reasons).
On newer aircraft such as the A380, airlines have unique facilities for first-class passengers, such as the double suite on Singapore Airlines and the onboard shower spa on Emirates.
When it comes to mileage, revenue first-class passengers are entitled to more bonus miles which can make the earning of a free ticket and other perks (such as a higher tier on a frequent flyer programme) much faster.
Ticket prices
Historically, first-class air travel has been very expensive. First-class long-haul fares regularly exceed $10,000 per person round trip, as opposed to $3,000–4,500 international business class tickets and $1,000 economy class tickets. With the emergence of frequent flyer programmes however, passengers have been able to upgrade their business- or economy-class tickets through membership in elite in such frequent-flyer programs and through the policies of some airlines that allow business and economy-class passengers to purchase last-minute upgrades on a space-available basis.
Cabin separation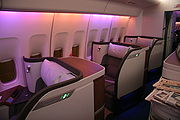 Access to the first-class portion of the plane is usually restricted from those traveling in business and economy classes by curtains, although for security reasons, US-based airlines are increasingly removing these cabin dividers or installing transparent cabin dividers. Business-class passengers are restricted from the first-class cabin, and economy-class passengers are restricted from both the first- and business-class cabin.
US domestic first class
On most domestic flights within the United States, what is normally regional business class in the rest of the world is branded as "domestic first class" by US airlines. The service is generally a step below long haul international business class.
However,
domestic first class
does have two very different meanings on certain transcontinental routes such as LAX-JFK, SFO-JFK, and others. American Airlines and United Airlines both operate a special service on the JFK-LAX and JFK-SFO routes known as "american flagship service" and "United p.s." (p.s. stands for premium service) respectively. In these cases, first class is actually a three-cabin first class which is different from two-cabin first class, both in comfort and price. In these cases, domestic business class is generally equivalent in pricing to two-cabin domestic first class. The three-cabin first class is more of a true first class rather than a rebranded business class.
See also