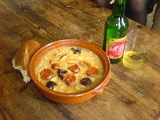 Fabada Asturiana
Fabada Asturiana
, often simply known as
Fabada
, is a rich
Spanish
Spanish cuisine
Spanish cuisine consists of a variety of dishes, which stem from differences in geography, culture and climate. It is heavily influenced by seafood available from the waters that surround the country, and reflects the country's deep maritime roots...
bean
Bean
Bean is a common name for large plant seeds of several genera of the family Fabaceae used for human food or animal feed....
stew
Stew
A stew is a combination of solid food ingredients that have been cooked in liquid and served in the resultant gravy. Ingredients in a stew can include any combination of vegetables , meat, especially tougher meats suitable for slow-cooking, such as beef. Poultry, sausages, and seafood are also used...
, originally from and most commonly found in the
autonomous community
Autonomous communities of Spain
An autonomous community In other languages of Spain:*Catalan/Valencian .*Galician .*Basque . The second article of the constitution recognizes the rights of "nationalities and regions" to self-government and declares the "indissoluble unity of the Spanish nation".Political power in Spain is...
of
Asturias
Asturias
The Principality of Asturias is an autonomous community of the Kingdom of Spain, coextensive with the former Kingdom of Asturias in the Middle Ages...
, but widely available throughout the whole of
Spain
Spain
Spain , officially the Kingdom of Spain languages]] under the European Charter for Regional or Minority Languages. In each of these, Spain's official name is as follows:;;;;;;), is a country and member state of the European Union located in southwestern Europe on the Iberian Peninsula...
and in Spanish restaurants worldwide.
Canned
Canning
Canning is a method of preserving food in which the food contents are processed and sealed in an airtight container. Canning provides a typical shelf life ranging from one to five years, although under specific circumstances a freeze-dried canned product, such as canned, dried lentils, can last as...
fabada is sold in most supermarkets across the country.
Fabada is a hot and heavy dish and for that reason is most commonly eaten during winter and at the largest meal of the day, lunch. It is usually served as a starter course, but may also be the 'main' course of the meal. It is typically served with
crusty bread
Bread
Bread is a staple food prepared by cooking a dough of flour and water and often additional ingredients. Doughs are usually baked, but in some cuisines breads are steamed , fried , or baked on an unoiled frying pan . It may be leavened or unleavened...
, and with Asturian
cider
Cider
Cider or cyder is a fermented alcoholic beverage made from apple juice. Cider varies in alcohol content from 2% abv to 8.5% abv or more in traditional English ciders. In some regions, such as Germany and America, cider may be termed "apple wine"...
or a red wine.
Ingredients
Fabada is made with dried large white beans (
fabes de la Granja
Fabes de la Granja
Fabes la granxa are a type of white runner bean cultivated in the autonomous community of Asturias. It is primarily used as an ingredient of Fabada Asturiana...
, soaked overnight before use),
shoulder of pork
Pork
Pork is the culinary name for meat from the domestic pig , which is eaten in many countries. It is one of the most commonly consumed meats worldwide, with evidence of pig husbandry dating back to 5000 BC....
(
Lacón Gallego
Lacón Gallego
Lacón Gallego is a dried ham product from Galicia, Spain with PGI status under European law.Historically, Lacón has been mentioned in texts since at least the 17th century....
) or
bacon
Bacon
Bacon is a cured meat prepared from a pig. It is first cured using large quantities of salt, either in a brine or in a dry packing; the result is fresh bacon . Fresh bacon may then be further dried for weeks or months in cold air, boiled, or smoked. Fresh and dried bacon must be cooked before eating...
(
tocino
Tocino
In Caribbean countries such as Puerto Rico and Cuba, tocino is made from pork fatback and neither cured nor smoked, but just fried until very crunchy and added to recipes, much like lardons in French cuisine.-Preparation in the Philippines:...
), black pudding (
morcilla
),
chorizo
Chorizo
Chorizo is a term encompassing several types of pork sausages originating from the Iberian Peninsula.In English, it is usually pronounced , , or , but sometimes ....
, and often
saffron
Saffron
Saffron is a spice derived from the flower of Crocus sativus, commonly known as the saffron crocus. Crocus is a genus in the family Iridaceae. Each saffron crocus grows to and bears up to four flowers, each with three vivid crimson stigmas, which are each the distal end of a carpel...
(
azafrán
). Some recipes also call for
longaniza
Longaniza
Longaniza is a Spanish sausage similar to a chorizo and also closely associated with the Portuguese linguiça. Its defining characteristics are interpreted differently from region to region...
.
Variations
The Spanish
olla podrida
Olla podrida
Olla podrida is a Spanish stew made from pork and beans and an inconsistent, wide variety of other meats and vegetables, often including chickpeas, depending on the recipe used. The meal is traditionally prepared in a clay pot over several hours...
and southern
French
French cuisine
French cuisine is a style of food preparation originating from France that has developed from centuries of social change. In the Middle Ages, Guillaume Tirel , a court chef, authored Le Viandier, one of the earliest recipe collections of Medieval France...
cassoulet
Cassoulet
Cassoulet is a rich, slow-cooked bean stew or casserole originating in the south of France, containing meat , pork skin and white haricot beans....
are both similar to Fabada Asturiana.
See also
Cassoulet

Cassoulet

Cassoulet is a rich, slow-cooked bean stew or casserole originating in the south of France, containing meat , pork skin and white haricot beans....



Feijoada

Feijoada

Feijoada is a stew of beans with beef and pork, which is a typical from Brazilian Cuisine, is also typical in Angola, Mozambique, Goa, India and other former Portuguese colonies. In Brazil, feijoada is considered by many as the national dish...



Baked beans

Baked beans

Baked beans is a dish containing beans, sometimes baked but, despite the name, usually stewed, in a sauce. Most commercial canned baked beans are made from haricot beans, also known as navy beans – a variety of Phaseolus vulgaris – in a sauce. In Ireland and the United Kingdom, a tomato...



Common bean

Common bean

Phaseolus vulgaris, the common bean, is an herbaceous annual plant domesticated independently in ancient Mesoamerica and the Andes, and now grown worldwide for its edible bean, popular both dry and as a green bean. The leaf is occasionally used as a leaf vegetable, and the straw is used for fodder...


(Phaseolus vulgaris)
Olla podrida

Olla podrida

Olla podrida is a Spanish stew made from pork and beans and an inconsistent, wide variety of other meats and vegetables, often including chickpeas, depending on the recipe used. The meal is traditionally prepared in a clay pot over several hours...



Pork and beans

Pork and beans

Pork and beans is a culinary dish that uses pork and beans as its main ingredients. Numerous variations exist from Fabada Asturiana to Olla podrida to American canned pork and beans.-American canned pork and beans:...



Fabes con almejas
External links