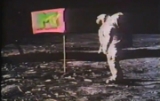 MTV
MTV, formerly an initialism of Music Television, is an American network based in
New York City
Media of New York City
The media of New York City are internationally influential, and include some of the most important newspapers, largest publishing houses, most prolific television studios, and biggest record companies in the world...
that launched on August 1, 1981. The original purpose of the channel was to play
music video
Music video
A music video or song video is a short film integrating a song and imagery, produced for promotional or artistic purposes. Modern music videos are primarily made and used as a marketing device intended to promote the sale of music recordings...
s guided by on-air hosts known as VJs.
At one time, MTV had a profound impact on the music industry and
popular culture
Popular culture
Popular culture is the totality of ideas, perspectives, attitudes, memes, images and other phenomena that are deemed preferred per an informal consensus within the mainstream of a given culture, especially Western culture of the early to mid 20th century and the emerging global mainstream of the...
. Slogans such as "I want my MTV" and "MTV is here" became embedded in public thought, the concept of the VJ was popularized, the idea of a dedicated video-based outlet for music was introduced, and both artists and fans found a central location for
concert
Concert
A concert is a live performance before an audience. The performance may be by a single musician, sometimes then called a recital, or by a musical ensemble, such as an orchestra, a choir, or a musical band...
music events,
news
News
News is the communication of selected information on current events which is presented by print, broadcast, Internet, or word of mouth to a third party or mass audience.- Etymology :...
, and
promotion
Promotion (marketing)
Promotion is one of the four elements of marketing mix . It is the communication link between sellers and buyers for the purpose of influencing, informing, or persuading a potential buyer's purchasing decision....
.