 Ernest Gambart
Jean Joseph Ernest Theodore Gambart
(October 12, 1814 – April 12, 1902) was a
Belgian
Belgium
Belgium , officially the Kingdom of Belgium, is a federal state in Western Europe. It is a founding member of the European Union and hosts the EU's headquarters, and those of several other major international organisations such as NATO.Belgium is also a member of, or affiliated to, many...
-born
English
England
England is a country that is part of the United Kingdom. It shares land borders with Scotland to the north and Wales to the west; the Irish Sea is to the north west, the Celtic Sea to the south west, with the North Sea to the east and the English Channel to the south separating it from continental...
art publisher and dealer who dominated the
London
London
London is the capital city of :England and the :United Kingdom, the largest metropolitan area in the United Kingdom, and the largest urban zone in the European Union by most measures. Located on the River Thames, London has been a major settlement for two millennia, its history going back to its...
art world in the middle of the nineteenth century.
Life and career
Gambart was born in
Kortrijk
Kortrijk
Kortrijk ; , ; ) is a Belgian city and municipality located in the Flemish province West Flanders...
, the son of a printer, binder and bookseller. By the age of 19, he had moved to Paris where he established his own print and papermaking business. He soon became known to the well-established
Goupil
Goupil & Cie
Goupil & Cie was a leading art dealership in 19th century France, with headquarters in Paris. Step by step, Goupil established a worldwide trade with reproductions of paintings and sculptures, with a network of branches in London, Brussels, The Hague, Berlin and Vienna, as well as in New York and...
print publishers, for whom he moved to England in 1840 to establish a branch in London. He soon struck out on his own again in 1842, this time in partnership with one Mr. Junin, to form the company Gambart & Junin which specialized in the import of art prints from Europe. The company was a success, and by early in 1844, the company was established as publishers as well as importers and exporters.
Art publisher
Gambart soon gained a reputation as a leading publisher of fine art prints. He established fair and mutually beneficial agreements with most of the best known British and European artists of the mid-Victorian period, including Edwin Landseer,
John Everett Millais
John Everett Millais
Sir John Everett Millais, 1st Baronet, PRA was an English painter and illustrator and one of the founders of the Pre-Raphaelite Brotherhood.-Early life:...
,
Rosa Bonheur
Rosa Bonheur
Rosa Bonheur, born Marie-Rosalie Bonheur, was a French animalière, realist artist, and sculptor. As a painter she became famous primarily for two chief works: Ploughing in the Nivernais , which was first exhibited at the Salon of 1848, and is now in the Musée d'Orsay in Paris depicts a team...
,
Lawrence Alma-Tadema
Lawrence Alma-Tadema
Lawrence Alma-Tadema, OM, RA was a Dutch painter.Born in Dronrijp, the Netherlands, and trained at the Royal Academy of Antwerp, Belgium, he settled in England in 1870 and spent the rest of his life there...
,
William Holman Hunt
William Holman Hunt
William Holman Hunt OM was an English painter, and one of the founders of the Pre-Raphaelite Brotherhood.-Biography:...
,
John Linnell
John Linnell (painter)
John Linnell was an English landscape painter. Linnell was a naturalist and a rival to John Constable. He had a taste for Northern European art of the Renaissance, particularly Albrecht Dürer. He also associated with William Blake, to whom he introduced Samuel Palmer and others of the...
,
J. M. W. Turner
J. M. W. Turner
Joseph Mallord William Turner RA was an English Romantic landscape painter, watercolourist and printmaker. Turner was considered a controversial figure in his day, but is now regarded as the artist who elevated landscape painting to an eminence rivalling history painting...
,
David Roberts
David Roberts (painter)
David Roberts RA was a Scottish painter. He is especially known for a prolific series of detailed lithograph prints of Egypt and the Near East that he produced during the 1840s from sketches he made during long tours of the region . These, and his large oil paintings of similar subjects, made him...
,
Frederick Goodall
Frederick Goodall
Frederick Goodall was an English artist.Goodall was born in London, England in 1822, the second son of steel line engraver Edward Goodall . He received his education at the Wellington Road Academy....
,
Dante Gabriel Rossetti
Dante Gabriel Rossetti
Dante Gabriel Rossetti was an English poet, illustrator, painter and translator. He founded the Pre-Raphaelite Brotherhood in 1848 with William Holman Hunt and John Everett Millais, and was later to be the main inspiration for a second generation of artists and writers influenced by the movement,...
,
Ford Madox Brown
Ford Madox Brown
Ford Madox Brown was an English painter of moral and historical subjects, notable for his distinctively graphic and often Hogarthian version of the Pre-Raphaelite style. Arguably, his most notable painting was Work...
and
William Powell Frith
William Powell Frith
William Powell Frith , was an English painter specialising in genre subjects and panoramic narrative works of life in the Victorian era. He was elected to the Royal Academy in 1852...
. He was a friend to many of these artists, and helped establish the reputation of some. For example, in 1855, he brought Rosa Bonheur to England with her monumental piece,
The Horse Fair
, which he purchased and which she showed to Queen Victoria at
Windsor Castle
Windsor Castle
Windsor Castle is a medieval castle and royal residence in Windsor in the English county of Berkshire, notable for its long association with the British royal family and its architecture. The original castle was built after the Norman invasion by William the Conqueror. Since the time of Henry I it...
in a private audience. For the same visit, he arranged a sojourn to Scotland where Bonheur made sketches for later works. He published many of her paintings as steel engraved reproductions. Through his efforts, she became better known in England than her native France.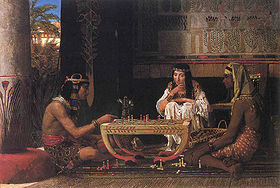 The Dutch-born Alma-Tadema benefited in a similar manner ten years later. He met Gambart in 1864 and Gambart was impressed by the young man's work. Gambart arranged an exhibition in London in 1865 and promoted his work while the artist remained in Belgium. Alma-Tadema finally moved to London in 1870.
Gambart worked with some of the finest engravers and technicians of his day to create works as close to the artist's intent as possible in a black and white medium. Among the craftsmen he employed were Charles George Lewis. Gambart later also employed colour lithography.
His attention to quality paid off both in the arrangements he maintained with leading artists (his career lasted 25 years) and also in sales. Among his best selling reproductions were William Holman Hunt's
The Light of the World
(1858), an inspiring and highly influential image of
Christ
Christ
Christ is the English term for the Greek meaning "the anointed one". It is a translation of the Hebrew , usually transliterated into English as Messiah or Mashiach...
, and William Powell Frith's
Derby Day
.
Original works
Gambart expanded into original works by 1849. By now established with an address in London's
Pall Mall
Pall Mall, London
Pall Mall is a street in the City of Westminster, London, and parallel to The Mall, from St. James's Street across Waterloo Place to the Haymarket; while Pall Mall East continues into Trafalgar Square. The street is a major thoroughfare in the St James's area of London, and a section of the...
, his first exhibition was the bronzes of
Pierre-Jules Mène
Pierre-Jules Mêne
Pierre Jules Mêne, , was a French Sculptor and animalière. He is considered the pioneer of animal sculpture in the nineteenth-century....
, sculptor of animals. In time, his exhibitions, often featuring French artists, became known as the French Gallery and artists coveted an appearance on the gallery walls. Later moving to King Street, St. James, Gambart would alternate British artists with those of Continental European ones. He was among the first to sell art in this way. Prior to his galleries, most fine art was sold by the artist directly to the buyer, who was often a patron. His friendship with artists and buyers, including pen-maker and well-known patron
Joseph Gillott
Joseph Gillott
Joseph Gillott was an English pen-maker and patron of the arts.- Pen manufacturing :For some time he was a working cutler in his home town Sheffield, but in 1821 he moved to Birmingham, where he found employment in the steel toy trade, the technical name for the manufacture of steel buckles,...
, as well as with critics, would become a model for how modern art business would be run. He was among the top three dealers in London at a time when art was in high demand. His competitors were Agnew and Colnaghi.
Personal life
Gambart became a British subject in 1846. He was married three times but he had no children. His third wife, Annie (1835-1870), was 16 years old when he married her. His London home was called "Rosenstead" in Avenue Road near
Regent's Park
Regent's Park
Regent's Park is one of the Royal Parks of London. It is in the north-western part of central London, partly in the City of Westminster and partly in the London Borough of Camden...
. There, he and Annie gave lavish parties that were the talk of the London scene. He eventually sold Rosenstead to his friend and artist Frederick Goodall. Gambart retired a wealthy man in 1870 and passed the business on to his nephew, Léon Lefèvre who continued to run it under the name of Pilgeram & Lefèvre. The Lefevre Gallery at 30 Bruton Street, London, survives. Gambart and his wife moved to Nice where they had a marble palace, known as "Les Palmiers", built to his specifications. He was the Spanish Consul-General in Nice. His remaining link to his native Belgium was a summer chateau at
Spa
Spa, Belgium
Spa is a municipality of Belgium. It lies in the country's Walloon Region and Province of Liège. It is situated in a valley in the Ardennes mountain chain, some southeast of Liège, and southwest of Aachen. As of 1 January 2006, Spa had a total population of 10,543...
. He died in Nice in 1902. Avenue Gambart in Nice (a small cul-de-sac boulevard de Cambrai) was named for him.
Further reading
Jeremy Maas, Gambart, Prince of the Victorian Art World, London: Barrie and Jenkins, 1975
Norbert Hostyn, Ernest Gambart, in : Nationaal Biografisch Woordenboek, 16, Brussels, 2002.