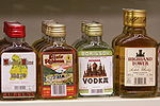 Elixir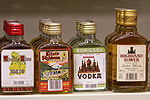 An
elixir
is a clear, sweet-flavored liquid used for medicinal purposes, to be taken orally and intended to cure one's ills. When used as a
pharmaceutical preparation
Dosage form
-Introduction:Dosage forms are a mixture of active drug components and nondrug components. Depending on the method of administration they come in several types. These are liquid dosage form, solid dosage form and semisolid dosage forms. A Liquid dosage form is the liquid form of a dose of a...
, an elixir contains at least one
active ingredient
Active ingredient
An active ingredient is the substance of a pharmaceutical drug or a pharmaceutical ingredient and bulk active in medicine; in pesticide formulations active substance may be used. Some medications and pesticide products may contain more than one active ingredient...
designed to be taken orally.
Non medicated elixirs
It is used as a
solvent
Solvent
A solvent is a liquid, solid, or gas that dissolves another solid, liquid, or gaseous solute, resulting in a solution that is soluble in a certain volume of solvent at a specified temperature...
or vehicle for the preparation of medicated elixirs: aromatic elixirs (
USP
United States Pharmacopeia
The United States Pharmacopeia is the official pharmacopeia of the United States, published dually with the National Formulary as the USP-NF. The United States Pharmacopeial Convention is the nonprofit organization that owns the trademark and copyright to the USP-NF and publishes it every year...
), isoalcholic elixirs (NF) or compound benzaldehyde elixirs (NF). Active ingredient dissolved in a solution that contains 15 to 50% by volume of
ethyl alcohol
Ethanol
Ethanol, also called ethyl alcohol, pure alcohol, grain alcohol, or drinking alcohol, is a volatile, flammable, colorless liquid. It is a psychoactive drug and one of the oldest recreational drugs. Best known as the type of alcohol found in alcoholic beverages, it is also used in thermometers, as a...
and it is
Medicated elixirs
Antihistaminic elixirs: used against allergy: chlorampheniramine maleate elixirs (USP), diphenhydramine HCl elixirs.
Sedative and hypnotic elixirs: sedatives induce drowsiness and hypnotics induce sleep: pediatric chloral hydrate elixirs.
Expectorant: used to facilitate productive cough (cough with sputum): terpin hydrate elixirs.
Miscellaneous: acetaminophen (paracetamol) elixirs which are used as analgesic.
Composition
An elixir is a
hydro
Water
Water is a chemical substance with the chemical formula H2O. A water molecule contains one oxygen and two hydrogen atoms connected by covalent bonds. Water is a liquid at ambient conditions, but it often co-exists on Earth with its solid state, ice, and gaseous state . Water also exists in a...
-
alcohol
Alcohol
In chemistry, an alcohol is an organic compound in which the hydroxy functional group is bound to a carbon atom. In particular, this carbon center should be saturated, having single bonds to three other atoms....
ic solution of at least one active ingredient. The alcohol is mainly used to:
Solubilize the active ingredient(s) and some excipients
Retard the crystallization of sugar
Preserve the finished product
Provide a sharpness to the taste
Aid in masking the unpleasant taste of the active ingredient(s)
Enhance the flavor.
The lowest alcoholic quantity that will dissolve completely the active ingredient(s) and give a clear solution is generally chosen. High concentrations of alcohol give burning taste to the final product.
An elixir may also contain the following
excipient
Excipient
An excipient is generally a pharmacologically inactive substance used as a carrier for the active ingredients of a medication. In many cases, an "active" substance may not be easily administered and absorbed by the human body; in such cases the substance in question may be dissolved into or...
s:
Sugar

Sugar

Sugar is a class of edible crystalline carbohydrates, mainly sucrose, lactose, and fructose, characterized by a sweet flavor.Sucrose in its refined form primarily comes from sugar cane and sugar beet...


and/or sugar substitute

Sugar substitute

A sugar substitute is a food additive that duplicates the effect of sugar in taste, usually with less food energy. Some sugar substitutes are natural and some are synthetic. Those that are not natural are, in general, called artificial sweeteners....


s like the sugar polyol

Sugar alcohol

A sugar alcohol is a hydrogenated form of carbohydrate, whose carbonyl group has been reduced to a primary or secondary hydroxyl group . Sugar alcohols have the general formula Hn+1H, whereas sugars have HnHCO...


s glycerol

Glycerol

Glycerol is a simple polyol compound. It is a colorless, odorless, viscous liquid that is widely used in pharmaceutical formulations. Glycerol has three hydroxyl groups that are responsible for its solubility in water and its hygroscopic nature. The glycerol backbone is central to all lipids...


and sorbitol

Sorbitol

Sorbitol, also known as glucitol, Sorbogem® and Sorbo®, is a sugar alcohol that the human body metabolizes slowly. It can be obtained by reduction of glucose, changing the aldehyde group to a hydroxyl group. Sorbitol is found in apples, pears, peaches, and prunes...


.
Preservative

Preservative

A preservative is a naturally occurring or synthetically produced substance that is added to products such as foods, pharmaceuticals, paints, biological samples, wood, etc. to prevent decomposition by microbial growth or by undesirable chemical changes....


s like parabens and bezoate

Benzoic acid

Benzoic acid , C7H6O2 , is a colorless crystalline solid and the simplest aromatic carboxylic acid. The name derived from gum benzoin, which was for a long time the only source for benzoic acid. Its salts are used as a food preservative and benzoic acid is an important precursor for the synthesis...


s and antioxidant

Antioxidant

An antioxidant is a molecule capable of inhibiting the oxidation of other molecules. Oxidation is a chemical reaction that transfers electrons or hydrogen from a substance to an oxidizing agent. Oxidation reactions can produce free radicals. In turn, these radicals can start chain reactions. When...


s like butylated hydroxytoluene

Butylated hydroxytoluene

Butylated hydroxytoluene , also known as butylhydroxytoluene, is a lipophilic organic compound that is primarily used as an antioxidant food additive as well as an antioxidant additive in cosmetics, pharmaceuticals, jet fuels, rubber, petroleum products, electrical transformer oil, and embalming...


(BHT) and sodium metabisulfite

Sodium metabisulfite

Sodium metabisulfite or sodium pyrosulfite is an inorganic compound of chemical formula Na2S2O5. The substance is sometimes referred to as disodium...


.
Buffering agent

Buffering agent

A buffering agent is a weak acid or base used to maintain the acidity of a solution at a chosen value. The function of a buffering agent is to prevent a rapid change in pH when acids or bases are added to the solution. Buffering agents have variable properties—some are more soluble than others;...


s
Chelating agents like sodium ethylenediaminetetraacetic acid (EDTA

EDTA

Ethylenediaminetetraacetic acid, widely abbreviated as EDTA , is a polyamino carboxylic acid and a colourless, water-soluble solid. Its conjugate base is named ethylenediaminetetraacetate. It is widely used to dissolve limescale. Its usefulness arises because of its role as a hexadentate ligand...


)
Flavoring agents and flavor enhancers
Coloring agent

Color

Color or colour is the visual perceptual property corresponding in humans to the categories called red, green, blue and others. Color derives from the spectrum of light interacting in the eye with the spectral sensitivities of the light receptors...


s
Storage
Elixirs should be stored in a tightly closed and light resistant container away from direct heat and sunlight.
See also
Concoction

Concoction

A concoction is, strictly speaking, a combination of various ingredients, usually herbs, spices, condiments, powdery substances or minerals, mixed up together, minced, dissolved or macerated into a liquid so as they can be ingested or drunk...



Elixir of life

Elixir of life

The elixir of life, also known as the elixir of immortality and sometimes equated with the philosopher's stone, is a legendary potion, or drink, that grants the drinker eternal life and or eternal youth. Many practitioners of alchemy pursued it. The elixir of life was also said to be able to create...



Internal alchemy
Panacea (medicine)

Panacea (medicine)

The panacea , named after the Greek goddess of healing, Panacea, also known as panchrest, was supposed to be a remedy that would cure all diseases and prolong life indefinitely...


, mythological remedy that would cure all diseases
Suspension (chemistry)

Suspension (chemistry)

In chemistry, a suspension is a heterogeneous fluid containing solid particles that are sufficiently large for sedimentation. Usually they must be larger than 1 micrometer. The internal phase is dispersed throughout the external phase through mechanical agitation, with the use of certain...



Syrup

Syrup

In cooking, a syrup is a thick, viscous liquid consisting primarily of a solution of sugar in water, containing a large amount of dissolved sugars but showing little tendency to deposit crystals...



Tincture

Tincture

A tincture is an alcoholic extract or solution of a non-volatile substance . To qualify as a tincture, the alcoholic extract is to have an ethanol percentage of at least 40-60%...


, in which alcohol is the major solvent and the ingredient is often highly concentrated.