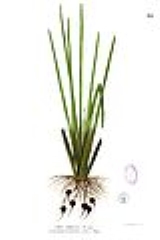 Eleocharis dulcis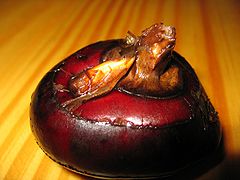 The
Chinese water chestnut
(
Eleocharis dulcis
; synonyms
E. equisetina
,
E. indica
,
E. plantaginea
,
E. plantaginoides
,
E. tuberosa
,
E. tumida
), more often called simply the
water chestnut
, is a grass-like
sedge
Cyperaceae
Cyperaceae are a family of monocotyledonous graminoid flowering plants known as sedges, which superficially resemble grasses or rushes. The family is large, with some 5,500 species described in about 109 genera. These species are widely distributed, with the centers of diversity for the group...
grown for its edible
corm
Corm
A corm is a short, vertical, swollen underground plant stem that serves as a storage organ used by some plants to survive winter or other adverse conditions such as summer drought and heat ....
s. The water chestnut is actually not a
nut
Nut (fruit)
A nut is a hard-shelled fruit of some plants having an indehiscent seed. While a wide variety of dried seeds and fruits are called nuts in English, only a certain number of them are considered by biologists to be true nuts...
at all, but an
aquatic
Aquatic plant
Aquatic plants are plants that have adapted to living in aquatic environments. They are also referred to as hydrophytes or aquatic macrophytes. These plants require special adaptations for living submerged in water, or at the water's surface. Aquatic plants can only grow in water or in soil that is...
vegetable that grows in marshes, underwater in the mud. It has tube-shaped, leafless green stems that grow to about 1.5 metres. The
water caltrop
Water caltrop
The water caltrop, water chestnut, buffalo nut, bat nut, devil pod or Singhara or Pani-fol is either of two species of the genus Trapa: Trapa natans and Trapa bicornis...
, which is also referred to by the same name, is unrelated and often confused with the water chestnut.
The small, rounded corms have a crisp white flesh and can be eaten raw, slightly boiled, grilled, and are often pickled or
tinned
Canning
Canning is a method of preserving food in which the food contents are processed and sealed in an airtight container. Canning provides a typical shelf life ranging from one to five years, although under specific circumstances a freeze-dried canned product, such as canned, dried lentils, can last as...
. They are a popular ingredient in Chinese dishes. In China, they are most often eaten raw, sometimes sweetened. They can also be ground into a
flour
Flour
Flour is a powder which is made by grinding cereal grains, other seeds or roots . It is the main ingredient of bread, which is a staple food for many cultures, making the availability of adequate supplies of flour a major economic and political issue at various times throughout history...
form used for making
water chestnut cake
Water chestnut cake
Water chestnut cake is a sweet Cantonese dim sum dish made of shredded Chinese water chestnut. When served during dim sum the cake is usually cut into square-shaped slices and pan-fried before serving. The cake is soft, but holds its shape after the frying. Sometimes the cake is made with chopped...
, which is common as part of
dim sum
Dim sum
Dim sum refers to a style of Chinese food prepared as small bite-sized or individual portions of food traditionally served in small steamer baskets or on small plates...
cuisine. They are unusual among vegetables for remaining crisp even after being cooked or canned, because their cell walls are cross-linked and strengthened by certain
phenolic compounds
Natural phenol
Natural phenols, bioavailable phenols, plant phenolics, low molecular weight phenols or phenoloids are a class of natural products. They are small molecules containing one or more phenolic group. These molecules are smaller in size than polyphenols, containing less than 12 phenolic groups...
. This property is shared by other vegetables that remain crisp in this manner, including the tiger nut and lotus root.
The corms are rich in
carbohydrate
Carbohydrate
A carbohydrate is an organic compound with the empirical formula ; that is, consists only of carbon, hydrogen, and oxygen, with a hydrogen:oxygen atom ratio of 2:1 . However, there are exceptions to this. One common example would be deoxyribose, a component of DNA, which has the empirical...
s (about 90 percent by dry weight), especially
starch
Starch
Starch or amylum is a carbohydrate consisting of a large number of glucose units joined together by glycosidic bonds. This polysaccharide is produced by all green plants as an energy store...
(about 60 percent by dry weight), and are also a good source of
dietary fiber
Dietary fiber
Dietary fiber, dietary fibre, or sometimes roughage is the indigestible portion of plant foods having two main components:* soluble fiber that is readily fermented in the colon into gases and physiologically active byproducts, and* insoluble fiber that is metabolically inert, absorbing water as it...
,
riboflavin
Riboflavin
Riboflavin, also known as vitamin B2 or additive E101, is an easily absorbed micronutrient with a key role in maintaining health in humans and animals. It is the central component of the cofactors FAD and FMN, and is therefore required by all flavoproteins. As such, vitamin B2 is required for a...
,
vitamin B6
Vitamin B6
Vitamin B6 is a water-soluble vitamin and is part of the vitamin B complex group. Several forms of the vitamin are known, but pyridoxal phosphate is the active form and is a cofactor in many reactions of amino acid metabolism, including transamination, deamination, and decarboxylation...
,
potassium
Potassium
Potassium is the chemical element with the symbol K and atomic number 19. Elemental potassium is a soft silvery-white alkali metal that oxidizes rapidly in air and is very reactive with water, generating sufficient heat to ignite the hydrogen emitted in the reaction.Potassium and sodium are...
,
copper
Copper
Copper is a chemical element with the symbol Cu and atomic number 29. It is a ductile metal with very high thermal and electrical conductivity. Pure copper is soft and malleable; an exposed surface has a reddish-orange tarnish...
, and
manganese
Manganese
Manganese is a chemical element, designated by the symbol Mn. It has the atomic number 25. It is found as a free element in nature , and in many minerals...
.
If eaten uncooked, the surface of the plants can transmit
Fasciolopsiasis
Fasciolopsiasis
Fasciolopsiasis results from an infection by the trematode Fasciolopsis buski, the largest intestinal fluke of humans .-Infection cycle:...
.
Taste
Raw water chestnuts are slightly sweet and very crunchy. Boiled water chestnuts have a firm and slightly crunchy texture, with a flavor that is very mild, slightly nutty in taste, so it is easily overpowered by any seasonings or sauces the water chestnut with which is served or cooked. Water chestnuts are often combined with
bamboo shoots
Bamboo Shoots
Bamboo Shoots is an American four-piece musical group based out of Brooklyn, New York and suburban New Jersey. They are known for their dueling, two-person rhythm section and their South Asian identity and influence...
, cilantro,
ginger
Ginger
Ginger is the rhizome of the plant Zingiber officinale, consumed as a delicacy, medicine, or spice. It lends its name to its genus and family . Other notable members of this plant family are turmeric, cardamom, and galangal....
,
sesame oil
Sesame oil
Sesame oil is an edible vegetable oil derived from sesame seeds. Besides being used as a cooking oil in South India, it is often used as a flavor enhancer in Chinese, Japanese, Korean, and to a lesser extent Southeast Asian cuisine.The oil from the nutrient rich seed is popular in alternative...
, and snow peas. They are often used in
pasta
Pasta
Pasta is a staple food of traditional Italian cuisine, now of worldwide renown. It takes the form of unleavened dough, made in Italy, mostly of durum wheat , water and sometimes eggs. Pasta comes in a variety of different shapes that serve for both decoration and to act as a carrier for the...
or
rice
Rice
Rice is the seed of the monocot plants Oryza sativa or Oryza glaberrima . As a cereal grain, it is the most important staple food for a large part of the world's human population, especially in East Asia, Southeast Asia, South Asia, the Middle East, and the West Indies...
dishes.
In other languages
The Chinese water chestnut (traditional Chinese: 荸薺; simplified Chinese: 荸荠;
hanyu pinyin
: bíqi, 馬蹄;
pinyin
:mǎtí) is native to
China
China
Chinese civilization may refer to:* China for more general discussion of the country.* Chinese culture* Greater China, the transnational community of ethnic Chinese.* History of China* Sinosphere, the area historically affected by Chinese culture...
and is widely cultivated in flooded
paddy field
Paddy field
A paddy field is a flooded parcel of arable land used for growing rice and other semiaquatic crops. Paddy fields are a typical feature of rice farming in east, south and southeast Asia. Paddies can be built into steep hillsides as terraces and adjacent to depressed or steeply sloped features such...
s in southern China and parts of the
Philippines
Philippines
The Philippines , officially known as the Republic of the Philippines , is a country in Southeast Asia in the western Pacific Ocean. To its north across the Luzon Strait lies Taiwan. West across the South China Sea sits Vietnam...
. In
Vietnam
Vietnam
Vietnam – sometimes spelled Viet Nam , officially the Socialist Republic of Vietnam – is the easternmost country on the Indochina Peninsula in Southeast Asia. It is bordered by China to the north, Laos to the northwest, Cambodia to the southwest, and the South China Sea –...
, it is called
củ mã thầy
(in the North) and
củ năng
(in the South) and is the main ingredient of
bánh củ năng hấp, chè mã thầy
. In
Thailand
Thailand
Thailand , officially the Kingdom of Thailand , formerly known as Siam , is a country located at the centre of the Indochina peninsula and Southeast Asia. It is bordered to the north by Burma and Laos, to the east by Laos and Cambodia, to the south by the Gulf of Thailand and Malaysia, and to the...
it is called
somwang
(สมหวัง) and it is often used in dessert as
tabtim krob
(ทับทิมกรอบ). In
India
India
India , officially the Republic of India , is a country in South Asia. It is the seventh-largest country by geographical area, the second-most populous country with over 1.2 billion people, and the most populous democracy in the world...
it is commonly known as Singhada, shingada or singoda.
External links