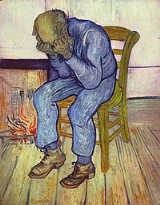 Clinical depression
Major depressive disorder
(
MDD
) (also known as
recurrent depressive disorder
,
clinical depression
,
major depression
,
unipolar depression
, or
unipolar disorder
) is a mental disorder characterized by an all-encompassing
low mood
Depression (mood)
Depression is a state of low mood and aversion to activity that can affect a person's thoughts, behaviour, feelings and physical well-being. Depressed people may feel sad, anxious, empty, hopeless, helpless, worthless, guilty, irritable, or restless...
accompanied by low
self-esteem
Self-esteem
Self-esteem is a term in psychology to reflect a person's overall evaluation or appraisal of his or her own worth. Self-esteem encompasses beliefs and emotions such as triumph, despair, pride and shame: some would distinguish how 'the self-concept is what we think about the self; self-esteem, the...
, and by
loss of interest or pleasure
Anhedonia
In psychology and psychiatry, anhedonia is defined as the inability to experience pleasure from activities usually found enjoyable, e.g. hobbies, exercise, social interaction or sexual activity....
in normally enjoyable activities. This cluster of symptoms (
syndrome
Syndrome
In medicine and psychology, a syndrome is the association of several clinically recognizable features, signs , symptoms , phenomena or characteristics that often occur together, so that the presence of one or more features alerts the physician to the possible presence of the others...
) was named, described and classified as one of the
mood disorder
Mood disorder
Mood disorder is the term designating a group of diagnoses in the Diagnostic and Statistical Manual of Mental Disorders classification system where a disturbance in the person's mood is hypothesized to be the main underlying feature...
s in the 1980 edition of the
American Psychiatric Association
American Psychiatric Association
The American Psychiatric Association is the main professional organization of psychiatrists and trainee psychiatrists in the United States, and the most influential worldwide. Its some 38,000 members are mainly American but some are international...
's
diagnostic manual
Diagnostic and Statistical Manual of Mental Disorders
The Diagnostic and Statistical Manual of Mental Disorders is published by the American Psychiatric Association and provides a common language and standard criteria for the classification of mental disorders...
.