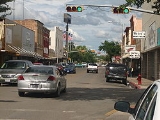 Eagle Pass, Texas
Eagle Pass
is a city in and the
county seat
County seat
A county seat is an administrative center, or seat of government, for a county or civil parish. The term is primarily used in the United States....
of
Maverick County
Maverick County, Texas
Maverick County is a county located in the U.S. state of Texas. In 2000, its population was 47,297. Its county seat is Eagle Pass. Maverick County is named for Samuel Maverick, cattleman and state legislator....
The
population
Population
A population is all the organisms that both belong to the same group or species and live in the same geographical area. The area that is used to define a sexual population is such that inter-breeding is possible between any pair within the area and more probable than cross-breeding with individuals...
was 27,183 as of the 2010 census.
Eagle Pass borders the city of
Piedras Negras, Coahuila
Piedras Negras, Coahuila
-Natural Resources:This region generates a large amount of the national production of coal, one of the most economically important non-metallic minerals in the state.-Tourism:Piedras Negras' main tourist attractions are:...
,
Mexico
Mexico
The United Mexican States , commonly known as Mexico , is a federal constitutional republic in North America. It is bordered on the north by the United States; on the south and west by the Pacific Ocean; on the southeast by Guatemala, Belize, and the Caribbean Sea; and on the east by the Gulf of...
, which is to the southwest and across the
Rio Grande
Rio Grande
The Rio Grande is a river that flows from southwestern Colorado in the United States to the Gulf of Mexico. Along the way it forms part of the Mexico – United States border. Its length varies as its course changes...
. The Eagle Pass-Piedras Negras Metropolitan Area (EG-PN) is one of six bi-national metropolitan areas along the United States-Mexican border. As of January 2008 (United States Census, 2008), the Eagle Pass Metropolitan Area's population is 48,401 people, and the Piedras Negras Metropolitan Area's population is 169,771.
Eagle Pass history
Eagle Pass was the first
United States
United States
The United States of America is a federal constitutional republic comprising fifty states and a federal district...
settlement on the Rio Grande. Originally known as Camp Eagle Pass, it served as a temporary outpost for the Texas
militia
Militia
The term militia is commonly used today to refer to a military force composed of ordinary citizens to provide defense, emergency law enforcement, or paramilitary service, in times of emergency without being paid a regular salary or committed to a fixed term of service. It is a polyseme with...
, which had been ordered to stop illegal trade with
Mexico
Mexico
The United Mexican States , commonly known as Mexico , is a federal constitutional republic in North America. It is bordered on the north by the United States; on the south and west by the Pacific Ocean; on the southeast by Guatemala, Belize, and the Caribbean Sea; and on the east by the Gulf of...
during the Mexican-American War.
The
United States Army
United States Army
The United States Army is the main branch of the United States Armed Forces responsible for land-based military operations. It is the largest and oldest established branch of the U.S. military, and is one of seven U.S. uniformed services...
established the presumably permanent
Fort Duncan
Fort Duncan
Fort Duncan was a U.S. Army post, set up to protect the first U.S. settlement on the Rio Grande near the current town of Eagle Pass, Texas.Fort Duncan was established on March 27, 1849, when Captain Sidney Burbank occupied the site with companies A, B, and F of the First United States Infantry...
on March 27, 1849, a couple of miles upstream from Camp Eagle Pass. Captain Sidney Burbank supervised the construction of Fort Duncan, which was named after
Colonel
Colonel
Colonel , abbreviated Col or COL, is a military rank of a senior commissioned officer. It or a corresponding rank exists in most armies and in many air forces; the naval equivalent rank is generally "Captain". It is also used in some police forces and other paramilitary rank structures...
James Duncan
James Duncan
James, Jim or Jimmy Duncan may refer to:*James Duncan , American politician from Pennsylvania*James H. Duncan , American politician from Massachusetts...
, a hero of the Mexican War. After the Mexican-American war, trade flourished under the protection of the
fort
Fortification
Fortifications are military constructions and buildings designed for defence in warfare and military bases. Humans have constructed defensive works for many thousands of years, in a variety of increasingly complex designs...
. The fort was near the trail of westward immigration to
California
California
California is a state located on the West Coast of the United States. It is by far the most populous U.S. state, and the third-largest by land area...
. It also served as an outpost against hostile
Apache
Apache
Apache is the collective term for several culturally related groups of Native Americans in the United States originally from the Southwest United States. These indigenous peoples of North America speak a Southern Athabaskan language, which is related linguistically to the languages of Athabaskan...
. It was abandoned and reopened several times. In March 1860, it served as the base of operations against the border assaults arranged by
Juan N. Cortina
Juan Cortina
Juan Nepomuceno Cortina Goseacochea , also known by his nicknames Cheno Cortina and the Red Robber of the Rio Grande, was a Mexican rancher, politician, military leader, outlaw and folk hero...
.
Fort Duncan was held by the
Confederacy
Confederate States of America
The Confederate States of America was a government set up from 1861 to 1865 by 11 Southern slave states of the United States of America that had declared their secession from the U.S...
during the
American Civil War
American Civil War
The American Civil War was a civil war fought in the United States of America. In response to the election of Abraham Lincoln as President of the United States, 11 southern slave states declared their secession from the United States and formed the Confederate States of America ; the other 25...
. On July 4, 1865, General
Joseph O. Shelby
Joseph O. Shelby
Joseph Orville Shelby was a noted Confederate cavalry general in the Trans-Mississippi Theater of the American Civil War.-Early life and education:...
, en route to offer his troops' service to Maximilian in Mexico, stopped at Fort Duncan and buried in the Rio Grande the last Confederate
flag
Flag
A flag is a piece of fabric with a distinctive design that is usually rectangular and used as a symbol, as a signaling device, or decoration. The term flag is also used to refer to the graphic design employed by a flag, or to its depiction in another medium.The first flags were used to assist...
to have flown over his men. In 1870, Colonel William R. Shafter trained
Seminole
Seminole
The Seminole are a Native American people originally of Florida, who now reside primarily in that state and Oklahoma. The Seminole nation emerged in a process of ethnogenesis out of groups of Native Americans, most significantly Creeks from what is now Georgia and Alabama, who settled in Florida in...
and
African American
African American
African Americans are citizens or residents of the United States who have at least partial ancestry from any of the native populations of Sub-Saharan Africa and are the direct descendants of enslaved Africans within the boundaries of the present United States...
scouts at Fort Duncan. After several decades of deactivation, Fort Duncan was activated as a training camp during
World War I
World War I
World War I , which was predominantly called the World War or the Great War from its occurrence until 1939, and the First World War or World War I thereafter, was a major war centred in Europe that began on 28 July 1914 and lasted until 11 November 1918...
. In 1938, the City of Eagle Pass acquired the fort and still operates a
museum
Museum
A museum is an institution that cares for a collection of artifacts and other objects of scientific, artistic, cultural, or historical importance and makes them available for public viewing through exhibits that may be permanent or temporary. Most large museums are located in major cities...
and a children's library at the site.
In 1850, Rick Pawless opened a
trading post
Trading post
A trading post was a place or establishment in historic Northern America where the trading of goods took place. The preferred travel route to a trading post or between trading posts, was known as a trade route....
called Eagle Pass. In 1871, Maverick County was established, and Eagle Pass was named the county seat. During the remainder of the 19th century schools and churches opened, the mercantile and ranching industries grew, and a
railway
Rail transport
Rail transport is a means of conveyance of passengers and goods by way of wheeled vehicles running on rail tracks. In contrast to road transport, where vehicles merely run on a prepared surface, rail vehicles are also directionally guided by the tracks they run on...
was built.
General
General
A general officer is an officer of high military rank, usually in the army, and in some nations, the air force. The term is widely used by many nations of the world, and when a country uses a different term, there is an equivalent title given....
William Leslie Cazneau (1807–1876) founded the Eagle Pass townsite in the 1840s.
Eagle Pass today
Eagle Pass City Hall today is located near the base of the
International Bridge
Eagle Pass-Piedras Negras International Bridge
The Eagle Pass-Piedras Negras International Bridge is an international bridge which crosses the Rio Grande connecting the United States-Mexico border cities of Eagle Pass, Texas and Piedras Negras, Coahuila...
. Across from City Hall is a small monument adjacent to a
gazebo
Gazebo
A gazebo is a pavilion structure, sometimes octagonal, that may be built, in parks, gardens, and spacious public areas. Gazebos are freestanding or attached to a garden wall, roofed, and open on all sides; they provide shade, shelter, ornamental features in a landscape, and a place to rest...
which commemorates the
police
Police
The police is a personification of the state designated to put in practice the enforced law, protect property and reduce civil disorder in civilian matters. Their powers include the legitimized use of force...
officers of Eagle Pass and surrounding communities who have died in the line of duty. Much of the small business growth of the new century has been toward the southern portion of the city off FM 375, also known as Bibb Street.
Sportsmen enjoy
fishing
Fishing
Fishing is the activity of trying to catch wild fish. Fish are normally caught in the wild. Techniques for catching fish include hand gathering, spearing, netting, angling and trapping....
for the large Rio Grande
catfish
Catfish
Catfishes are a diverse group of ray-finned fish. Named for their prominent barbels, which resemble a cat's whiskers, catfish range in size and behavior from the heaviest and longest, the Mekong giant catfish from Southeast Asia and the second longest, the wels catfish of Eurasia, to detritivores...
, Nationally known Lake Amistad in Del Rio, Texas is nearby (bassfish) and hunting for
white-tailed deer
White-tailed Deer
The white-tailed deer , also known as the Virginia deer or simply as the whitetail, is a medium-sized deer native to the United States , Canada, Mexico, Central America, and South America as far south as Peru...
and upland game birds. Eight miles south of Eagle Pass is the 125 acre (0.5058575 km²)
reservation
Indian reservation
An American Indian reservation is an area of land managed by a Native American tribe under the United States Department of the Interior's Bureau of Indian Affairs...
for the Kickapoo Indians. The tribe operates the Lucky Eagle
Casino
Casino
In modern English, a casino is a facility which houses and accommodates certain types of gambling activities. Casinos are most commonly built near or combined with hotels, restaurants, retail shopping, cruise ships or other tourist attractions...
along with
restaurant
Restaurant
A restaurant is an establishment which prepares and serves food and drink to customers in return for money. Meals are generally served and eaten on premises, but many restaurants also offer take-out and food delivery services...
s.
United Airlines serves the Eagle Pass/ Piedras Negras, Mexico area via Del Rio International Airport in Del Rio, Texas. The airport services the Middle Rio Grande region.
Lawsuit
The City of Eagle Pass has been sued by the U.S. government to get access to land in order to construct a fence between the United States-Mexico border.
Geography
Eagle Pass is located at 28°42′38"N 100°29′22"W (28.710622, -100.489331).
According to the
United States Census Bureau
United States Census Bureau
The United States Census Bureau is the government agency that is responsible for the United States Census. It also gathers other national demographic and economic data...
, the city has a total area of 7.4 square miles (19.2 km²), of which, 7.4 square miles (19.2 km²) of it is land and 0.04 square miles (0.1 km²) of it (0.40%) is water.
Demographics
As of the
census
Census
A census is the procedure of systematically acquiring and recording information about the members of a given population. It is a regularly occurring and official count of a particular population. The term is used mostly in connection with national population and housing censuses; other common...
of 2006, there were 24,847 people, 6,925 households, and 5,588 families residing in the city. The
population density
Population density
Population density is a measurement of population per unit area or unit volume. It is frequently applied to living organisms, and particularly to humans...
was 3,030.3 people per square mile (1,169.4/km²). There were 7,613 housing units at an average density of 1,029.3 per square mile (397.2/km²). The racial makeup of the city was 72.73% White, 0.27% African American, 0.39% Native American, 0.76% Asian, 22.71% from
other races
Race (United States Census)
Race and ethnicity in the United States Census, as defined by the Federal Office of Management and Budget and the United States Census Bureau, are self-identification data items in which residents choose the race or races with which they most closely identify, and indicate whether or not they are...
, and 3.13% from two or more races. Hispanic or Latino of any race were 94.90% of the population.
There were 6,925 households out of which 43.5% had children under the age of 18 living with them, 59.0% were
married couples
Marriage
Marriage is a social union or legal contract between people that creates kinship. It is an institution in which interpersonal relationships, usually intimate and sexual, are acknowledged in a variety of ways, depending on the culture or subculture in which it is found...
living together, 18.3% had a female householder with no husband present, and 19.3% were non-families. 17.7% of all households were made up of individuals and 9.5% had someone living alone who was 65 years of age or older. The average household size was 3.22 and the average family size was 3.69.
In the city the population was spread out with 32.7% under the age of 18, 8.6% from 18 to 24, 25.6% from 25 to 44, 19.9% from 45 to 64, and 13.1% who were 65 years of age or older. The median age was 32 years. For every 100 females there were 88.5 males. For every 100 females age 18 and over, there were 81.8 males.
The median income for a household in the city was $23,623, and the median income for a family was $27,140. Males had a median income of $26,350 versus $17,346 for females. The
per capita income
Per capita income
Per capita income or income per person is a measure of mean income within an economic aggregate, such as a country or city. It is calculated by taking a measure of all sources of income in the aggregate and dividing it by the total population...
for the city was $11,414. About 26.0% of families and 29.0% of the population were below the poverty line, including 34.0% of those under age 18 and 39.1% of those age 65 or over.
Eagle Pass lies in Maverick County in the United States. The majority of the income is attributed to dependence of the community on employment in the public sector.
Education
Eagle Pass is served by the
Eagle Pass Independent School District
Eagle Pass Independent School District
Eagle Pass Independent School District is a public school district based in Eagle Pass, Texas . The district's boundaries parallel that of Maverick County.In 2009, the school district was rated "recognized" by the Texas Education Agency....
. The district operates fifteen
elementary school
Elementary school
An elementary school or primary school is an institution where children receive the first stage of compulsory education known as elementary or primary education. Elementary school is the preferred term in some countries, particularly those in North America, where the terms grade school and grammar...
s, two junior high schools and two
high school
High school
High school is a term used in parts of the English speaking world to describe institutions which provide all or part of secondary education. The term is often incorporated into the name of such institutions....
s which compete in UIL academics and sports.
The community is served by branches of four-year Sul Ross University in
Alpine
Alpine, Texas
Alpine is a city in and the county seat of Brewster County, Texas, United States. The population was 5,786 people at the 2000 census, and had increased to 5,905 by 2010.-History:...
, in the form of
Rio Grande College
, and
Southwest Texas Junior College
, a two-year
community college
Community college
A community college is a type of educational institution. The term can have different meanings in different countries.-Australia:Community colleges carry on the tradition of adult education, which was established in Australia around mid 19th century when evening classes were held to help adults...
based in
Uvalde
Uvalde, Texas
Uvalde is a city in and the county seat of Uvalde County, Texas, United States. The population was 14,929 at the 2000 census.Uvalde was founded by Reading Wood Black in 1853 as the town of Encina. In 1856, when the county was organized, the town was renamed Uvalde for Spanish governor Juan de...
.
HVDC-back-to-back station
In 2000, as part of the power exchange between Texas and Mexico, a
HVDC
High-voltage direct current
A high-voltage, direct current electric power transmission system uses direct current for the bulk transmission of electrical power, in contrast with the more common alternating current systems. For long-distance transmission, HVDC systems may be less expensive and suffer lower electrical losses...
facility equipped with IGBTs was built. This facility, built for Central Power & Light (now
AEP Texas
American Electric Power
American Electric Power is a major investor-owner electric utility in various parts of the United States. AEP ranks among the nation's largest generators of electricity, owning nearly 38,000 megawatts of generating capacity in the U.S...
) by the ABB Group, operates at a bipolar voltage of 15.9 kV and has a maximum transfer rate of 36 megawatts. The power station enables AEP to purchase electricity from Mexico's
Comisión Federal de Electricidad
Comisión Federal de Electricidad
The Comisión Federal de Electricidad is the Mexican state-owned electric widely known as CFE. It is the dominant electric company and the second most powerful state-owned company in Mexico after Pemex. The Mexican constitution states that the government is responsible for the control and...
, when needed.
Tornado
On April 24, 2007 at 7:00 p.m CST, a
tornado
Tornado
A tornado is a violent, dangerous, rotating column of air that is in contact with both the surface of the earth and a cumulonimbus cloud or, in rare cases, the base of a cumulus cloud. They are often referred to as a twister or a cyclone, although the word cyclone is used in meteorology in a wider...
tore through the outside of Eagle Pass and caused loss of life and property damage. The community was paralyzed for more than a week
.
See also
Camino Real International Bridge

Camino Real International Bridge

The Camino Real International Bridge is an international bridge which crosses the Rio Grande connecting the United States-Mexico border cities of Eagle Pass, Texas and Piedras Negras, Coahuila...



Union Pacific International Railroad Bridge
External links