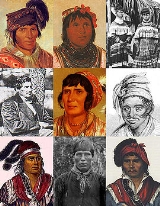 Seminole
The Seminole are a
Native American
Native Americans in the United States
Native Americans in the United States are the indigenous peoples in North America within the boundaries of the present-day continental United States, parts of Alaska, and the island state of Hawaii. They are composed of numerous, distinct tribes, states, and ethnic groups, many of which survive as...
people originally of
Florida
Florida
Florida is a state in the southeastern United States, located on the nation's Atlantic and Gulf coasts. It is bordered to the west by the Gulf of Mexico, to the north by Alabama and Georgia and to the east by the Atlantic Ocean. With a population of 18,801,310 as measured by the 2010 census, it...
, who now reside primarily in that state and
Oklahoma
Oklahoma
Oklahoma is a state located in the South Central region of the United States of America. With an estimated 3,751,351 residents as of the 2010 census and a land area of 68,667 square miles , Oklahoma is the 28th most populous and 20th-largest state...
. The Seminole nation emerged in a process of
ethnogenesis
Ethnogenesis
Ethnogenesis is the process by which a group of human beings comes to be understood or to understand themselves as ethnically distinct from the wider social landscape from which their grouping emerges...
out of groups of Native Americans, most significantly Creeks from what is now
Georgia
Georgia (U.S. state)
Georgia is a state located in the southeastern United States. It was established in 1732, the last of the original Thirteen Colonies. The state is named after King George II of Great Britain. Georgia was the fourth state to ratify the United States Constitution, on January 2, 1788...
and
Alabama
Alabama
Alabama is a state located in the southeastern region of the United States. It is bordered by Tennessee to the north, Georgia to the east, Florida and the Gulf of Mexico to the south, and Mississippi to the west. Alabama ranks 30th in total land area and ranks second in the size of its inland...
, who settled in Florida in the early 18th century. The word Seminole is a corruption of cimarrón, a Spanish term for "runaway" or "wild one", historically used for certain Native American groups in Florida.