 Dunkel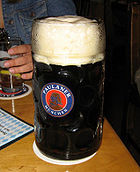 Dunkel
, or
Dunkles
, is a dark German beer.
Dunkel
is the German word meaning
dark
, and dunkel beers typically range in colour from amber to dark reddish brown. They are characterized by their smooth
malt
Malt
Malt is germinated cereal grains that have been dried in a process known as "malting". The grains are made to germinate by soaking in water, and are then halted from germinating further by drying with hot air...
y flavour.
Dunkel, along with helles, is a traditional style brewed in
Munich
Munich
Munich The city's motto is "" . Before 2006, it was "Weltstadt mit Herz" . Its native name, , is derived from the Old High German Munichen, meaning "by the monks' place". The city's name derives from the monks of the Benedictine order who founded the city; hence the monk depicted on the city's coat...
and popular throughout
Bavaria
Bavaria
Bavaria, formally the Free State of Bavaria is a state of Germany, located in the southeast of Germany. With an area of , it is the largest state by area, forming almost 20% of the total land area of Germany...
. With
alcohol
Alcohol
In chemistry, an alcohol is an organic compound in which the hydroxy functional group is bound to a carbon atom. In particular, this carbon center should be saturated, having single bonds to three other atoms....
concentrations of 4.5% to 6% by volume, dunkels are weaker than Doppelbocks, another traditional dark Bavarian beer. Dunkels are produced using Munich malts which give the Dunkel its colour. Other malts or flavours may also be added.
Dunkels were the original style of the Bavarian villages and countryside. Lighter-coloured lagers were not common until the later part of the 19th century when technological advances made them easier to produce.
Dunkels have a distinctive malty flavour that comes from a special brewing technique called decoction mashing.
Most commonly, dunkel beers are dark lagers, but the term is also used to refer to dark wheat beers such as Franziskaner Hefe-Weisse Dunkel. Dunkel weizen is another term used to refer to dark wheat beers, which are fruity and sweet with more dark, roasted malts than their lighter counterpart, the hefeweizen.
Examples
Andechser

Andechs

The Benedictine abbey of Andechs is a place of pilgrimage on a hill east of the Ammersee in the Landkreis of Starnberg in Germany, in the municipality Andechs. Andechs Abbey is famed for its flamboyant Baroque church and its brewery...


Dunkel
Ayinger Altbairisch Dunkel
Löwenbräu

Löwenbräu

Löwenbräu is a German brewery in Munich, Bavaria, Germany that produces a traditional Munich-style beer. It is currently owned by the American-Brazilian-Belgian company Anheuser-Busch InBev. Like other premium German beers, it is brewed according to the German "Reinheitsgebot" dating back to 1516...


Dunkel
Hacker-Pschorr Münchner Dunkel
Hofbräu München Dunkel
Erdinger

Erdinger

The Privatbrauerei Erdinger Weißbräu Werner Brombach GmbH is a brewery in Erding, Germany. Its best-known products are its namesake Weißbiers .-History:...


Dunkel
Paulaner

Paulaner

Paulaner is a German brewery, established in the early 17th century in Munich by the Minim friars of the Neudeck ob der Au cloister. The mendicant order and the brewery are named after Francis of Paola, the founder of the order....


Original Münchner Dunkel
Spaten München Dunkel
Warsteiner Premium Dunkel
External links
Munich Dunkel - By K. Florian Klemp - All About Beer Magazine (Volume 23 Number 5 - November 2002)