 Door breaching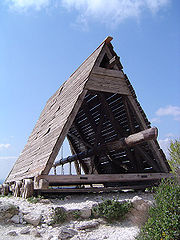 Door breaching
is a process used by military, police, or emergency services to force open closed and/or locked doors. A wide range of methods are available, one or more of which may be used in any given situation. These methods may be divided up into
mechanical breaching
,
ballistic breaching
,
explosive breaching
, and
thermal breaching
.
Mechanical breaching
Mechanical breaching can be minimally destructive, through the use of
lock picks
Lock picking
Lock picking is the art of unlocking a lock by analyzing and manipulating the components of the lock device, without the original key. Although lock picking can be associated with criminal intent, it is an essential skill for a locksmith...
. This method is relatively slow and requires a trained operator, but does not damage the lock or door.
Using specialized tools (ie: A-tool,
K-tool
K-tool
The K-tool is a tool used by many fire departments for forcible entry. It is used in conjunction with a Halligan bar and a flat-headed axe or maul to remove a cylinder lock...
) a lock cylinder can also be quickly dismantled still in the door and unlocked. This also allows the door to be closed and relocked.
Nowadays most of the special forces/militaries prefer to make a cold breaching (non- explosive). This kind of action can be done by hydraulic source.
The major advantage is that the whole process is controlled and you can stop and make an assessment at any point. Furthermore, during the breaching you do not have to stand in front of the door.
More dynamic methods use force to break the lock or door. The common methods are to use a lever, such as a
Halligan bar
Halligan bar
A Halligan bar is a special forcible entry tool commonly used by firefighters and law enforcement. It was designed by and named after Hugh Halligan, a First Deputy Fire Chief in the New York City Fire Department, in 1948...
or
crowbar
Crowbar (tool)
A crowbar, a wrecking bar, pry bar, or prybar, or sometimes a prise bar or prisebar, and more informally a jimmy, jimmy bar, jemmy or gooseneck is a tool consisting of a metal bar with a single curved end and flattened points, often with a small fissure on one or both ends for removing nails...
, or to use a tool to concentrate a large amount of force on the door, such as a
sledgehammer
Sledgehammer
A sledgehammer is a tool consisting of a large, flat head attached to a lever . The head is typically made of metal. The sledgehammer can apply more impulse than other hammers, due to its large size. Along with the mallet, it shares the ability to distribute force over a wide area...
, hydraulic jack, or
battering ram
Battering ram
A battering ram is a siege engine originating in ancient times and designed to break open the masonry walls of fortifications or splinter their wooden gates...
.
Ballistic breaching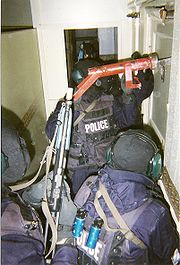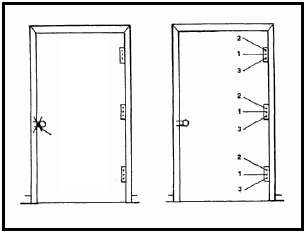 Ballistic breaching uses a projectile weapon to breach an opening. Weapons used can range from small arms to the 120mm cannon of a
main battle tank
Main battle tank
A main battle tank , also known as a battle tank or universal tank, is a tank that fills the heavy direct fire role of many modern armies. They were originally conceived to replace the light, medium, heavy and super-heavy tanks. Development was spurred onwards in the Cold War with the development...
with a HEAT round, which will breach most obstacles easily, though the force involved may violate the
rules of engagement
Rules of engagement
Rules of Engagement refers to those responses that are permitted in the employment of military personnel during operations or in the course of their duties. These rules of engagement are determined by the legal framework within which these duties are being carried out...
. A less damaging ballistic breach needs to destroy either the latch and lock, or the hinges of the door, and the ideal choice for this is the
shotgun
Shotgun
A shotgun is a firearm that is usually designed to be fired from the shoulder, which uses the energy of a fixed shell to fire a number of small spherical pellets called shot, or a solid projectile called a slug...
. While in theory other
firearm
Firearm
A firearm is a weapon that launches one, or many, projectile at high velocity through confined burning of a propellant. This subsonic burning process is technically known as deflagration, as opposed to supersonic combustion known as a detonation. In older firearms, the propellant was typically...
s can be used,
handgun
Handgun
A handgun is a firearm designed to be held and operated by one hand. This characteristic differentiates handguns as a general class of firearms from long guns such as rifles and shotguns ....
s are usually underpowered and
rifle
Rifle
A rifle is a firearm designed to be fired from the shoulder, with a barrel that has a helical groove or pattern of grooves cut into the barrel walls. The raised areas of the rifling are called "lands," which make contact with the projectile , imparting spin around an axis corresponding to the...
s are less effective than the shotgun and pose a far higher risk of ricochet and collateral injury. Most shotgun ammunition can be used for breaching, though the risk of injury varies with type. Of the available shotgun ammunition,
shotgun slug
Shotgun slug
A shotgun slug is a heavy lead projectile, that may have pre-cut rifling, intended for use in a shotgun and often used for hunting large game. The first effective shotgun slug was introduced by Wilhelm Brenneke in 1898, and his design remains in use today...
s pose the highest risk, as they will retain significant energy to cause lethal wounds well after they have penetrated the door. Buckshot is far safer, and birdshot even safer, as the multiple small projectiles disperse quickly after penetration, reducing the chances of causing a lethal wound. The safest option is a frangible round such as the Hatton round, which turns to dust upon penetrating the door, and disperses completely upon exit.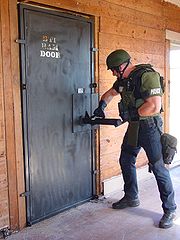 Breaching a door with the fewest number of shots possible is both faster and reduces the chance of collateral damage. Attacking the latch and lock is easiest, as it requires fewer shots and is easiest to target, whereas attacking the hinges requires more shots, and the hinges may be hidden from the outside. Careful aim is required; shots to the lock side are fired at a point halfway between the lock or handle and the door frame in order to hit the bolt holding the door shut. According to US urban warfare doctrine, the breaching operation is performed with the muzzle in contact with the door, or as close as possible, and angled downwards at a 45 degree angle. This process provides the best chance of hitting the desired point, while minimizing risk to occupants of the room being breached. Muzzle attachments are available on some specialized breaching shotguns to facilitate this operation, by holding the barrel securely in place while providing a slight standoff to allow powder gases to escape.
Magazine capacity and operating mechanism are also important consideration in a breaching shotgun, because to quickly breach a door requires the ability to quickly fire multiple shots. For a breach on the latch side, US doctrine calls for two shots to be fired, and then an attempt made to open the door. If the door cannot be opened, the process would need to be quickly repeated. If the hinges must be breached, then doctrine calls for a total of three shots, one per hinge followed by an attempt to open the door.
Explosive breaching

Explosive breaching can be the fastest method, though it is also the most dangerous, to both the breachers and the room occupants. Depending on the situation, explosive breaching is potentially slower than a ballistic breach due to the large standoff required when using explosives, if there is no cover available. Breaching can be performed with a specially formed breaching charge placed in contact with the door, or with various standoff breaching devices, such as specialized
rifle grenade
Rifle grenade
A rifle grenade is a grenade that uses a rifle-based launcher to permit a longer effective range than would be possible if the grenade was thrown by hand...
s like the
SIMON breach grenade
SIMON breach grenade
The SIMON is a rifle grenade designed to breach through doors, developed by Rafael Advanced Defense Systems. It is intended for use with 5.56 mm rifles such as the M4 carbine.-Overview:...
.
Breaching using explosives is primarily an operation performed by highly trained explosives experts, such as combat engineers or
sapper
Sapper
A sapper, pioneer or combat engineer is a combatant soldier who performs a wide variety of combat engineering duties, typically including, but not limited to, bridge-building, laying or clearing minefields, demolitions, field defences, general construction and building, as well as road and airfield...
s. Explosive breaching charges can range from highly focused methods, such as
detcord
Detonating cord
Detonating cord is a thin, flexible plastic tube filled with PETN . With the PETN exploding at a rate of approximately 4 miles per second, any common length of det cord appears to explode instantaneously...
, plastic explosives, or strip shaped charges that explosively cut through doors or latches, to large
satchel charge
Satchel charge
thumb|right|250px|Weapons used in [[Winter War]]. The original Finnish satchel charge at left.A satchel charge is a demolition device, primarily intended for combat, whose primary components are a charge of dynamite or a more potent explosive such as C-4 plastic explosive, a carrying device...
s, containing 20 pounds (9 kg) of
C-4
C-4 (explosive)
C4 or Composition C4 is a common variety of the plastic explosive known as Composition C.-Composition and manufacture:C4 is made up of explosives, plastic binder, plasticizer and usually marker or odorizing taggant chemicals such as 2,3-dimethyl-2,3-dinitrobutane to help detect the explosive and...
, that can breach even
reinforced concrete
Reinforced concrete
Reinforced concrete is concrete in which reinforcement bars , reinforcement grids, plates or fibers have been incorporated to strengthen the concrete in tension. It was invented by French gardener Joseph Monier in 1849 and patented in 1867. The term Ferro Concrete refers only to concrete that is...
bunker
Bunker
A military bunker is a hardened shelter, often buried partly or fully underground, designed to protect the inhabitants from falling bombs or other attacks...
s.
Thermal breaching
Thermal breaching is one of the least common techniques and also one of the slowest. It involves the use of a
cutting torch
Oxy-fuel welding and cutting
Oxy-fuel welding and oxy-fuel cutting are processes that use fuel gases and oxygen to weld and cut metals, respectively. French engineers Edmond Fouché and Charles Picard became the first to develop oxygen-acetylene welding in 1903...
to cut through metal doors.