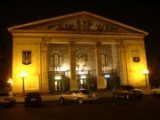 Donetsk Regional Russian Drama Theatre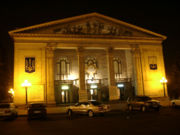 Donetsk Regional Russian Theatre of Drama
is a theatre in
Mariupol
Mariupol
Mariupol , formerly known as Zhdanov , is a port city in southeastern Ukraine. It is located on the coast of the Azov Sea, at the mouth of the Kalmius River. Mariupol is the largest city in Priazovye - a geographical region around Azov Sea, divided by Russia and Ukraine - and is also a popular sea...
in southern
Ukraine
Ukraine
Ukraine is a country in Eastern Europe. It has an area of 603,628 km², making it the second largest contiguous country on the European continent, after Russia...
. The modern theatre was been constructed in 1960.
History
1847 - Records the first time a theatrical troupe came to Mariupol, under entrepreneur V. Vinogradova. As there was no theatre in the city the troupe gave its performances in a rented barn in Ekaterininskaya street (nowadays - Lenin Av.).
1850 - 1860 - A barn in the courtyard of Popov (a local resident) provides the first theatrical venue - "The Temple of a Muse of the Melpomene". The building is fairly basic with elementary conditions, but here during several seasons many troupes performed. These included participation by provincial actors of that time: Alexandrov, Neverov, Medvedeva, Stoppel, Novitsky, Minsky, Prokofyev, Piloni and others.
1878 - The first professional theatrical troupe appears in the city of Mariupol. The beginning of the Mariupol theatre is funded by the son of a rich merchant Vasily Shapovalov who has rented a room for the theatre. The career of actors I. Zagorsky, L. Zagorsky, L. Linitskaja and others begins here.
1887 - Opening of the newly built theatre on November 8th, named the Concert Hall (subsequently Winter Theatre), it has a big stage, comfortable seating, a place for the orchestra, and an auditorium for 800. [?A role of the Governor of a town in the first statement of the Concert hall "the Auditor" the owner of theatre and impresario has played}
1880 - 1890 - Performances of outstanding masters of the Ukrainian stage took place: M. Kropivnitsky, I. Karpenko-Kary, P. Saksagansky, M. Staritsky and others.
1920 - A drama collective "New Theatre" under the management of A. Borisoglebsky was active
1934 - The theatre is created the All-Donetsk musical-dramatical theatre based in Mariupol (the head - A. Smirnov, the main director - A. Iskander).
1959 - The Mariupol theatre is given the status Donetsk State Theatre.
1960 - November 2, the official opening of the re-constructed theatre and the first performance takes place.
1978 - The theatre company celebrates the 100th anniversary. The collective is awarded an Honour for significant merits in the theatrical arts.
1985 - The small stage of theatre is opened.
Repertoire
Alongside with products of modern playwrights have always been submitted Russian and foreign classics: works
Tolstoy
Tolstoy
Tolstoy, or Tolstoi is a prominent family of Russian nobility, descending from Andrey Kharitonovich Tolstoy who served under Vasily II of Moscow...
, Pushkin,
Molière
Molière
Jean-Baptiste Poquelin, known by his stage name Molière, was a French playwright and actor who is considered to be one of the greatest masters of comedy in Western literature...
,
Chekhov
Anton Chekhov
Anton Pavlovich Chekhov was a Russian physician, dramatist and author who is considered to be among the greatest writers of short stories in history. His career as a dramatist produced four classics and his best short stories are held in high esteem by writers and critics...
,
Bulgakov
Bulgakov
Bulgakov is a common Russian family name and may refer to:*Gediminid family of Princes Bulgakov*Aleksandr Aleksandrovich Bulgakov, Soviet politician, USSR Minister of Education 1978 to 1983*Aleksandr Viktorovich Bulgakov Bulgakov is a common Russian family name and may refer to:*Gediminid family...
, Vladimir Nabokov, Maeterlinck, Shakespeare,
Shukshin
Vasily Shukshin
Vasily Makarovich Shukshin was a notable Soviet/Russian actor, writer, screenwriter and movie director from the Altay region who specialized in rural themes. Upon his death, Shukshin was interred at Novodevichy Cemetery in Moscow.-Biography:...
, Nina Sadur,
Samuil Marshak
Samuil Marshak
Samuil Yakovlevich Marshak was a Russian and Soviet writer, translator and children's poet. Among his Russian translations are William Shakespeare's sonnets, poems by William Blake and Robert Burns, and Rudyard Kipling's stories. Maxim Gorky proclaimed Marshak to be "the founder of [Russia's ]...
,
Evgeny Shvarts
Evgeny Shvarts
Evgeny Lvovich Shvarts was a Soviet writer and playwright whose works include twenty-five plays and screenplays for three films .- Life :...
and many others.
Actors
The national actress of Russia - N. Jurgens,
National actors of Ukraine - J. Doronchenko, S. Otchenashenko,
The deserved actress of Ukraine, the winner of the premium of a name in M. Zankovetska - L. Rusnak,
Leading actors: S. Nemchuk, N. Atroshchenkova, S. Lupiltsev, A. Arutyunyan, A. Shevchenko, S. Musienko and others.
Festivals
The Mariupol theatre annually takes part in Ukrainian and the international theatrical festivals:
See also
Donetsk Academic State Theater of Opera and Ballet named after A. B. Solovyanenko in
Donetsk
Donetsk
Donetsk , is a large city in eastern Ukraine on the Kalmius river. Administratively, it is a center of Donetsk Oblast, while historically, it is the unofficial capital and largest city of the economic and cultural Donets Basin region...
, Ukraine
http://www.dopera.org/