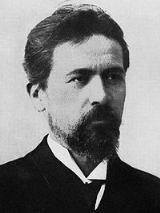 Anton Chekhov
Anton Pavlovich Chekhov
was a
Russia
Russia
Russia or , officially known as both Russia and the Russian Federation , is a country in northern Eurasia. It is a federal semi-presidential republic, comprising 83 federal subjects...
n physician, dramatist and author who is considered to be among the greatest writers of short stories in history. His career as a dramatist produced four classics and his best short stories are held in high esteem by writers and critics. Chekhov practiced as a doctor throughout most of his literary career: "Medicine is my lawful wife", he once said, "and literature is my mistress."
Chekhov renounced the theatre after the disastrous reception of
The Seagull
The Seagull
The Seagull is the first of what are generally considered to be the four major plays by the Russian dramatist Anton Chekhov. The Seagull was written in 1895 and first produced in 1896...
in 1896, but the play was revived to acclaim in 1898 by Constantin Stanislavski's
Moscow Art Theatre
Moscow Art Theatre
The Moscow Art Theatre is a theatre company in Moscow that the seminal Russian theatre practitioner Constantin Stanislavski, together with the playwright and director Vladimir Nemirovich-Danchenko, founded in 1898. It was conceived as a venue for naturalistic theatre, in contrast to the melodramas...
, which subsequently also produced Chekhov's
Uncle Vanya
Uncle Vanya
Uncle Vanya is a play by the Russian playwright Anton Chekhov. It was first published in 1897 and received its Moscow première in 1899 in a production by the Moscow Art Theatre, under the direction of Konstantin Stanislavski....
and premiered his last two plays,
Three Sisters
Three Sisters (play)
Three Sisters is a play by Russian author and playwright Anton Chekhov, perhaps partially inspired by the situation of the three Brontë sisters, but most probably by the three Zimmermann sisters in Perm...
and
The Cherry Orchard
The Cherry Orchard
The Cherry Orchard is Russian playwright Anton Chekhov's last play. It premiered at the Moscow Art Theatre 17 January 1904 in a production directed by Constantin Stanislavski. Chekhov intended this play as a comedy and it does contain some elements of farce; however, Stanislavski insisted on...
.
The unhappy are egotistical, base, unjust, cruel, and even less capable of understanding one another than are idiots. Unhappiness does not unite people, but separates them.

Enemies
Each of us is full of too many wheels, screws and valves to permit us to judge one another on a first impression or by two or three external signs.

Ivanov|Ivanov, Act III, sc. vi (1887)
You look at any poetic creature: muslin, ether, demigoddess, millions of delights; then you look into the soul and find the most ordinary crocodile!

The Bear, sc. viii (1888)
It is not only the prisoners who grow coarse and hardened from corporeal punishment, but those as well who perpetrate the act or are present to witness it.

A Journey to Sakhalin (1891)
No matter how corrupt and unjust a convict may be, he loves fairness more than anything else. If the people placed over him are unfair, from year to year he lapses into an embittered state characterized by an extreme lack of faith.

A Journey to Sakhalin