 Districts of Bangladesh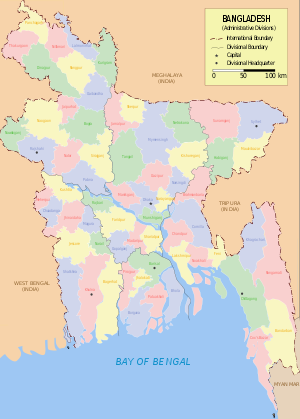 The
divisions
Divisions of Bangladesh
||Bangladesh is divided into seven major administrative regions called divisions . Each division is named after the major city within its jurisdiction that serves as the administrative capital of that division:...
of
Bangladesh
Bangladesh
Bangladesh , officially the People's Republic of Bangladesh is a sovereign state located in South Asia. It is bordered by India on all sides except for a small border with Burma to the far southeast and by the Bay of Bengal to the south...
are divided into 64 districts, or zila . The districts are further subdivided into 493 sub-districts, or
upazila
Upazilas of Bangladesh
||The districts of Bangladesh are divided into subdistricts called Upazila Parishad , or Thana . Upazilas are similar to the county subdivisions found in some Western countries....
(উপজেলা
upojela
).
The district are run by a Deputy Commissioner popular name is "DC" is appointed by the government from a
Deputy secretary
Ministries of Bangladesh
The most influential part of the executive of the Bangladesh government are the ministries. A ministry is headed by minister or minister of state shall be responsible for conducting the business of his Ministry/Division in the Parliament unless otherwise directed by the Prime Minister...
of
B.C.S.
Bangladesh Civil Service
Bangladesh Civil Service, more popularly known by its acronym BCS, is the elite civil service of the Government of Bangladesh. It originated from the Central Superior Services of Pakistan. Since independence it has been known by Act as Bangladesh Civil Service. The Bangladesh Public Service...
Administration Cadre.
The districts are listed below in alphabetical order by division. The official English name of each district is followed by the official Bengali name in parentheses, using both the
Bengali script
Bengali script
The Bengali alphabet is the writing system for the Bengali language. The script with variations is used for Assamese and is basis for Meitei, Bishnupriya Manipuri, Kokborok, Garo and Mundari alphabets. All these languages are spoken in the eastern region of South Asia. Historically, the script has...
and Romanization adopted for Wikipedia:
Barisal (বরিশাল)

Barisal Division

Barisal Division is located in south-central Bangladesh, with an area of 13,644.85 km2, and with a population of 8,147,000 at the 2011 Census . It is bounded by Dhaka division on the north, the Bay of Bengal on the south, Chittagong division on the east and Khulna division on the west...



There are 6 Districts under
Barisal Division
. The districts are:
There are 11 districts under
Chittagong Division
. The districts are:
There are 17 districts under
Dhaka Division
. The districts are:
There are 10 Districts under
Khulna Division
. The districts are:
There are 8 Districts under
Rajshahi Division
. The districts are:
There are 8 Districts under
Rangpur Division
. The districts are:
Sylhet (সিলেট)

Sylhet Division

Sylhet Division , also known as Greater Sylhet or Sylhet region, is the northeastern division of Bangladesh, named after its main city, Sylhet...



There are 4 Districts under Sylhet Division. The districts are:
See also