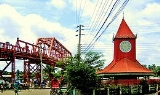 Sylhet
Sylhet
is a major city in north-eastern
Bangladesh
Bangladesh
Bangladesh , officially the People's Republic of Bangladesh is a sovereign state located in South Asia. It is bordered by India on all sides except for a small border with Burma to the far southeast and by the Bay of Bengal to the south...
. It is the main city of
Sylhet Division
Sylhet Division
Sylhet Division , also known as Greater Sylhet or Sylhet region, is the northeastern division of Bangladesh, named after its main city, Sylhet...
and
Sylhet District
Sylhet District
The district of Sylhet consists 6754 mosques, 453 temples, 96 churches and four Buddhist temples.-Places of Interests:-Historical:#The Shrine of Hazrat Shah Jalal#The Shrine of Hazrat Shah Paran#Shahi Eidgah#Gour Govinda Fort#Kean Bridge...
, and was granted metropolitan city status in March 2009. Sylhet is located on the banks of the
Surma Valley
Surma River
The Surma River is a major river in Bangladesh, part of the Surma-Meghna River System. It starts when the Barak River from northeast India divides at the Bangladesh border into the Surma and the Kushiyara rivers. It ends in Kishoreganj District, above Bhairab Bazar, where the two rivers rejoin to...
and is surrounded by the Jaintia, Khasi and
Tripura
Tripura
Tripura is a state in North-East India, with an area of . It is the third smallest state of India, according to area. Tripura is surrounded by Bangladesh on the north, south, and west. The Indian states of Assam and Mizoram lie to the east. The capital is Agartala and the main languages spoken are...
hills. The city is approaching a population of 500,000 people while also having a high population density. It is one of the largest cities in Bangladesh. The Sylhet region is well known for its
tea garden
Tea garden
Tea garden may refer to:* Roji, gardens surrounding Japanese tea houses and which form part of the architecture associated with Japanese tea ceremony* Tea plantations, where tea bushes are cultivated...
s and tropical forests The city is also known for its business boom; being one of the richest cities in Bangladesh, with new investments of hotels, shopping malls and luxury housing estates, brought mainly by
expatriates living in the United Kingdom
British Bangladeshi
A British Bangladeshi is a person of Bangladeshi origin who resides in the United Kingdom having emigrated to the UK and attained citizenship through naturalisation or whose parents did so; they are also known as British Bengalis...
.
Sylhet has a history of conquests and heritage from different types of cultures.