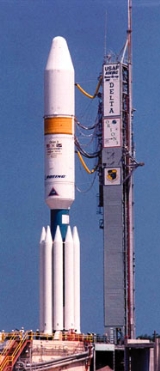 Delta III rocket
The
Delta III rocket
was an expendable
launch vehicle
Launch vehicle
In spaceflight, a launch vehicle or carrier rocket is a rocket used to carry a payload from the Earth's surface into outer space. A launch system includes the launch vehicle, the launch pad and other infrastructure....
made by
Boeing
Boeing
The Boeing Company is an American multinational aerospace and defense corporation, founded in 1916 by William E. Boeing in Seattle, Washington. Boeing has expanded over the years, merging with McDonnell Douglas in 1997. Boeing Corporate headquarters has been in Chicago, Illinois since 2001...
. The first Delta III launch was on August 26, 1998. Of its three flights, the first two were failures, and the third, though declared successful, reached the low end of its targeted orbit range and carried only a dummy (inert) payload. Delta III had the capability to deliver 8,400 pounds (3,800 kilograms) of cargo to
geostationary transfer orbit
Geostationary transfer orbit
A geosynchronous transfer orbit or geostationary transfer orbit is a Hohmann transfer orbit used to reach geosynchronous or geostationary orbit....
, twice the payload of its predecessor in the Delta rocket family, the Delta II.
History
Throughout the 1990s, satellite masses were growing steadily. It was apparent that the Delta II could not lift many upcoming payloads. In addition, the Delta was a relatively complex launch vehicle, designed for mission flexibility and low development costs rather than low operating cost. Boeing felt the need to maintain market position, through increased capacity, more competitive pricing, and expedited launch-site operations.
The inaugural launch on 26 August 1998 from
Cape Canaveral Air Force Station
Cape Canaveral Air Force Station
Cape Canaveral Air Force Station is an installation of the United States Air Force Space Command's 45th Space Wing, headquartered at nearby Patrick Air Force Base. Located on Cape Canaveral in the state of Florida, CCAFS is the primary launch head of America's Eastern Range with four launch pads...
ended in failure, when software adapted from the Delta II caused a guidance failure during first-stage flight. The failure and subsequent vehicle motion depleted the hydraulic fluid used for steering. Upon loss of control, the vehicle was destroyed. The Galaxy X satellite (Hughes HS601 HP type) crashed in the Atlantic Ocean.
The second launch on 4 May 1999, also from Cape Canaveral, also ended in failure. The second stage engine experienced a pressure anomaly and rupture, and shut down while its second burn was underway. The Orion 3 satellite (Hughes HS601 model) was stranded in a useless orbit.
The third flight on 23 August 2000, launched the DM-F3 payload. This was a dummy designed to mimic an HS601 communications satellite, and equipped with sensors to monitor vehicle characteristics. Final orbit was slightly low (180.76 x 20,694 km x 27.5 deg. versus a planned 185 x 23,404 km), but the orbit apogee was within the allowable 3,000 km margin of error allowing Boeing to declare the flight a success. However, with the combining factors of a declining satellite launch market, low customer confidence following the two consecutive failures, and the advent of Boeing's new
Delta IV
Delta IV rocket
Delta IV is an active expendable launch system in the Delta rocket family. Delta IV uses rockets designed by Boeing's Integrated Defense Systems division and built in the United Launch Alliance facility in Decatur, Alabama. Final assembly is completed at the launch site by ULA...
, this would prove to be the Delta III's final launch.
Vehicle description
The Delta III had the kerosene/oxygen first stage of a Delta II. However, the complex and less-efficient stack of upper stages was replaced with a more advanced hydrogen/oxygen stage. The boosters were noticeably larger. The new fairing fit larger payloads; the first stage was been modified to accommodate the larger stack.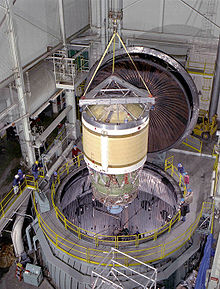 The upper stage burned high-performance
cryogenic fuel
Cryogenic fuel
Cryogenic fuels are fuels that require storage at extremely low temperatures in order to maintain them in a liquid state. Cryogenic fuels most often constitute liquefied gases such as liquid hydrogen....
in a proven Pratt & Whitney RL10 engine design. The liquid-hydrogen tank was 4 meters in diameter, covered in insulation derived from that of the
Space Shuttle External Tank
Space Shuttle external tank
A Space Shuttle External Tank is the component of the Space Shuttle launch vehicle that contains the liquid hydrogen fuel and liquid oxygen oxidizer. During lift-off and ascent it supplies the fuel and oxidizer under pressure to the three Space Shuttle Main Engines in the orbiter...
, and built by
Mitsubishi Heavy Industries
Mitsubishi Heavy Industries
, or MHI, is a Japanese company. It is one of the core companies of Mitsubishi Group.-History:In 1870 Yataro Iwasaki, the founder of Mitsubishi took a lease of Government-owned Nagasaki Shipyard. He named it Nagasaki Shipyard & Machinery Works, and started the shipbuilding business on a full scale...
. The separate liquid-oxygen tank retained the 2.4 m diameter of previous Deltas. Both were structurally stable. The RL10 engine, from the
Centaur
Centaur (rocket stage)
Centaur is a rocket stage designed for use as the upper stage of space launch vehicles. Centaur boosts its satellite payload to geosynchronous orbit or, in the case of an interplanetary space probe, to or near to escape velocity...
upper stage, was in the new RL10B-2 configuration, with an extending nozzle. The nozzle fit in the vehicle stack for launch, then extended in space to increase expansion ratio and improve efficiency. The extending segments were uncooled carbon composites, made by SEP of France.
The solid rocket boosters were Alliant
GEM
Graphite-Epoxy Motor
A Graphite-Epoxy Motor is a high-performance, solid rocket motor, used for supplemental thrust on several launch vehicles, including the Boeing Delta II and Delta IV. They are designed to allow launch vehicles to deliver larger payloads to orbit...
-46s, sometimes referred to as GEM LDXL (Large Diameter Extended Length). These were 14.7 meters length and 1.17 m (46 inches) in diameter, versus 13 meters and 1.01 m (40 inches) for the GEMs on Delta II. Six were ignited on the launch pad, three were lit in flight. To maintain steering authority, three of the boosters had
vectoring nozzles
Thrust vectoring
Thrust vectoring, also thrust vector control or TVC, is the ability of an aircraft, rocket or other vehicle to manipulate the direction of the thrust from its engine or motor in order to control the attitude or angular velocity of the vehicle....
.
The payload fairing was a new design in
composite material
Composite material
Composite materials, often shortened to composites or called composition materials, are engineered or naturally occurring materials made from two or more constituent materials with significantly different physical or chemical properties which remain separate and distinct at the macroscopic or...
s, matching the upper stage hydrogen tank at 4 meters diameter.
To keep the vehicle at a reasonable length and avoid steering problems in high-altitude crosswinds, the first stage was shortened. The kerosene (
RP-1
RP-1
RP-1 is a highly refined form of kerosene outwardly similar to jet fuel, used as a rocket fuel. Although having a lower specific impulse than liquid hydrogen , RP-1 is cheaper, can be stored at room temperature, is far less of an explosive hazard and is far denser...
) fuel tank, formerly 8 feet in diameter like the liquid oxygen tank, was a squat 4 meters, like the hydrogen tank. It too was made by Mitsubishi Heavy Industries. The new length also minimized changes to the launch tower.
In keeping with the 4-digit designation system from earlier Delta rockets, the Delta III is technically referred to as the Delta 8930.
Overall, payload to GTO (Geostationary-Transfer Orbit) was doubled versus the Delta II, with reasonable program costs and streamlined operations. However, the consecutive failures of the initial Delta IIIs, combined with the more-advanced
Delta IV
Delta IV rocket
Delta IV is an active expendable launch system in the Delta rocket family. Delta IV uses rockets designed by Boeing's Integrated Defense Systems division and built in the United Launch Alliance facility in Decatur, Alabama. Final assembly is completed at the launch site by ULA...
program and the successful
Sea Launch
Sea Launch
Sea Launch is a spacecraft launch service that uses a mobile sea platform for equatorial launches of commercial payloads on specialized Zenit 3SL rockets...
venture, left the Delta III as an interim vehicle. However, technologies and components from the Delta III contributed to the development of the Delta IV.
External links