 Decorum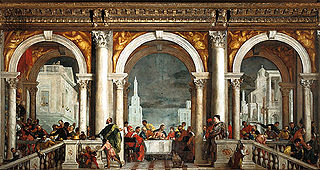 Decorum
was a principle of classical
rhetoric
Rhetoric
Rhetoric is the art of discourse, an art that aims to improve the facility of speakers or writers who attempt to inform, persuade, or motivate particular audiences in specific situations. As a subject of formal study and a productive civic practice, rhetoric has played a central role in the Western...
, poetry and theatrical theory that was about the fitness or otherwise of a style to a theatrical subject. The concept of decorum is also applied to prescribed limits of appropriate
social behavior
Social behavior
In physics, physiology and sociology, social behavior is behavior directed towards society, or taking place between, members of the same species. Behavior such as predation which involves members of different species is not social...
within set situations.
In rhetoric and poetry
In classical rhetoric and poetic theory, decorum designates the appropriateness of style to subject. Both
Aristotle
Aristotle
Aristotle was a Greek philosopher and polymath, a student of Plato and teacher of Alexander the Great. His writings cover many subjects, including physics, metaphysics, poetry, theater, music, logic, rhetoric, linguistics, politics, government, ethics, biology, and zoology...
(in, for example, his
Poetics
) and
Horace
Horace
Quintus Horatius Flaccus , known in the English-speaking world as Horace, was the leading Roman lyric poet during the time of Augustus.-Life:...
(in his
Ars Poetica
Ars Poetica
Ars Poetica is a term meaning "The Art of Poetry" or "On the Nature of Poetry". Early examples of Ars Poetica by Aristotle and Horace have survived and have since spawned many other poems that bear the same name...
) discussed the importance of appropriate style in
epic
Epic poetry
An epic is a lengthy narrative poem, ordinarily concerning a serious subject containing details of heroic deeds and events significant to a culture or nation. Oral poetry may qualify as an epic, and Albert Lord and Milman Parry have argued that classical epics were fundamentally an oral poetic form...
,
tragedy
Tragedy
Tragedy is a form of art based on human suffering that offers its audience pleasure. While most cultures have developed forms that provoke this paradoxical response, tragedy refers to a specific tradition of drama that has played a unique and important role historically in the self-definition of...
,
comedy
Comedy
Comedy , as a popular meaning, is any humorous discourse or work generally intended to amuse by creating laughter, especially in television, film, and stand-up comedy. This must be carefully distinguished from its academic definition, namely the comic theatre, whose Western origins are found in...
, etc. Horace says, for example: "A comic subject is not susceptible of treatment in a tragic style, and similarly the banquet of
Thyestes
Thyestes
In Greek mythology, Thyestes was the son of Pelops and Hippodamia, King of Olympia, and father of Pelopia and Aegisthus. Thyestes and his twin brother, Atreus, were exiled by their father for having murdered their half-brother, Chrysippus, in their desire for the throne of Olympia...
cannot be fitly described in the strains of everyday life or in those that approach the tone of comedy. Let each of these styles be kept to the role properly allotted to it."
Hellenistic and Latin rhetors divided style into: the grand style, the middle style and the low (or plain) style; certain types of vocabulary and diction were considered appropriate for each stylistic level. A discussion of this division of styles was set out in the pseudo-
Cicero
Cicero
Marcus Tullius Cicero , was a Roman philosopher, statesman, lawyer, political theorist, and Roman constitutionalist. He came from a wealthy municipal family of the equestrian order, and is widely considered one of Rome's greatest orators and prose stylists.He introduced the Romans to the chief...
nian
Rhetorica ad Herennium
Rhetorica ad Herennium
The Rhetorica ad Herennium, formerly attributed to Cicero but of unknown authorship, is the oldest surviving Latin book on rhetoric, dating from the 90s BC, and is still used today as a textbook on the structure and uses of rhetoric and persuasion....
. Modeled on
Virgil
Virgil
Publius Vergilius Maro, usually called Virgil or Vergil in English , was an ancient Roman poet of the Augustan period. He is known for three major works of Latin literature, the Eclogues , the Georgics, and the epic Aeneid...
's three-part literary career (
Aeneid
Aeneid
The Aeneid is a Latin epic poem, written by Virgil between 29 and 19 BC, that tells the legendary story of Aeneas, a Trojan who travelled to Italy, where he became the ancestor of the Romans. It is composed of roughly 10,000 lines in dactylic hexameter...
,
Bucolics
Bucolics
The Eclogues is the first of the three major works of the Latin poet Virgil.Taking as his generic model the Greek Bucolica by Theocritus, Virgil created a Roman version partly by offering a dramatic and mythic interpretation of revolutionary change at Rome...
,
Georgics
Georgics
The Georgics is a poem in four books, likely published in 29 BC. It is the second major work by the Latin poet Virgil, following his Eclogues and preceding the Aeneid. It is a poem that draws on many prior sources and influenced many later authors from antiquity to the present...
), ancient, medieval and Renaissance theorists often linked each style to a specific
genre
Genre
Genre , Greek: genos, γένος) is the term for any category of literature or other forms of art or culture, e.g. music, and in general, any type of discourse, whether written or spoken, audial or visual, based on some set of stylistic criteria. Genres are formed by conventions that change over time...
:
epic
Epic poetry
An epic is a lengthy narrative poem, ordinarily concerning a serious subject containing details of heroic deeds and events significant to a culture or nation. Oral poetry may qualify as an epic, and Albert Lord and Milman Parry have argued that classical epics were fundamentally an oral poetic form...
(high style), didactic (middle style) and
pastoral
Pastoral
The adjective pastoral refers to the lifestyle of pastoralists, such as shepherds herding livestock around open areas of land according to seasons and the changing availability of water and pasturage. It also refers to a genre in literature, art or music that depicts such shepherd life in an...
(plain style). In the Middle Ages, this concept was called "Virgil's wheel". For stylistic purists, the mixing of styles within a work was considered inappropriate, and a consistent use of the high style was mandated for the epic. However, stylistic diversity had been a hallmark of classical epic (as seen in the inclusion of comic and/or erotic scenes in the epics of Virgil or Homer).
Poetry, perhaps more than any other literary form, usually expressed words or phrases that were not current in ordinary conversation, characterized as
poetic diction
Poetic diction
Poetic diction is the term used to refer to the linguistic style, the vocabulary, and the metaphors used in the writing of poetry. In the Western tradition, all these elements were thought of as properly different in poetry and prose up to the time of the Romantic revolution, when William...
.
With the arrival of
Christianity
Christianity
Christianity is a monotheistic religion based on the life and teachings of Jesus as presented in canonical gospels and other New Testament writings...
, concepts of decorum became involved with those of the
sacred and profane
Sacred-profane dichotomy
French sociologist Émile Durkheim considered the dichotomy between the sacred and the profane to be the central characteristic of religion: "religion is a unified system of beliefs and practices relative to sacred things, that is to say, things set apart and forbidden." In Durkheim's theory, the...
in a different way from in the previous classical religions. Although in the
Middle Ages
Middle Ages
The Middle Ages is a periodization of European history from the 5th century to the 15th century. The Middle Ages follows the fall of the Western Roman Empire in 476 and precedes the Early Modern Era. It is the middle period of a three-period division of Western history: Classic, Medieval and Modern...
religious subjects were often treated with broad humour in a "low" manner, especially in medieval drama, the churches policed carefully the treatment in more permanent art forms, insisting on a consistent "high style". By the Renaissance the mixture of revived
classical mythology
Classical mythology
Classical mythology or Greco-Roman mythology is the cultural reception of myths from the ancient Greeks and Romans. Along with philosophy and political thought, mythology represents one of the major survivals of classical antiquity throughout later Western culture.Classical mythology has provided...
and Christian subjects was also considered to fall under the heading of decorum, as was the increasing habit of mixing religious subjects in art with lively
genre painting
Genre painting
Genre works, also called genre scenes or genre views, are pictorial representations in any of various media that represent scenes or events from everyday life, such as markets, domestic settings, interiors, parties, inn scenes, and street scenes. Such representations may be realistic, imagined, or...
or portraiture of the fashionable. The Catholic
Council of Trent
Council of Trent
The Council of Trent was the 16th-century Ecumenical Council of the Roman Catholic Church. It is considered to be one of the Church's most important councils. It convened in Trent between December 13, 1545, and December 4, 1563 in twenty-five sessions for three periods...
specifically forbade, among other things, the "indecorous" in religious art.
Concepts of decorum, increasingly sensed as inhibitive and stultifying, were aggressively attacked and
deconstructed
Deconstruction
Deconstruction is a term introduced by French philosopher Jacques Derrida in his 1967 book Of Grammatology. Although he carefully avoided defining the term directly, he sought to apply Martin Heidegger's concept of Destruktion or Abbau, to textual reading...
by writers of the
Modernist movement
Modernism
Modernism, in its broadest definition, is modern thought, character, or practice. More specifically, the term describes the modernist movement, its set of cultural tendencies and array of associated cultural movements, originally arising from wide-scale and far-reaching changes to Western society...
, with the result that readers' expectations were no longer based on decorum, and in consequence the violations of decorum that underlie the wit of
mock-heroic
Mock-heroic
Mock-heroic, mock-epic or heroi-comic works are typically satires or parodies that mock common Classical stereotypes of heroes and heroic literature...
, of literary
burlesque
Burlesque
Burlesque is a literary, dramatic or musical work intended to cause laughter by caricaturing the manner or spirit of serious works, or by ludicrous treatment of their subjects...
, and even a sense of
bathos
Bathos
Bathos is an abrupt transition in style from the exalted to the commonplace, producing a ludicrous effect. While often unintended, bathos may be used deliberately to produce a humorous effect. If bathos is overt, it may be described as Burlesque or mock-heroic...
, were dulled in the twentieth-century reader.
In theater
In continental European debates on theatre in the Renaissance and post-Renaissance, decorum is concerned with the appropriateness of certain actions or events to the stage. In their emulation of classical models and of the theoretical works by Aristotle and Horace (including the notion of the "Three Unities"), certain subjects were deemed to be better left to narration. In Horace's
Ars Poetica
Ars Poetica
Ars Poetica is a term meaning "The Art of Poetry" or "On the Nature of Poetry". Early examples of Ars Poetica by Aristotle and Horace have survived and have since spawned many other poems that bear the same name...
, the poet (in addition to speaking about appropriate vocabulary and diction, as discussed above) counseled playwrights to respect decorum by avoiding the portrayal, on stage, of scenes that would shock the audience by their cruelty or unbelievable nature: "But you will not bring on to the stage anything that ought properly to be taking place behinds the scenes, and you will keep out of sight many episodes that are to be described later by the eloquent tongue of a narrator.
Medea
Medea
Medea is a woman in Greek mythology. She was the daughter of King Aeëtes of Colchis, niece of Circe, granddaughter of the sun god Helios, and later wife to the hero Jason, with whom she had two children, Mermeros and Pheres. In Euripides's play Medea, Jason leaves Medea when Creon, king of...
must not butcher her children in the presence of the audience, nor the monstrous
Atreus
Atreus
In Greek mythology, Atreus was a king of Mycenae, the son of Pelops and Hippodamia, and the father of Agamemnon and Menelaus. Collectively, his descendants are known as Atreidai or Atreidae....
cook his dish of human flesh within public view, nor
Procne
Procne
Procne may refer to:*In Greek mythology, Procne was sister to Philomela, as well as the wife of Tereus, and mother of Itys.*194 Prokne, an asteroid...
be metamorphosed into a bird, nor
Cadmus
Cadmus
Cadmus or Kadmos , in Greek mythology was a Phoenician prince, the son of king Agenor and queen Telephassa of Tyre and the brother of Phoenix, Cilix and Europa. He was originally sent by his royal parents to seek out and escort his sister Europa back to Tyre after she was abducted from the shores...
into a snake. I shall turn in disgust from anything of this kind that you show me. "
In Renaissance Italy, important debates on decorum in theater were set off by
Sperone Speroni
Sperone Speroni
Sperone Speroni degli Alvarotti was an Italian Renaissance humanist, scholar and dramatist. He was one of the central members of Padua's literary academy Accademia degli Infiammati and wrote on both moral and literary matters.-Biography:...
's play
Canace
Canace (play)
Canace is a verse tragedy by Italian playwright Sperone Speroni . It is based on the Greek legend of Canace, the daughter of Aeolus, who was forced by her father to commit suicide for having fallen in love with her brother, Macar....
(portraying incest between a brother and sister) and
Giovanni Battista Giraldi
Giovanni Battista Giraldi
Giovanni Battista Giraldi was an Italian novelist and poet. He appended the nickname Cinthio to his name and is commonly referred to by that name .Born at Ferrara, he was educated at the university there, and in 1525 became its professor of natural philosophy...
's play
Orbecche
Orbecche
Orbecche is a tragedy written by Giovanni Battista Giraldi in 1541. It was the first modern tragedy written on classical principles, and along with Sperone Speroni's Canace, was responsible for a sixteenth-century theoretical debate on theater, especially with regards to decorum.It was produced in...
(involving patricide and cruel scenes of vengeance). In seventeenth-century France, the notion of decorum (
les bienséances
) was a key component of French classicism in both theater and the novel (see
French literature of the 17th century
French literature of the 17th century
17th-century French literature was written throughout the Grand Siècle of France, spanning the reigns of Henry IV of France, the Regency of Marie de Medici, Louis XIII of France, the Regency of Anne of Austria and the reign of Louis XIV of France...
), as well as the visual arts - see
hierarchy of genres
Hierarchy of genres
A hierarchy of genres is any formalization which ranks different genres in an art form in terms of their prestige and cultural value....
.
Social decorum
Social
decorum sets down appropriate
social behavior
Social behavior
In physics, physiology and sociology, social behavior is behavior directed towards society, or taking place between, members of the same species. Behavior such as predation which involves members of different species is not social...
and propriety, and is thus linked to notions of
etiquette
Etiquette
Etiquette is a code of behavior that delineates expectations for social behavior according to contemporary conventional norms within a society, social class, or group...
and
manners
Manners
In sociology, manners are the unenforced standards of conduct which demonstrate that a person is proper, polite, and refined. They are like laws in that they codify or set a standard for human behavior, but they are unlike laws in that there is no formal system for punishing transgressions, the...
.
The precepts of social decorum as we understand them, of the preservation of external decency, were consciously set by Lord Chesterfield, who was looking for a translation of
les moeurs
: "Manners are too little, morals are too much." The word decorum survives in Chesterfield's severely reduced form as an element of etiquette: the prescribed limits of appropriate social behavior within a set situation. The use of this word in this sense is of the sixteenth-century, prescribing the boundaries established in drama and literature, used by
Roger Ascham
Roger Ascham
Roger Ascham was an English scholar and didactic writer, famous for his prose style, his promotion of the vernacular, and his theories of education...
,
The Scholemaster
(1570) and echoed in
Malvolio
Malvolio
Malvolio is the steward of Olivia's household in William Shakespeare's comedy, Twelfth Night, or What You Will.-Style:Malvolio's ethical values are commonly used to define his appearance.In the play, Malvolio is defined as a "kind of" Puritan...
's tirade in
Twelfth Night
, "My masters, are you mad, or what are you? Have you no wit, manners nor honesty, but to gabble like tinkers at this time of night?...Is there no respect of persons, place nor time in you?"
The place of decorum in the courtroom, of the type of argument that is within bounds, remains pertinent: the decorum of argument was a constant topic during the O.J. Simpson trial.
During
Model United Nations
Model United Nations
Model United Nations is an academic simulation of the United Nations that aims to educate participants about current events, topics in international relations, diplomacy and the United Nations agenda....
conferences the honorable chair may have to announce, "Decorum delegates!" if delegates are not adhering to parliamentary procedure dictated by the rules. This often happens if a delegate speaks out of turn or if the delegation is being disruptive.
External links