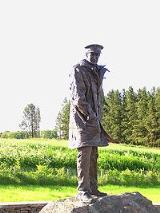 David Stirling
Colonel
Sir Archibald David Stirling
,
DSO
Distinguished Service Order
The Distinguished Service Order is a military decoration of the United Kingdom, and formerly of other parts of the British Commonwealth and Empire, awarded for meritorious or distinguished service by officers of the armed forces during wartime, typically in actual combat.Instituted on 6 September...
,
DFC
Distinguished Flying Cross (United Kingdom)
The Distinguished Flying Cross is a military decoration awarded to personnel of the United Kingdom's Royal Air Force and other services, and formerly to officers of other Commonwealth countries, for "an act or acts of valour, courage or devotion to duty whilst flying in active operations against...
,
OBE
Order of the British Empire
The Most Excellent Order of the British Empire is an order of chivalry established on 4 June 1917 by George V of the United Kingdom. The Order comprises five classes in civil and military divisions...
(15 November 1915 – 4 November 1990) was a Scottish
laird
Laird
A Laird is a member of the gentry and is a heritable title in Scotland. In the non-peerage table of precedence, a Laird ranks below a Baron and above an Esquire.-Etymology:...
,
mountaineer
Mountaineering
Mountaineering or mountain climbing is the sport, hobby or profession of hiking, skiing, and climbing mountains. While mountaineering began as attempts to reach the highest point of unclimbed mountains it has branched into specialisations that address different aspects of the mountain and consists...
,
World War II
World War II
World War II, or the Second World War , was a global conflict lasting from 1939 to 1945, involving most of the world's nations—including all of the great powers—eventually forming two opposing military alliances: the Allies and the Axis...
British Army
British Army
The British Army is the land warfare branch of Her Majesty's Armed Forces in the United Kingdom. It came into being with the unification of the Kingdom of England and Scotland into the Kingdom of Great Britain in 1707. The new British Army incorporated Regiments that had already existed in England...
officer, and the founder of the
Special Air Service
Special Air Service
Special Air Service or SAS is a corps of the British Army constituted on 31 May 1950. They are part of the United Kingdom Special Forces and have served as a model for the special forces of many other countries all over the world...
.
Life before the war
Stirling was born at his family's ancestral home,
Keir House
Keir House
Keir House is a large country house near Stirling in central Scotland. It is located in the parish of Lecropt, north-west of Bridge of Allan, in the former county of Perthshire. The estate was home to the Stirling family from the 15th to the 20th century...
in the parish of
Lecropt
Lecropt
Lecropt is a rural parish lying to the west of Bridge of Allan, Scotland.The population of the parish of Lecropt is estimated to be around 75, consisting entirely of isolated farms and houses, as well as the Keir Estate owned by the landed Stirling family...
in
Perthshire
Perthshire
Perthshire, officially the County of Perth , is a registration county in central Scotland. It extends from Strathmore in the east, to the Pass of Drumochter in the north, Rannoch Moor and Ben Lui in the west, and Aberfoyle in the south...
(near
Stirling
Stirling
Stirling is a city and former ancient burgh in Scotland, and is at the heart of the wider Stirling council area. The city is clustered around a large fortress and medieval old-town beside the River Forth...
). He was the son of Brigadier General Archibald Stirling, of Keir and Margaret Fraser, daughter of
Simon Fraser
Simon Fraser, 13th Lord Lovat
Simon Fraser, 13th Lord Lovat and 2nd Baron Lovat , was a Scottish peer. While legally the 13th Lord, he was referred to as the 15th Lord Lovat....
, the
Lord Lovat
Lord Lovat
Lord Lovat is a title in the Peerage of Scotland. It was created in 1458 for Hugh Fraser. The title descended in a direct line for nine sequential generations until the death of the ninth Lord in 1696. He was succeeded by his great-uncle, the tenth Lord...
, (a descendant of
Charles II, King of Scots
Charles II of England
Charles II was monarch of the three kingdoms of England, Scotland, and Ireland.Charles II's father, King Charles I, was executed at Whitehall on 30 January 1649, at the climax of the English Civil War...
). His cousin was
Simon Fraser, 15th Lord Lovat
Simon Fraser, 15th Lord Lovat
Brigadier Simon Christopher Joseph Fraser, 15th Lord Lovat and 4th Baron Lovat DSO, MC, TD was the 25th Chief of the Clan Fraser and a prominent British Commando during the Second World War...
, and his grandparents were Sir William Stirling-Maxwell, 9th Baronet and Lady Anna Maria Leslie-Melville. He was educated at
Ampleforth College
Ampleforth College
Ampleforth College in North Yorkshire, England, is the largest Roman Catholic co-educational boarding independent school in the United Kingdom. It opened in 1802, as a boys' school, and is run by the Benedictine monks and lay staff of Ampleforth Abbey...
and
Trinity College, Cambridge
Trinity College, Cambridge
Trinity College is a constituent college of the University of Cambridge. Trinity has more members than any other college in Cambridge or Oxford, with around 700 undergraduates, 430 graduates, and over 170 Fellows...
. A tall and athletic figure (he was 6 in 6 in (1.98 m) tall), he was training to climb
Mount Everest
Mount Everest
Mount Everest is the world's highest mountain, with a peak at above sea level. It is located in the Mahalangur section of the Himalayas. The international boundary runs across the precise summit point...
when
World War II
World War II
World War II, or the Second World War , was a global conflict lasting from 1939 to 1945, involving most of the world's nations—including all of the great powers—eventually forming two opposing military alliances: the Allies and the Axis...
broke out.
World War II and the founding of the SAS
Stirling was commissioned into the
Scots Guards
Scots Guards
The Scots Guards is a regiment of the Guards Division of the British Army, whose origins lie in the personal bodyguard of King Charles I of England and Scotland...
from
Ampleforth College
Ampleforth College
Ampleforth College in North Yorkshire, England, is the largest Roman Catholic co-educational boarding independent school in the United Kingdom. It opened in 1802, as a boys' school, and is run by the Benedictine monks and lay staff of Ampleforth Abbey...
Contingent Officer Training Corps on 24 July 1937. In June 1940 he volunteered for the new No. 8 Commando under Lieutenant-Colonel
Robert Laycock
Robert Laycock
Major General Sir Robert Edward Laycock KCMG, CB, DSO, KStJ was a British soldier, most famous for his service with the commandos during the Second World War...
which became part of Force Z (later named "
Layforce
Layforce
Layforce was an ad hoc military formation of the British Army consisting of a number of commando units during the Second World War.Formed in February 1941 under the command of Colonel Robert Laycock, after whom the force was named, it consisted of approximately 2,000 men and served in the Middle...
"). After Layforce (and No.8 Commando) were disbanded on 1 August 1941, Stirling remained convinced that due to the mechanised nature of war a small team of highly trained soldiers with the advantage of surprise could exact greater damage to the enemy's ability to fight than an entire platoon.
Aware that taking his idea up through the chain of command was unlikely to work, Stirling decided to go straight to the top. On crutches following a parachuting accident, he sneaked into Middle East headquarters in Cairo (under a fence) in an effort to see
Commander-in-Chief
Commander-in-Chief
A commander-in-chief is the commander of a nation's military forces or significant element of those forces. In the latter case, the force element may be defined as those forces within a particular region or those forces which are associated by function. As a practical term it refers to the military...
General
General
A general officer is an officer of high military rank, usually in the army, and in some nations, the air force. The term is widely used by many nations of the world, and when a country uses a different term, there is an equivalent title given....
Claude Auchinleck
Claude Auchinleck
Field Marshal Sir Claude John Eyre Auchinleck, GCB, GCIE, CSI, DSO, OBE , nicknamed "The Auk", was a British army commander during World War II. He was a career soldier who spent much of his military career in India, where he developed a love of the country and a lasting affinity for the soldiers...
. Hiding in an office from a number of guards who had seen him break into the building, Stirling came face to face with Deputy Commander Middle East General Ritchie. Stirling explained his plan to Ritchie, the latter immediately convincing Auchinleck (in the office next door) to allow Stirling to form a new Special Forces unit. The unit was given the deliberately misleading name "L Detachment, Special Air Service Brigade" to reinforce an existing deception of a parachute brigade existing in
North Africa
North Africa
North Africa or Northern Africa is the northernmost region of the African continent, linked by the Sahara to Sub-Saharan Africa. Geopolitically, the United Nations definition of Northern Africa includes eight countries or territories; Algeria, Egypt, Libya, Morocco, South Sudan, Sudan, Tunisia, and...
.
Short of equipment at the outset, particularly tents and related gear, the first operation of the new SAS was to relieve a well equipped New Zealand unit of small tents, a large tent and contents including a bar and a piano. A truck and a series of bluffs managed to convince curious onlookers and the New Zealand unit that all was well.sas men
After a brief period of training, an initial attempt at attacking a German airfield by parachute landing in support of
Operation Crusader
Operation Crusader
Operation Crusader was a military operation by the British Eighth Army between 18 November–30 December 1941. The operation successfully relieved the 1941 Siege of Tobruk....
was disastrous. A high percentage of his men were killed, wounded or captured far from the target after being blown off course or landing in the wrong area. Escaping only with the help of the
Long Range Desert Group
Long Range Desert Group
The Long Range Desert Group was a reconnaissance and raiding unit of the British Army during the Second World War. The commander of the German Afrika Corps, Field Marshal Erwin Rommel, admitted that the LRDG "caused us more damage than any other British unit of equal strength".Originally called...
(LRDG) Stirling decided that approaching by land under the cover of night would be safer and more effective. As quickly as possible he organised raids on ports using this simple method, often bluffing through checkposts at night using the language skills of some of his soldiers. Under his leadership, the
Lewes bomb
Lewes bomb
The Lewes bomb was a blast-incendiary field expedient explosive device, manufactured by mixing diesel oil and Nobel 808 plastic explosive. It was created by Lieutenant Jock Lewes, one of the original members of L Detachment SAS in 1941...
was invented, the first hand-held dual explosive and incendiary device. American jeeps, which were able to deal with the harsh desert terrain better than other transport, were adapted and fitted with obsolete RAF machine guns. He also pioneered the use of small groups to escape detection. Stirling often led from the front, his SAS units driving through enemy airfields to shoot up aircraft and crew rather than stopping to attach bombs to enemy aircraft. These hit-and-run operations proved Stirling's undoing; he was captured by the Germans in January 1943. Although he escaped, he was subsequently re-captured by the Italians, who took great delight in the embarrassment this caused to their German allies. A further four escape attempts were made, before Stirling was finally sent to
Colditz Castle
Colditz Castle
Colditz Castle is a Renaissance castle in the town of Colditz near Leipzig, Dresden, and Chemnitz in the state of Saxony in Germany. Used as a workhouse for the indigent and a mental institution for over 100 years, it gained international fame as a prisoner-of-war camp during World War II for...
, where he remained for the rest of the war. After his capture his brother Bill Stirling and
Blair 'Paddy' Mayne
Paddy Mayne
Lieutenant Colonel Robert Blair "Paddy" Mayne DSO & Three Bars was a Northern Irish soldier, solicitor, Ireland rugby union international, amateur boxer, polar explorer and a founding member of the Special Air Service .-Early life and sporting achievements:Robert Blair "Paddy" Mayne was born in...
took command of the SAS.
In the fifteen months before Stirling's capture, the SAS had destroyed over 250 aircraft on the ground, dozens of supply dumps, wrecked railways and telecommunications, and had put hundreds of enemy vehicles out of action. Montgomery of Alamein described Stirling as 'mad, quite mad' but admitted that men like Stirling were needed at time of war.
Mercenary work
Worried that Britain was losing its power after the War, Stirling organised deals to sell British weapons and military personnel to other countries, like
Saudi Arabia
Saudi Arabia
The Kingdom of Saudi Arabia , commonly known in British English as Saudi Arabia and in Arabic as as-Sa'ūdiyyah , is the largest state in Western Asia by land area, constituting the bulk of the Arabian Peninsula, and the second-largest in the Arab World...
, for various privatised foreign policy operations.
Stirling along with other associates formed Watchguard International Ltd, formally with offices in Sloane Street (where the Chelsea Hotel now stands) before moving to South Audley Street in Mayfair. Business was chiefly with the Gulf States. He was also linked along with an associate Denys Rowley in a failed attempt to overthrow Gaddafi of Libya in 1970/71. Stirling was the founder of
private military company
Private military company
A private military company or provides military and security services. These combatants are commonly known as mercenaries, though modern-day PMCs refer to their staff as security contractors, private military contractors or private security contractors, and refer to themselves as private military...
KAS International (aka KAS Enterprises).
Television
Stirling also ran another of his companies, Television International Enterprises, from the same offices as Watchguard International. T.I.E was responsible for bringing the children's program Sesame Street to Britain.
Peter Orton
Peter Orton
Peter Charles Orton was a British media entrepreneur and television producer noted for his work in children's television. He founded HiT Entertainment in 1989.Orton lead the company from 1989 to 2005 when he sold it to Apax...
, working at T.I.E., developed the Muppet Show and a couple of decades later Thomas the Tank Engine and Bob the Builder.
Later life
Stirling was the founder of the Capricorn Africa Society - a society for promoting an Africa free from racial discrimination. Founded in 1949, while Africa was still under colonial rule, it had its high point at the 1956 Salima Conference. However, because of his emphasis on a qualified and highly elitist voting franchise, Africans opposed it. Conversely Caucasian settlers believed it to be too liberal. Consequently the society was ineffective, although surprisingly the
South African Communist Party
South African Communist Party
South African Communist Party is a political party in South Africa. It was founded in 1921 as the Communist Party of South Africa by the joining together of the International Socialist League and others under the leadership of Willam H...
used Stirling's multi-racial elitist model for its 1955 "Congress Alliance" when taking over the
African National Congress
African National Congress
The African National Congress is South Africa's governing Africanist political party, supported by its tripartite alliance with the Congress of South African Trade Unions and the South African Communist Party , since the establishment of non-racial democracy in April 1994. It defines itself as a...
of South Africa. Stirling resigned as Chairman of the Society in 1959.
Stirling was concerned about the political power of trade unions in Britain, and planned to establish an organisation GB75, which he described as "an organisation of apprehensive patriots" which would help the country in the event of strikes. In August 1974, before Stirling was ready to go public with GB75, the pacifist magazine
Peace News
Peace News
Peace News is a pacifist magazine first published on 6 June 1936 to serve the peace movement in the United Kingdom. From later in 1936 to April 1961 it was the official paper of the Peace Pledge Union , and from 1990 to 2004 was co-published with War Resisters' International.-History:Peace News was...
obtained and published his plans, and eventually Stirling - dismayed by the right-wing character of many of those seeking to join GB75 - abandoned the scheme.
He was knighted in 1990, and died later that year aged 74.
In 2002 the SAS memorial, a statue of Stirling standing on a rock, was opened on the Hill of Row near his family's estate at Park of Keir.
The current Laird of the Keir estate is his nephew
Archie Stirling
Archie Stirling
Archibald Hugh Stirling, of Keir, more commonly known as Archie Stirling is Laird of the Keir estate at Lecropt in the Stirling council area in Scotland....
, a millionaire businessman and former Scots Guards officer.
Other
Stirling House at
Welbeck college
Welbeck College
Welbeck Defence Sixth Form College is a selective sixth form college in Woodhouse, Leicestershire, England, providing A-Level education for candidates to the technical branches of the British Armed Forces, the Ministry of Defence civil service and privately funded students.Welbeck is located near...
is named after him, as well as the former headquarters at
Hereford
Hereford
Hereford is a cathedral city, civil parish and county town of Herefordshire, England. It lies on the River Wye, approximately east of the border with Wales, southwest of Worcester, and northwest of Gloucester...
.
Additional reading
Significant Scots biography of David Stirling
Gavin Mortimer, Stirling's Men: the inside history of the SAS in World War Two (Cassell, 2004)
Documentaries
The Mayfair Set

The Mayfair Set

The Mayfair Set is a series of programmes produced by Adam Curtis for the BBC, first broadcast in the summer of 1999.The programme looked at how buccaneer capitalists of hot money were allowed to shape the climate of the Thatcher years, focusing on the rise of Colonel David Stirling, Jim Slater,...


, part I.