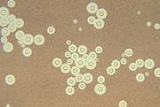 Cryptococcus
Cryptococcus
is a
genus
Genus
In biology, a genus is a low-level taxonomic rank used in the biological classification of living and fossil organisms, which is an example of definition by genus and differentia...
of
fungus
Fungus
A fungus is a member of a large group of eukaryotic organisms that includes microorganisms such as yeasts and molds , as well as the more familiar mushrooms. These organisms are classified as a kingdom, Fungi, which is separate from plants, animals, and bacteria...
. Species grow in culture as
yeast
Yeast
Yeasts are eukaryotic micro-organisms classified in the kingdom Fungi, with 1,500 species currently described estimated to be only 1% of all fungal species. Most reproduce asexually by mitosis, and many do so by an asymmetric division process called budding...
s. The perfect (sexual) forms or
teleomorph
Teleomorph, anamorph and holomorph
The terms teleomorph, anamorph, and holomorph apply to portions of the life cycles of fungi in the phyla Ascomycota and Basidiomycota.*Teleomorph: the sexual reproductive stage , typically a fruiting body....
s of
Cryptococcus
species are filamentous fungi in the genus
Filobasidiella
Filobasidiella
Filobasidiella is a genus of fungi in the family Tremellaceae. Species are parasitic on other fungi and do not produce distinct basidiocarps . The genus is the teleomorphic state of the yeast genus Cryptococcus, some species of which are human pathogens.-History:The genus was first described in...
. The name
Cryptococcus
is used when referring to the imperfect forms (yeast states) of the fungi.
Cryptococcus neoformans
Cryptococcus neoformans
Cryptococcus neoformans is an encapsulated yeast that can live in both plants and animals. Its teleomorph is Filobasidiella neoformans, a filamentous fungus belonging to the class Tremellomycetes. It is often found in pigeon excrement....
is the most prominent medically important
species
Species
In biology, a species is one of the basic units of biological classification and a taxonomic rank. A species is often defined as a group of organisms capable of interbreeding and producing fertile offspring. While in many cases this definition is adequate, more precise or differing measures are...
. It is best known for causing a severe form of
meningitis
Meningitis
Meningitis is inflammation of the protective membranes covering the brain and spinal cord, known collectively as the meninges. The inflammation may be caused by infection with viruses, bacteria, or other microorganisms, and less commonly by certain drugs...
and meningo-
encephalitis
Encephalitis
Encephalitis is an acute inflammation of the brain. Encephalitis with meningitis is known as meningoencephalitis. Symptoms include headache, fever, confusion, drowsiness, and fatigue...
in people with
HIV
HIV
Human immunodeficiency virus is a lentivirus that causes acquired immunodeficiency syndrome , a condition in humans in which progressive failure of the immune system allows life-threatening opportunistic infections and cancers to thrive...
/
AIDS
AIDS
Acquired immune deficiency syndrome or acquired immunodeficiency syndrome is a disease of the human immune system caused by the human immunodeficiency virus...
. There are about 37 recognized species of
Cryptococcus
, but the
taxonomy
Taxonomy
Taxonomy is the science of identifying and naming species, and arranging them into a classification. The field of taxonomy, sometimes referred to as "biological taxonomy", revolves around the description and use of taxonomic units, known as taxa...
of the group is currently being re-evaluated with up-to-date methods. The majority of species live in the soil and are not harmful to humans. Very common species include
Cryptococcus laurentii
and
Cryptococcus albidus
. Of all species,
Cryptococcus neoformans
is the major human and animal pathogen. However,
Cryptococcus laurentii
and
Cryptococcus albidus
have been known to occasionally cause moderate-to-severe disease in human patients with compromised immunity (owing to HIV infection, cancer chemotherapy, metabolic immunosuppression,
et cetera
).
Cryptococcus gattii
Cryptococcus gattii
Cryptococcus gattii, formerly known as Cryptococcus neoformans var gattii, is an encapsulated yeast found primarily in tropical and subtropical climates...
(formerly
Cryptococcus neoformans
var
gattii
) is endemic to tropical parts of the continent of Africa and Australia. It is capable of causing disease (
cryptococcosis
Cryptococcosis
Cryptococcosis, or cryptococcal disease, is a potentially fatal fungal disease. It is caused by one of two species; Cryptococcus neoformans and Cryptococcus gattii. These were all previously thought to be subspecies of C...
) in non-immunocompromised people. It has been isolated from
eucalyptus
Eucalyptus
Eucalyptus is a diverse genus of flowering trees in the myrtle family, Myrtaceae. Members of the genus dominate the tree flora of Australia...
trees in Australia. Since 1999, there has been an outbreak of
Cryptococcus gattii
infections in eastern
Vancouver Island
Vancouver Island
Vancouver Island is a large island in British Columbia, Canada. It is one of several North American locations named after George Vancouver, the British Royal Navy officer who explored the Pacific Northwest coast of North America between 1791 and 1794...
, an area not generally thought to be endemic for this organism. Cases have since been described in the
Pacific Northwest
Pacific Northwest
The Pacific Northwest is a region in northwestern North America, bounded by the Pacific Ocean to the west and, loosely, by the Rocky Mountains on the east. Definitions of the region vary and there is no commonly agreed upon boundary, even among Pacific Northwesterners. A common concept of the...
, in both
Canada
Canada
Canada is a North American country consisting of ten provinces and three territories. Located in the northern part of the continent, it extends from the Atlantic Ocean in the east to the Pacific Ocean in the west, and northward into the Arctic Ocean...
and the
United States
United States
The United States of America is a federal constitutional republic comprising fifty states and a federal district...
.
The cells of these species are covered in a thin layer of glycoprotein capsular material that has a gelatin-like consistency and that, among other functions, serves to help extract nutrients from the soil. But
C. neoformans
capsule is different in being richer in glucuronic acid and mannose, having O-acetyl groups, and functioning as the major virulence factor in cryptococcal infection and disease.