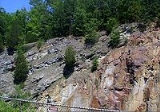 Unconformity
An
unconformity
is a buried
erosion
Erosion
Erosion is when materials are removed from the surface and changed into something else. It only works by hydraulic actions and transport of solids in the natural environment, and leads to the deposition of these materials elsewhere...
surface separating two
rock
Rock (geology)
In geology, rock or stone is a naturally occurring solid aggregate of minerals and/or mineraloids.The Earth's outer solid layer, the lithosphere, is made of rock. In general rocks are of three types, namely, igneous, sedimentary, and metamorphic...
masses or
strata
Stratum
In geology and related fields, a stratum is a layer of sedimentary rock or soil with internally consistent characteristics that distinguish it from other layers...
of different ages, indicating that
sediment
Sediment
Sediment is naturally occurring material that is broken down by processes of weathering and erosion, and is subsequently transported by the action of fluids such as wind, water, or ice, and/or by the force of gravity acting on the particle itself....
deposition was not continuous. In general, the older layer was exposed to erosion for an interval of time before deposition of the younger, but the term is used to describe any break in the sedimentary
geologic record
Geologic record
The geologic record in stratigraphy, paleontology and other natural sciences refers to the entirety of the layers of rock strata — deposits laid down in volcanism or by sediment deposition of weathering detritus including all its fossil content and the information it yields about the history...
. The significance of angular unconformity (see below) was shown by
James Hutton
James Hutton
James Hutton was a Scottish physician, geologist, naturalist, chemical manufacturer and experimental agriculturalist. He is considered the father of modern geology...
, who found examples of
Hutton's Unconformity
Hutton's Unconformity
Hutton's Unconformity is any of various famous geological sites in Scotland. These are places identified by 18th-century Scottish geologist James Hutton as an unconformity, which provided evidence for his Plutonist theories of uniformitarianism and about the age of the Earth.-Theory of rock...
at
Jedburgh
Jedburgh
Jedburgh is a town and former royal burgh in the Scottish Borders and historically in Roxburghshire.-Location:Jedburgh lies on the Jed Water, a tributary of the River Teviot, it is only ten miles from the border with England and is dominated by the substantial ruins of Jedburgh Abbey...
in 1787 and at
Siccar Point
Siccar Point
Siccar Point is a rocky promontory in the county of Berwickshire on the east coast of Scotland.It is famous in the history of geology for Hutton's Unconformity found in 1788, which James Hutton regarded as conclusive proof of his uniformitarian theory of geological development.-History:Siccar...
in 1788.
The rocks above an unconformity are younger than the rocks beneath (unless the sequence has been overturned). An unconformity represents time during which no sediments were preserved in a region. The local record for that time interval is missing and geologists must use other clues to discover that part of the geologic history of that area. The interval of geologic time not represented is called a
hiatus
.
Disconformity
A disconformity is an unconformity between parallel
layers
Stratum
In geology and related fields, a stratum is a layer of sedimentary rock or soil with internally consistent characteristics that distinguish it from other layers...
of sedimentary rocks which represents a period of erosion or non-deposition. Disconformities are marked by features of subaerial erosion. This type of erosion can leave channels and paleosols in the rock record. A paraconformity is a type of disconformity in which the separation is a simple bedding plane with no obvious buried erosional surface. A blended unconformity is a type of disconformity or nonconformity with no distinct separation plane or contact, sometimes consisting of soils, paleosols, or beds of pebbles derived from the underlying rock.
Nonconformity
A nonconformity exists between sedimentary rocks and metamorphic or igneous rocks when the sedimentary rock lies above and was deposited on the pre-existing and eroded metamorphic or igneous rock. Namely, if the rock below the break is igneous or has lost its bedding by metamorphism, the plane of juncture is a nonconformity.
Angular unconformity
An angular unconformity is an unconformity where horizontally parallel
strata
Stratum
In geology and related fields, a stratum is a layer of sedimentary rock or soil with internally consistent characteristics that distinguish it from other layers...
of sedimentary rock are deposited on tilted and eroded layers, producing an angular discordance with the overlying horizontal layers. The whole sequence may later be deformed and tilted by further
orogenic
Orogeny
Orogeny refers to forces and events leading to a severe structural deformation of the Earth's crust due to the engagement of tectonic plates. Response to such engagement results in the formation of long tracts of highly deformed rock called orogens or orogenic belts...
activity. A typical case history is presented by the paleotectonic evolution of the Briançonnais realm (Swiss and French Prealps) during the Jurassic.
Paraconformity
A paraconformity is a type of unconformity in which strata are parallel; there is little apparent erosion and the unconformity surface resembles a simple bedding plane. It is also known as nondepositional unconformity or pseudoconformity.
Buttress unconformity
A buttress unconformity is when younger bedding is deposited against older strata thus influencing its bedding structure.