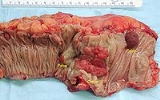 Colorectal cancer
Colorectal cancer
, commonly known as
bowel cancer
, is a
cancer
Cancer
Cancer , known medically as a malignant neoplasm, is a large group of different diseases, all involving unregulated cell growth. In cancer, cells divide and grow uncontrollably, forming malignant tumors, and invade nearby parts of the body. The cancer may also spread to more distant parts of the...
caused by uncontrolled cell growth (
neoplasia
Neoplasia
Neoplasm is an abnormal mass of tissue as a result of neoplasia. Neoplasia is the abnormal proliferation of cells. The growth of neoplastic cells exceeds and is not coordinated with that of the normal tissues around it. The growth persists in the same excessive manner even after cessation of the...
), in the
colon
Colon (anatomy)
The colon is the last part of the digestive system in most vertebrates; it extracts water and salt from solid wastes before they are eliminated from the body, and is the site in which flora-aided fermentation of unabsorbed material occurs. Unlike the small intestine, the colon does not play a...
,
rectum
Rectum
The rectum is the final straight portion of the large intestine in some mammals, and the gut in others, terminating in the anus. The human rectum is about 12 cm long...
, or
vermiform appendix
Vermiform appendix
The appendix is a blind-ended tube connected to the cecum , from which it develops embryologically. The cecum is a pouchlike structure of the colon...
. Colorectal cancer is clinically distinct from
anal cancer
Anal cancer
Anal cancer is a type of cancer which arises from the anus, the distal orifice of the gastrointestinal tract. It is a distinct entity from the more common colorectal cancer. The etiology, risk factors, clinical progression, staging, and treatment are all different. Anal cancer is typically a...
, which affects the
anus
Anus
The anus is an opening at the opposite end of an animal's digestive tract from the mouth. Its function is to control the expulsion of feces, unwanted semi-solid matter produced during digestion, which, depending on the type of animal, may be one or more of: matter which the animal cannot digest,...
.
Colorectal cancers start in the lining of the bowel. If left untreated, it can grow into the muscle layers underneath, and then through the bowel wall. Most begin as a small growth on the bowel wall: a
colorectal polyp
Colorectal polyp
A colorectal polyp is a polyp occurring on the lining of the colon or rectum. Untreated colorectal polyps can develop into colorectal cancer....
or
adenoma
Adenoma
An adenoma is a benign tumor of glandular origin. Adenomas can grow from many organs including the colon, adrenal glands, pituitary gland, thyroid, prostate, etc. Although these growths are benign, over time they may progress to become malignant, at which point they are called adenocarcinomas...
.