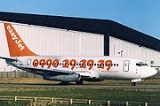 EasyJet
EasyJet Airline Company Limited
(styled as
easyJet
) is a
British airline
headquartered at
London Luton Airport
London Luton Airport
London Luton Airport is an international airport located east of the town centre in the Borough of Luton in Bedfordshire, England and is north of Central London. The airport is from Junction 10a of the M1 motorway...
. It carries more passengers than any other United Kingdom-based airline, operating domestic and international scheduled services on 500 routes between 118 European, North African, and West Asian airports. The
parent company
Parent company
A parent company is a company that owns enough voting stock in another firm to control management and operations by influencing or electing its board of directors; the second company being deemed as a subsidiary of the parent company...
,
EasyJet plc
, is listed on the
London Stock Exchange
London Stock Exchange
The London Stock Exchange is a stock exchange located in the City of London within the United Kingdom. , the Exchange had a market capitalisation of US$3.7495 trillion, making it the fourth-largest stock exchange in the world by this measurement...
and is a constituent of the
FTSE 250 Index
FTSE 250 Index
The FTSE 250 Index is a capitalisation-weighted index consisting of the 101st to the 350th largest companies on the London Stock Exchange. Promotions to and demotions from the index take place quarterly in March, June, September and December...
.