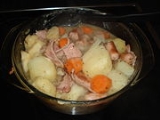 Coddle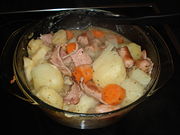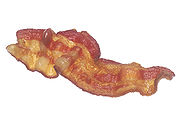 Coddle
is an
Irish dish
Irish cuisine
Irish cuisine is a style of cooking originating from Ireland or developed by Irish people. It evolved from centuries of social and political change. The cuisine takes its influence from the crops grown and animals farmed in its temperate climate. The introduction of the potato in the second half of...
consisting of layers of roughly sliced pork sausages and rashers (thinly sliced, somewhat fatty
back bacon
Back bacon
Back bacon is bacon prepared from centre-cut boneless pork loin. The name refers to the cut of meat, which is from the back, and distinguishes it from other bacon made from pork belly or other cuts. Unlike other bacon, back bacon is not brined, cured, boiled, or smoked...
) with sliced
potato
Potato
The potato is a starchy, tuberous crop from the perennial Solanum tuberosum of the Solanaceae family . The word potato may refer to the plant itself as well as the edible tuber. In the region of the Andes, there are some other closely related cultivated potato species...
es, and
onion
Onion
The onion , also known as the bulb onion, common onion and garden onion, is the most widely cultivated species of the genus Allium. The genus Allium also contains a number of other species variously referred to as onions and cultivated for food, such as the Japanese bunching onion The onion...
s. Traditionally, it can also include
barley
Barley
Barley is a major cereal grain, a member of the grass family. It serves as a major animal fodder, as a base malt for beer and certain distilled beverages, and as a component of various health foods...
.
Coddle is traditionally associated with
Dublin
,
Ireland
Ireland
Ireland is an island to the northwest of continental Europe. It is the third-largest island in Europe and the twentieth-largest island on Earth...
. It was reputedly a favourite dish of
Seán O'Casey
Seán O'Casey
Seán O'Casey was an Irish dramatist and memoirist. A committed socialist, he was the first Irish playwright of note to write about the Dublin working classes.- Early life:...
and
Jonathan Swift
Jonathan Swift
Jonathan Swift was an Irish satirist, essayist, political pamphleteer , poet and cleric who became Dean of St...
, and it appears in several Dublin literary references including the works of
James Joyce
James Joyce
James Augustine Aloysius Joyce was an Irish novelist and poet, considered to be one of the most influential writers in the modernist avant-garde of the early 20th century...
.
The dish is semi-boiled, and semi-
steamed
Steaming
Steaming is a method of cooking using steam. Steaming is considered a healthy cooking technique and capable of cooking almost all kinds of food.-Method:...
in the
stock
Stock (food)
Stock is a flavoured water preparation. It forms the basis of many dishes, particularly soups and sauces.- Preparation :Stock is made by simmering various ingredients in water, including some or all of the following...
produced by boiling the rashers and sausages. Some traditional recipes favour the addition of a small amount of
Guinness
Guinness
Guinness is a popular Irish dry stout that originated in the brewery of Arthur Guinness at St. James's Gate, Dublin. Guinness is directly descended from the porter style that originated in London in the early 18th century and is one of the most successful beer brands worldwide, brewed in almost...
to the pot, but this is very rare in modern versions of the recipe. The dish should be cooked in a pot with a well-fitting lid in order to steam the ingredients left uncovered by water. The only
seasoning
Seasoning
Seasoning is the process of imparting flavor to, or improving the flavor of, food.- General meaning :Seasonings include herbs and spices, which are themselves frequently referred to as "seasonings"...
is usually
salt
Edible salt
Salt, also known as table salt, or rock salt, is a mineral that is composed primarily of sodium chloride , a chemical compound belonging to the larger class of ionic salts. It is essential for animal life in small quantities, but is harmful to animals and plants in excess...
,
pepper
Black pepper
Black pepper is a flowering vine in the family Piperaceae, cultivated for its fruit, which is usually dried and used as a spice and seasoning. The fruit, known as a peppercorn when dried, is approximately in diameter, dark red when fully mature, and, like all drupes, contains a single seed...
, and occasionally
parsley
Parsley
Parsley is a species of Petroselinum in the family Apiaceae, native to the central Mediterranean region , naturalized elsewhere in Europe, and widely cultivated as an herb, a spice and a vegetable.- Description :Garden parsley is a bright green hairless biennial herbaceous plant in temperate...
. It could be considered a
comfort food
Comfort food
Comfort food is food prepared traditionally that may have a nostalgic or sentimental appeal. Comfort foods may be foods that have a nostalgic element either to an individual or a specific culture...
in Ireland, and is inexpensive, easy to prepare and quick to cook. It is often eaten in the
winter
Winter
Winter is the coldest season of the year in temperate climates, between autumn and spring. At the winter solstice, the days are shortest and the nights are longest, with days lengthening as the season progresses after the solstice.-Meteorology:...
months. In the days when Catholics were not supposed to eat meat on Fridays, this was a meal often eaten on Thursdays as it allowed a family to use up any remaining sausages or rashers.